Dismiss Notice
UnCork It!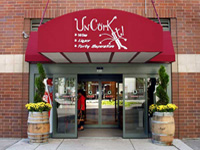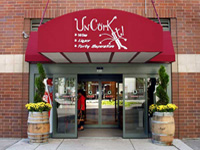 PLACE INFO
Type:
Store
393 E Illinois Ave
Chicago
,
Illinois
, 60611-4398
United States
(312) 341-9400 |
map
uncorkitchicago.com
Notes:
No notes at this time.
Added by kajerm on 03-28-2007
PLACE STATS
Reviews:

10

Ratings:

pDev:

24.55%
HISTOGRAM
Ratings: 12 | Reviews: 10
Reviews by semihobo:
4
/5
rDev
+19.8%
I am lucky enough to live one block away from Uncork-It! and it is my exclusive supplier of beer (due to both quality and convenience).
After a pretty extensive renovation in 2007 that involved breaking down some walls, they are better than ever. They have a loooong aisle of craft beer. Tucked at the east end of this aisle are some meads and oddball libations. Uncork-It! has a good selection of 3 Floyds, Great Lakes, Goose Island, Rogue, Avery, and other big names in the craft game, as well as a few offerings by many smaller brewers. Good import selection as well. Turnover can be spotty, though -- I've gotten a few old bottles that had lingered on the shelf due to low turnover for a specific beer. Check dates when possible if you suspect that an offering is unpopular.
Along the south wall they have a long cooler with lots of craft and macro beer. Good to go.
Look toward the west end of the craft beer aisle for some singles sitting on a shelf... when a sixer breaks, Uncork-It! sells the singles 6 for $5.99. There is usually some MGD, but it's not unusual to find beers from Breckenridge or Goose Island in the selection. Mix and match.
Sales are decent, they had a good deal on Fat Tire bombers this summer. Usually have a shopping cart of 3-buck-chuck wine by the register if you need a fix.
On that note, the staff is friendly, but the reason that they some don't know so much about beer is that they sell a _lot_ of good wine and liquor. In terms of diversity of offerings, Uncork-It is a triple threat... they'll satisfy all of your needs. They also have glassware, hors d'oeuvres, etc.
Prices are okay, Streeterville is a posh neighborhood and this is reflected. Watch for sales and avoid obvious gouging and you can make out pretty well. Not a bargain outlet, though.
Recommended if you're in the neighborhood, and if you live here, there is no question that Uncork-It! runs the craft scene in the near vicinity.
1,940 characters
More User Reviews:

3.22
/5
rDev
-3.6%
vibe: 3 | quality: 3.25 | service: 3 | selection: 3.5
4
/5
rDev
+19.8%
vibe: 4 | quality: 4 | service: 4.25 | selection: 3.75
1
/5
rDev
-70.1%
vibe: 1 | quality: 1 | service: 1 | selection: 1
BUYER BEWARE: This place has high prices and rude management/customer service. Furthermore, they will take your money, sell you a defective product, and will refuse to exchange it at all costs which, according to the 810 ILCS 5/2-314 of the Illinois Uniform Commercial Code, is illegal.
Let me first start off by saying that I'm a long-time customer of this business, having lived down the block for the past 5 years. I've made purchases here approximately every 3-4 weeks, sometimes even more often. So, this review is coming from a reputable source.
I was never happy with this business to begin with, given the high prices and a few run-ins with the staff over the years. The only reason I kept going here was out of convenience. But I've finally reached the last straw and will be taking my business elsewhere.
A few weeks ago, I went to UnCorkIt and purchased two bottles of a pre-mixed cocktail. I was familiar with this product because I had purchased it approximately 10 times on previous occasions from other stores. When I went home and first popped open one of the bottles, I noticed that very little carbonation seeped out (the carbonation level was approximately 10% of what it normally has). I then immediately poured the cocktail over ice and tasted it. Not only was the carbonation severely depleted, but the taste was bad. After taking a few more sips of the cocktail, I couldn't stomach it any longer and I had to pour my glass down the drain.
So, I went back to the store to try to exchange the bottles for something else since, according to the head store manager, it is "against the law" to refund money for alcohol purchases. However, the store manager refused to even allow me to exchange the opened bottle. She would only exchange the bottle if it was "bad." So, I told her about the lack of carbonation and the bad taste. However, according to the store manager, a beverage is not considered "bad" even if it is severely lacking in the amount of carbonation it normally is supposed to have. Furthermore, even if it doesn't taste normal, it's still not considered "bad". According to the store manager's warped reasoning, a product is only considered "bad" if it has exceeded the expiration date.
Not only did I find her reasoning absurd, but the whole way she treated me was just rude and unprofessional. I was very calm about how I approached the matter; I didn't go in there screaming and shouting. Within 2 sentences of explaining my situation she immediately became combative and defensive. It felt like she had a vendetta against me or something. Her attitude and demeanor towards me were so abrasive, that it really took me by surprise. This was the head manager of the store!!! She was also very evasive, darting back and forth around the front of the store as I tried to talk to her.
She adamantly refused to accept that the product was bad, dancing around my complaints and citing to the expiration date. She refused to consider that it might not have been packaged properly, or that sometimes, the tops of bottles are defective. It seemed as if she actually enjoyed denying my refund and telling me off.
I even explained to her that I lived down the block and was a frequent patron of the store. The staff at the store would certainly back me up on this. You would think that she might give me the benefit of the doubt and let me exchange the product in order to keep my business. After all, it's a $20 sale, which doesn't add up to the amount of profits they stood to gain from me in years to come, given the frequency I shopped there and also considering how much they overprice things. This would have been an easy call for a halfway-decent store manager. I was quite shocked at how she could bungle such a simple interaction. If a store manager could be so inconsiderate towards a longtime customer over a $20 purchase, imagine how she'll treat you. Her actions as head manager for the store speaks volumes as to how they value everyday customers.
Needless to say, I'm boycotting this store for life. My family, whom I live with down the block, will be doing the same. I entertain quite a bit and I've sent plenty of guests to this place to pick up bottles of wine or beer, but I won't be sending them here anymore. I'm spreading this story to anyone I know, so they too can make an informed choice as to whether they want to deal with these people
4,501 characters

3.71
/5
rDev
+11.1%
vibe: 3 | quality: 3.5 | service: 4 | selection: 4
Found this place using a beer place finder app (named after a lesser website) so we gave it a try to find something I cannot get here in Cincinnati. It is basically on the walk to and from Navy Pier.
I did not see a lot of rare beers and this is first and foremost a liquor store. The beer is in the back isle along the wall. What made this place worth the stop was the 3Floyds and Daisy Cutter sitting around in quantity when Binny's had none at any location.
The employee who helped us did not know much about the beers but was very friendly as were the ladies at the front.
579 characters
2.8
/5
rDev
-16.2%
vibe: 2.5 | quality: 3 | service: 2.5 | selection: 3
Walked by this place on the way to the Navy Pier and gave it a try. Nothing special. OK cross-section of good beers available in the area. Got a 4pk of Daisy Cutter, but was unable to find anything else worth buying. They carry 3Floyds but only had Robert the Bruce in stock. Most of the beer aisle was blocked by cases for stocking but not the beers in that section. Only one person there available and she was chatting with someone at the register. The Daisy Cutter was not cheap, but I wanted it and did not feel like searching anymore. Not a bad choice for beer in Chicago, but with so many options in this town, why bother.
628 characters

3.71
/5
rDev
+11.1%
vibe: 3 | quality: 3.5 | service: 4 | selection: 4
Atmosphere - It's pretty much a convenience store, with a big beer and wine aisle, or at least it feels like one. Grocery store-esque, which isn't necessarily a bad thing, but beer is not the center of this store.
Quality - A lot of dusty bottles, it looks like this place doesn't get a lot of love from the local BAs. Everything was clean, and clearly marked though.
Service - A guy actually did come out and talk beer with me. He seemed pretty knowledgeable, but no more than your average BA was. He wasn't able to tell me much that I didn't already know. Good to see someone trying, though.
Selection - I'm not from the area, so it is tough to judge, but they had more Three Floyds than the Binny's I went to. Got some Daisy Cutter there, and picked up some Goose Island Fleur as well. All told, they had a lot of stuff that we don't get back home, so they get some love from me.
Value - They upticked the prices $1-2 per 6 pack it seemed like. Convenience fee for being so close to all the hotels, I guess.
1,014 characters
3.14
/5
rDev
-6%
vibe: 3 | quality: 3 | service: 3 | selection: 3.5
Stopped by yesterday to see if it had improved in the 3 years since my last visit. Sadly no. Besides a few token craft and imports, the coolers in the back were macro dominated. There was a warm shelf in the back corner of the store that held import on the left, craft micros on the right. German .5L bottles were with the US craft 6 packs, there were a few holes here and there. Fairly basic selection, but with some quality brands thrown in. Chimay, Piraat, Weihenstephaner, Goose Matilda, Big Sky, Great Lakes, fairly typical stuff. A lonely Founders Cerise relegated to a back corner, but no other Founders beers.
As a converted former grocery store, there were little conveyor belt checkouts, and a tiny display of cheeses and cured meat by the registers. No one was on the floor to help, as the store was 80% devoted to wine.
If your hotel is right outside, then you have reason to grab at least a decent beer here for the hotel. Not really a place to stock up on what Illinois has to offer though. Pass this place and check out Binnys River North, Whole Foods, or Copperfield's Market, if you're staying around here.
1,127 characters
2.9
/5
rDev
-13.2%
This was a very convenient store from a downtown hotel, within easy walking distance, and a number of singles in a cooler.
Beyond that, it is not exactly a great place. The selection is just decent, but the store is obviously geared towards wine and spirits, and nobody knows anything about beer there. You have to find your way around on your own, locate your own beer, figure out how long it has been standing there (lots of expired beer, and some others without a date showing a lot of dust).
It is worthwhile if you want a couple of brews and do not want to drive from downtown. Otherwise, plenty of better options.
621 characters
3.65
/5
rDev
+9.3%
Un-cork It! is located on E Illinois St, one block west from the Navy Pier and not much more than a block north from the Chicago River. It offers not only beer for sale, but also a nice selection of wine and spirits as well. The store is within easy walking distance from the Loop and the Red Line, so you can take the trains to get there if you're in another part of town.
Quality - All of the beers that we purchased here were of good quality, although we did notice a few items that seemed to have been in the store for a while (there were a few different seasonals from two seasons before, for example).
Service - When we made our visit, the staff on hand was definitely more knowledgeable about wine than about beer, but that's not to say that they didn't know what they were doing. They didn't know the answers to some of my specific questions, but they were still courteous and generally helpful.
Selection - There was a variety of brews from Three Floyds, Leinenkugel, Great Lakes, Goose Island, and other regional breweries. There was also a nice selection of European beer with a decent selection of Belgians, and other continental breweries such as Rogue and Unibroue. This is one of the only stores that I have been to so far that carried some of the less common Unibroue products, so that was a nice surprise.
All in all, I would recommend at least a visit. If you are downtown or in the riverfront area and you need something quick, this is a very convenient location. The prices aren't bad either, especially considering the location. If you're just relaxing and are near the Loop or the Navy Pier, stop in and see for yourself.
1,648 characters
4.05
/5
rDev
+21.3%
I stop in here twice every time I'm in the area, once to stock up for my Chicago visit, and a second time to pack up with items I can't get in Massachusetts.
Features a great selection with plenty of Belgian and English imports, and a broad selection of regional beers and national micros. About half the cold beer is domestic macro, the other half imports and micros.
Last visit I was able to grab Ommegang, Three Floyds, Rogue, Point.
Their location is great, in the heart of the revitalized Streeterville, Navy Pier area.
535 characters
3.85
/5
rDev
+15.3%
Very well-located for Near North/Gold Coast/Streeterville on Illinois Ave., with very decent prices for the area. Good selection of Three Floyds and Rogue with the standard Belgians and a few other micros. There's a pretty decent Great Lakes presence as well as loads of premium Goose Island stuff, including Bourbon County Stout and Imperial IPA when they're in season. Great service and a nice setting, with a decent selection of glassware (and wine and liquor for those so inclined.)
The craft beers constitute an entire long shelf, have at least as much presence as the macros, and are displayed much more prominently.
It's not Binny's or Sam's, but it's an solid shop with a great location.
702 characters
UnCork It! in Chicago, IL
Place rating:
3.34
out of
5
with
12
ratings