Brasserie 4:20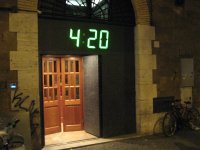 PLACE INFO
Type:
Bar, Eatery, Store
Via Portuense, 82
Roma
, 00153
Italy
+39 6 583 10737 |
map
www.brasserie420.com
Notes:
No notes at this time.
Added by BeerAdvocate on 03-29-2007
Reviews: 12 | Ratings: 18
5
/5
rDev
+13.6%
vibe: 5 | quality: 5 | service: 5 | selection: 5 | food: 5
This is one of the best pub-brasserie in Rome indeed! The architecture of the brasserie is amazing and the ambient is very cool and elegant. There is also a nice terrace at the 1st steps. The food is top quality (and a bit pricey) and should deserve a Michelin star. Ok, maybe not, but believe me it's really great! Anyway, the best news comes from beers: an impressionant selection of rare, extreme, vintage and modern beers from all over the world. I counted 30-35 taps, and tons of bottles behind the counter! At same time, the whisky list is impressive too. Definitely a beer Paradise.
★
589 characters
4.94
/5
rDev
+12.3%
vibe: 4.5 | quality: 5 | service: 5 | selection: 5
Being a beer drinker in Rome can be tough, but this is the place to go in Rome if you're tired of getting your buzz from wine. I spent many a weeknight at this bar, as I lived right around the corner for several months. The owner, Alex, is a really good guy and was always giving my roommates and I the latest beers that he had assembled from around Europe. It doesn't look like much on the outside, but the inside is done really nicely. There are always around 20 beers on tap, a huge bottle selection, as well as quite a few bottles of scotch to choose from. This place can get pretty crowded on the weekends. As for previous posts about the service, I mostly only dealt with Alex, but it looked like all the beers were being served properly to me, and the few times I was served by someone else the beers came out fine. I didn't try the food either, but I would usually arrive at the tail end of appertivo, and eerything looked and smelled excellent. As for price, sure, it may seem pricey to the average American, but this is Rome; deal with it. Last I heard Alex was trying to open a rooftop terrace, but I had to go back to the U.S. before it was finished. If you find yourself in Trastevere or are staying for an extended period of time in Rome and need a few good pints, this is definitely the place to go, and Alex is always willing to talk about beer as long as it isn't too busy.
★
1,390 characters
4.88
/5
rDev
+10.9%
Great beer selection, many of the beers are aged a few years. De Struise, Mikkeler, De Molen. Great stouts, great sours. Also Italian beers too of course. They also have bottles of many types, and some rare ones (20-year-old Oude Geueze was spotted). As for the bar itself, it looks really cool, they have food and it's a fun time. However, it's also a meeting spot for non-beer-lovers, it feels like a typical bar that happens to have amazing beer. And the location is shit, Porta Portese is not a pretty area. Highly recommended if you're in the area
★
552 characters
4.88
/5
rDev
+10.9%
vibe: 5 | quality: 5 | service: 4.5 | selection: 5 | food: 5
A great restaurant specialized in beer cuisine and a beer mecca! This is what Brasserie 4:20 is. Beer on draught are 34, changing month by month, 20 taps on the terrace are reserved forl beer party. The beer menu can be a Paradise for the beergeek, expecially for those who appreciate american beers. A complete list of rare american beers that are unusual to reach here in Europe. It's definitely the best place to reach American beers outside America. They have about 300 beers (only vintages or rare bottles, nocommercial beers) among which the Alesmith masterpieces (SpeedWay, YuleSmith, Ipa, Old Numbskull) many from Lost Abbey, Three Floyds (Among wich the Dark Lord), Hopping Frog, Jolly Pumpkins (a great list), Stone and so on. The selection of lambic is one of the best I've ever seen outside from Belgium and there are often 3 or 4 of the on draught. Italian selection is narrow, they have Revelation Cat on draught and some sour ale & barley wine on the menu (Birrificio del Ducato, Almond 22..).
★
1,008 characters
4.75
/5
rDev
+8%
vibe: 5 | quality: 5 | service: 4 | selection: 5 | food: 5
A beer paradise! I have not enough words to explain how fantastic that place is!!!. HUGE american, and scandinavian beer selection (bottles and TAPs). You can't drink average beers there, only brewering masterpieces! Alex, the owner, is a VERY VERY passionate, competent and friendly guy. He imports himself the beer available at the pub. Till 8p.m. you could even just buy the bottles like a normal beer shop. The food is really really good (especially desserts), a little bit expensive maybe. The place is great. there's a fantastic, cosy "biergarten" upstairs too. definitely one of the best pubs in europe.
★
610 characters

4.49
/5
rDev
+2%
vibe: 4 | quality: 4.25 | service: 5 | selection: 4.5
Stopped in for a quick beer on a trip to Rome and wound up there well after 3. The owner was fantastic and friendly...we chatted a bit about me being from Chicago and he then decided to pop open a 2007 Oude Guezue and share it with my wife and I, totally on the house. Then proceeded to give us samples of everything on tap that he was in to.
Genuinely great place with a solid selection and beyond welcoming staff. Well worth the time to check out.
★
451 characters

4.44
/5
rDev
+0.9%
vibe: 4.25 | quality: 4.5 | service: 4 | selection: 4.75 | food: 4.75
Found this on recommendations from friends. Solid place. The beer scene is clearly prevalent in Rome. Brasserie 420 looks very non assuming from the outside, but walking in you get a sense of the realness. The taps are chrome and ready for pouring. When a crowd builds the pours get a little slower, but they are worth the wait. They have awesome local beers as well as vintage bottles. The food is ridiculous. Salads are huge... But go for the wings. Trust me.
★
461 characters
4.32
/5
rDev
-1.8%
vibe: 4.25 | quality: 4.25 | service: 4.5 | selection: 4.25
I stopped here twice while in Rome. The second time, we couldn't get seats so I guess you could say it is very popular. My advice is to arrive early.
The bartender was friendly and professional. No complaints on that end.
The selection was very good. It was mostly Italian crafts with a smattering of good American & UK offerings.
I thought the prices were basically in-line with other good Rome beer spots.
I didn't eat but was hoping to try their burgers. I guess I will have to go back!
★
509 characters
4.2
/5
rDev
-4.5%
vibe: 3.75 | quality: 4.25 | service: 4 | selection: 4.5 | food: 4.25
Stopped by after a concert late on a hot Sunday night. The place was mostly empty except for a few that looked like regulars, but they still turned up darned good burgers and fries in a good hurry, including a veggie burger for my wife. The beer selection is awesome; we only made it through a half dozen or so, and I thoroughly enjoyed all of them. And expatriate Hophead, I worked through most of the IPA-like styles and found all of them well presented and tasty.
Certainly worth a visit if you're in Rome and want a broad sample of Italian microbrew!
The facilities are a little neon and plastic for me; on a summer Sunday night it was quiet, but it looks like they're staged to take a horde and pump beer into them.
★
722 characters
4.2
/5
rDev
-4.5%
vibe: 4 | quality: 4.5 | service: 4 | selection: 4 | food: 4.5
Ive been a few times the first time I was impressed with the amount of work that went into the creation of the space, Its not a large space but obviously the owner had some money to spend.
Going back again I have found that Alex the owner has really worked hard to improve the beer selections and has some hard to find good quality beers! Im looking forward to heading beack there the next time Im in Rome...
The Gleaming 4 head Angram hand pump is a great addition as well!
like most places in rome the food is really good.
★
527 characters

4.15
/5
rDev
-5.7%
vibe: 4.75 | quality: 4 | service: 4.5 | selection: 4 | food: 3.5
What a really, really cool place. The beer management makes a HUGE point to have some very rare beers. This is also basically a brewpub for 'revelation cat'. It's beautiful, the staff is great, and the beer is awesome. Unfortunately, it has a commercialized feel. We all know 'that' brewpub that is packed with novices. The staff is extremely knowledgeable and nice, but there's also a lot of customers who walk in and order shots of tap vodka and then walk to the club down the street. This is absolutely a must-visit, but try to visit when it's not busy.
★
570 characters
2.71
/5
rDev
-38.4%
vibe: 3.5 | quality: 1.5 | service: 1.5 | selection: 5
I went to Brasserie 4:20 for the first time last night and was very excited to see what it had to offer as I had been regularly patroning Ma Che Siete Venuti a Fa and Bir & Fud in Trastevere and was blown away by the selection of hard to quality beers as well as the kind and knowledgeable staff.
To say that I was impressed by the selection at Brasserie 4:20 would be an understatement. I have worked in the specialty beer industry in the United States for almost 5 years and I have rarely seen a bar with as good a selection of hard to find American craft as this place...in Rome of all places. That being said, I found the staff to be very rude, and it almost brought me to tears when I saw bartenders passing out glasses that were half foam...and then try to tell me that that was the way the beer was supposed to be served. I am all for good head on my beer but this was absurd. I mean every glass, of every type of beer was going out, literally half foam. Whats worse is to think of all that delicious hard to find craft beer being poured down the drain.
If I return to Brasserie 420 it will certainly be for bottle beer only, and I will insist on pouring it myself. In the end I found that they had the goods, but the goods were being abused.
★
1,253 characters
Brasserie 4:20 in Roma, Italy
4.4
out of
5
based on
18
ratings.