Dagon Lager Beer
| Dagon Brewery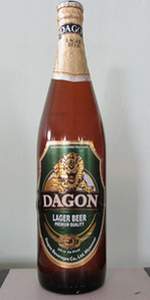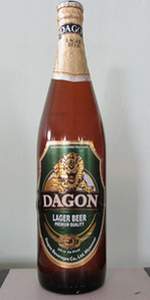 BEER INFO
Brewed by:
Dagon Brewery
Myanmar
Style:
American Adjunct Lager
Alcohol by volume (ABV):
5.00%
Availability:
Year-round
Notes / Commercial Description:
No notes at this time.
Added by lacqueredmouse on 04-19-2007
Ratings: 14 | Reviews: 5
Reviews by Ciocanelu:

More User Reviews:
2.5
/5
rDev
+2.5%
look: 2.5 | smell: 2.5 | taste: 2.5 | feel: 2.5 | overall: 2.5
Having gotten to dislike the ubiquitous and bland Myanmar beer, I occasionally gave this one a try during my stay in this otherwise fine and interesting country. Unmemorable and a bit on the nasty side, not worth seeking out
Years ago, I was cycling in India the year after the barley crop had failed and locals said that the breweries were reduced to making beer out of potatoes. That's certainly how it tasted, and it kept this inveterate beer drinker remarkably sober during that trip. Dagon is somewhat better than that.
525 characters


2.41
/5
rDev
-1.2%
look: 2.25 | smell: 2.5 | taste: 2.5 | feel: 2.25 | overall: 2.25


2.09
/5
rDev
-14.3%
look: 2.5 | smell: 2.25 | taste: 2 | feel: 2 | overall: 2
1.44
/5
rDev
-41%
look: 2.5 | smell: 1 | taste: 1.5 | feel: 1.5 | overall: 1.5
Tasted on tap in a little restaurant in the middle of nowhere, somewhere on the road between Mandalay and Inle Lake.
Very pale yellow colour, with a sticky white head. Quite highly carbonated with lots of coarse bubbles.
Nose is distinctly... nothing. Maybe a very slight hint of tinny aluminium that I'm pretty sure doesn't come from the beer. Almost nothing else.
Taste is pretty much the same, but it has a pretty nasty yeast flavour at the end, which ruins anything clean about it. Still manages to stay pretty damn flavourless. Mouthfeel is way to sparkly and prickly. Overkill.
This one's pretty bad. It's no wonder it's hard to lay your hands on - the Burmese try to hide this secret shame from the foreigners. Burmese beer in general is better than this...
776 characters
2.28
/5
rDev
-6.6%
look: 2.25 | smell: 2.25 | taste: 2.25 | feel: 2.5 | overall: 2.25
2.25/2.25/2.25/2.5/2.25
From notes. Reviewed 13 May 2015.
Poured from a 640mL bottle into a glass in Nyaung U.
Short-lived head tops a piss-yellow beer. Clear. It smells weak, watery, and grainy. The taste follows suit, managing to be both thin and sweet. Perhaps the light carbonation contributes to the squamish feeling. The aftertaste smacks of cheap lager; this is a cheap, bad lager. Still, it's not terrible and I'll probably finish it. Light and perhaps quenching if that's what you're after.
"We all hed to take the Oath o' Dagon, an' later on they was secon' an' third Oaths that some on us took."
618 characters
2.9
/5
rDev
+18.9%
look: 2.75 | smell: 2.75 | taste: 3 | feel: 2.75 | overall: 3
A - Golden pour. Typical lager head gone pretty fast. Good carbonation, bright, little lace and a bit of retention.
S - Mild. Honey and grain again.
T - Honey, sweet grain. Some very mild adjuncty-ness. Sugary.
M - Nice carbonation. Frothy body so it's hard to tell but it seemed medium, but instantly went to froth. Some dryness in the finish.
O/D - Not a bad lager. Not too adjuncty. Tasty enough and a good alternative to worse ones.
441 characters
2.46
/5
rDev
+0.8%
look: 3 | smell: 2 | taste: 2.5 | feel: 3 | overall: 2.5
2.9
/5
rDev
+18.9%
look: 3 | smell: 3 | taste: 2 | feel: 4 | overall: 4
Appearance: Nice, even gold with a short-lived, soapy white head.
Smell: Sweet cornbread, honey and dandelion with a hint of glue.
Taste: Odd, with a bracing yet thin bitterness, a bit like tonic water. Malts (and adjuncts) have almost no character - just a touch of nondescript, rum-like sweetness. Alcohol is also prevalent - totally unnecessary for a beer of this strength.
Mouthfeel: Very fizzy, as fizzy as club soda. This is good at distracting from the taste, and rather refreshing.
Drinkability: Clean and dry enough that you forget how bad it tastes between sips; keep the beer cold and your expectations low, and it's not bad at all.
647 characters
2.38
/5
rDev
-2.5%
look: 2.25 | smell: 2.25 | taste: 2.5 | feel: 2 | overall: 2.5
Dagon Lager Beer from Dagon Brewery
Beer rating:
0%
out of
100
with
14
ratings