Charlie Mopps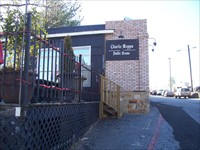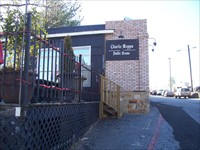 PLACE INFO
Type:
Bar, Eatery
5830 Roswell Rd
Sandy Springs
,
Georgia
, 30328-4906
United States
(404) 845-0713
// CLOSED //
Notes:
No notes at this time.
Added by BeerAdvocate on 04-15-2007
PLACE STATS
Reviews:

12

Ratings:

pDev:

10%
HISTOGRAM
Ratings: 12 | Reviews: 12
Reviews by rudyarmand:
4.22
/5
rDev
-4.1%
vibe: 3.5 | quality: 4.5 | service: 4 | selection: 4.5 | food: 4
Charlie Mopps was formerly a Summits Restaurant and Tavern. When it was Summits, I took my wife there on one occasion. Although the beer selection was considerable, so was the dust and gloom. She would not consider returning (my own standards are a little bit more liberal!).
Today I visited Charlie Mopps and was very pleased to confirm (from another B.A. review) that the place was much cleaner and although it is still very dark inside, you could plainly see that great care was being used towards sanitation.
I ordered a Leffe Blonde since it is not too common anymore in Atlanta, and it was served in a 16oz. chalice accompanied by a St. Bernardus goblet. Quite a generous pour! I ordered a black & blue burger with fries and it was quite good. The service was very friendly and knowledgeable on beer information.
I would like to thank the bartender for recommending Heavy Sea's Loose Cannon. I enjoyed it on draft and went right out to order two six-packs for home consumption.
I wish Charlie Mopps great success!
1,023 characters
More User Reviews:

3.25
/5
rDev
-26.1%
vibe: 2.5 | quality: 3 | service: 3 | selection: 4 | food: 3.5
Charlie Mopps shows some promise, but it's ultimately got a number of factors working against it. I've been there three times now, and each time I wish it was better -- it's very close to where I live, and there are precious few good beer destinations in this part of town. Really, there are none, unless you count the well-known brewpub down the street from Mopps.
Atmosphere: I never saw this building in its former incarnation (Summit's), as referred to in previous reviews. As it stands now, though, it's a fairly nondescript, dive-ish bar with several TVs tuned to sports and a small stage in one corner. It doesn't seem to have a cohesive identity or character. The place generally appears dirty and older than it is...maybe it's the layout and/or the lighting.
By far the biggest problem with Charlie Mopps, though, is its impenetrable smokiness. While some apparently find this to be a plus due to the lack of smoking establishments around here, as a non-smoker, I don't. Ventilation is poor, and the bar fills with smoke quickly once the tables begin to fill each night. Even during lunch on a warm Sunday, when the bar kept their front door open to let in fresh air, the smoke was nearly overwhelming.
On top of that, unless you love the small-time local band that's playing on a given night, it's probably in your best interest to retreat to the back room so you can hear your own conversation. Now that I think about it, this place reminds me of the packed bars I frequented as a college student, but with a better beer list.
Quality: With a relatively large variety of good beers available on tap and in bottles, again, Mopps shows promise. But when they serve your Samuel Smith's Imperial Stout with a frosted American pint glass, that promise begins to fade. When they serve your half-liter Weihenstephaner Vitus with another frosted pint glass, it becomes downright frustrating. Tap lines aren't always the cleanest, further muddling the situation. All beers are served quite cold -- also not necessarily ideal. Then again, this bar attracts a substantial crowd of BMC acolytes who end their nights with rounds of liquor shots, so proper glasses and serving temperatures aren't necessarily essential.
Service: I've never encountered a rude or especially inefficient waiter or waitress during my three visits. As the night wears on, though, the wait staff can get overtaxed, and there is often a hefty wait at the bar as the crowd steadily thickens.
Selection: As alluded to above, this is Charlie Mopps' greatest asset. You'll always find a sizeable selection of domestic and imported craft beers, in addition to the usual BMC fare. The beer list is generally sorted by style, although there is a "high-gravity" section that includes things like Weihenstephaner Vitus alongside barleywines and imperial stouts. Many items rotate off the beer menu fairly quickly, keeping things interesting with repeated visits. That menu could use some descriptions of the beers on it, though; at present, you need to have a pretty good knowledge of beer to recognize everything on the list and know what you might be getting.
Food: The food menu is comprised largely of standard bar fare (e.g., sliders, wings, fish and chips, nachos), but some of it's a notch above the mediocre frozen stuff you'll find at comparably-priced establishments. I strongly recommend the house-made blue cheese potato chips. It should be noted, though, that it can often be difficult to taste the food through the stifling cloud of smoke.
On the whole, while I certainly wouldn't boycott Charlie Mopps, I find it to be a sadly missed opportunity for greatness. Somebody there obviously loves good beer, as evidenced by the beer list's often-changing variety of quality offerings. But frosted pint glasses, thick smoke, loud music, and lack of identity/atmosphere render the place only okay. If only some of those problems could be remedied, we'd have a reliable "old standby" beer destination in Sandy Springs -- the lack of such a place in this area right now is truly frustrating.
4,072 characters
4.1
/5
rDev
-6.8%
vibe: 2.5 | quality: 4 | service: 4.5 | selection: 4.5 | food: 4
Except for the heavy smoking presence, this is a great all around bar. Good beer, good service and a good price. The kitchen puts out tasty, not-your-standard-bar-fare food and you can eat well here for $15. Of course, the wall of taps beckons like a flame to a moth. I just wished I had a designated driver on this trip. The waitress was friendly, knowledgeable and quick. I had an Adventenus, a Rogue Hazlenut Brown and a Hofbrauhaus Munichen. All were served promptly and not overly chilled, though not in the proper glassware. Hard to find this place as there are no street signs and the bar name is just painted on some wood by the door, but there are some beer murals to guide you in.
690 characters
4.38
/5
rDev
-0.5%
vibe: 5 | quality: 4.5 | service: 4 | selection: 4.5 | food: 4
Went here last night with a group of classmates to celebrate the end of the semester. First, I want to second what the previous reviewer said about it being hard to find -- it took me about 10 minutes driving back and forth before I finally spotted it... just go ahead and park in the CarTunes parking lot.
They had Lagunitas Hairy Eyeball and Lumpy Gravy on tap as a $3 pint special, which was awesome, but my buddy got a Rogue Shakespeare Stout for $5+
The band playing (Charlie Wooton Trio) was AWESOME! they were loud, but I think there was a patio area where it was a little quieter (I'd assume... I didn't go out there)
I'll be back... next week with my classmates!
674 characters
4.83
/5
rDev
+9.8%
vibe: 4.5 | quality: 5 | service: 4.5 | selection: 5 | food: 5
My wife and I in Atlanta on vacation and decided to stop by based on the beer selection on their website. I was not disappointed. The beer selection was great. Plenty of beers on tap and even more in bottles. The service was good. The food was pretty good also. The wings were excellent with the honey bbq sauce. Everything was brought out quick and timely. I plan on going back anytime I'm in the Atlanta area. The only bad thing about the place was that if you are going north on Roswell it is real easy to miss. Just look for the Cartunes.
542 characters
4.72
/5
rDev
+7.3%
vibe: 4.5 | quality: 5 | service: 4.5 | selection: 5 | food: 4
This bar is like my second home. The staff is great and the local partons are well worth the trip. I come here at least 2 to 3 times a week and i never leave unsatisfied. Holly and Chuck behind the bar take care of me and Rob always has my favorite game on the tube. The beer selction is outstanding and the food isn't bad either. If your ever in the mood for a low key bar with great conversataion and people then this is the place for you to belly up to the bar. I recommend this place to any beer lover.
506 characters
4.9
/5
rDev
+11.4%
vibe: 4.5 | quality: 5 | service: 5 | selection: 5 | food: 4.5
I came into Atlanta for the 4th Annual Cask Ale Tasting and made it a point to come here. This place is wonderful. The owners have really tried their best to made this a great beer place. My server Jon was very knowledgeable and provided a number of samples for me to taste. While there I did have a Duchesse du Bourgogne one tap and several (9) Lagunitas styles on tap and several more in bottles, easily the best selection of that brewery's products in the Southeast. My wife and I both had dinner while there and we really enjoyed the food especially the fried green beans. There was just a great feeling to this place that makes me want to come back again. If you come to Atlanta be sure to come here!!!!
708 characters
4.7
/5
rDev
+6.8%
vibe: 4.5 | quality: 4.5 | service: 5 | selection: 5 | food: 4
As previous reviewers have stated, this bar has risen gloriously from the ashes (more like thick layer of dust and grime) of the original Sandy Springs location of Summits Wayside Tavern.
The new ownership is busting ass to fix every issue the building had, and it looks great. They kept the pub-meets-sports-bar atmosphere, but everything looks and feels shiny and new, which is just night and day from when it was Summits. On that note, It looks like they even reworked the street side of the building so that more light comes in. They have also rearranged the tables and added some booths.
The beer selection has even improved over the already impressive Summits list: There is a heavier focus on domestic craft brews (with a serious bent towards seasonals and rarities/special brews in many cases). The previously thin american macro lager selection has been squeezed down to the bare essentials necessary for a bar in that area of town to survive. The import area also sports several exciting brews such as Samiclaus, the Aventinus Eisbock, and many Belgian items. Given that this level of selection is being applied to a world of 80 or so taps and a couple hundred bottles, Charlie Mopps seems to be making a fast, strong bid to nestle unopposed into a coveted second place for Atlanta beer bar cred (second only to the ever-established Brick Store, that is.)
As to the service, my "5" is the result of the new owner, Jason, shooting the breeze with us for about two hours while we were in there, discussing all his plans for the place and obviously quite excited that we were as into good beer as we are. He's a really friendly guy, and I can tell he's got the right ideas about this bar and what to do with it.
The menu is still in development (he said he just wanted to get enough food ready to open up; at this point, he seems to be more focused on the beer), but the wings i got were great, and it looks like there's some off the wall items in the offering already. (Fried twinkie, fried ribs, anyone?) It will be interesting to see how it develops. Currently it's wings, burgers, and sandwiches with a few other items here and there.
Charlie Mopps basically has promise just radiating from the walls. I just moved into Sandy Springs, and my disappointment that the Summits had closed has completely evaporated. I'll be a regular here for sure, and I encourage anyone looking for a top-notch beer bar on the north side of town to do the same.
2,468 characters
4.68
/5
rDev
+6.4%
vibe: 4 | quality: 5 | service: 4.5 | selection: 5 | food: 4
I used to be a patron of the previous occupants, Summits, and I can honestly say Charlie Mopps has vastly improved the building. My feet no longer stick to the floor and I don't have immediate allergy attacks once I walk in the door anymore. A lot of the clutter has been removed and the walls have been painted. The overall effect is still that of a neighborhood pub, but a well kept up pub as opposed to the former dungeon of grease, crud, and dust.
There are between 80 and 90 taps, and a couple hundred beers in the bottle with a focus on interesting craft brews. The food has traveled a full step up and the menu is still in the process of expanding (everyone ask for a Reuben *wink*)
The staff is friendly and personable. I've only met one of the owners, but he's great fun to talk with about beer and the bar business. Overall, I honestly predict that Charlie Mopps is about to become one of my more frequent haunts.
929 characters

4.08
/5
rDev
-7.3%
vibe: 4 | quality: 4 | service: 4 | selection: 4.5 | food: 3.5
Not much has changed here since it was Summits, and what *has* changed, has changed for the better. Foremost, it is vastly cleaner, and a simple coat of paint on the walls makes for a much less tired looking building.
Beer selection both in bottles and on tap is still fantastic.
The food was pretty good. Their fries have a breading/seasoning on them which is really tasty, and the bacon cheese burger I had was pretty good, too. Other than the cleanliness, new name on the building, and new faces inside, the store and what it has to offer (beer selection) has changed little. I'll keep going back.
604 characters
4.55
/5
rDev
+3.4%
vibe: 4.5 | quality: 4 | service: 5 | selection: 5 | food: 4
Charlie Mopps has truly honored the former tenant of this building, the Summits Wayside Tavern of Sandy Springs. As with Summits, they have an amazing beer selection: I counted 80 on tap and 170 in bottles, mostly craft brews and imports. I hope they decide to have a "beer club" like the Summits Club, where you drink 100 beers and get a personalized mug.
Music is not the best (but I'm picky about music!), but they don't play it too loud, and when they have a game on that isn't too loud either. Food is very tasty and much better than your typical pub chow. Service is just as good as at the old Summits - the serving people are friendly, helpful, and fast as they can be for the circumstances. Though I will always miss the Sandy Springs Summits, I am confident Charlie Mopps will establish themselves as another great beer bar of the Atlanta area.
856 characters
4.4
/5
rDev 0%
vibe: 4 | quality: 4.5 | service: 4 | selection: 5 | food: 4
Q: How can you take Summits Sandy Springs and improve it? A: Charlie Mopps! With improved seating, a snazzy new bar top, a fresh coat of paint, removal of 10 tons of dust and grime and bringing the kitchen up to exceptional sanitary health standards, the new owners are off to a great start. Under the top management skills of Chuck the beer list is not only expanding but the quality of the available beer has improved. On average around 80 taps are pouring and the bottle list has to be at least 100 to 150 different beers. Did I mention the price? I still drink good beer for noticeably less cash! The main part of the staff is still ramping up on their beer skills but I'm sure they will be skilled in no time and if you know what you want that isn't a problem in the first place. When the place was Summits it was very smoky but now as Charlie Mopps it seems less smoky (could be the smoke eaters the owner installed). Make no mistake, this is a beer BAR and may they be blessed for keeping it that way. The menu isn't as expansive as Summits but is still extensive and the food is far above the normal bar fare. I recommend the beef & cheddar sandwich, the buffalo-style chicken sandwich, or the buffalo wings. Overall the place is an improvement and many of the old Taco Mac/Summits regulars have returned. Do yourself a favor by avoiding the Summits price markups and drink in the beer diversity that is Charlie Mopps! Hurray Beer!
1,442 characters
Charlie Mopps in Sandy Springs, GA
Place rating:
4.4
out of
5
with
12
ratings