Pumpking
| Wychwood Brewery Company Ltd
BA SCORE
77
okay
15
Reviews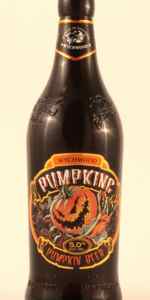 BEER INFO
Brewed by:
Wychwood Brewery Company Ltd
United Kingdom (England)
|
website
Style:
Pumpkin Ale
Alcohol by volume (ABV):
4.50%
Availability:
Fall
Notes / Commercial Description:
No notes at this time.
Added by TerryW on 10-16-2003
Reviews: 15 | Ratings: 71
2.53
/5
rDev
-19.4%
look: 3.25 | smell: 3.25 | taste: 2.25 | feel: 2.5 | overall: 2
500ml bottle from Morrisons (£1):
A pretty disappointing beer despite the beer starting okay with a nice enough looking body & an okay smell; it was still better than the bottle of Forest Fruits from the brewery I tried some time back but only just. It seemed weak & uninteresting with too much bitterness; the only plus was that it was on special & I didn't pay full price.
★
375 characters
3.03
/5
rDev
-3.5%
look: 3.75 | smell: 3.75 | taste: 2.5 | feel: 3 | overall: 3
Pours a nice mahogony with a reasonable head that dissipated quickly. Nose is full caramel malt and a hint of...not pumpkin...but more like stale Indian food spices. Maybe it is stale cumin? Taste is...not good. Astringent, not much malt, not much flavor, metallic. Too much carbonation accentuates the sharpness.
★
318 characters

2.03
/5
rDev
-35.4%
look: 4.5 | smell: 2.75 | taste: 1.25 | feel: 1.5 | overall: 2.25
This beer was highly recommended and was a complete letdown. Having consumed a large amount of pumpkin brews this was surprisingly horrible. Looked amazing with a dark amber/orange body with a decent white head with gorgeous lacing. Nose was pungent of pumpkin spice/other spice without any further backing. Taste was where the letdown really hit as the only taste I got was tons of spice with a watery finishing. Overall I would consider this an extremely overrated pumpkin beer that should be avoided unless curiosity killed the cat or you are offered it at a gathering.
★
577 characters
3.75
/5
rDev
+19.4%
look: 3 | smell: 3.5 | taste: 4 | feel: 3.25 | overall: 4
Loved this beer. Perfect fall time taste. Hints of cinnamon and spice but not too much where it becomes overbearing. Tastes and smells exactly as the name suggests. There was just enough pumpkin flavor where it still felt like I was drinking beer and not pumpkin juice. Smooth finish with pleasant, somewhat spicy aftertaste.
★
325 characters

2.75
/5
rDev
-12.4%
look: 2.75 | smell: 2.75 | taste: 2.75 | feel: 2.75 | overall: 2.75
I've had this both bottled and cask
the later thinking that the conditioning rather than pasteurisation would retain some of the pumpkin flavour but sadly not
it looks like beer
keeping it positive
★
198 characters
4.25
/5
rDev
+35.4%
look: 4 | smell: 4 | taste: 4.5 | feel: 4 | overall: 4.25
The beer looked orange in color like the flesh of a pumpkin, with a striking clarity. There wasn't much of a head, and the carbonation bubbles formed wispy streamers. The smell was quite a bit like pumpkin pie, with the vegetable smell mixing with cinnamon, and dough. The taste was much more intense than I was expecting, as there were flavors of pumpkin, cinnamon, vanilla, and nutmeg up front, followed by a surprising hop presence. The interplay between sweet, spicy, and bitter was very well done. The finish was dry, and showcased the spices. The body was a little thicker than medium, with a little sticky coating in the mouth. I usually don't go for pumpkin beers, but picked this up based on the recommendation of the store owner, and glad I did.
★
755 characters
3.38
/5
rDev
+7.6%
look: 4 | smell: 3.5 | taste: 3.5 | feel: 3 | overall: 3
Gorgeous burnt color and inviting aroma, this is a decent brew for a pumpkin beer. Less of a beer than a baked good, in my opinion. Very sweet, and not suited for serial drinkers or those seeking a more traditional bitter/sweet balance in their beer. Personally felt the flavors of caramel and vanilla overwhelmed other spice notes, and missed the nutty flavor of any pumpkin almost entirely. Not much foreplay with the sweetness here, and was left wanting for a more complex finish.
★
483 characters

2.6
/5
rDev
-17.2%
look: 3.5 | smell: 3.5 | taste: 2 | feel: 2.5 | overall: 2.5
Appearance - Nice deep orange hazel hues. Small 1-finger head (poured vigorously) that disappeared quickly.
Smell - Fun. Lightly spiced pumpkin, caramel, toasted vanilla. Almost smells like cotton candy to me. Light hops present.
Taste - Ugh. Grainy. Spicy. Pumpkin and vanilla flavor in grain alcohol. Medicine aftertaste. Some hops present. Weird.
Mouthfeel - Stingy and sharp on the entrance, but quickly smooths out. Surprisingly little burn for 8.6% ABV.
Overall - Very strange beer. It's an interesting idea, but probably can be done better. Would work great as a party favor in small glasses.
★
603 characters

2.91
/5
rDev
-7.3%
look: 3.5 | smell: 2.5 | taste: 3 | feel: 3 | overall: 3
Celebrating Halloween a few days late! A 500ml bottle with a BB of Sept 2012. ABV is stated as 4.2%, and the label mentions the use of pumpkin and mace in the brewing of this ale.
Poured into a Sam Smith's pint glass. A bright coppery-amber hue with medium carbonation. Produces a decent head of frothy off-white foam that disappears after a minute or so. Aroma of sweet malt with very faint hints of toffee, dried fruit and stewed hops. A whiff of diacetyl. Unimpressive.
Tastes of slightly sweet malt with a mild bitter finish. Notes of toffee/caramel and stewed hops, in addition to faint buttery undertones. No spice that I can distinguish. Mouthfeel is smooth but a bit thin and astringent. Leaves the palate dry, with an aftertaste of bitter hops.
Weak. To be fair I'm not sure I've had a pumpkin beer before from which I could draw a comparison, but this comes across as incredibly average and bland. I'm not detecting any 'pumpkin' notes as such and the spice is not evident either. Thin body and unexceptional flavour make this a disappointing experience - if you want an autumnal ale look elsewhere....
★
1,115 characters
3.34
/5
rDev
+6.4%
look: 2 | smell: 3 | taste: 4 | feel: 3 | overall: 3
The UK isn't big on Pumpkins, let alone Pumpkin Beers, this is the second (I think) I've ever had.
Brown 500ml bottle (5.0% not 4.50% as listed), loads of life left. Not that you could tell from the pour.
Poured into a standard Uk pint sleeve glass.
Dark amber, deep terracotta colour with no head, just an off white collar and wisps. No haze or cloudiness, clear and a bit boring to the eye to be honest. In fact it is what a work mate of mine would call 'Flat Shit' if he had seen it.
Do pumpkins smell sweet? If so this beer was giving off the right aromas. The label mentions mace, but I couldn't pick that up in the smell or taste. Having said that, there is a spice hint in both the the aroma and taste. The label also goes on the tell you all sorts of flavours you should find. Well I struggled to agree with the head brewer on most counts, but I did like the beers taste.
Another Wychwood beer that promises so much but just fails to produce.
★
955 characters
2.78
/5
rDev
-11.5%
look: 3.5 | smell: 3 | taste: 2.5 | feel: 2.5 | overall: 3
500ml bottle bought from Sainsbury's....
Poured a dark amber orange colour... Creamy head poured small but quite thick and foamy then faded to wispy covering... barely any carbonation... any lacing fades very quickly...
Aroma - Toasted bread and toffee maltiness, faint smokiness, spicy fruits (oranges, dates, some plums), light pumkin / squash spiciness, faint clove, light pepperiness, some salty notes, caramel sweetness...
Taste – Light spicy fruits (oranges, apples, light figs) mixed with what seems like an industrial spice mix - hints of mace, ginger and a little cinnamon... some toasted caramel malts, quite grainy, some treacle notes, harsh peppery hop bitterness, some grassiness, bit of a metallic aftertaste...
Feel - Quite sharp with some unpleasant grittiness.. light / medium bodied... A bit sickly after a while to be very drinkable...
Overall - Not a great beer.. the unpleasent spice-mix taste becomes too much near the end... maybe worth a try once...
★
979 characters
2.86
/5
rDev
-8.9%
look: 3.5 | smell: 2.5 | taste: 3 | feel: 3.5 | overall: 2.5
Appearance: hazelnut brown, good clarity, spongey layer of light tan foam, OK head retention
Aroma: biscuity malt, cooked pumpkin, cinnamon dust
Flavor: full malt sweetness with an edge of clove/mace warmth; hint of toffee; finishes semisweet with a caramelly aftertaste
Mouthfeel: medium body, terse carbonation, soft texture, spice warmth in the throat
Other comments: I think this is just Hobgoblin with some pumpkin and spices thrown in.
★
445 characters
2.7
/5
rDev
-14%
look: 2.5 | smell: 2.5 | taste: 3 | feel: 2.5 | overall: 2.5
Light reddish/orange brew with very little in the head retention department. The metallic taste is too present for my liking and there is no compelexity, nothing to distinguish itself from another bitter/ english pale ale. The name is very misleading since there's no pumpkins in this beer as far as I can tell. I won't be seeking this one in the near future...
★
361 characters
3.26
/5
rDev
+3.8%
look: 3.5 | smell: 2.5 | taste: 3.5 | feel: 3.5 | overall: 3.5
Initial impression was to the skunk...aroma and taste, packaging was a clear colorless bottle with a Holloween "scary" label.
The brew itself was a pumpkin(g) innard colour with a medium head and light carbonation. No lace was evident but a minor ring and climbing glass cling were prominent.
The taste was hop heavy but not extreme. There was a slight malt presence to offset the hops.
BOO!
★
394 characters

3.01
/5
rDev
-4.1%
look: 4 | smell: 3 | taste: 3 | feel: 2.5 | overall: 3
Deep orange / rusty red in colour. Moderate head, consistent lacing. Looks quite nice.
Fruity, malty aroma. Smells of apples (No. No pumpkin in here). Similarly fruity, malty taste. Mild hops, some lingering bitterness. Not hard to drink, but not real memorable either. Light, thin on the palate.
This is another one of those average sort of Wychwood beers that comes in a great looking bottle. Nice visual.
★
413 characters
Pumpking from Wychwood Brewery Company Ltd
3.14
out of
5
based on
71
ratings.