Duchy Originals Organic Golden Ale
| Wychwood Brewery Company Ltd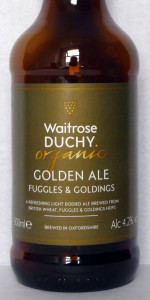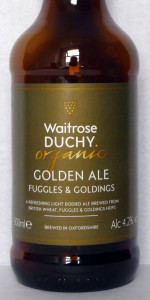 BEER INFO
Brewed by:
Wychwood Brewery Company Ltd
England
,
United Kingdom
wychwood.co.uk
Style:
English Bitter
Alcohol by volume (ABV):
4.80%
Availability:
Rotating
Notes / Commercial Description:
Brewed for HRH The Prince of Wales's Dutchy Originals (duchyoriginals.com) with profits donated to HRH's Charitable Foundations. Made with organic barley including some from the Home Farm at Highgrove (princeofwales.gov.uk)—the country home of HRH.
Added by wl0307 on 01-07-2007
HISTOGRAM
Ratings: 12 | Reviews: 7
Reviews by pin:

More User Reviews:
2.34
/5
rDev
-33.3%
look: 2.5 | smell: 2.75 | taste: 2.25 | feel: 1.75 | overall: 2.25
Very nice ale bottles. If I were home-brewing right now I'd keep them for re-use....
L Mid amber. Clear, 3-5mm white head very slowly clearing.
S A fresh hoppy nose, through my summer urban congestion
T Light, light and quite thin through to bitter hoppy notes.
M Refreshing, in it's thin-ness but character is lacking for me
O This is the third 'Duchy' beer I've tried tonight and each has under-whelmed; it's a real disappointment. Prince Charles and his estate has a clean open slate to explore and express and what I've sampled here is just so blah. Right now I've no reason to buy any of these 'Duchy' beers again.
620 characters

3.35
/5
rDev
-4.6%
look: 3.5 | smell: 3.5 | taste: 3.25 | feel: 3.5 | overall: 3.25
A 500ml bottle with a BB of Aug 2018. ABV is stated as 4.2%. Purchased a while back from Waitrose. The label calls it a golden ale brewed with organic ingredients and hopped with Fuggles and Goldings.
A: Poured into a straight pint glass. A rich amber colour with slight floating sediment and good carbonation. Produces a large head of creamy white foam that lasts for a few minutes before subsiding to a patchy surface layer. Slight lacing.
S: Aroma of fruity ale yeast with hints of esters, grainy malt, stewed hops, vague leafiness and a twinge of sulphur. Balanced and traditional - pleasant enough.
T: Tastes of ale yeast with notes of fruity esters, faint bubblegum, grainy malt, stewed hops, leafiness and a touch of harsh overdone veg in the background. Slightly sweet, followed by an understated leafy bitterness upon swallowing.
M: Mouthfeel is smooth and tingly, with spritzy carbonation and good body. Mildly astringent; dries the palate. Aftertaste of fruity ale yeast, grainy malt and subtle leafy hops.
O: A traditional pale ale that's pretty well put together. Looks alright, while the aroma and flavour showcase ale yeast, grainy malt and leafy, grassy hops. Body is OK. Drinkable enough if not very exciting - don't expect to be blown away.
1,263 characters


3.92
/5
rDev
+11.7%
look: 3.5 | smell: 4 | taste: 4 | feel: 3.5 | overall: 4
Why do I buy so many golden beers?
Oh because they are the most widely available.
Once again I will say, to be properly organic a beer really needs top be BC'd.
Pours A golden lemon yellow body with nice thick white head with good staying power.
The Aroma is a treat, far more hops than usual and a sweet smack like a bag of wine gums with haunting floral notes or is that just me listening to Miranda Sex Garden.
More like a bitter with taste, starting with a malty, wheaty smack very dry subtle hints of salted caramel then taken along a yeasty, peppery aftertaste via hoppy bitterness.
Mouthfeel has a little to be desired, bit watery however a bang on carbonation recoups this.
Overall a nice refreshing beer if not quite fit for a prince lol.
754 characters

3.65
/5
rDev
+4%
look: 4 | smell: 4 | taste: 3.5 | feel: 3.5 | overall: 3.5
G: Pint Glass
A: Clear golden-amber body. One finger of off-white head with nice lacing.
S: Citrus fruits, honey and hops.
T:A mix of citrus, honey and bitter hops.
M: Light bodied with medium-high carbonation. Dry-bitter finish.
D: I found the flavours to be unbalances and the carbonation was to high. Decent, but I don't think I would purchase this again.
365 characters

3.92
/5
rDev
+11.7%
look: 3.5 | smell: 4 | taste: 4 | feel: 3.5 | overall: 4
500ml bottle
Poured a light copper color with a 2 finger white cap that lasts and laces.
Aromas of leafy herbs and succulent fruits under a caramel malt tone.
ESB is not a style I'm partial to but this ale is quite pleasant and surprisingly more complex than I would have expected for an organic brew. This is the 3rd organic brew I've found to do this and it validates the contention that organic malts, hops and other botanicals used in brewing are more flavorful.
Upfront caramel malts mingle with ambiances of ripe succulent fruits, floral tones of upland botanicals like heather, mid palate a nice swirl of toasty-char astringency mingles with the now bittering hops, finish is wet with a light fruit-malt sweetness riding over a light metallic bittering.
Very nicely put together ESB, pleasant, drinkable, complex enough to be interesting and the flavors seem more discrete.
895 characters
3.39
/5
rDev
-3.4%
look: 4.5 | smell: 3 | taste: 3.5 | feel: 3 | overall: 3.5
500ml bottle
5.0% ABV
I tried this beer on March 3, 2008 after purchasing from one of my local LCBO outlets. The beer poured a slightly hazy pinkish red with very little head. The aroma was mainly malty with some nutty and hoppy tones. The mouthfeel was medium-bodied with high carbonation. The flavour was surprisingly hoppy with some malty tones.
349 characters
3.6
/5
rDev
+2.6%
look: 3.5 | smell: 3.5 | taste: 3.5 | feel: 3.5 | overall: 4
Purchased at the Waitrose supermarket, this bottle, despite sharing the same name as the one tasted before, comes with four changes that I can detect from the packaging: 1) The bottle has been repackaged with a beer label of new design (the same as that of Ruby Ale 1905); 2) alc. content is down to 4.2%abv.; 3) brewed in "Staffordshire" (Marston's?), rather than in Oxfordshire where Wychwood Brewery is based; 4) "elderflower" is not mentioned as one of the ingredients anymore… An improved version under the same label, or a different beer altogether? Let's see. BB 31/08/12, served cool in a straight imperial pint glass.
A: pours a light golden hue with unusually high level of carbonation and a thick off-white fluffy pillowy head. Looking very very fizzy, almost like Czech Pils served on tap.
S: grassy and earthy hops, pale malts with sweet citrus and boiled yum's notes – all integrated smoothly, even if there's nothing outstanding on the nose.
T: very good quality pale malts with lots of grainy/gristy aroma dominate the foretaste along with a mild tinge of Golding's sweet citrusness lingering… while a "dry"-ish palate (hard to describe, but like the aftertaste of Brakspear's double-drop system products) ensues closely and prolongs the aftertaste into a finish that is somewhat floral-malty in aroma and mildly chewy on palate, showing a decent balance all in all between English hops and English pale malts.
M&D: the hyper fizziness in appearance is fortunately not so lively on the palate, working quite well with a medium body for a 4.2%abv. golden bitter. I find this pint quite different than what I recorded in my previous notes of the "same ale", that a substantial improvement, or, a much better balance, seems to have been achieved… A decent and very drinkable pint, this.
* Tasting Date: 07/01/07, 4.8%abv.
Purchased at the Sainsbury supermarket, this seems to be a new product in the range of Duchy Originals. Packaged in a 500ml brown bottle, not bottle-conditioned. The label says it's "infused with a hint of elderflower... traditionally brewed using a blend of the finest aroma hops and malt, including Plumage Archer barley." BB 02/11/07, served cool in a straight imperial pint glass.
3.5 A: reddish amber hue, not golden; coming with a light beige, fluffy head slowly dissipating... on top of initially fierce but soon muted carbonation.
3 S: sweetly citric (lemons) upfront along with sweetness from burned-sugar (due to pasteurisation?) and a buttery note; a milder flow of peachy and floral hops (like lesser First Gold) and biscuity malts stays underneath. Overall the aroma is unbalanced and a touch too sweet, but not overly unpleasant. It takes patience to probe deeper and pick up the subdued fine ingredients.
3 T: plenty of sweet floral flavour (elderflower? nope.) upfront hand in hand with a light touch of sharp citric-fruitiness, followed by lingering hints of biscuits and brown sugar which taste flat and sweet... the aromatic floral scent and bitterness quietly expands towards the back of the palate, leaving traces of licorice-roots as well as crushed grapefruit-seeds in the end.
2.5 M&3 D: the mouthfeel is rather spritzy or artificially carbonated, making the flavour harder to appreciate... The overall body is quite light, yet falling apart in the end. The flavour profile says to me that this should be a hoppy bitter, but the balance is not well-executed b/w hops and malts. All in all, this is a very mundane and inferior product in the Duchy's range... not worthy the money (and efforts), to be honest.
3,606 characters
Duchy Originals Organic Golden Ale from Wychwood Brewery Company Ltd
Beer rating:
3.51
out of
5
with
12
ratings