Cheers X-tra Beer
| Thai Asia Pacific Brewery Company Limited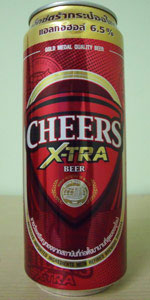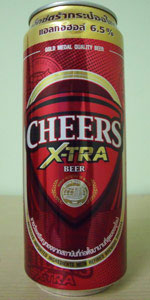 BEER INFO
Brewed by:
Thai Asia Pacific Brewery Company Limited
Thailand
tapb.co.th
Style:
American Adjunct Lager
Alcohol by volume (ABV):
6.50%
Availability:
Year-round
Notes / Commercial Description:
No notes at this time.
Added by Everydayoff on 02-11-2011
HISTOGRAM
Ratings: 8 | Reviews: 6
Reviews by krazyboi:
1.48
/5
rDev
-29.2%
look: 2.5 | smell: 2 | taste: 1 | feel: 1.5 | overall: 1.5
A: Medium golden color. Very small head and lacing.
S: Alcohol, grains, sulphur.
T: Alcohol, with a very strong alcohol and metallic aftertaste.
M: Medium to high carbonation. Light body with a creamy mouthfeel.
D: This is one of the worst beers I've ever tasted. I had a pounding headache an hour after drinking this and woke up with a weird metallic taste in my mouth. Steer clear of this beer!
396 characters
More User Reviews:

1.32
/5
rDev
-36.8%
look: 1.75 | smell: 1 | taste: 1.25 | feel: 1.75 | overall: 1.5
I was thoroughly disappointed in this, though I must admit that my expectations weren't very high to begin with. This was bitter and had an even more bitter aftertaste. It reminds me of the token college beers that don't do much justice to quality beer. Unless you're looking for a beer to remind you of those days, I would avoid this one.
342 characters

2.29
/5
rDev
+9.6%
look: 2.75 | smell: 2.5 | taste: 2.25 | feel: 2.25 | overall: 2
500ml-ish red can purchased at a 7-11 in Bangkok. Fill: 07/04/16.
6.0% ABV.
APPEARANCE: 1 finger wide off-white head of 2 minute retention. Leaves no lacing as the head recedes.
Body is a yellow-copper of average vibrance. No yeast or lees are visible within.
Appears adequately carbonated.
AROMA: Insipid pale malts - possibly from malt syrup. And that's it. A shallow, light aroma.
TASTE: Pale malt extract. As one-dimensional as they come, with no hop character or any other interesting flavours.
Painfully simple and shallow. Bland, but to its credit not watery.
TEXTURE: Medium-bodied, smooth, wet, overcarbonated , and slightly sticky. There's no harmony of texture and taste here.
OVERALL: Perhaps predictably, it's forgettable macro schlock. The above average ABV is disguised decently, but I'd sooner reach for many budget lagers over this when in Thailand. Not worth going out of your way for.
D+ (2.32) / NOT RECOMMENDED
***
June 1st, 2016 brief 2nd impression from a can in Chiang Rai:
Yeah, that's simple and shallow, with no more to it than some faint corn adjunct and pale malt.
Slightly syrupy as well.
This is one you buy for the price when you're eager for a drinkable beer in Thailand. Won't impress drinkers familiar with beers outside the region.
High D / NOT RECOMMENDED
***
06.16.16:
High D
1,330 characters
2.11
/5
rDev
+1%
look: 3 | smell: 2 | taste: 2 | feel: 2.5 | overall: 2
Poured 500ml can into a pint glass with filling date on July'10 but no best before date.
A:
Clear dark golden color, big foamy white head with average retention. The head recedes into a thin film on the surface. Lacing is not detectable. Rather high carbonation generates fizzy texture.
S:
The smell is alcohol spiciness, subtle toasted, subdued bread and grain disclosure when it is warm.
T:
Exhibit the monotonous bitterness with a fizzy touch of alcohol and a bit insipid.
M:
The body is medium, too fierce carbonated, pricky touch.
D:
Intend to have heavier character than the original but seem to place extravagant solid portion while abandon the sensibility of taste. It creates the imbalance gap and put this beer on low drinkable side.
748 characters
1.69
/5
rDev
-19.1%
look: 1.75 | smell: 1.5 | taste: 1.75 | feel: 1.75 | overall: 1.75
2.58
/5
rDev
+23.4%
look: 2 | smell: 2 | taste: 2.75 | feel: 3.25 | overall: 2.75
Can from 7-11 in Koh Samui. From notes.
A - Poured a medium golden. One finger white head was gone fast. Bright. OK carbonation. No lace or retention.
S - Pretty faint. Honey, grain.
T - Strong honey. Grain was milder. For the strength it seemed quite tame and lacking flavour. Not adjuncty but had a mild harshness which would probably be from the alcohol. All things said it only offended a tad. Fairly strong sweetness as well.
M - Good carbonation, medium body, sweetness to finish. Decent.
O/D - Not bad for the style/strength. Could be a lot worse for the criteria. Good value for ABV I guess. I don't hate this as much as other reviewers, but it's certainly not something I would recommend.
703 characters
2.03
/5
rDev
-2.9%
look: 2.5 | smell: 2 | taste: 2.5 | feel: 1 | overall: 1.5
Rich golden straw color. Head dissipates very quickly.
The smell is incredibly sweet and phenolic. Almost a rubbing alcohol edge.
The taste is overbearingly sweet. It doesn't taste as boozy as expected. No hops whatsoever, but it is somehow bitter. I'm curious what exactly they did here.
The mouthfeel is as bad as it gets. it feels like cough syrup. The sweetness sticks with you because of the thickness. Blech.
Drinkability- no. Stay away. The mouthfeel coupled with the sweetnes is what really makes this unbearable.
525 characters
Cheers X-tra Beer from Thai Asia Pacific Brewery Company Limited
Beer rating:
2.09
out of
5
with
8
ratings