Winterlude
| Birrificio Del Ducato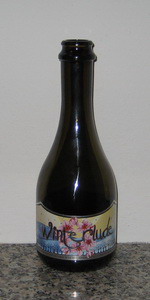 BEER INFO
Brewed by:
Birrificio Del Ducato
Italy
birrificiodelducato.com
Style:
Tripel
Alcohol by volume (ABV):
8.40%
Availability:
Winter
Notes / Commercial Description:
No notes at this time.
Added by Suds on 04-03-2009
Reviews: 12 | Ratings: 23
4.3
/5
rDev
+8.6%
look: 4 | smell: 4 | taste: 4.5 | feel: 4 | overall: 4.5
The bottle and label are gorgeous on this Italian interpretation of a Belgian tripel. Colour is a soft golden yellow with a decent bianco head. Lots of citrus and fruit in the nose--everything from to tangerine to dried apricots. Beautiful Belgian yeast notes. Taste follows suit. Mouthful of delicious exotic tropical fruit with a nice crisp, dry marmalade/orange peel finish. Hides its alcohol incredibly well.
412 characters

4.26
/5
rDev
+7.6%
look: 5 | smell: 4 | taste: 4.5 | feel: 4 | overall: 4
330ml bottle. Orval Chalice glass. Pure gold in color with a white, close, crown & webs on sides. Candy, tangerine zest aromas, spiced hues. Spiced tangerine juice upfront. Mildy malts onto the palate followed by kind hoppy finish & mango touches. Medium to full body, moderate carbonation. Citric & tangerine zest aftertaste. ABV leaves a gentle warming sensation.
365 characters

4.22
/5
rDev
+6.6%
look: 4 | smell: 4.5 | taste: 4 | feel: 4 | overall: 4.5
330ml teardrop bottle poured into tulip 3/8/12
A hazy golden orange with a nice two finger soapy head that ends up as a thick film leaving lots of unorganized lace
S cereals and candied pineapple hit me first followed by some sweet orange peel and subtle spice and yeast, smells great I'm not sure where there hiding the booze
T a little sweetness and some spicy herbal hops on top of what I smell, a little of the booze I didn't find on the nose but it's still pretty mellow
M a little airy after a silky entry, very faint heat and a nice aftertaste of sweet and spicy hops with a yeasty kick
O I thought this one was pretty solid, nicely balanced between the cereals, hops, and yeasty spice, well done
I was expecting a Winter Warmer but I'll take a nice Triple on this chilly Calgary Summer day 14C, give this one a go it was a nice surprise
852 characters
4.11
/5
rDev
+3.8%
look: 5 | smell: 4 | taste: 4 | feel: 4.5 | overall: 4
230th Review
33cl bottle poured into Westy 12 (small) chalice
Best before: 15/7/2013
A: Golden yellow. 3+ (white) fingernail head on medium pour. Perfect score relates mainly to the bottle shape/size - very cool!
S: Cracked wheat, spice, touch of lemon/orange, and Belgium yeast.
T: Mix of tropical fruits, citrus, and apple with noticeable balance of wheat and Belgian yeast. Touch of hops and white pepper/spice rounds this out towards the end. Very easy to drink.
M: Light/medium bodied with even carbonation.
O: Rounded, smooth, and crisp. Well-executed and a very nice beer!
584 characters
4
/5
rDev
+1%
look: 4 | smell: 4 | taste: 4 | feel: 4 | overall: 4
Bottle: Poured a cloudy orangey color ale with a large foamy head with great retention and some very good lacing. Aroma of fruity ester with a bready yeast and a well balanced lightly sweet Belgian-style malt backbone. Taste is also a nice mix between some nicely sweetness Belgian-style malt backbone and some fruity ester with a light spicy yeast finish. Body is full with limited filtration and good bottle-conditioning with great carbonation and no apparent alcohol. Very well brewed and something I would gladly have more often.
533 characters

4
/5
rDev
+1%
look: 4 | smell: 4 | taste: 4 | feel: 4 | overall: 4
750 ml bottle poured into a Snifter glass
Appearance... light yellow beer with head colour white of 2 fingers that last
Aroma... alcohol notes with strong malt presence. Clear predominance of malty aroma with some sugar cane remembrance
Taste... sweetness presence with fruity and spicy notes and appearance of alcoholics too
Mouthfeel... medium body and medium/soft carbonation
Overall... a nice ale, a Belgium from outside Belgium !! mamma mia !!!
450 characters

3.94
/5
rDev
-0.5%
look: 3.75 | smell: 4 | taste: 3.75 | feel: 4 | overall: 4.25
Hazy ornage-blonde colour, 1.5 fingers of white head, some lace as well. Smell is spicy with orange and lemon, fairly fruity, yeasty, green apple and a light candy like light sweetness. Taste is spicy and yeasty, corriander followed by fruit lemon, ornage and apples in the mix, malty mid palate nice drying finish. Med-high carbonation, medium body, solid feel for the style here. This was actually quite enjoyable, the bottle went quite quick, very easy drinking and enjoyable, nice mix of flavours here.
506 characters
3.88
/5
rDev
-2%
look: 4 | smell: 3.5 | taste: 4 | feel: 4 | overall: 4
While the bottle is the obvious main attraction, initially, this beer lives up to the standards of a Belgian Trippel.
A- I gave an extra half point for the bottle and label, since that added to the pleasure of finally seeing it in my glass. Nice lacy head; pale but clear straw colour.
S- Nice! Spicy notes and some hops. A hint of pine.
T- Very nice-- The taste of cloves at the end is paired with a fresh pine resin type of flavour.
M- I could have swore that this was a Belgian beer.
O- Can't say enough nice things about this beer.
536 characters
3.8
/5
rDev
-4%
look: 4 | smell: 4 | taste: 3.5 | feel: 4 | overall: 4
Slightly hazy tangerine gold with trailers of bubbles and a good bit of sediment, plus a bone white head that settles to steady rocky head that trails nicely. Nectar honey sweetness, a fair whack of Belgian yeast, a touch of sour, husky grain and a bit of booze on the nose.
Blood orange, fresh country loaf, and thin honey up front, some ester-y yellow apples, and floral and Limoncello hops.
Sugary finish and luscious sorbet linger. Medium verging on light, creamy and chewy but hot.
8.8%, according to the label.
Bread crust and orange honey on the nose, says the label in Italian, which I could see. It also calls it a winter warmer, which I don't see, unless they just mean overstrength. This is hot, and that's with a year on it. Smooths out as it opens, though, and great feel as with all Italian craft I've encountered.
Another thing with Italian beers I always wonder: are they really intended to be with food - I picture sharp cheese here - and that's where they fall short when drank alone.
1,005 characters
3.71
/5
rDev
-6.3%
look: 4 | smell: 3 | taste: 4 | feel: 3.5 | overall: 4
330ml bottle, 8.8% ABV and as elegant as ever was for this Italian brewer.
This beer pours a hazy medium golden amber hue, with three fingers of thin puffy, foamy white head, which leaves a nice splattered Swiss cheese pattern of lace around the glass in its wake. It smells of sweet pale malt, zingy coriander and white pepper spice, candy sugar, leafy hops, and mild warming alcohol. The taste is more sweet, sugary malt, soft spicy cloves, some saccharine citrus, earthy hops, and subtle booze. The carbonation is on the low side, the body medium-full in weight, and nicely smooth. It finishes with an uptick on the warming side, but well balanced in other aspects.
A well-rendered winter warmer (generic, non-BA sense), masquerading as a pretty decent Belgian-style Tripel. These Italians sure have a knack for emulating the best of foreign styles, and I say, molto buono!
878 characters

3.62
/5
rDev
-8.6%
look: 3 | smell: 3.5 | taste: 4 | feel: 4 | overall: 3
I've had a few beers from this brewery, all of which have been notably good. This one is a cloudy gold color with a unremarkable (and relatively short) white head. The aroma is a nice mix of fruit (pear and citrus), pale malts, honey, and some hop qualities (pine). There's also a yeasty aroma, along with some esters and a restrained bubble-gum aroma. The taste is quite powerful. Sweet, malty, peppery, and a little tang. The beer has a warming quality, although the alcohol is moderately well hidden. Solid mouthfeel: substantial and thick for the style, but fitting for the flavor. All in all, this one is reasonably good.
626 characters
3.38
/5
rDev
-14.6%
look: 3.5 | smell: 3 | taste: 3.5 | feel: 3.5 | overall: 3.5
Amber color, hazy, with some thin floating chuncks. White creamy, fluffy head.
In the smell you can feel the "belgian" attitude of this beer: candy sugar, tropical fruit, orange marmelade.
Same note in the taste, a good amount of bread crust, some peppery/spicy in the background, again orange marmelade.
It is a dangerous beer to brew, on a thin line of balance. Just a bit and it becomes heavy and undrinkable.
This one is on the right side of that line.
Again tropical fruit in the aftertaste, spiciness, candy sugar, orange marmelade.
539 characters
Winterlude from Birrificio Del Ducato
3.96
out of
5
based on
23
ratings.