L'Ultima Luna
| Birrificio Del Ducato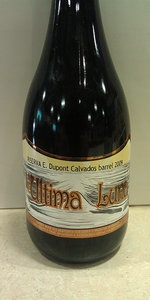 BEER INFO
Brewed by:
Birrificio Del Ducato
Italy
birrificiodelducato.com
Style:
English Barleywine
Alcohol by volume (ABV):
13.00%
Availability:
Rotating
Notes / Commercial Description:
Italian barleywine aged for nine months in Calvados barrels.
Added by Halcyondays on 05-08-2010
Reviews: 14 | Ratings: 42

3.5
/5
rDev
-6.4%
look: 3.5 | smell: 3.5 | taste: 3.5 | feel: 3.5 | overall: 3.5
Sampled at Beertemple, Amsterdam. Dark brown pour with no head. Notes of dried fruit, nuts, sherry and similar liquors, caramel and alcohol. Full bodied and flat, a bit too difficult to drink.
192 characters
3.19
/5
rDev
-14.7%
look: 4.75 | smell: 3.25 | taste: 3 | feel: 3.25 | overall: 3
Aroma is caramel/caramel malts, bourbon, fruit and a good hint of earthy/slightly dirty. The flavor is caramel, liquor, fruit and a very earthy/slightly dirty finish.
167 characters

3.27
/5
rDev
-12.6%
look: 2.5 | smell: 3.5 | taste: 3.5 | feel: 2.75 | overall: 3
L- Muddy, reddish brown with little carbonation.
S- Heavy wine barrel aroma Calvados and dried fruit. Lots of alcohol present here.
T- Taste follows the nose with heavy wine and barrel flavor, light alcohol burn present. Some dried fruit on the back end. I feel like I'm drinking a glass of homemade Italian wine.
F- Flat, silky dryness. Sucks the moisture right out of your mouth.
O- This is a good beer, but not a great beer. The more you enjoy Italian homemade wine, the more that you will like this beer. May have been barreled a bit to long because the lack of any carbonation is offputting. A bit pricey for what you get but worth trying once.
654 characters

3.71
/5
rDev
-0.8%
look: 3.5 | smell: 3.75 | taste: 3.75 | feel: 3.5 | overall: 3.75
Listed as L'Ultima Luna (Barrel-Aged) on-tap at Beer Temple, in Amsterdam.
L'Ultima Luna ("the last moon") is a dark and heavily concealed beer that offers only a sliver of ruby highlighting at the right angle. I'm sure time in the barrel had some influence in forging this shady, gloomy appearance. At 13% no one should be surprised by the absence of head.
The bar wasn't sure what barrels this particular offering was aged in. Apparently the original recipe is aged in red wine (Amarone della Valpolicella) barrels but a Calvados-aged version also exists. I'm pretty sure this is the former; I immediately noted dried fruits and port-like notes that are consistent with Amarone wines (which use partially dried grapes).
Like a cheater with perfume on his collar, this beer can't shake the smell of the wood it laid with for some 18 or so months. We know where it's been. As mentioned, there's lots of raisin and fortified wine character. The strength is also apparent from scent alone - this smells like something that will dehydrate you inside out.
Other flavours include figs, honey, apples, black licorice and plum pudding. It actually tastes like a tootsie-roll for adults. Or a Christmas cake. Either way, you get the idea: dried fruits, booze, and dark toffee. It's tasty but not necessarily enjoyable; esters are spicy and both raw wood and alcohol are plainly apparent. Two ounces would have been plenty.
Birrificio Del Ducato L'Ultima Luna is like a Ken Burns documentary: interesting (if not all that exciting), long and a little arduous to get through, and obviously painstaking to make. When it's done you feel better for having experienced it but you wouldn't care to do it again.
1,708 characters
4.04
/5
rDev
+8%
look: 3.5 | smell: 4.5 | taste: 4 | feel: 3.5 | overall: 4
Small balsamic vinegar type bottle.
Color: Deep muddy brown. Never really seen a beer this color.
Nose: This is beer? Almonds, figs, prunes, any rich and savory dried fruit you can think of is packed into here. Very port or sherry like with just a hint of brett-y funk. Really interesting.
Taste: Same as the smell but taken over the top. Fig newtons, dates, and raisins at first with a peat-like charcoal finish. There is really very little evidence here to back up that this is a beer, but it makes for a really tasty after-dinner type sipper.
Mouthfeel: Drinks more like a syrupy dessert wine than beer.
Overall: Barrel-aging taken too far, but you have to commend Ducato for even trying it. Amarone is an intense wine and this has taken on a whole lot of its characteristics causing it to lose most of its barleywine qualities. Definitely glad I tried it, just wish they dialed back the aging a bit.
909 characters
4.04
/5
rDev
+8%
look: 3.5 | smell: 4.5 | taste: 4 | feel: 3.5 | overall: 4
"Barley wine ale matured for over 9 months in French Oak barrels that previously contained great Italian wines." Big thanks goes out to aasher for sending me this one as a part of a get-well package I received from a few other BAs! 2009 Vintage! Served from bottle into a balloon wine glass. Poured a murky copper with a very minimal off-white head that subsided to none almost instantly. There was no lacing evident throughout the glass. The aroma was comprised of sweet malt, brown sugar, wood, grape, dark fruit, and sweet alcohol. The flavor was of sweet malt, wood, brown sugar, sugar, sweet alcohol, wood, grape, dark fruit, and subtle peat. It had a medium feel on the palate with very little carbonation. Overall this was a fairly good brew. The flavor on this one really reminded me of a toned back Sam Adams Utopias if I am completely honest. The alcohol wasn't as present, nor was it as intense in the other flavors, but the similar flavor profiles were there for the taking. Be warned that this brew is very still in the carbonation area, so if that does not appeal to you , I would avoid it. However, if you don't mind this fact, there are some nice things to be had with this one. Really glad I got the chance to try this one as I've seen it on the shelves here, but have never pulled the trigger on picking it up. Thanks a ton for this tick Al!
1,369 characters
4.09
/5
rDev
+9.4%
look: 3 | smell: 4 | taste: 4.5 | feel: 3.5 | overall: 4
a: murky dark orange/copper. 2 or 3 bubbles creep to the top with a vigorous pour. lots of particles in the bottom of the bottle, though only a few made it into the glass. Quite thick in appearance.
s: old apples that have sat so long they begin to ferment. caramel, toffee notes waft. A sweetness perks me up and it ends with sour notes from the apple and back to a slight booziness.
t: strong alcohol hits up front but quickly fades and makes way to a wonderful plate of apples, honey, caramel and maple. sugary malts but not overly sweet and a beautiful finishing flavor from the barrel aging and leaves and oaky smoke to the apple taste. Slightly sour, but not much.
m: meaty and chew. this boy is thick. coats well and sticks with you after your sip. too chewy with all of the floaties...though the thickness is nice given the taste.
o: a bit boozier than I'd have prefered given the sweet flavors at hand, though the heat fades fast and makes way to an assortment of flavors that kept my mouth watering. none of the sweet flavors were overly done and they blending perfectly with a fruity apple/pear.
1,111 characters
3.95
/5
rDev
+5.6%
look: 4 | smell: 4 | taste: 4 | feel: 3.5 | overall: 4
A: Pours a translucent dark brown, with hardly any head; just a few dark tan bubbles.
S: Quite vinous, with the addition of sweet molasses malt.
T: Sweet with dark round fruit flavors; kind of like somewhere between a fruity red wine and a sweet aged port.
M: Medium to full body, essentially no carbonation.
Overall, it was interesting, and fairly enjoyable. By far the most red wine like beer I've ever had. The color is off for grapes, but if I had been served this and told it was wine from some weird type of fruit, I would have believed them.
552 characters

4.67
/5
rDev
+24.9%
look: 4.5 | smell: 5 | taste: 4.5 | feel: 4 | overall: 5
This beer pours a full bodied and murky, cloudy dark copper/muddied amber in color with only the slightest of lacings around the glass. Carbonation appears to be minimal for this 9 month Calvados aged barleywine. The aromas are of straight Granny Smith caramel apples with light cocoa. It's quite possibility one of the most appealing noses I've ever experienced in a beer. The aromas resonate to the flavor. The flavors consist of oak, toffee, Granny Smith apples, caramel, and light booze. It's very well blended and ultimately complex. This beer is phenomenal. It drinks light for the style and is on a different level for a barleywine. It's light for the style but suits this beer perfectly. The barrel aging added something special to this beer. The apple and candied aspects are phenomenal, absolutely phenomenal. This may very well be the second best barrel aged barleywine I've ever experienced, behind the Mother of All Storms. Overall this is a must try beer and surprisingly worth the $18 or so per bottle. You'll enjoy it.
1,034 characters
4.87
/5
rDev
+30.2%
look: 4.5 | smell: 5 | taste: 5 | feel: 5 | overall: 4.5
This beer has been disparaged totally. You guys suck! How many people have ever had such a glorious barrel-aged Barleywine? Rhetorical, none of you!
Appearance-Cloudy, but pure. Dark almost muddy amber. Low levels of carbonation and minimal lacing.
Smell-As good as it gets! Carmel drizzeled Granny Smith apples and a subtle hint of chocolate dusted hazelnuts or maybe it's hazelnut dusted chocolates? I don't know, you can choose.
Taste-Tsste confirms the nose. Subtle flavors of toffee, oak, granny smith apples & oak.
Mouthfeel-Not too terrribly viscous, but still very smooth and quite light as well as being enormously palateable given the elevated ABV. We would all wish that beers with this ABV would be as approachable as this fantastic ale.
Mouthfeel-Very, very superior given the ABV. I would think that this beer should be less appealing given the printed ABV. If you're a fan of leaner Barleywines, but are interested in depth of complexity from an aromatic and flavor standpoint, this ale is for you!
Overall- I like it when highly priced beers are actually worth the cost! This beer is 13% but you'd never know. It is exceptionally flavorful and has a lot to offer. The barrel aging really did this one wonders. Overall, this is a great beer to sip or to share. It held up its end of the bargain.
1,317 characters
2.28
/5
rDev
-39%
look: 2 | smell: 4 | taste: 1.5 | feel: 2 | overall: 2
Completely flat, pours with no foam whatsoever, let alone head. Muddy, cloudy reddish brown. Aroma of caramel, vanilla, and oxidized wine (i.e., smells like a winery, not like a wine), with lots of fruitiness.
Taste lacks complexity. One-note sugary flavor without much else. Doesn't deliver much if any complex wine flavors, and has no tannic finish. Perhaps a bit of woody, cedar-like tastes lurking in there, but the balance isn't rounded enough for the subtleties to come out. One possible plus, the 13% alcohol is well-hidden.
532 characters
2.76
/5
rDev
-26.2%
look: 2.5 | smell: 4 | taste: 2 | feel: 2.5 | overall: 3
11.2oz bottle picked up at WLV, drank from my Darkness glass...Cap pops without a hiss at all, not a good sign of things to come...Predictably it pours with no head, a dark brown almost purple color with red hints...The aroma all white wine, you can tell right away it was aged for 9 months in the wine barrels. Vinegar and lactic notes become prevalent as it warms. Its not bad, just not at all what is expected or what any barleywine I've had tastes like...The taste in all honesty, is just a mess. Its very similar to the nose, but now just doesn't work. White wine mixed with vinegar is not appetizing. Those two flavors are distinct throughout, just terrible.
Skip this beer for sure, especially at the $17ish price tag.
726 characters
2.44
/5
rDev
-34.8%
look: 2 | smell: 3 | taste: 2.5 | feel: 1 | overall: 2.5
A- Pours a very dark reddish brown, almost cider like. No head whatsoever and I guess I didn't see the floaties in the bottle but plenty landed in my glass.
S- Big red wine notes are the main component here which would be fine if there was at least a barleywine aspect in the background. All I could get was some caramel malts.
T- Same as the smell although the caramel is first detected although only slightly. Red wine comes in strong along with some sour apple notes. Finishes with a nice acidic kick.
M- This beer was completely flat which made it feel a tad watered down compared to other barleywines. A little carbonation would have given it at least a good mouthfeel.
D- Probably the only positive about this beer is the 13% was nowhere to be found besides a warming feeling after swallowing.
Overall- A huge disappointment especially for the price ($16, 11.2 oz). After having Old Guardian in red wine barrels last year at a fest I was excited to find a bottled barleywine aged in red wine barrels but there was nowhere near as good. The red wine flavors dominated the beer but this was much more one dimensional than expected not to mention the complete lack of carbonation.
1,188 characters
4.33
/5
rDev
+15.8%
look: 3 | smell: 5 | taste: 4.5 | feel: 4.5 | overall: 3.5
Bottle at Beachwood,
A: Pours a ruddy dark red with no head.
S: Red wine all the way with brown sugar. Fragant, great nose.
T: Caramel malt, molasses, red wine with a hint of soy sauce. Good amount of residual sugar and very tasty.
M: Flat, but very thick and full-bodied giving a pleasant feel on the tongue. There is a moderate acidity in the finish which I really liked.
D: A fantastic barleywine from Ducato and really like nothing I've ever had before. The strongest red wine notes in a beer this side of Consecration made for a unique tasting experience and a beer I'd love to try again.
609 characters
L'Ultima Luna from Birrificio Del Ducato
3.74
out of
5
based on
42
ratings.