La Luna Rossa
| Birrificio Del Ducato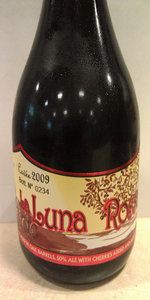 BEER INFO
Brewed by:
Birrificio Del Ducato
Italy
birrificiodelducato.com
Style:
American Wild Ale
Alcohol by volume (ABV):
8.00%
Availability:
Limited (brewed once)
Notes / Commercial Description:
No notes at this time.
Added by aasher on 09-29-2011
This beer is retired; no longer brewed.
Reviews: 29 | Ratings: 120
1.75
/5
rDev
-55.8%
look: 3.5 | smell: 1 | taste: 2 | feel: 3 | overall: 1
Poured into a tulip, produced no head to speak of.
It's got a nose of sour cherries and incontinence (yes, it really does smell like a day-old pee-soaked adult diaper).
The taste is strongly sour and funky, with notes of sour cherry, but mostly just sour pee.
It looks alright, but this was a drainpour. I like a good lambic and a good sour, but this was way beyond anything I've ever tried before. Worst beer I've ever tried.
429 characters
3.79
/5
rDev
-4.3%
look: 2.5 | smell: 3.5 | taste: 4 | feel: 4 | overall: 4
330ml, increasingly familiar squat sloped bottle. 'Cuvee 2009'. There's a red moon on the rise...
This beer pours a murky, storm cloud, muddled dark golden brown melange, with nothing in the way of head beyond a few soda pop bubbles whose existence is less than fleeting. It smells of sour, acidic fruit, mostly cherry and apple, some woodiness, and a slight barnyard funk. The taste is more tart cherry fruitiness, with some lemon and general acetic acid sourness piling on, some sweet barrel notes; a brave bready malt pokes up its head, worried yet about getting it plain shot off, some mild, almost soothing yeasty funk, and earthy, somewhat leafy hops, their drying effort lost in the void, along with the purported 8 points of booze. The carbonation is still a non-starter, the body a surprising medium weight from that damped down malt, and actually pretty smooth, as the vinegar notes abate. It finishes in a harsh realm of the off-dry: the battered malt kneeling in front of the resurgent funky tart. (Try to work a 'that's what she said' into that mess)
Like the other offerings from this Parmesan brewer, the American leanings are strong, and I do like that this funky, sour, hippie-inoculation experiment, in the end, shows some non-Low Countries balance. And wow, where did that hefty ABV get to?
1,312 characters

3.89
/5
rDev
-1.8%
look: 3 | smell: 4 | taste: 4 | feel: 3.5 | overall: 4
Pours a hazy dark golden orange color that appears as a completely opaque dark ruby color with a very thin off-white head that immediately disappears. No lacing whatsoever.
Funky, slightly acetic aroma with a strong earthy oak presence as well as some funky bugs and vinous dark fruit. Lactic funk with a strong vinegar presence in the nose which is nicely complimented by the sweeter notes. The barrel is prominent with lots of oak and vanilla and the cherries are very forward in the nose.
Medium bodied with a slightly tart, mouth-puckering sourness that is excellently balanced by the oak barrel and vinous dark fruit. Slightly lactic but not too funky with a nice vinaigrette character that never becomes to acetic or harsh. Nice toasted oak presence with hints of earthy wood and vanilla. Supposedly a barley wine was used as a base in the blend but the malt and alcohol flavors are subtle. ABV well masked with faint earthy presence. Only 50% of the blend consists of beer with cherries yet there is a sweet vinous presence that compliments the funk nicely. Tons of sweet cherry flavor balancing things out.
Overall this beer is pretty good but not worth the very high price tag. Not incredibly complex and could use some more funk but still pretty flavorful.
1,270 characters

4.32
/5
rDev
+9.1%
look: 4 | smell: 4.5 | taste: 4.5 | feel: 4 | overall: 4
This isn't really an "American Wild", it's an Italian wild in my opinion. My understanding is that it's the same base beer as L'Ultima Luna, so it's an Italian Barleywine, then aged in Nebbiolo barrels and aged with sour cherries. This bottle says "Cuvee 2009, Bottle No. 222".
This one pours a syrupy, dirty amber in color, medium bodied with little to no lacing. Having had their other beers, it looks on par. The aromas are full of lacto, sour cherries, cinnamon, fermenting cherries, some brett, light vinegar, funk, more funk, and has a weird cider aspect. Very complex nose if you give it time. The flavors consist of acidic cherries, reminiscent of perhaps an old world red wine, lacto, barnyard, and sweet red fruits. Interesting and complex. You also get some light oak barrel as well. For a beer from Del Ducato, it has an above average mouthfeel. Their beers tend to be pretty flat but this one is on key. It drinks very well and leaves your mouth slightly dry. This is one unique beer. It took them a couple years to make. Again, hats off to the Italians for this one. It was very good. This is worth your while if you're willing to lay down the $18.99 a bottle.
1,175 characters
La Luna Rossa from Birrificio Del Ducato
3.96
out of
5
based on
120
ratings.