Machete
| Birrificio Del Ducato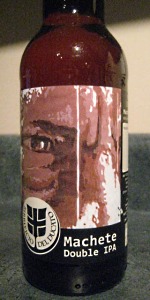 BEER INFO
Brewed by:
Birrificio Del Ducato
Italy
birrificiodelducato.com
Style:
American Double / Imperial IPA
Alcohol by volume (ABV):
7.60%
Availability:
Year-round
Notes / Commercial Description:
Merciless IPA proudly brewed with violence and and massive amounts of American hops.
Recommended serving temp: 6-8 degrees C, 43-47 degrees F.
Added by wordemupg on 04-11-2012
Reviews: 10 | Ratings: 21
4
/5
rDev
+3.9%
look: 4 | smell: 4 | taste: 4 | feel: 4 | overall: 4
330ml bottle. Heh - 'Machete don't text'. I like. Wait, am I missing a QR code to something on my version?
This beer pours a cloudy, and sediment-infested medium golden amber hue, with one finger of creamy and foamy off-white head, which settles at a fair pace, leaving an island shore vista of lace around the glass.
It smells of thin grapefruit and orange citrus, some stronger pine notes, a bit of island fruitiness, and a bready caramel/toffee maltiness. The taste is bitter pine, grapefruit rind, mild earthy herbs, and a steady, though tempered, caramel malt backbone. A soft, almost lilting Siren-esque booze warming wafts to and fro throughout.
The carbonation is average, in a good way, it just goes and does its thing, not getting in the way, the body a sturdy middleweight, no holes, with a nice, soothing smoothness, all things considered. It finishes with an upsurge in the various hop prongs, bringing the hefty bitterness once more to the fore.
A pretty decent DIPA, lacking in none of the areas that really matter. Ok, fine, I'll exercise my right to complain, to pick, to whine - I would have liked a bit more rounded caramel sweetness. There. Now I'm just gonna finish this agreeable quaff in peace.
1,221 characters

4.17
/5
rDev
+8.3%
look: 4 | smell: 4.5 | taste: 4 | feel: 4.5 | overall: 4
330ml bottle poured into tulip 10/4/12
A very hazy bright orange with lots of sediment and suspended particles, a few bubbles in a thick looking body floating up to a thumbs width of off white head that quickly falls to a film leaving a few ring of lace
S smells like a West Coast DIPA with piney grapefruit and some toffee, there's some other tropical citric notes in there with a faint floral aspect, smells very strong as I can smell it while the glass is on the table
T more caramel malt in the mouth and the pine becomes intense, not as many tropical notes but that still leaves a pretty fruity taste more focused on rind
M thick and silky, with some tiny bubbles and a fairly bitter bite and leaves some grit behind, no booze heat at all and at nearly 8% I'd expect something
O I could drink another of these without any issues other then the sideways walking, solid stuff though I have no complaints
Thanks for the bar-code guys, other then that I'm liking this one, a sharp bitter bite in a DIPA with all the industry standards for the style checked off
1,084 characters
4.05
/5
rDev
+5.2%
look: 4 | smell: 4 | taste: 4 | feel: 3.5 | overall: 4.5
Pours amber with a lasting head.
Nose shows grapefruit and piny resin by the truckload. Some soft clean malt and light alcohol underneath.
Flavours mainly follow along the same lines but also include some herbal and spicy notes. Lots of delightful malt underneath. Some alcohol is noticeable but it blends in well.
Body feels pretty syrupy.
340 characters
4.19
/5
rDev
+8.8%
look: 3.5 | smell: 4.5 | taste: 4 | feel: 4 | overall: 4.5
A - very hazy dark golden, finger of head held at a thin cover with some minor lacing
S - big pepper with some resin and citrus, cracker grain, perfume light finish
T - peppery and woody/earhy help, a bubblegum sweetness, light toasty grain malt, grapefruit rind hoopiness lingers
M - fairly light and well carbonated, smooth and almost unassuming, bitterness builds as u drink more
O - definitely impressed with this DIPA, super easy drinking and tasty to boot
462 characters

4.28
/5
rDev
+11.2%
look: 3.5 | smell: 4.25 | taste: 4.5 | feel: 4 | overall: 4.25
Copper body with lots of yeast sediment. White fine bubbled head of a few fingers that dissipates fast.
Nose full of hops, but not your typical american citric hops but rather grassy, tropical fruits
Strong hop bitterness balanced by delicious malts, ends dry rather than resiny
Slightly oily body and not much carbonation but smooth enough
Wow, this is how a DIPA should taste. Didn't expect it from this brewery. Usually I think that I have paid too much when I drink one of theirs. This one is different and well worth the extra buck. Highly recommended for DIPA starving Europeans.
589 characters

3.52
/5
rDev
-8.6%
look: 3 | smell: 3.5 | taste: 3.5 | feel: 4 | overall: 3.5
From a 330 ml brown bottle. Pours out a hazed marmalade hue, lots of suspended particles present. Creamy off-white head that retains and very slowly settles.
Light bready malt and grapefruit zest on the nose.
Sweet bready malt starts things out in the flavour and then falls back into the background while ripe juicy grapefruit notes from the hops take over and dominate, although spicy and leafy herbal hops appear near the finish, along with some alcohol heat.
Medium-full bodied mouthfeel, silky slick texture, with some pin-prickly medium carbonation.
Good for a quick grapefruit hop fix, not much more complexity to it, but very quenching for what it is thanks also to the carbonation.
695 characters
4
/5
rDev
+3.9%
look: 4 | smell: 4 | taste: 4 | feel: 4 | overall: 4
Classic dank west coast IPA - good balance between citrus (lemon, lime, grapefruit) and resinous pine, held up by a laid back malt and quite a punchy abv, which, while well hidden, adds a lot of weight to the beer.
214 characters

3.5
/5
rDev
-9.1%
look: 3.5 | smell: 3.5 | taste: 3.5 | feel: 3.5 | overall: 3.5
330ml bottle. ½ Pint glass. Revisited on agt´12. Orangish amber. Cloudy from sediments on suspension. Off-white, creamy to close, froth. Lasting crown remains as a thin layer on top, some rings as well. Bready malts, grapefruit notes & slightly piney aroma to the nose. Bready & caramel malts at first sip are hit by piney hops with citric touches. Medium to dense body. Moderate carbonation. Oily & silky texture. Well balanced finish. Refreshing & flavorful.
462 characters

3.44
/5
rDev
-10.6%
look: 3.5 | smell: 3.25 | taste: 3.75 | feel: 3 | overall: 3.25
Admittedly, this beer is not uber fresh, I'm drinking it in the best by month. Technically still "fresh" but keep that in mind throughout my review. (Not by choice either, all they had at the store and I wanted to try it)
L: This is definitely filtered, with no cloudiness. I prefer cloudy IPA's, especially Doubles, but can't knock off too many points for that. It's a darker brown/yellow, kind of reminds me of Surly Furious (only had it once, but again darker than others I've tried) Lots of carbonation that produces a 2.5 finger head that dissipates to a .5-1.0 finger head after time. Good retention!
S: Hops have, of course, faded giving way to more malty aroma. I'm still getting fruit which is pleasant. Not bad.
T: Unexpectedly, better than the smell! Still some noticeable hop prescense. It's a fruity hop as opposed to pine. Personal points there!
F: Damn, these Ducato beers are way over-carbonated! This is my third one and the mouthfeel is violent.
O: I'd love to try this fresh, but with that said it's probably my favorite IPA I've had in Italy over the last three months, and I've done some searching.
1,121 characters

3.1
/5
rDev
-19.5%
look: 3 | smell: 3 | taste: 3.5 | feel: 3 | overall: 2.5
served on-tap
A- Pours a very hazy, almost murky, dark amber, quite unattractive. Thin ring of slightly off-white head, shows decent lacing though
S- Suprisingly weak, even more surpising given the fact that i had it fresh. Leafy and herbal hops mix, a hint of bready malts on the back
T- Malts have supporting notes of bread and caramel to bring a bit of balance. A quite intense bitterness is sure dominant. It has an earthy, almost musty feel to it. Notes of leafy hops, pine, underwood. Near nothing is to be noticed on the citric side, maybe just a hint of grapefruit
M- Medium to dense body, a bit too heavy for my liking (and also by comparison with other imperial ipas i've tried). Medium carbonation, brings a bit of life on the tongue
O- Kind of a bigger version of their single ipa, which i found just as uninteresting as this one. Machete though is less enjoyable on the drinkabilty side
904 characters
Machete from Birrificio Del Ducato
3.85
out of
5
based on
21
ratings.