Hollister Brewing Co.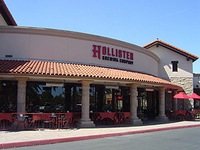 PLACE INFO
Type:
Brewery, Bar, Eatery
6980 Marketplace Drive
Goleta
,
California
, 93117
United States
(805) 968-2810 |
map
hollisterbrewco.com
Notes:
No notes at this time.
Added by JayTheFinn on 05-18-2007
Reviews: 30 | Ratings: 42
4.66
/5
rDev
+12.8%
vibe: 4.5 | quality: 5 | service: 4 | selection: 5
This is the best brewpub I have ever been to in my life. Thanks to BeerFly, I found this place looking for things to do on a 4 day bike tour of Santa Barbara. It was a short 20 minute bus ride Goleta.
My fiance and I did their entire 14 beer flight. I lost my tasting notes, I know, I suck. My recall of all the different styles and names are fuzzy as I left Hollister with about 7 beers under my belt. Riding my bike 100 yards back to the bus stop was an amazing adventure itself.
The few beers that stuck in my hop soaked head were the Banana Wheat beer (not usually a fan of fruit beers, but this was pretty damn tastey) and there was a double IPA that I drank 2 or 3 of. The name was Bowling something something. It was amazing.
So hazy. So much fun.
What I don't understand is why these guys don't start bottling this liquid magic. This beer deserves to be shared with the world.
Hollister, I love you.
916 characters
4.35
/5
rDev
+5.3%
vibe: 3.5 | quality: 4.5 | service: 4 | selection: 5 | food: 4
I can't believe that it's taken me this long to get around to reviewing Hollister, as I'v been probably a dozen times in the last nine months. The atmosphere is modern, bright, open, and clean. I like the set up, but I can see how it might feel a bit commercial and less homey than some wold like. Plenty of flat screens around, and if you sit on the rail in front of the bar, you have your pick of half a dozen. The beer is excellent. Ive yet to have a single one of probably over twenty that was off or bad. A few that I didn't particularly care for, but they were still clean and well made beers in their own right. If you love hops, this is a brewpub that you will fall in love with. There is always a DIPA, IPA, and at least two pale ales on tap at all times; all of them typically following the dryer, super hoppy west coast style. The selection is huge, with about 14-15 house beers on tap, and new beers come on every couple weeks. The service has always been good and quite friendly. I haven't had a server that knew too much about beer, but they can usually give you a decent description, and the bartenders always give me free samples when I'm curious about a new beer. The food is a bit pricey, but is also a bit fancier than normal. Everything that I've had has been good, but I usually just stick to a couple beers and maybe an appetizer. Value wise, house pints are 4.50 for normal, 5.00 for high-grav. Happy hour is good though, with three dollar pints, 2.25 10 ouncers, and ten dollar pitchers. They also do brewers choice nights, with 2.50 pints of a couple selections all night, and the beers are usually the more interesting ones that the masses don't drink as frequently, which is fine by me. In my opinion, Hollister is the best beer stop in the Santa Barbara area; much better that SB Brew Co and Downtown brew co, and pretty comparable in quality to The Brewhouse, though with a better selection and service. Basically, the spot to stop for beer if you are in town.
1,989 characters

4.28
/5
rDev
+3.6%
vibe: 4 | quality: 4.5 | service: 4 | selection: 4.5 | food: 4
Hi BA. First time, long time (sorry, radio humor).
On a Saturday trip to Santa Barbara, we decided to land at Hollister (instead of Santa Barbara Brewing, since that's on State St. and it's Saturday in August - read: tourist haven).
Aside from a few patrons holding up the bar, the place had yet to fill up when we sat around 3:30pm. Very clean place all-around with an open floorplan. A plentiful outdoor table area as well. Several flat-screen TVs around the restaurant that are viewable from just about everywhere - inside, that is.
Started off with a 6-pack sampler (4 oz mini-pilsners - $6), Barman's choice. Notable here was the Hip Hop DIPA & Table 42 Red. I also enjoyed a pint of Kristalweiss afterward. My girlfriend had a sampler as well. She enjoyed the Passionfruit Wit & Orange Blossom Golden (hmm, think the bartender was profiling...?). She did request the Edward 40 Hands Malt Liquor; purely because of the name, but I don't blame her, it is a great name. While neither of us has a good palate for the malt brews, it wasn't terrible.
As for the food, I agree with fellow reviewers regarding the Duck Fat Fries. They were very enjoyable. Also on the table were the Steak Sandwich & the Wedge Salad. Both were good. The menu was a bit better looking than most. I did see a lot of "Upstate" Buffalo Wings exiting the kitchen, so imagine those receive good reviews as well.
By the way, by 6pm or so the place was more than half-full.
Overall, with the extensive beer menu & the delicious grub, you almost forget the place is located in a typical outdoor California mall.
[edited for grammar]
1,611 characters
4.25
/5
rDev
+2.9%
vibe: 4 | quality: 4 | service: 4 | selection: 5 | food: 4
Visited at lunchtime on Sunday, 05/25/08.
Tucked away in one of those ubiquitous Southern California outdoor shopping centers, Hollister is a stone and glass oasis of beer in the midst of a bunch of chain restaurants (Chili's, for example).
Parking is ample and not a problem, though manuevering around the farmers' market in the parking lot was.
The staff was friendly and knowledgable about beer; our waitress told us they had to take classes! The bartender was also personable and helpful.
Our food was above average; I had their artisan version of a BLT and found it tasty. Their duck fat fries were a bit of a letdown, though, as they were only single-fried and, to my palate, tasted no different than standard fries.
There were no less than 14 house beers on tap that day! Wow! While I didn't love of any of them, I also didn't hate any of them, either. Well, maybe the malt liquor. Anyway, that didn't stop a steady stream of growler fills at the bar during my visit.
Lunch for four and two 6 beer tasters came to about a hundred bucks. This seems about right for the level of food and service.
I peeked into the brewery that was behind a glass wall; it seemed mighty small for such a large number of brews. I noticed a bourbon barrel, marked as filled four days before my visit. I asked the bartender what was in it. She told me it was a Russian imperial stout, but that it was probably going to a festival or judging and would not be available to the public. What?!?
Anyway, I gather that the brain behind the beer here was once the brewer at Santa Barbara Brewing Company. That would explain some of the duplicate beers at Hollister (White Star XPA, for one) and the wide variety. Sadly, SBBC has really gone downhill of late; looks like it might be due to the loss of this guy.
If I lived anywhere near the Santa Barbara area, this would probably be a regular stop due to the decent food and service, nice physical space and rotating tap list. Looks like the brewer keeps tinkering with his recipes, too, as everything I had was marked with a higher ABV than than the older reviews indicate.
Hooray for beer! (Red Stripe's got a great slogan)
2,163 characters
4.4
/5
rDev
+6.5%
vibe: 4 | quality: 4.5 | service: 4.5 | selection: 4.5 | food: 4
One of my favorite things about visiting the parents in Goleta is getting to stop by Hollister Brewing.
They basically always have at least one exceptional beer on tap, be it a DIPA (almost always at least one DIPA - awesome!), RIS, smoked beer, Belgian Strong Ale, Black IPA or something else creative. The standard house beers are above average as well overall. Guest taps are well though out too - last time they had Pure Hoppiness, and they've had Russian River stuff as well.
Food is very good overall. Varies from good to great, but I've generally been impressed by the food. The quality of the food also seems to have improved since the beginning.
I've been to SB Brewing Co and the Brew House, and Hollister is definitely a step above them both (and I've always enjoyed BrewCo for what it is). So, if in the SB/Goleta area, you must stop by Hollister.
Also, they can be a bit expensive, but they have a good happy hour.
932 characters

4.53
/5
rDev
+9.7%
vibe: 4 | quality: 4.5 | service: 4.5 | selection: 5 | food: 4
Since my brother has moved to Santa Barbara, it has been an easy excuse to skip out of LA to meet him and grab a few pints. The Santa Barbara region is booming now with new breweries and brewpubs and none is better than Hollister just a few minutes north in Goleta.
I would kill for a place like Hollister in Los Angeles or even a place half of what Hollister is. Set in a shopping plaza (perhaps the only drawback), its décor is modern but not stuffy. It's a bit more than your average brewpub but still a place you could feel comfortable catching a game and throwing back a few pints.
The brewer who's name escapes me, formerly of SB Brew Co has big awards – most notably a GABF Gold Medal for his Santa Barbara IPA, a mighty fine beer at that. At Hollister, he shows that he can do many styles and do them well. Of there many beers, that change quite frequently I've tasted the gamut from Saison to DIPA, from Brown Ale to Hefe Weisen. All have been quite tasty. I'm an IPA guy at heart and his IPAs are nothing short of outstanding.
The food is a bit better than you would expect from a brewpub in a big college town. There's some creativity in the menu – not just your traditional pub faire. The duck fat fries are a must. Yum. I've never made it to any of the entrées, but I've been compelled.
The reason we've stuck with a few beers and some appetizers is that the location makes it a little bit difficult to really make a night of it if you are in / staying in SB. We had some big beers and wanted to be sure we could make the drive back down the 101 out of Goleta. Again, a minor drawback, but certainly no reason to not stop and have a few beers at this fantastic brewpub.
1,700 characters

4.15
/5
rDev
+0.5%
vibe: 3.5 | quality: 4 | service: 4.5 | selection: 4.5 | food: 3.5
This place was a very nice find on a business trip to the Goleta area, thanks BA. I came here after work with a few collegues for dinner and was very impressed with the quality and service. We came to watch the World Series but one of our party wanted to sit outside, the two big screens were visable outside so everyone was happy. There was a wide selection of house brewed beer, from the light and wheaty to the big and hoppy double IPA. I had the IRA and the double IPA, both were above average. Everyone else in my group was very happy with their beers, which considering the group of people, speaks volumes to the wide range of selection and quality of the beers here. The food selection wasn't all that wide but it had something for everyone, burgers, pizzas, fish tacos, etc. Everyone in the party was happy with their food, but not as excited as with the beer. There was a slight delay in getting our food and the server told us about the problem and what they were doing to fix it. I think this is the sign of a good place, if they have a problem they tell you as soon as they know it and let you know they are working on it. This was a small problem and the server took the time to let us know what was going on, very good service. This place is a nice addition to the SB brewing co and the Brewhouse in the Santa Barbara area.
1,337 characters
4.03
/5
rDev
-2.4%
vibe: 3.5 | quality: 4 | service: 4 | selection: 4.5 | food: 3.5
Well, this was a pleasant surprise.
Being a BA in the SB/Goleta area, the pickings are somewhat slim. You have Santa Barbara Brewing Company downtown, which is fine, but has mediocre food and a mixed selection in terms of beer quality, in my opinion. Then you have the Brewhouse tucked away behind the Santa Barbara Amtrak station, which has better food, and some bold beers, but their flavor profiles tend to be a little one-note and they don't have much of a rotation for their beer. Both of these places have only decent guest taps (Firestone), and the Brewhouse does have some Westmalle, Chimay, etc. for bottled options, but that's about it. Otherwise, you have Zodo's in Goleta, which has a huge tap selection, but most of it is comprised by BMC.
So I wasn't expecting much when I heard about Hollister. However, I was pleasantly surprised when I dropped in. First, the guest taps were incredible - Alpine Pure Hoppiness, Avery Flying Pig, Racer 5 IPA, etc. Wonderful. And in the back near the brewing equipment, there were kegs with labels from "PORT BREWING" among others waiting to be connected, so you can tell it will only get better from there on out. The house beers, surprisingly, were also nothing one should dismiss. I started out with the Hip Hop Double IPA, which had a nice, deep citrus and pine hop character with some pretty heavy malt backbone. I also had their Milk Stout, which had a nice smooth chocolate and medium body coffee character to it.
Service was attentive but not intrusive at the bar I sat at.
My friend and I shared some Onion Rings, which were good, but very, very thinly sliced. A bit difficult to share, and you almost needed a fork to properly consume. The "duck fat" french fries sounded interesting.
Atmosphere is good. Sort of an industrial feel. They created better ambience vis-a-vis the lighting, which they dimmed to make it less bright and gaudy.
The guest taps alone make it worth a trip, but the beer is also pretty phenomenal for the area, with a huge amount of variety.
2,042 characters
4.28
/5
rDev
+3.6%
vibe: 4 | quality: 4 | service: 4 | selection: 5
This is a nice pub. I went [unplanned and unknowingly] at UCSB's graduation weekend, and it was a little crowded and noisy. But they accommodated us well, had a nice cheery waiter, and [one of the owners i believe] came by several time to chat, discuss the virtues of IPA's and DIPA's, and he discussed the brewer and his virtues as well.
Apparently it is a converted previously Mexican restaurant, but it seems to suit a brew pub well.
I didn't have any food, but all the food that wafted by smelled delicious, and looked good too, I want to try that American Kobe burger. The prices seem okay as well
Can't wait to make a trip the Goleta [the good lands] and come back
681 characters
4.08
/5
rDev
-1.2%
vibe: 4 | quality: 4 | service: 4.5 | selection: 4 | food: 3.5
Hollister Brewing Company is the new kid on the block in the Santa Barbara area and the first proper brewpub in Goleta. So far so good! I've had three of their own brewed beers and they've all been excellent. The J, an amber with roasted hemp seeds, was probably my favorite. Let's run down the ratings list:
A - HBC reconstructed the restaurant previously on this site. They opened up the large space to make it airy and bright. It gives the interior a lighter, happier look but the lack of walls means the crowd noise goes unimpeded, and it gets crowded here. To escape the noise you could sit outside in their fairly large patio/beer garden area. Adding to the color of the place is a massive plexiglass wall set up so that patrons can look into the brewing room for a glimpse at how it's done. Also, I give HBC extra atmosphere credit for the "good feeling" you get while here. Because of the prompt and upbeat waitstaff, you feel better about the place in a general sort of way.
Q - As mentioned in the opening paragraph, the beer quality has been top-notch thus far. It's tasty and very fresh. The food is good and I applaude their attempts to make it better than usual pub fair, although it seems to be a work in progress.
S - HBC keeps a lot of waiters on hand, so there's always someone around if you need something. Every waiter I've had since coming here has been very attentive. I docked a half point for an unsatifactory answer I got on a beer question and also because when it gets slow here the waiters get antsy for something to do, so they keep trying to take away your plate which is annoying if you're not finished eating. But they've generally been great so my complaints are minor.
F - The food is interesting. HBC is attempting to create better, more varied pub grub. So far it's been somewhere between delicious and a mixed bag. However, reading the menu makes your mouth water ("duck fat fries") so if they can cook up some dishes that match the anticipation brought on by those descriptions HBC will have the tasty food to match their flavorful beer.
V- The price is pretty reasonable, though I haven't found any amazing deals yet. The $2.75 a pint happy hour is nice. But I'd love to see some of those rock bottom deals places like this do to draw you in, like "Get polluted by the Pacific! $1 Pints from 2am to 2:15am every Sunday!" Just kidding, but you get the picture.
2,406 characters
Hollister Brewing Co. in Goleta, CA
3.72
out of
5
based on
341
ratings.