Dismiss Notice
Danish Beerhouse Barrel Aged Old Man's Ale
| Amager Bryghus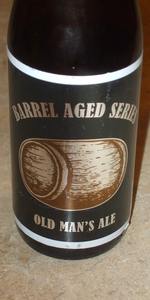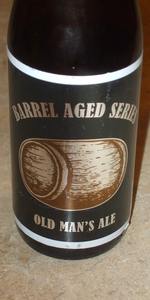 BEER INFO
Brewed by:
Amager Bryghus
Denmark
amagerbryghus.dk
Style:
Old Ale
Alcohol by volume (ABV):
14.00%
Availability:
Limited (brewed once)
Notes / Commercial Description:
No notes at this time.
Added by illidurit on 05-25-2009
This beer is retired; no longer brewed.
HISTOGRAM
Ratings: 13 | Reviews: 10
Reviews by ChainGangGuy:
3.64
/5
rDev
-2.2%
look: 3.5 | smell: 4.5 | taste: 3.5 | feel: 3.5 | overall: 3
Batch 86. Bottle #1221. Best Before 2020.
Appearance: Pours a medium brown body, obscured by cloudiness and layered with a thin head comprised of rather large bubbles.
Smell: A nose smelling of cherries (sweet), orange blossom honey, dark caramel, a light earthiness, a trace of rustic bread dunked in brandy, and tired, old wooden barrels ready to be halved and converted into tomato planters.
Taste: A sweet start with a taste of caramel maltiness, also some bready malts along with a bready yeastiness. Hint of florals, fruitiness. I've been informed it was aged in apple brand barrels, but I'm getting more of an off-brand Grand Marnier kick. A generous splash of Gammel Dansk. Earthy, tattered bitterness. Firm wood character. Has a chalky, slurry yeast vibe on the sweetish, warm finish.
Mouthfeel: Medium-bodied. Very low carbonation. A tad chalky when the sear from the alcoholic heat isn't occurring.
Overall: It's different, it's almost decent, but definitely not a favorite of mine.
998 characters
More User Reviews:
3.87
/5
rDev
+4%
look: 3.5 | smell: 4 | taste: 4 | feel: 4 | overall: 3.5
Thanks to bu11zeye for sharing this bottle.
The beer pours a hazy light brown color with a white head. The aroma is toffee, maple, vanilla and oak. A very nice smelling beer that definitely highlights the barrel-aging process.
The flavor is heavy on the caramel and toffee, with some oak, bourbon, vanilla, maple and tobacco mixed in. A fairly complex beer that also has a nice alcohol punch to it. The tobacco notes are throwing me off a little bit and cuts into the drinkability, but all of the other flavors work very well together.
Medium mouthfeel and low carbonation.
578 characters

3.97
/5
rDev
+6.7%
look: 3.5 | smell: 4 | taste: 4 | feel: 4 | overall: 4
A great little gem from a European trade. No head, still good for 10 more years. That old ale aroma, or barleywine. Sandy brown colour. Above average mouthfeel. Cognac and tempered malts. The alcohol, I did not look or want to know, and it comes in the finish. Spot on, not too sweet.
284 characters
2.9
/5
rDev
-22%
look: 3.5 | smell: 3.5 | taste: 3 | feel: 3.5 | overall: 1.5
25cl bottle from batch 86. Very cloudy dark brown/black with a small, light tan head that fades fast. Smells incredibly sweet, with plenty of brown sugar and raisin, cocoa, some candy/fruity notes, and a slight alcohol burn. Taste is quite sweet with heavy molasses dominating roasty malt notes. Dark fruits. Spicy. Very warming alcohol, which dries it out a bit. Hits warm in the stomach. Thick, syrupy feel. This one is a bit harsh at the moment; should be nice in a few years.
479 characters
4.04
/5
rDev
+8.6%
look: 3.5 | smell: 4.5 | taste: 4 | feel: 3.5 | overall: 4
another gem from across the pond that i am lucky enough to get to try. my night cap for the evening. served chilled and into a tulip, consumed on 10/11/2010.
pour was honestly a little lacking for me. a nice ruddy color with light hints of reddish tones around the sides and bottom of the glass. no head or lacing to really speak of, just a flat and lifeless color.
aroma is deep though, tons of caramel, toffee, vanilla, touches of wood and hints of deep earthy malts and alcohol. warming really mellows it out as the toffee and caramel come back through full boar and really wipe the slate clean. i love when those sweet notes hit the palate at just the right time giving it that candy sweet depth that is really balanced out well by a nice warming alcohol note and a subtle, but defiant barrel flavor. light burning/warming on the finish seals the deal.
overall a bit thin and lacking in the look, but the aroma is there as is the flavor. gotta love a night of barrel aged barleywines.
991 characters

3.54
/5
rDev
-4.8%
look: 3 | smell: 4 | taste: 3.5 | feel: 3 | overall: 3.5
A - Slow gusher hat poured a caramel brown with some red on the sides. Small head rose up to an uneven cap.
S - Some acetone notes, fruit, something like cherry cough syrup, brown sugar, and some earth/nut tones. Think it might be a little infected. It smells "interesting."
T - Found out this was aged in apple brandy, and it is evident by the taste. Fruit, some berries, burnt caramel, nuts, just a touch of hops. Really big fig taste. Age has really not mellowed this much, it's quite hot. It's interesting, but when I get down to it I just don't like drinking it much.
M - Syrupy, low carbonation, pretty hot.
O - A pretty unique beer that has a lot of stuff going for it, but it's not particularly great. Really hot, maybe with some (more?) age on it, it will be better.
779 characters

4.02
/5
rDev
+8.1%
look: 3.5 | smell: 4 | taste: 4 | feel: 4.5 | overall: 4
Absolutely no carbonation in this one. Smooth and soft feel on this one. Nice even sweet tones, though I feel like I need to let it warm up a bit. The 14% alcohol is nowhere near noticeable here. I'm getting some figs and other minor characteristics. This is a nice, easy sipper. Thanks go out to bosse for this one.
316 characters
3.77
/5
rDev
+1.3%
look: 3.5 | smell: 4 | taste: 4 | feel: 3 | overall: 3.5
thanks to ibrew2or3
A: Pours a brownish amber hue with a thin dirty white head. No retention or lace.
S: Aromas of dark fruit, toffee, caramel, and booze.
T: Dark fruit with hints of dark cherry. Sweet malts, vanilla, and boozy sting.
M: Sort of thin for the style, very light carbonation with a boozy finish.
D: Just okay.
328 characters

3.55
/5
rDev
-4.6%
look: 4 | smell: 4 | taste: 3.5 | feel: 3.5 | overall: 3
Thanks to Mike (AgentZero) for sharing this - guessing it was originally from bosse. Batch 86, Bottle #1816, Best Before 2020. Served in a Bell's tulip.
A - Slow gusher. A finger of white foam settles to a thick collar, leaving no lace. Opaque cherry-brown body that's quite attractive. Looks pretty good for a 14% old ale.
S - Sharp oak and vinous notes, tart cherries, caramel malt sweetness and some toasted bread. I hear this was Calvados barrel-aged, but I get more red wine and port initially, although apple pops up as it reaches room temperature. There's some mild alcohol present, but not as much as you'd expect.
T - Initially heavy oak, but more dark fruit sweetness and less vinous notes than the nose. Brown sugar finish with a slight spirit alcohol aftertaste.
M - Serious warming alcohol. Lower carbonation, some burn at the back end. Medium-full body with a dry tannic finish.
D - Sharing a 25cl bottle was plenty - I'm not even sure we finished all of it. It's almost certainly infected, although it's hard to gauge how much of the vinous character is from the barrels and how much is from bacteria. The flavor isn't entirely detrimental as it fits within the traditional description of an old ale anyway. In any case, a sipper and nothing something I'd rush out to revisit.
1,296 characters

3.8
/5
rDev
+2.2%
look: 4 | smell: 4 | taste: 3.5 | feel: 4 | overall: 4
Batch # 86 bottle picked up at the Cracked Kettle in Amsterdam circa 2008.
Appearance: Pours a ruddy brown to burnt sienna with a small but friendly 1/2 finger pale khaki crown that displays some retention and lace.
Smell: Nice amount of scotch whiskey like bourbon, hints of vanilla, caramel, toffee, and some background herbal hops.
Taste: Same as the nose but a bit bland. Perhaps the 3 years of aging on this bottle was a bit too much....a good portion was done in a refrigerator.
Mouthfeel: Medium bodied and a touch undercarbonated but it works with the slight hint of scotch in the flavor profile.
Overall: At best a decent barrel aged beer from Europe.
665 characters

Danish Beerhouse Barrel Aged Old Man's Ale from Amager Bryghus
Beer rating:
3.72
out of
5
with
13
ratings