Amager / Mikkeller / Kissmeyer Drei Von Dänen
| Amager Bryghus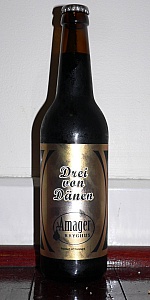 BEER INFO
Brewed by:
Amager Bryghus
Denmark
amagerbryghus.dk
Style:
Baltic Porter
Alcohol by volume (ABV):
9.50%
Availability:
Limited (brewed once)
Notes / Commercial Description:
No notes at this time.
Added by eric5bellies on 12-03-2011
This beer is retired; no longer brewed.
Ratings: 8 | Reviews: 5
Reviews by laituegonflable:

4.18
/5
rDev
+6.1%
look: 4.5 | smell: 4 | taste: 4.5 | feel: 3.5 | overall: 4
Pours a very dark brown - not quite black - colour with effervescent head that might have been less ostentatious if I didn't pour it deliberately to be so. Beige colour, quite bubbly on the top but lovely and dense with sticky, off-white lace. Looks awesome.
Smells nice and stouty. Lots of dark chocolate and coffee roasty, but a pleasant wood smoke note backing that up. Kind of salty, with a rich red wine note lurking underneath. Nice contrast, and good roasty backbone to let the other aromas fly.
Taste is dark and brooding. Nice big chocolatey malt upfront that gets kind of salty midway with wood smoke, cedar and a taro root-vegetable kind of note. Smooth, boozey transition to the finish, where that woody cognac note resides, then finish is all roasty, with bitter coffee roasts tempered by a slight puffy grain character. Really pleasant palate, big and bold but not overblown, and a balanced malt profile to match a fine spiritous drink.
Full, but smooth, with a hint of boozey sting late being the only duff note. It's a significant one, though, and very noticeable.
Big brew, with nice complexity. I would call it an after-dinner beer; wouldn't really go with meat or dessert, but will soothe the mind as you sit by the fire after it all. Like a good cognac, really.
1,285 characters
More User Reviews:


4.08
/5
rDev
+3.6%
look: 4.5 | smell: 4 | taste: 4.5 | feel: 2.5 | overall: 4
Drank from my Duvel Tulip
A - Pours a deep deep Ebony colour with a creamy, tanned, two fingered head that retains well and laces the glass nicely.
S - Aromas are thick malt and some smoke, with a little dark chocolate.
T - Up front some nice dark flavours of Chocolate and toffee. Vanilla kicks in before a smokey finish.
M - Medium to full body with medium carbonation.
O - A little overcatbonated but other than that its hard to fault.
443 characters
3.68
/5
rDev
-6.6%
look: 4.5 | smell: 4 | taste: 3.5 | feel: 3.5 | overall: 3.5
The brew is dark brown or black, the head is light brown, very high and fluffy, leaves tonnes of lacing. Good curtains.
Smelling roasted and burnt, grains, dark dried fruits, coffee and dark cocoa.
The taste starts sweet, burned bread crust, dark sugar, dates and figs, strong acid coffee, black berries jam. High octane chocolate (86%+).
Medium carbonation, sticky and oily, a big body, a coarse sour dryness.
A lot of stuff in this beer, maybe too much, a lot of nuances screams for attention.
499 characters

4.13
/5
rDev
+4.8%
look: 4.5 | smell: 4 | taste: 4 | feel: 4 | overall: 4.5
Bottle purchased from Slowbeer in Melbourne.
Pours a very dark, hearty black, with a relatively soft and fluid body. Head is a frothy, large-bubbled mess of mocha-brown, that leaves some fine streaks of lacing. The more I look, the more the fluid and light body surprises me for a beer that looks otherwise like this. It's interesting.
Nose is dark and dry, with a rich roasted smokiness, even tending towards ashy. Low intrinsic sweetness, although there's a dark fruit character that gives a hint of black cherries or raspberries. Some dusty cocoa notes come through as it warms as well. It's quite intoxicating.
Taste is deep, roasted and dark, with a biting, slightly bitter nuttiness providing the bulk of the flavour—something like brazil nuts or almond skin. Certainly some bitterness on the back gives a hint of that ashy note suggested by the nose, but the smoothness of the nut character levels it out and slides the palate on. As well as this, the lighter body actually helps restrain the flavour from becoming too pronounced and heavy, again giving this slick, sliding feeling to the beer.
Smooth and tasty. There's an aromatic or ephemeral hint of booze to it, but it barely registers in the flavour. That really helps with the drinkability, as does the true smoothness and lightness on the palate. What you end up with is a super-slick (and super-dangerous) brew.
1,383 characters
4
/5
rDev
+1.5%
Saw this in shop and thought I remember drinking this but be good for a revisit especially given its best before of 05-2020 and pours a dark black bordering on very dark brown with a very creamy two finger khaki head and similar lacing everywhere, the smell is woody cognac, dark chocolate and light coffee, the mouthfeel is creamy medium almost full bodied with beautitul carbonation and the taste is just as it smells with the oaked cognac playing a smaller role than when I first tasted which is great in my mind and overall alot tastier than remembered and yes ill be buying more cheers
590 characters
Amager / Mikkeller / Kissmeyer Drei Von Dänen from Amager Bryghus
3.94
out of
5
based on
8
ratings.