Dismiss Notice
Dismiss Notice
The Sinner Series - Greed
| Amager Bryghus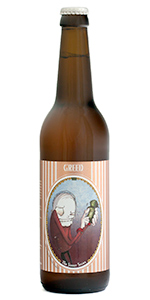 BEER INFO
Brewed by:
Amager Bryghus
Denmark
|
website
Style:
German Pilsener
Alcohol by volume (ABV):
4.60%
Availability:
Year-round
Notes / Commercial Description:
No notes at this time.
Added by Evil_Pidde on 03-01-2013
Reviews: 8 | Ratings: 23
3.76
/5
rDev
+2.7%
look: 3.25 | smell: 4 | taste: 3.75 | feel: 3.5 | overall: 3.75
Thanks to GRG1313 for sharing this one at mrbubbler's tasting.
Pours a hazy yellow with a foamy off-white head that settles to wisps of film on top of the beer. Small dots of lace form around the glass on the drink down. Smell is of grain, honey, earth, and spice aromas. Taste is much the same with grain, honey, and spice flavors on the finish. There is a mild amount of spice bitterness on the palate with each sip. This beer has a lower level of carbonation with a slightly crisp mouthfeel. Overall, this is a pretty good beer with a nice mix of grain and honey qualities that is slightly better in the smell to me.
Serving type: bottle.
★
643 characters
3.76
/5
rDev
+2.7%
look: 3 | smell: 3.25 | taste: 4 | feel: 4 | overall: 4
Appearance: Cloudy, pale straw color with very little head or lacing.
Aroma: Bright aroma of lemon, grassy funk, and wheat grain.
Taste & Mouthfeel: Light, green flavors of lemon; and crisp, citrus hops on the tongue. The finish sees the hop character turning a little more bitter, giving it a bit of bite to go with the grainy wheat/malt flavor on the back of the tongue. The sweetness throughout reminded me of grape juice, and honey, and the creamy texture carried it all well.
Final Word: This is what a Pilsner should taste like! Its balance and easy to drink nature make it a great all-around beer perfect for taking home! Many Pilsners these days, especially in the States, are sorry, watery excuses for beer, so this beer is a must try for anyone dissatisfied with the Pilsners they've tried already. A beer like this is proof that you don't have to dive into Double IPA or Barleywine territory to try an exceptional brew full of flavor! Try this if you like wheat beers, Pilsners, or lagers, and want something with a more nuanced profile than your typical choice. You'll love the variety and quality of flavors, but won't have to sacrifice the approachable, drinkable experience that you're used to!
★
1,222 characters

3.57
/5
rDev
-2.5%
look: 3.75 | smell: 3.5 | taste: 3.5 | feel: 4 | overall: 3.5
Hazy yellow with fluffy white head. Medium collar and decent staying power on the head. Aroma is grassy, dry funk, and light use of lemon. Taste is very similar, with the dry yeasty funk taking a bigger presence. Thin body, low carbonation. Decent beer over all.
★
262 characters
4.24
/5
rDev
+15.8%
look: 4 | smell: 3.75 | taste: 4.5 | feel: 4.5 | overall: 4.25
Tastes like a true-to-the-style German Pilsner, but lacking filtration, and an added hop bite at the back. The honey-like sweetness typical in pilsners and kolsch is present. There's a slightly different character to this guy though - I'm getting a bite on the upper backsides of my tongue - at the finish of the beer. Carbonation is tight and spritely. This beer is slightly acidic - I'm salivating at the end of the brew.
Mouthfeel is creamy.
Aroma:
Scent: honey, hay
Taste: honey, hay
Mouthfeel: Tight prevalent effervescent carbonation. After-feel is creamy - this beer is definitely acidic if my salivation is a good judge.
Overall: lovely brew - may be one of my favorite Pilsners
Color: Straw - looks unfiltered.
Lacing: Stays on glass long after poured and sipped
Flavor: Honey, hay, cereal.
Feel: Silk, cream, acid, tight-carbonation.
Finish: bite, bright. Acid. Cream.
Not getting the grass scent at first, but it's there when I taste it.
Not getting the floral notes - malty sweetness is obvious though.
Not getting a lot of bitterness.
★
1,062 characters
3.95
/5
rDev
+7.9%
look: 3.5 | smell: 4 | taste: 4 | feel: 3.75 | overall: 4
Paying homage, or conviction toward, the companies that have continually bastardized the time-honored lagers of Germany, the Czech Republic and the host of other worldly pilsner makers- Amager's "Greed" pokes and prods at their very essence while reclaiming a taste that unlocks the barley and hop's real story...
Its blooming and creamy pour unveils a canary-yellow body that's topped with a dainty and delicate meringue of foam. With skirting retention and concentric lace, its body simply glows with the scattering prism of haze.
Its highly lemony and floral scent opens up with a beautiful bouquet that's reminiscent of honeysuckle, rose and fruit. With a backdrop of light bread, fresh-kilned barley and wafer, its bready scents are balanced with citrus, herbal tea and soft white pepper.
Beautiful in its taste, the grainy-sweet taste of pilsner is alive and jumping! Its fresh-baked bready taste is laced with lemon peels, light honey and a candied lemon-drop character. Loosing grip of its perfumy taste, the middle invites the hoppy herbalness of leaf, grass and herb in the most pleasing way possible. Trailing with growing bitter spiciness, the sweetness fades and the lager crispens with ease.
Medium-light in body, the beer's creamy upstart is lightly grainy in texture as well, but sheds all that as the sweetness dissolves and the carbonation lifts the bready feel. What trails is a peppery spice with minty warmth and a return of grain in aftertaste.
I for one am certainly glad that we have brewers like Amager to remind American Lager makers of the disservice that they have brainwashed a whole culture of beer drinkers into buying their watery swill... and for reminding the better beer connoisseurs that good lagers are still being made.
★
1,762 characters
3.48
/5
rDev
-4.9%
look: 3.5 | smell: 3.5 | taste: 3.5 | feel: 3.25 | overall: 3.5
Bottle: Poured a dark golden color pils with a nice large foamy head with good retention and some light lacing. Aroma of cereal notes with light crispy hops notes. Taste is also dominated by light sweet cer4eal notes with some very subtle grassy hops notes with a dry finish. Body is full enough for style with good carbonation. Enjoyable enough but grassy hops notes could have been even more pronounced.
★
405 characters
3.35
/5
rDev
-8.5%
look: 3.25 | smell: 3.25 | taste: 3.5 | feel: 3.25 | overall: 3.25
The clear liquid is straw yellow (5 EBC), the three finger head is airy and white. It sinks slowly leaving no lacing.
The smell is clean and malty. Quite a lot of French loaf and a touch of dough. Hints of vegetables in the background. Medium strong bitterness with a touch of hay.
The taste is dry, clean and fresh and quite bitter. Some hay and flowers in the bitterness. The bread-like sweetness is clean. Medium body. The aftertaste got some vegetable hints, growing clean sweet flavours and some fruit candy.
The carbonation is strong, the bubbles small. The liquid is light but not watery.
A no-nonsense uncomplicated German pilsener at a high price. Just as the label says it is supposed to be.
★
707 characters

3.85
/5
rDev
+5.2%
look: 3.75 | smell: 3.75 | taste: 4 | feel: 3.75 | overall: 3.75
A: Pours surprisingly pale; straw-colored. The tall white head is rather compact, and leaves nice lacings after slow dissipation.
S: Malt, only a little sweet. Rich hops, floral but more bitter. Grass and nettles together with bitter hops makes this a nice one.
T: Very bitter but a flowery floral backbone along side with the bready semi-sweet malt makes this rahter complex in the style.
M: Long lovely bitter aftertaste. Medium to full body and rather mild carbonation considering the style.
O: This was a nice surprise; very bitter and well crafted.
★
566 characters
The Sinner Series - Greed from Amager Bryghus
-
out of
100
based on
8
ratings.