Flyin' HI.P.Hay
| Maui Brewing Co.
BA SCORE
82
good
60
Reviews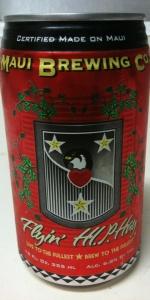 BEER INFO
Brewed by:
Maui Brewing Co.
Hawaii
,
United States
mauibrewingco.com
Style:
American IPA
Alcohol by volume (ABV):
6.80%
Availability:
Limited (brewed once)
Notes / Commercial Description:
68 IBU
Added by July2Nov on 05-23-2011
This beer is retired; no longer brewed.
Reviews: 60 | Ratings: 75

3.63
/5
rDev
+0.3%
look: 3.5 | smell: 3 | taste: 4 | feel: 4 | overall: 3.5
Poured from a 12 oz. can into a shaker pint glass.
A: Clear, light amber color with over one finger of off-white foam head. Moderate lacing remains on the glass, being quite thick in localized areas.
S: Fairly mild hops that are distinctly coniferous, with even milder caramel malt that shows a grainy edge. This beer smells highly carbonated, with bilious carbon dioxide opening up but diluting other smells.
T: Begins off-dry, with pine and citrus hop aromatics that are subdued in their brightness. Malt is presented alongside the early hop qualities, matching caramel, pine, slight sweetness, and mild acidity with satisfactory results. The middle is drier and less acidic, with other flavors persisting. Moderate bitterness emerges toward the finish, where malt turns more toasty and an acidic edge is re-established.
M: Medium viscosity, sticky and slightly creamy on the palate despite some detectable acidity, with surprisingly low carbonation.
D/O: This IPA presents piney hops in balance with fairly chewy caramel, but it struggles to stand out and establish itself as a remarkable contribution to the style. While not particularly memorable, amongst other average IPAs it looks pretty good.
1,206 characters

3.06
/5
rDev
-15.5%
look: 4 | smell: 3 | taste: 3 | feel: 4 | overall: 2.5
A: The beer pours amber in color with a white head.
S: Caramel and grass are the most prominent aromas. Some citrus peel along with some toffee and brown sugar. There are off-putting earthy and tea aromas to this as well.
T: The flavor isn't much good either. Sweet malts, bread, and toffee make up the bulk of the flavor. Decently bitter with some grassy hops. Not much in the way of what I look for in an IPA.
M: Medium in both body and carbonation.
O: Just generally off-putting. I don't care to have this again.
519 characters

3.53
/5
rDev
-2.5%
look: 4 | smell: 3.5 | taste: 3.5 | feel: 3.5 | overall: 3.5
Poured into a shaker pint. Pours a pretty clear copper/amber color with a decent white head and lacing.
Aroma is slightly hoppy with a weird almost hazelnut or something aroma. Never smelt that in a beer before.
Tastes the same. Had a weird almost like nutella taste with some hops and a bit of sweetness. Has a decent hop bite in the finish.
Mouthfeel is a bit maltier than I usually like.
Overall an ok IPA. Too many better ones around so don't think I'll be buying this again.
483 characters

3.83
/5
rDev
+5.8%
look: 4 | smell: 3.5 | taste: 4 | feel: 3.5 | overall: 4
Served from the can into a Pint Glass.
A – Deep orange color with an almost ruby glow, out of the can comes a single finger of head that is an off white color.
S – The hop aroma is light but present, there is a sweet smell to this beer that must come from the malts. There is a good crystal malt smell, but its dominate in the smell not in the taste. Good amount of pine/citrus/fruit.
T – Not super abrasive which is nice, and there is a lot of hop notes flowing in this one. You get some citrus hop flavor, some pine flavor, and a good grass note also with some oiliness on top. The malt is present, but just adds a little thickness.
M – Very middle of the road which I like the most in an IPA.
O – This is a great offering from Maui; they kept this one pretty pure and innocent. Killed a sixer (also shared 2 cans with RatedZ) and will be buying more in the future.
887 characters
2.59
/5
rDev
-28.5%
look: 4 | smell: 2.5 | taste: 2 | feel: 4.5 | overall: 2.5
Poured this puppy from a can into my Telegraph pint/shaker glass. A darker golden/amber color with a fluffy finger of white-ish head. Lots of small bubbles rising to the top, even five minutes after popping the can. Smells of old, faded, tealike hops, which shouldn't be the case, given the newness of the beer. A sort of savory quality, a little bit of pineapple. Almost like a Pineapple coated ham. I don't know if this is a good representation of the Falconer's Flight hop or not, but if it is, I'll pass. A lot of sweet malt on the nose. Sweet up front on the palate. A subdued lowgrade bitterness. Like a deep toothache. For me, not what I like in an IPA. The mouthfeel is the saving grace of the beer, very very creamy. Pretty fantastic really. Overall, despite my love of a couple of Maui's brews, I'd put this in the bottom 1/4 of IPAs I've had. Also, at around 12 bucks a sixer, the price is ridiculous.
912 characters

4
/5
rDev
+10.5%
look: 4 | smell: 4 | taste: 4 | feel: 4 | overall: 4
A - Pours a burnt orange color with two fingers of head.
S - Good grapefruit citrus notes followed by caramel malt. Mild pine notes in the background. Not too powerful, but enough hop aroma to let you know it's an IPA.
T - Hops left and right. There are plenty of citrus and pine notes. A mild toasty malt flavor in the background.
M - Good carbonation and pretty easy to drink.
O - This is an great IPA coming out of Hawaii. Combination of the taste and drinkability make me really like this beer. Only deterrence is the $12 price tag.
550 characters

4.04
/5
rDev
+11.6%
look: 4 | smell: 5 | taste: 3.5 | feel: 4 | overall: 4
Poured into a La Chouffe tulip
A - Deep orange, late night sunset, one finger off white head and some pretty lacing
S - Sweet, slight but nice yeast note. Smells of crystal malt (more than in the taste). slight alcohol smell, pine, pineapple, citrus rind, very fruity. Notes of floral but flowers like apple blossom and citrus flowers. The smell is so fresh and vibrant
T - HOPPY! Sweet hops, fresh hops, citrus, floral, a bit soapy, citrus rinds. earthy. oaky, oily, some grass and soil, bittersweet malt and subtle but nice yeast
M - Chewy, oily, low acidity, long finish and balanced
D - This beer is really nice out of the can or in a glass. Glass opens beer up a little more and as hoppy as this beer is, it can stand to be opened. Great beer a must for any IPA lover
Final thought - ABV and Price suck. $12 and 6.8%. Other than that, this beer is very well made and should be the staple IPA for Hawaii
913 characters
3.8
/5
rDev
+5%
look: 4 | smell: 4 | taste: 3.5 | feel: 4 | overall: 4
A- Very bright orange to a light amber color. Nice appearance, color and brightness.
S- light hop aroma, small amount of citrus, more pine.
T- Starts out simple and round and then hops come rushing in towards the back end. still not insanely hoppy but still bitter none the less.
M- soft on the palate, doesnt wreck shop on the mouth but it certainly has residual bitterness.
overall, very good IPA. Awesome to sneak to the beach in a can. Will revisit it again for sure.
475 characters

3.1
/5
rDev
-14.4%
look: 2.5 | smell: 2.5 | taste: 3.5 | feel: 3.5 | overall: 3
Just checked out at the grocery store with a sixer of this beer. First commercial beer to use the Flight hop.
A: A crystal clear red color with several fingers of white head and medium lacing.
S: Not a strong aroma. A bit of tropical fruit to go with an earthy hop smell.
T: Dry citrus taste the is more then well balanced with a malt backbone. Mild tropical fruit undertones.
M: A nice easy to drink mouthfeel. Light on the palate with no funny aftertaste. Not a huge beer for 6.8%.
O: I'd like to have this side by side with Big Swell, but I"ll buy it again no matter. Solid IPA in a can, just not unbelievable.
618 characters
4
/5
rDev
+10.5%
look: 4 | smell: 4 | taste: 4 | feel: 4 | overall: 4
Note* Brewed exclusively with Falconer's Flight Hops from HopUnion, and only the finest Malts from Brewers Supply Group, both of which have given support on the collaboration of this project. Proceeds from this commemorative brew will be donated to the Glen Hay Falconer Foundation to provide scholarships to Brewers and Home Brewers to further thei knowledge and expertise.
Appearance: Reddish-Bronze like color with a two-finger head that dies down to a respectable thicker lacing that clings to glass.
Smell: Malty with an "earthy" scent of wet grass. Has an ever so slight citrus scent toward the end of the nose.
Taste & Mouthfeel: Bigger on the malt side of the coin, especially at the beginning. Bready and toast like with a buttery feel. The hops come in the middle with a slight tinge of pine/grapefruit flavor but then gets sandwiched (pun intended) with the bready flavor that dominates this IPA. Very smooth to drink and the aftertaste gives off a smoked, burnt pine feeling along with that grassy taste. Not as hoppy as I would have thought for this particular style, but well worth a try.
Overall: These hops are very unusual and glad that I was able to try this limited beer. Any beer that is geared toward a good cause is always something that I get behind, it helps when the beer is as tasty as this one has been. Solid choice!!!
1,359 characters
Flyin' HI.P.Hay from Maui Brewing Co.
3.62
out of
5
based on
75
ratings.