Aloha B'ak'tun
| Maui Brewing Co.
BA SCORE
79
okay
35
Reviews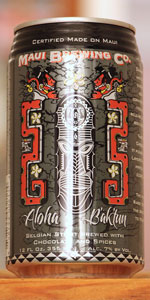 BEER INFO
Brewed by:
Maui Brewing Co.
Hawaii
,
United States
mauibrewingco.com
Style:
American Stout
Alcohol by volume (ABV):
7.00%
Availability:
Limited (brewed once)
Notes / Commercial Description:
No notes at this time.
Added by harrymel on 02-19-2013
This beer is retired; no longer brewed.
Reviews: 35 | Ratings: 155
3.74
/5
rDev
+9.7%
look: 3.5 | smell: 3.75 | taste: 3.75 | feel: 3.75 | overall: 3.75
Poured from a 12 oz can into a "pint" glass. Pours pitch black with a tiny light brown head. Smells of chocolate and berries, nice aroma. Tastes of chocolate and coffee, dark goodness. Beer is light bodied, decent carbonation. Overall, a good beer.
248 characters

3.77
/5
rDev
+10.6%
look: 4 | smell: 4.5 | taste: 3.5 | feel: 3.5 | overall: 3.5
Poured into an Elysian snifter. Pours a very dark brown, appearing black in the glass. Two finger, coarse light brown head that dissipated over a few minutes to a thick film and ring around the glass and spotty lacing. Aroma of chocolate, toasted malt, cinnamon, lightly peppery and quite spicy. Flavor is more subdued, mild toasted malt with hints of smoke, light Mexican chocolate, coffee and light fruit. Finish is very subdued, but as the flavors taper off, the background chipotle becomes detectable, giving an otherwise tame finish a bit of interest. Light to medium bodied, somewhat surprising for the darkness and aroma. A mild dark ale more closely resembling a light Belgian stout crossed with a dry porter. Interesting, but not very assertive.
754 characters
3.79
/5
rDev
+11.1%
look: 3.75 | smell: 3.5 | taste: 4 | feel: 3.75 | overall: 3.75
Can on Kauai.
Pours a deep brown color with a nice tan head that faded away to not much of anything.
Aromas are of bakers chocolate, cocoa, and espresso. Subtle, but still nice.
Taste is of chocolate, light spices, brewed coffee, and cream. Finish has really a real subtle Belgian yeast flavor, and some light chipotle. Nice flavors.
Mouthfeel is good, nice body, with nice carbonation. Soft and not heavy.
Overall, an interesting and tasty stout.
452 characters
3.86
/5
rDev
+13.2%
look: 4.25 | smell: 3.75 | taste: 3.75 | feel: 4 | overall: 4
2012 edition, 12 oz can, poured into a pint glass.
Appearance: Pours a beautiful, completely opaque, pitch-black color, with a quarter of a finger of caramel-colored head that quickly dissolved into a halo of foam that gripped the sides of the glass and formed a rather large cloud that gathered atop the beer.
Aroma: Wow! Very aromatic! Massive aromas of chocolate up front, followed by some roasted malt and caramel. Think chocolate French toast.
Taste: Wow! Lots of chocolate, no massive amounts of chocolate up front, imparting a slight bitterness, but nothing unpleasant. Next comes tons of roasted malt, some brown sugar-like sweetness, and a hit of coffee. Unfortunately, this beer is a couple of years old, and as such, most, if not all of the chipotle has faded. Regardless, it's still a fantastic beer!
Mouthfeel: Slightly chewy and extremely smooth as there is no carbonation what-so-ever. With an ABV of 7%, there is no presence of alcohol on the palate.
Overall: I thought that this, even a few years old, and devoid of any chipotle flavor, is an excellent beer. I need to taste a fresh one to see what the chipotle adds!
1,157 characters
3.86
/5
rDev
+13.2%
look: 2.5 | smell: 4.5 | taste: 4 | feel: 2.75 | overall: 3.75
12 oz. can,
A: Pours a deep mocha brown with a frothy dark brown head, fair retention, no lace.
S: Lovely sweet notes of cinnamon cookies, chocolate, lots of dark malt characteristics.
T: Chocolate and cinnamon, definite notes of molasses cookies which I like a lot. Bitter dark chocolate finish with some nice dark flavours, hint of charcoal, definite residual sugar flavour.
M: Light-bodied really, over carbonated, frothy, a bit disjointed overall.
O: This is a good stout even with the mouthfeel problem. Can for $3 or so, I like it.
542 characters
3.99
/5
rDev
+17%
look: 4.5 | smell: 3.5 | taste: 4 | feel: 3.75 | overall: 4.5
This beer looks great off the pour. Completely dark with a large brown head. Nose is roasted malts. Flavor brings a bit of the same with an almost fruity edge to things. Kind of like mellow blueberries, in a stout kind of way. Pleasant to drink and a nice stout. I like it.
273 characters

4
/5
rDev
+17.3%
look: 4 | smell: 4 | taste: 4 | feel: 4 | overall: 4
12 oz can from "Lifesource" Salem. $2.49 Wonderful looking beer poured into my PBR goblet!. Black as night with a thick tan head creamy goodness. Cocoa,burnt malts and caramel nose..pleasing. Taste is semi dark chocolate, slightly smokey,roasted nuts and oats and a faint hot pepper..excellent stuff. Great palate..keeps my taste buds tingling and guessing! I really liked this one. I have had only 2 beers from this brewer and loved them both. Must try more.
459 characters

4.13
/5
rDev
+21.1%
look: 4 | smell: 4 | taste: 4.25 | feel: 4.25 | overall: 4
Quick review, not my ordinary thing but... eh.
Pours a rich dark brown to black, the head is a deep milk chocolate brown that quickly dissipates. Is noticeably not thick or oily. Has some light shades of deep red around the fringes when held to the light.
The nose comes off with sweetened coffee, dark chocolate, roasted malts. A bit of a Belgian stout character to it in a way. Even a tad floral in sweetness. Soft but quite nice and defined, yet not overwhelming.
Tastes really quite nice, tad on the sweet side but certainly not cloying. A very fine and pleasant sweetness that reminds me a lot of getting the perfect sweet ice tea or a great sweetened iced coffee. Flavors coincide with mentioned. Black tea, coffee, chocolate, sweet cinnamon and just a hint of chipotle. Chipotle just gives a very tad warmth but the beer remains fresh and quite nice. Speaking of fresh, the beer itself has this breeziness to it, this freshness which is hard to explain. Could be the water used. But I've noticed this in the coconut porter they do as well.
Mouthfeel is light and slippery, has a pinch of dryness that I wish there was just a bit more of. Would have liked to see a bit more lightness, and maybe fluffiness to the beer too. But overall it is very drinkable but full of flavor.
I'd buy it this again, it would be a good beer to take to a friendly beer tasting. Fun and interesting!
1,390 characters

4.19
/5
rDev
+22.9%
look: 3.5 | smell: 4.5 | taste: 4 | feel: 5 | overall: 4
The CANorado trip is winding down but not before I scored a CAN from Hawaii!
From the CAN: " Change is the only constant in life; and this year has been marked with exciting changes. Staff moving on, new staff joining our team, and construction plans for the new brewery (yes, still on Maui). Our final limited release of the year celebrates change and bids aloha to our friends new and old."; "This Belgian stout is brewed with chocolate, cinnamon, and chipotle. It pours deep black with ruby highlights. Layered with roasted malt character and hints of bittersweet dark chocolate, clove, cinnamon and subtle peppery notes in the nose."; "The year is ending, the world is not. Raise your CAN and toast with us to all the great things to come. Look forward to four new limited releases in 2013. Mahalo nui loa. Okole maluna, [undersigned] Garrett"'; "Handcrafted ales & lagers brewed with Aloha"; "Certified Made on Maui"; "Belgian Stout brewed with chocolate and spices".
The Crack revealed another brimful CAN and I started with an aggro Glug but the dense, deep-brown head was forming too quickly for me to CANtinue. It evinced a nice pseudo-cascading action before settling into a deep, dark brown liquid with limited light penetration except at the edges, where ruby highlights could be seen. SRM = 44. Nose reminded me of MexiCAN hot chocolate, which is also heavily spiced. I definitely got the chocolate and the clove and cinnamon intermingled so seamlessly that it was hard for me to differentiate the two. Mouthfeel was big and thick and with the flavor profile, I felt as though I were drinking a chocolate milkshake, albeit a spicy one. Finish was quite spicy, initially, and then the chocolate came back for a repeat appearance. Quite a beer, but probably more appropriate for cooler months. Not one for the summer cooler, but definitely a Hula in the Coola Day (02 Feb, annually) CANdidate.
1,907 characters

4.75
/5
rDev
+39.3%
look: 4.75 | smell: 4.75 | taste: 4.75 | feel: 4.75 | overall: 4.75
This pours a thick rich engine oil black with coco colored foam.
There's a subtle hint of chipotle on the aroma. It's nuanced and rewarding as it emerged behind the lightly floral cocoa roast and the faintest whisper of smoke.
I get a delicate floral note which complements the roast cocoa and coffee notes I expected from a stout.
There's an understated chipotle kick and that faint touch of smoke as I finish, with an interesting minerality.
I might be the only one on the mainland who feels this way, but I enjoyed this beer immensely. A welcome surprise.
564 characters
Aloha B'ak'tun from Maui Brewing Co.
3.41
out of
5
based on
155
ratings.