Dismiss Notice
Dismiss Notice
Aloha B'ak'tun
| Maui Brewing Co.
BA SCORE
79
okay
35
Reviews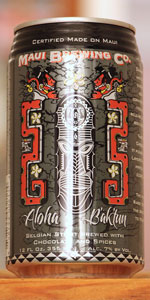 BEER INFO
Brewed by:
Maui Brewing Co.
Hawaii
,
United States
|
website
Style:
American Stout
Alcohol by volume (ABV):
7.00%
Availability:
Limited (brewed once)
Notes / Commercial Description:
No notes at this time.
Added by harrymel on 02-19-2013
This beer is retired; no longer brewed.
Reviews: 35 | Ratings: 155
2.93
/5
rDev
-14.1%
look: 3.75 | smell: 3.25 | taste: 2.5 | feel: 3.25 | overall: 3
Opaque black with ruby highlights and a tan head. Soft smell of roasted malts and a touch of pepper. Poured into a Hardywood snifter.
Chocolate notes predominate. Bitter chocolate finish. Not really finding the nuance of cinnamon or peppers or any spice for that matter. As it warms more, I get a tiny note of some heat, but not anything substantial enough to take note.
If I was tasting this blindly, I would assume it was an American stout and would probably deem it solid. However, with the expectation of spices -- in addition to the chocolate -- I'm a bit let down. This is a conundrum for evaluating the taste component of the beer: do I say good and go 3.00 or above or do I judge it for what it is suppose to be and evaluate a lower score because it misses the mark? And for close to $4 a can, I can get beers of equal or better quality for much less.
Overall mouthfeel is decent for style. Medium to medium-heavy bodied with appropriate carbonation. Maybe a touch more carbonation would bring some of these other notes to life? Just searching for why I am missing the boat on the hard efforts of what is normally a high-quality brewer.
Great idea and, what I ascertain is that this is maybe better fresh from the brewery. I'm not in Hawaii often (imagine that!) so that might be hard to accomplish on my end.
★
1,325 characters
3.86
/5
rDev
+13.2%
look: 4.25 | smell: 3.75 | taste: 3.75 | feel: 4 | overall: 4
2012 edition, 12 oz can, poured into a pint glass.
Appearance: Pours a beautiful, completely opaque, pitch-black color, with a quarter of a finger of caramel-colored head that quickly dissolved into a halo of foam that gripped the sides of the glass and formed a rather large cloud that gathered atop the beer.
Aroma: Wow! Very aromatic! Massive aromas of chocolate up front, followed by some roasted malt and caramel. Think chocolate French toast.
Taste: Wow! Lots of chocolate, no massive amounts of chocolate up front, imparting a slight bitterness, but nothing unpleasant. Next comes tons of roasted malt, some brown sugar-like sweetness, and a hit of coffee. Unfortunately, this beer is a couple of years old, and as such, most, if not all of the chipotle has faded. Regardless, it's still a fantastic beer!
Mouthfeel: Slightly chewy and extremely smooth as there is no carbonation what-so-ever. With an ABV of 7%, there is no presence of alcohol on the palate.
Overall: I thought that this, even a few years old, and devoid of any chipotle flavor, is an excellent beer. I need to taste a fresh one to see what the chipotle adds!
★
1,157 characters
3.74
/5
rDev
+9.7%
look: 3.5 | smell: 3.75 | taste: 3.75 | feel: 3.75 | overall: 3.75
Poured from a 12 oz can into a "pint" glass. Pours pitch black with a tiny light brown head. Smells of chocolate and berries, nice aroma. Tastes of chocolate and coffee, dark goodness. Beer is light bodied, decent carbonation. Overall, a good beer.
★
248 characters
3.04
/5
rDev
-10.9%
look: 4 | smell: 3.75 | taste: 2.75 | feel: 2.5 | overall: 2.75
I'll start by saying I'm a huge fan of MBC. With that out of the way...this seasonal offering was not up to standard.
Pours black with a two-finger light brown he3ad that dissipates rather quickly.
Aroma of roasted malts, pepper, clove. Some other stuff going on here that I can't quite figure out.
Taste is roasted malts, clove, cinnamon and chocolate. There is also a certain mustiness that is not particular attractive.
Mouthfeel is medium bodied and slightly lifeless.
Overall, I'm underwhelmed. Not a particularly focused brew. Better luck next time MBC....
★
568 characters

3.23
/5
rDev
-5.3%
look: 4 | smell: 2.25 | taste: 3.5 | feel: 3.5 | overall: 3.5
Black, a nice couple fingers of brown head... that drops to beige.
Smells spicier than it tastes.
There's a sorta sense it gives off as being a Belgian stout, but it sure ain't pronounced. Cinnamon, chipotle, coffee and whatever else is promoted on the back of the can is so subtle. There's nothing wrong with this beer except that the noted additives seem to have no effect or pronouncement. There's a nice sweetness underneath that I'd attribute to yeast and coffee. There's a decent stout here that needs no ingredient promotions.
About what I'd expect without being "Imperial."
★
584 characters

3.15
/5
rDev
-7.6%
look: 3 | smell: 3 | taste: 3.25 | feel: 3 | overall: 3.25
12 oz can purchased in Nevada.
Body is deep, dark brown with maybe a hint of ruby highlights. No head to speak of.
Nose is is sweet, musty, bitter chocolate.
Flavor seems muted compared to the various items mentioned on the label. Bitter chocolate stout is what I get. No pepper heat, and I am really missing it.
Mouthfeel is medium. Just that...
Overall it is OK. I thought I was grabbing a Big Swell IPA when I dragged it from the fridge. Wish I had been.
★
462 characters

3.59
/5
rDev
+5.3%
look: 3.25 | smell: 3.5 | taste: 3.75 | feel: 3.5 | overall: 3.5
appearance- pours a hazy dark brown with a huge dark brown head
aroma- dusty chocolate a little bit of cola/dr. pepper smell
taste. its chocolate porter or stoutish at first but the lingering esthers would suggest its kind of belgian style. i dont know that I taste the chipotle like I do in the stone offereing but there is a subtle smokyness. The pepper and cinnamon really start to come out as the beer warms up.
Mouthfeel- medium to full bodied. tasty and slightly warming.
Overall an excellent and unique offering, for my money though you cant beat the cococnut porter and the one they make with pineapple juice. both make me wantto put my toes in the sand and both make me want to consume sea meat by the truck load. ahhh aloha
★
740 characters

3.25
/5
rDev
-4.7%
look: 3 | smell: 3 | taste: 3.5 | feel: 3.5 | overall: 3
App: Dark cola brown that allows no light to pass through. Almost black. Thick, dark head dissipates quickly leaving no lacing. Lackluster retention for a stout.
Smell: Carob like roasted nose. Different from chocolate. Toasted almonds, fruit cake. Bourbon like spiciness. Underlying herbal spiciness that isn't easy to pin down. Slightly medicinal.
Taste: Not as strong in flavor as I was expecting from a "belgian stout". Has almost none of the pungency I associate with belgian styles. Woody and dark, chocolate a good compliment to the maltiness, but it tastes a little off. Tastes more like Carob. Could be really good, but falls a little short. Slight lingering coco taste. Not bad.
Mouth: Medium bodied, smooth with light carbonation. Pretty easy to drink. Carbonated enough to roll the flavors but not flat or too effervescent.
★
842 characters
3.13
/5
rDev
-8.2%
look: 3 | smell: 2.5 | taste: 3.25 | feel: 3.5 | overall: 3.5
12 oz can poured into a pint glass. Reviewed August 12, 2013 at 0222.
A: Solid mocoa 2 fingered head. The head goes down to nothing very fast. Solid black body. Lacing slides down the glass and joins the body quickly.
S: Spicy malts appear first. Smell dissipates quite quickly after the head leaves. Light dark chocolate notes are all that remain within a minute.
T: Spiciness slightly bites as an end taste. Chile style dark chocolate lingers on the tongue. Smokiness appears as the drink warms up a bit.
M: This body appears especially thick. Light to medium carbonation.
O: No real coffee notes which I kinda wanted. The taste seems a bit unbalanced. It's an easy drink style brew because one would stop caring for it quite quickly. Far from Maui's best. Alcohol is hidden nicely if that convinces one to give it a try though. This is a knock back drink with a high price.
★
886 characters

4.13
/5
rDev
+21.1%
look: 4 | smell: 4 | taste: 4.25 | feel: 4.25 | overall: 4
Quick review, not my ordinary thing but... eh.
Pours a rich dark brown to black, the head is a deep milk chocolate brown that quickly dissipates. Is noticeably not thick or oily. Has some light shades of deep red around the fringes when held to the light.
The nose comes off with sweetened coffee, dark chocolate, roasted malts. A bit of a Belgian stout character to it in a way. Even a tad floral in sweetness. Soft but quite nice and defined, yet not overwhelming.
Tastes really quite nice, tad on the sweet side but certainly not cloying. A very fine and pleasant sweetness that reminds me a lot of getting the perfect sweet ice tea or a great sweetened iced coffee. Flavors coincide with mentioned. Black tea, coffee, chocolate, sweet cinnamon and just a hint of chipotle. Chipotle just gives a very tad warmth but the beer remains fresh and quite nice. Speaking of fresh, the beer itself has this breeziness to it, this freshness which is hard to explain. Could be the water used. But I've noticed this in the coconut porter they do as well.
Mouthfeel is light and slippery, has a pinch of dryness that I wish there was just a bit more of. Would have liked to see a bit more lightness, and maybe fluffiness to the beer too. But overall it is very drinkable but full of flavor.
I'd buy it this again, it would be a good beer to take to a friendly beer tasting. Fun and interesting!
★
1,390 characters
Aloha B'ak'tun from Maui Brewing Co.
79
out of
100
based on
35
ratings.