Max's Fanno Creek Brew Pub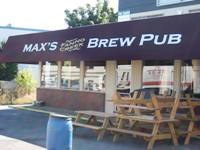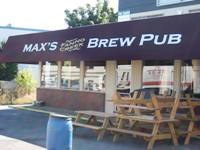 PLACE INFO
Type:
Brewery, Bar, Eatery, Beer-to-go
12562 SW Main St
Tigard
,
Oregon
, 97222
United States
(503) 624-9400 |
map
maxsfannocreek.com
Notes:
Hours:
Sunday - Thursday: 11:00 am - 10:00 pm
Friday - Saturday: 11:00 am - 11:00 pm
Hoppy Hour: 3 pm - 6 pm & 9 pm - close
Added by josiahschlender on 05-29-2007
HISTOGRAM
Ratings: 8 | Reviews: 7
Reviews by ccrida:

3.38
/5
rDev
-6.4%
vibe: 4 | quality: 2.5 | service: 4 | selection: 3.5
The space is open an airy, old warehouse feel (maybe 12-15 ft ceilings?), but some cool random antiquey decorations. Gorgeous knotted wood bar (supposed a a couple hundred years old pulled from the bottom of the Columbia river), a bunch of booths, tall tables, and a comfy looking living room area. Hand painted outdoor scenes on the support columns were cool. They also have free wireless
Bar wise, there are 10 taps, and 10 belgian bottles. $3.50 pints/$12 pitcher(or growler)/$6 dollar tasting tray. Free, smaller tasters at available the bar.
I had the '04 Tucks gluteous maximus, which was very nice, my favorite of the trip, served in a wine glass. Max used to brew for Tucks and apparently pulled this out of his stash. The Saison is pretty good, served in a funky stemless tulip glass from Denmark, and reflects their apparent fondness of Belgians - all the bottles are Belgian's, heavy on La Chouffe, and La Chouffe Golden is their only guest tap. The 1 year old Tripel was disappointing - it was much more of your standard micro version, too sweet and cloying, and lacking spiciness. And it was soured from age to boot, with diactyle and vinegar dominating the smell big time, and the taste quite a bit as well. Should have sampled that one first!
I did sample the stout-porter (basically rich, though not baltic porter sweet, with no real roast), which was good, but weird aroma, although only had 1 oz. The wit sample was pretty understated. The Smoked Marzen was also vinegary (mainly nose), but beyond that was OK. The Scottish ale was better, a favorite of the friendly regulars, malty and sweet.
The staff was also very friendly, and made this a rather inviting place. I didn't try any of the food, and while the beer didn't blow me away, I will probably be back, since it's pretty close to my house. I know that Max's jazz band plays there sometimes, so I'll probably check that out.
Overall though, the beer was not too impressive. Particularly since they seem to have an affinity for good belgians, there own versions were not that great or true to style. I would cut them more slack for being knew, but the brewer is not. New equipment, or the same set-up from Tucks? Either way I will probably not give this place more then another try if the beer isn't better on my next visit.
2,312 characters
More User Reviews:


3.38
/5
rDev
-6.4%
vibe: 3.25 | quality: 3 | service: 4 | selection: 3.25
Even though no one has reviewed this for three years, I'd say nothing has changed. The place had a fair number of people on a late Sunday afternoon. Seems like the place to take a gang of kids for pizzas. People were out on the west-facing deck even in the hot summer sun. Vast and cool inside the barn.
Roving waitresses and the bartender all wanted to help me. Everyone very pleasant, though not much knowledgeable or interested in the beers. I had the one interesting-sounding beer, the Reverend's Daughter "Belgian golden ale." I didn't care much for it and didn't try the several others.
Growlers to go, the big ones. Not expensive. People were chowing down, so the food is apparently popular.
700 characters

3.5
/5
rDev
-3%
vibe: 3.5 | quality: 3.5 | service: 3.5 | selection: 3.5
Max's is in Tigard on 99W not too far off I-5. Street parking is plentiful in the surrounding area. The inside is kind of nondescript, with the bar on the right side and pub table and booth seating on the left. There is a full length mirror behind the bar. They also have a shelf full of merchandise that is pretty inexpensive.
The Fanno Creek brewpub has around 8 beers on tap, and they are all pretty much average. There is a Golden, Belgian, IPA, Stout, Doppelbock, Baltic Porter and a couple others. None were decidedly bad, but nor were they memorable.
Service a couple hours before Superbowl Sunday was pretty good. The bartender provided samples of everything and gave other recommendations for beer spots in the area.
We did not have any food on this visit.
Overall this place is not high on the list of places to see on a Portland visit but it is worthwhile for a change of pace or if passing by the area.
918 characters
4.38
/5
rDev
+21.3%
vibe: 5 | quality: 4.5 | service: 4.5 | selection: 4 | food: 4
Visited Max's a couple of weeks back while visiting Portland. A few patrons were sitting outside on picnic tables with umbrellas but we went inside to get a better feel of the pub. Upon entering, we passed by what could have been someone's den with a couch and chairs for relaxing in with a good brew but we went straight to the bar to get a better feel of the place. The bartender (Amber?) was friendly and we quickly decided to order a sampler while we settled in. We were presented with 6 samples consisting of a Vanilla Porter, Golden Ale, IPA, Dry Hopped Red Ale, Wit and Pilsner. Amber was nice enough to let us also let us sample the 90 Shilling Scotch Ale and the Belgium Golden Ale. The Scotch Ale was my favorite, being the lighter version for the time of year. It was still malty and had just enough body for the style. The Dry Hopped Red Ale also was very good. This was more what I expected from the area, a beer with plenty of hop flavor and aroma to satisfy a hop head. Nice dark red color as well. My wife's favorite was the Belgium Golden Ale, followed by the regular Golden Ale and the Wit. The least favorite was the Pilsner. It wasn't bad, just nothing special. The food was above average for pub fare, loved the scotch egg and the pot roast sandwich.
Overall, this was a very comfortable pub with a distinct local feel to it. One of the patrons, Kim, even insisted that we follow him in our cars to make sure we got to the correct highway. This place is perfect for unwinding after a hectic day. Just wish it was in Alabama! Sigh...
1,555 characters
3.78
/5
rDev
+4.7%
vibe: 3 | quality: 4 | service: 4 | selection: 3.5 | food: 4
I had quite a time finding this place. I knew it was in Tigard, Oregon but looking for the address proved frustrating. Well it is in old downtown Tigard one street South of the main highway that runs east and west from Portland and toward Newberg.
The brewpub is fairly sizable in sort of an industrial way. The staff was friendly and curteous and quite knowledgible on the place and their beers. They no longer stock any other Belgian beers as they weren't selling that well. They do brew a couple of their own that are quite enjoyable though.
They have an interesting and varied menu of bar-foods and judging by other patrons' enjoyment it was well recieved. I tried three of their brews and got a growler fill of their HPA (hoppy pale ale) which was very good. I took the growler to a family gathering that day and it dissapeared very quickly with considerable lip-smacking. And most of these folks don't drink much beer. So, if you can find the place, give it a try. I enjoyed my experience there very much.
1,012 characters
3.88
/5
rDev
+7.5%
vibe: 3.5 | quality: 3.5 | service: 4.5 | selection: 4 | food: 3.5
When I heard Tuck's Brewery had closed I was a bit disappointed. I used to enjoy the occasional jaunt there for fried chicken and a pint of kölsch. But with Tuck's demise, brewer Max Tieger relocated to downtown Tigard where he opened his own brewpub beside the trickling waters of Fanno Creek. As it turns out, Max soon had a falling out with his partners and left the brewpub that bears his name. A replacement brewer now brews Max's beers.
Everything about Max's says "neighborhood bar." The atmosphere is relaxed and at once familiar. Service is courteous, friendly, and prompt. They even called me "sir" which I recognize as respectful though I'm vastly more comfortable with "dude." Perhaps, "Sir Dude." The place is family friendly, dog friendly, and just plain kind. And on one of my visits they had the satellite radio tuned to an all Grateful Dead station the whole afternoon. You might say I felt at home.
Max offers as many as ten house beers with one Belgian guest tap, one on nitro, and no cask. Ask your server as to what's available, as the menu is likely to list several beers not pouring. At least three ales, the Nit Wit, Farmer's Daughter, and Vanilla Cream Porter, are holdovers from the Tuck's lineup. Quality has generally improved since Tuck's days with the exception of the Vanilla Cream Porter, which has inexplicably declined. The trend towards improvement may perhaps be attributable to the 10-bbl brewing system gained from a defunct Big Horn. It also doesn't hurt that while Tuck's was a great place to drop in for a pint, it was never much of an actual beer bar. Max's offers a skeletal selection of distilled spirits, but can't be mistaken for anything other than a working brewpub. They also carry a small selection of bottled Belgian ales.
The menu offers customary pub grub, but with a personal touch that scores it a notch above the median. The fish'n'chips were big and fluffy and the thin-crusted pizzas come piled high with toppings. Just avoid the Jamaican jerk chicken sandwich. Standout beers include the Farmer's Daughter saison and the deceptively modest Golden Ale. Max also brews some interesting experimental hybrids such as a "Belgian" IPA or a "Belgian" stout. After a round of food and ales, step out of the spacious pub for a walk along the creek. Fanno Creek Park runs from Max's front door for a quarter mile upstream. One word of caution however: avoid sitting near the kitchen as it is often noisy and can spew unwanted fumes into the dining area.
2,507 characters
3.56
/5
rDev
-1.4%
vibe: 4 | quality: 3.5 | service: 4 | selection: 3
With this place being new, the word hasn't gotten out much yet and was really relaxed for a Friday night. I dislike bar scenes on the weekend evenings, but the low-key, family atmosphere was something that will bring me back again to this place. It's big, open, airy, with some good decorative touches without being cluttered. It was cool seeing a pile of 50lb bags of malt and a bunch of kegs in the hall.
Beer wise, quality was varied. I had glasses of the Farmer's Daughter and IPA. The Saison was excellent, the IPA decent. I tried samples of the Scottish Red, Golden Ale and Vanilla Creme Porter and was less impressed. Not bad though. The beer was good enough to come back and try more. They have 10 beers on tap, representing a wide range of styles.
When I first got there,. the new staff seemed a little harried with the business,. even though it wasn't crowded. It took a while to be noticed, but as the evening progressed, service got more attentive and more friendly.
I didn't look at their bottled selections, but their beers on tap were interesting enough to keep me occupied and wanting to come back again. The Farmer's Daughter was good enough to keep coming back for. (Hmm, that sounds really wrong) Their beers are $3.50 a pint/glass, not too bad.
I didn't try their food, which was medium to slightly steep for pub fare, but the menu options looked typical but tasty.
Alll in all, not a bad place to stop, especially for the location. If you live in the Sherwood/Tigard/Tualatin area, it's really convenient. Much closer than a lot of the other brew pubs. I'll be back to sample more.
1,617 characters
Max's Fanno Creek Brew Pub in Tigard, OR
Brewery rating:
3.56
out of
5
with
21
ratings