North Fork Brewing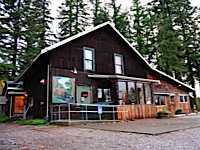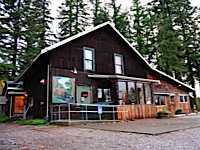 Brewery, Bar, Eatery
6186 Mt. Baker Highway
Deming
,
Washington
, 98244
United States
(360) 599-2337 |
map
northforkbrewery.com
Notes:
Reviews by yeaprolly:
More User Reviews:

DasD from North Carolina
4.91
/5
rDev
+20.6%
vibe: 4.75 | quality: 5 | service: 5 | selection: 4.75 | food: 5
This is probably my favorite brewery ever. The head brewer Eric is a gem that is extremely enthusiastic about beer and either passing on or gathering new beer knowledge. The bar is comfy and the majority of the staff has been there for a long time - decade or more style - that always says to me that the employees are treated right. Now on to the beer, the on tap mainstays are all very true to form, good, clean, British style pints. In the last few years the head brewer has been able to do some more experimenting and they have started a souring program, win win for all of us! He brews not only a fabulous bright Berrlinerweiss - available in the summer - but complex barrel aged sour goodness too. This is a little gem that has been around for over 20 years now in a beautiful little corner of the world, a place that time slows down and life disconnects.
Apr 30, 2019

U2Chaser from North Dakota
4.74
/5
rDev
+16.5%
vibe: 5 | quality: 4.75 | service: 4.5 | selection: 4.75 | food: 5
Oct 15, 2018


gouettn from Washington
4.43
/5
rDev
+8.8%
vibe: 5 | quality: 4.5 | service: 4.25 | selection: 4.25 | food: 4.5
Feb 17, 2015

Donkster46 from Washington
3.6
/5
rDev
-11.5%
vibe: 3.5 | quality: 4 | service: 3.5 | selection: 3 | food: 4.25
Feb 01, 2015

Brandonparrent from Michigan
5
/5
rDev
+22.9%
vibe: 5 | quality: 5 | service: 5 | selection: 5 | food: 5
love everything about this place. where else can you get a pizza, steamers a barleywine and get married. the best small brewery I've been to.
Dec 30, 2014
Sound_Explorer from Washington
3.86
/5
rDev
-5.2%
vibe: 3.75 | quality: 3.75 | service: 3.5 | selection: 4.25 | food: 4.25
While it might be tucked away it is certainly worth a trip out. Looks deceptive on the outside but it certainly has a charm inside. Lots of old beer pieces through out which lends to the atmosphere.
Had the Nitro ESB, Wit, IPA, 'Lighter' Pale, and Scotch. Overall I found the beers to be a nice variety and pretty good really though the only one to really stand out was the Wit and Pale.
As for food I had the Meat Grinder with a side of Tim's Cascade chips and it was really good. Piled high with veggies, cheese and salami. It ended up being a salad on top of a hot sub almost but again, really really good.
Get there on an off day or early as it is a smaller location so I imagine it might get busy fast. It wasn't when i was there but i could see it being an issue. Have fun and make a day of it at North Fork and Bellingham.
May 18, 2014
didgeridolphin from Northern Mariana Islands
2.8
/5
rDev
-31.2%
vibe: 5 | quality: 2 | service: 3 | selection: 2 | food: 4.5
I wrote the following after a visit in 2012:
Very unique brew-pub. This is THE place for weddings in North Central Washington (West of the Cascades). Also has lots of beer-related memorabilia (a veritable museum brew-pub). In fact, the entire name (The North Fork Beer Shrine, Pizzeria, and Wedding Chapel) does not quite tell it all. Excellent beer, including some of the best barley wines I've ever tasted. Also, food is excellent, surroundings quite interesting, and service great (your waitress is likely to be the co-owner and wedding minister). One of the very best overall brew pubs I have ever visited.
I visit WA yearly, and greatly looked forward to returning to this place in 2013. However...
While the atmosphere was still excellent and the food and service was still good, the beer (the primary thing I was looking forward too) was EXTREMELY watered down. VERY disappointing. I was there with a group, including several people who were there at both visits. All agreed that the beer was totally weak at our more recent visit. Of course, this may have been a one-time thing. Perhaps it is usually not this way. However, we sampled all the beers they had available, and ALL of them were extremely weak except for the wheat beer and the barely wine. It's difficult to say for sure whether or not it (the barley wine) was watered down, since we were somewhat comparing it with the watered down others (we tasted the barley wine last).
Aug 25, 2013
EspressoGuy from Canada (BC)
4.15
/5
rDev
+2%
vibe: 3.5 | quality: 4.5 | service: 4 | selection: 4 | food: 4.5
When I planned this visit I hate to admit that I really wasn't expecting much. "North Fork Brewing" doesn't often enter into the conversation when you talk about great Washington State breweries. But it should. OUTSTANDING! Right up there with one of my favourite pubs in the NW.
A: a cabin in the middle of nowhere, full of beer paraphernalia --cool kitchy stuff -- and not like they're trying too hard. Comfortable, well-worn.
Q: The sampler has seven 3oz tasters (no choices) and 6 of the 7 were REALLY good. I have to say that they do brew beers that fit my taste perfectly: clean, delicate flavours, very well-balanced. None of them were wacky and over the top. I had
Lighter Shade of Pale (not a lager, not a pale ale -- neat combo),
Hefeweizen (crisp, clean, balanced; more pineapple/citrus than coriander/nutmeg),
IPA (not big and overpowering; beautifully balanced and refreshing),
ESB (like a true British-style ESB: low alcohol - 4.6% - simple, clean, easy drinking),
Dry Stout ( delicate rich chocolate moka and a melllow 4.4%),
Strong Scotch Ale (not usually my style but this had a tasty salted caramel malt flavour that was delicious)
Barley Wine: (again not a favourite style for me but in like all their beers this one was so well-balanced and held in check without going over the top)
S: Sat at the bar and was well taken care of.
S: 12 taps in a range of British styles.
F: A few locals gad said that the pizzas were good so I was hopeful. But I take my pizza VERY seriously so was skeptical. What a treat! My Mediterranean (Olive oil-garlic sauce, mozzarella, sundried tomatoes,artichoke hearts, mushroom, feta & parmesan) had a crisp thin crust (but not crackery) and was delicious. $15.50 for a 12" pizza is not cheap but that is VERY good pizza.
V: For this quality of beer and food, I consider it good value.
Jun 16, 2013
RedDiamond from Oregon
3.63
/5
rDev
-10.8%
vibe: 4.5 | quality: 3 | service: 4.5 | selection: 3 | food: 4
A true American roadhouse. North Fork looks like a home was converted to a restaurant/bar. Then an expansion was added for a brewery. Then a beer garden. The growth appears organic and every aspect evokes a sense of belonging. It's not even in a town. It's just a roadside tavern.
And a beer shrine. And a wedding chapel. Well, perhaps the shrine and chapel require some indulgence of the imagination. But they do have a stained glass window and a devotedly displayed collection of beer bottles. An ordained minister is said to be available to perform nuptials. Just try not to make any rash decisions around last call.
Even if you're not tying the knot, North Fork is a very comfortable place to tie one on. Its rustic charm takes the form of weathered wood, an oversized bar, and breweriana in abundance. Six house taps include two nitro pours, no guests and no cask. The wine list is especially brief. The tea list is impressive.
The most popular food items by far are the thin crust pizzas though I can also endorse the calzone. A modest array of salads and seafood items are also available. After eating, guests receive a fortune cookie.
Beer styles emphasize Anglo-American models with the occasional hefeweizen or dry stout. Best bets include any number of different barleywines available year round. Though beer quality varies, North Fork is a must visit when traveling to and from Mt. Baker. You'll find it between mile markers 20 and 21. Be advised that the place is small (two rooms) and very popular with the locals, so despite its rural location, you may need to wait for a table during the dinner rush.
Nov 12, 2009

BBThunderbolt from Kiribati
4.33
/5
rDev
+6.4%
vibe: 4.5 | quality: 4.5 | service: 4 | selection: 4.5 | food: 4
A delightful and eclectic place. Located about 20 miles East of Bellingham alongside the Nooksack River the North Fork Brewery, Pizzaria, Wedding Chapel and Beer Shrine is a must visit. The beers are always fresh and top quality. There is usually an IPA, Esb and stout on tap with various styles brewed throught the year. At any given time there are 8-10 beers on tap. The food is very good, mostly east coast style pizzas with some NW favorites such as clams and salmon. If you are transiting between Seattle and Vancouver, BC you should make the side trip.
Dec 11, 2008
North Fork Brewing in Deming, WA
Brewery rating:
3.71
out of
5
with
85
ratings