Maibock
| Weeping Radish Eco Farm & Brewery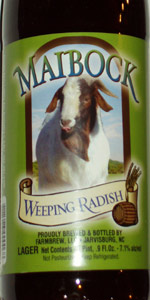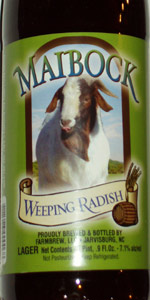 BEER INFO
Brewed by:
Weeping Radish Eco Farm & Brewery
North Carolina
,
United States
weepingradish.com
Style:
Maibock / Helles Bock
Alcohol by volume (ABV):
7.10%
Availability:
Rotating
Notes / Commercial Description:
No notes at this time.
Added by DarkerTheBetter on 07-07-2007
Ratings: 13 | Reviews: 9
None found.
More User Reviews:

3.52
/5
rDev
+6%
look: 3 | smell: 3.5 | taste: 3.75 | feel: 3 | overall: 3.5
Served on tap in a pint glass.
Appearance: Golden in color with a thin white head and a lot of carbonation.
Smell: Alcohol and grassy notes.
Mouthfeel/Taste: Smooth light bodied. Taste of sweeter grassy/earthy tones and some mild happiness.
Overall: Good brew, my wife actually enjoyed this one more than me, guess I will get for her again in the future.
359 characters

3.64
/5
rDev
+9.6%
look: 3.75 | smell: 3.5 | taste: 3.75 | feel: 3.75 | overall: 3.5

3.38
/5
rDev
+1.8%
look: 3.5 | smell: 3 | taste: 3.5 | feel: 3.5 | overall: 3.5
Bought from the restaurant in Manteo
Pours brownish, not as dark as most bock beers.
Has a decent blend of hops with a slight fruit taste, lighter and easier to drink than most maibocks.
This has the potential to be a real crowd pleaser from Weeping Radish.
260 characters

3.66
/5
rDev
+10.2%
look: 4.5 | smell: 3.5 | taste: 3.5 | feel: 3.5 | overall: 4
Thanks to my buddy Brian for this one!
This beer pours an attractive brassy brown with a thin, irregular film of white.
Smells of sour corn, peaches and strawberries. Overall, it's smell is rather thin.
Tastes of a thin base of walnut dryness with a bright, sour under-ripe fruit that rounds it off into a crisp German hop.
Feels light and crisp and surprisingly dry. Clean too.
For the style, this one's really light and easy; par for this brewery I hear. Although not perfect for the style, it's a solid and easy drinking brew.
545 characters

3.5
/5
rDev
+5.4%
look: 3.5 | smell: 3.5 | taste: 3.5 | feel: 3.5 | overall: 3.5
3.53
/5
rDev
+6.3%
look: 3.5 | smell: 3.5 | taste: 3.5 | feel: 3.75 | overall: 3.5
Served on-tap at Weeping Radish Eco Farm & Brewery in Grandy, NC
A: Pours a clear deep copper to amber in color with light amounts of visible carbonation and some orange highlights. The beer has a half finger tall soapy light beige head that reduces to a medium patch of very thin film and a thin ring at the edges of the glass. Light amounts of lacing are observed.
S: Moderate aromas of caramel and toasted malts with some light fruit (apple) and some floral + grassy hops.
T: Upfront there is a moderate flavors of toasted and bready malts with some lighter notes of caramel and light fruit (apple) sweetness. That is followed by some lighter flavors of earthy, spicy, floral, and grassy hops that contribute just a light amount of lingering bitterness.
M: Medium bodied with moderate amounts of carbonation. Crisp and clean.
O: This beer is very easy to drink and the alcohol in it is extremely well hidden - I could see this beer sneaking up on me. Definitely enjoyable and one I would consider picking up to take back home.
1,034 characters
3.75
/5
rDev
+13%
look: 4 | smell: 4 | taste: 3.5 | feel: 3.5 | overall: 4
Poured into a pint glass.
A - Bright orange brew with a deep off color hue. Small head but great retention. Even laced fairly well.
S - Apples? Unexpected but interesting. Rich malty sweetness in the nose.
T - Not quite as sweet or even malty as the aroma would lead one to believe. Balanced and mild. Tasty, yet nothing really stands out here.
M - Crisp and clean finish. Decent carbonation. Abv is well disguised.
D - Not bad, I could see knocking a few of these back wouldn't be much of a chore. Not the best example of the style but good enough I suppose.
564 characters
3.74
/5
rDev
+12.7%
look: 4 | smell: 3.75 | taste: 3.75 | feel: 3.5 | overall: 3.75

3.58
/5
rDev
+7.8%
look: 4 | smell: 3.5 | taste: 3.5 | feel: 4 | overall: 3.5
Picked this up from the brewery in Jarvisburg.
Pours a brownish copper color with a craggy looking off white head. Slight lacing remains on the upper part of the glass.
The aroma is of sour fruits, light bready malts, and whiff of something eerily similar to canned corn. Very interesting smell that's both sweet and sour.
The flavor heads down that same sweet, yet sour, path. Fruits up front, although they are slightly sour, followed by biscuity malts and finishing with a crisp, earthy hop note. Interesting for a Maibock.
Mouthfeel is light to medium. Crisp carbonation. Aftertaste is a touch dry. Not bad. Looking forward to trying the remaining brews from Weeping Radish.
682 characters

3.23
/5
rDev
-2.7%
look: 3.5 | smell: 3 | taste: 3.5 | feel: 3 | overall: 3
Pours a hazy copper-orange with a thick frothy white head. Head slowly fades leaving plenty of lacing. The aroma is reserved, fruity with slight malt and yeast smells. The taste is sweet malt with some sourness, hints of pepper. There is some lingering hop bitterness in the aftertaste. Pleasant but not outstanding.
316 characters
1.23
/5
rDev
-63%
look: 2 | smell: 1.5 | taste: 1 | feel: 1.5 | overall: 1
Dispensed from a .5L bottle into an imperial pint glass. Wow! This one is ugly. Looks like a glass of sweet tea; no carbonation, very little head, no lacing. The aroma is very sour and smells like a 6 month old baby's soiled diaper. Brutal taste. I dont even know what to say. Perhaps kool-aid soaked jock strap with a side of haggis. This one has no redeeming qualities and was down the drain before you could say "disaster". I certainly see why the radish is weeping because I sure as hell am.
495 characters
3.11
/5
rDev
-6.3%
look: 3.5 | smell: 2.5 | taste: 3 | feel: 4 | overall: 3.5
From a half-liter, German-style bottle, the beer is amber, lightly-hazed, with medium carbonation and a finger of tan head that delivers slight lacing. Only a dash of hops in the nose, maybe backed by some oxidation. On the palate, it's earthy, caramel and roasted malts, lightly balanced by green hops on top of a dry, medium body that has a short finish. Not terrible, but not my top choice if drinking a Germanic brew.
421 characters
Maibock from Weeping Radish Eco Farm & Brewery
Beer rating:
7.7%
out of
100
with
13
ratings