Farm Brew Altbier
| Weeping Radish Eco Farm & Brewery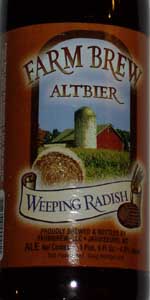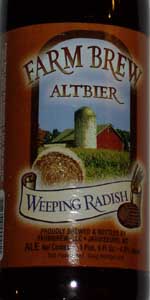 BEER INFO
Brewed by:
Weeping Radish Eco Farm & Brewery
North Carolina
,
United States
weepingradish.com
Style:
Altbier
Alcohol by volume (ABV):
4.90%
Availability:
Rotating
Notes / Commercial Description:
No notes at this time.
Added by akorsak on 10-07-2007
HISTOGRAM
Ratings: 11 | Reviews: 9
Reviews by akorsak:
3.82
/5
rDev
+30.4%
look: 3.5 | smell: 4 | taste: 4 | feel: 3.5 | overall: 3.5
A 500 mL bottle from the new on-site bottling operation. Purchased at Chip's in Kill Devil Hills, NC.
A: The altbier is a deep orange color that is easily mistaken for a brownish tint. The ale is translucent, lacking any form of haziness. The head, on pour neared a finger but was generally unimpressive.
S: The nose is malty, thick with biscuity peanut notes and some yeasty by-products.
T: The ale has a fully malty mouthfeel, thick with bread and nut flavors that immediately dry out the mouth. The dark flavor conjures up some molasses (lighter, not blackstrap), sourdough and pumpernickel.
M: The mouthfeel is big, satisfying in its rusty depth. This is not a warm weather beer but a nice one for when the temperatures start to drop.
D: The big taste is an odd mismatch with the low abv. The flavors are strong enough that you'll be happy after a bottle or two, but the alcohol is so low that you could go on all day long.
942 characters
More User Reviews:

2.65
/5
rDev
-9.6%
look: 3 | smell: 3 | taste: 2.5 | feel: 2.5 | overall: 2.5
Had this beer right at their restaurant on Manteo. Of the seven different beers I've tried from Weeping Radish, I felt this was the weakest of them all. It's not that it's a bad beer, it's just that the Farm Brew is an average beer in pretty much every category with nothing truly standing out. The one thing that does stick out though was the aftertaste, an unpleasant bitterness with not enough balance.
405 characters
3.43
/5
rDev
+17.1%
look: 4 | smell: 3.5 | taste: 3.25 | feel: 3.5 | overall: 3.5
Sampled a cold bottle poured into a pint glass. The beer has a creamy off white head and fades to a sturdy .25 cm surface layer that sits on the beer throughout the sampling. The aroma is simple yet nice with clean caramel and some toffee mixing together. Flavor is similar to nose with sweet caramel and hints of bakers chocolate in the background. The beer also rolls to some herbal hops on the finish that dries on the finish a little bit.
THe beer is very clean and easy to drink. Simple and straightforward with no flaws.
528 characters
2.16
/5
rDev
-26.3%
look: 3 | smell: 2 | taste: 2 | feel: 3 | overall: 2
Bomber poured into a shaker pint glass yields a hazy orange-copper body capped with a half-finger of white foam that retains at a ring and leaves a few freckles of lacing on the glass.
The smell of the drink is toasty-sour malty and unappetizing.
The taste of the drink is somewhat sweet and spicy, with a bit of cardboardy malt and a grain-husky sourness in the finish.
Bad on so many levels I'm putting this brew in the sink where it belongs. Piss-poor excuse for an Altbier.
480 characters
2.91
/5
rDev
-0.7%
look: 3.5 | smell: 2.5 | taste: 3 | feel: 3 | overall: 3
A friend brought me back two bottles.
A- Pours a nice copper amber color, with a decent tan head, but it dissipated rather quickly.
S- Smells a little sour and bread-like, but not very strong.
T- Starts off sour, but gets better, no hops really noted, not a strong maltiness like other alt beers though.
M- Not overly carbonated, thin body, somewhat watery.
D- I can drink this beer, but can't get over that most altbiers are malty, not sour.
447 characters
2.48
/5
rDev
-15.4%
look: 3 | smell: 2.5 | taste: 2.5 | feel: 3 | overall: 2
Average color-muted amber. Highly carbonated and a huge head. Aroma is pretty bleak-wet cardboard and somewhat sour. Malty enough flavor but has a sharp/acrid tange to it. Some lingering bitterness that seems to come more from the sharpness then any hops. Quite grainy tasting. Ok mouthfeel I guess. Too many off notes detract from the whole picture. Doesnt resemble an alt from here. I have had much, much better from Weeping Radish. Hope their move off the Outer Banks isnt hampering them. This was a unpasteurized bottle bought no more then 20 minutes from the brewery.
572 characters
3
/5
rDev
+2.4%
look: 3 | smell: 3 | taste: 3 | feel: 3 | overall: 3
Purchased a bomber at the brewery in Jarvisburg, NC.
A: Light copper hue with a thin white head. Good retention. Very cloudy - turbid.
S: Subtle grainy aroma.
T: As in the other Weeping Radish beers I have had, there is a strange bitterness here but it is not nearly as pronouned. This has a decent sweet and slighlty grainy malt flavor accompanied by the aforementioned bitterness.
MF: Medium body - smooth. Moderate carbonation.
D: The drinkability on this is good. Balance is ok.
490 characters

3.06
/5
rDev
+4.4%
look: 4 | smell: 3 | taste: 3 | feel: 3 | overall: 3
Poured a clear dark brown with ruby tints with a frothy two-finger head that left a lace ring down the glass as I drank. A husky, grainy smell that overpowers the few sweet malts and herbal hops I detect. A medium-bodied beer that is dry and husky; you can't really taste much of the hops or malts but it isn't horrible. Not bad, but I won't seek this again AT ALL. According to the signs around the brewery, the main brewer quit two months ago and now the assistants are brewing for the moment; could explain why this seemed better than all the other reviewers experienced.
574 characters
2.7
/5
rDev
-7.8%
look: 3 | smell: 3 | taste: 2.5 | feel: 3 | overall: 2.5
I poured this beer into my tmbler at 50 degrees, the beer was cloudy and kinda red looking. A pretty big head appeared as I poured. The beer was looking nice then several big chunks of stuff plopped into the bottle turning the beer a muddy water color. The smell was hoppy. The taste was bittier and metallic. Iwas forced to pour it out. I will not buy again.
359 characters
Farm Brew Altbier from Weeping Radish Eco Farm & Brewery
Beer rating:
2.93
out of
5
with
11
ratings