Pumpkin Bock
| Weeping Radish Eco Farm & Brewery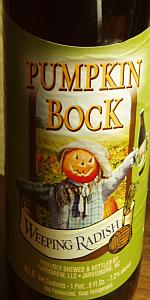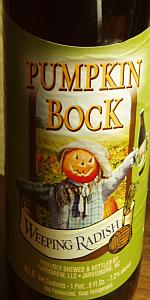 BEER INFO
Brewed by:
Weeping Radish Eco Farm & Brewery
North Carolina
,
United States
weepingradish.com
Style:
Bock
Alcohol by volume (ABV):
7.20%
Availability:
Fall
Notes / Commercial Description:
No notes at this time.
Added by atsprings on 10-15-2008
HISTOGRAM
Ratings: 8 | Reviews: 7
None found.
More User Reviews:

3.32
/5
rDev
-0.3%
look: 3 | smell: 3.5 | taste: 3 | feel: 4 | overall: 3.5
After I read about this beer in Southern Brewing News, I kept my eyes open for it in the few places that carry Weeping Radish bottles. (There aren't many!) Sam's Quik Stop in Durham does, and I noticed a couple of bottles of this brew just the other evening. I believe I paid about $5 for it.
It pours a dark and hazy brown with orange highlights, with a decent off-white head forming if poured hard enough. The aroma is much like many pumpkin beers I've sampled: it's sweet and grainy, with a big citrus smell and pumpkin overtones. So far, so good. The taste is a bit different; it's heavily tilted to a pure pumpkin flavor with lots of spice and a heapin' helpin' of citrus overtones. A bit of bitterness appears at the end and calms things down, resulting in a spicy, malty, hoppy aftertaste. This one's easy to drink, and one may find the slightly higher ABV sneaking up you as you go for a second round.
This is substantially different from other pumpkin brews I've sampled. I wonder if the fact this is a lager has a rather large effect on the flavor and mouthfeel? (I know the latter should go without saying!)
1,120 characters
3.68
/5
rDev
+10.5%
look: 4 | smell: 3.5 | taste: 3.5 | feel: 4 | overall: 4
16.9 oz bottle
A: Brown, copper under a medium sized white head. Decent lace and retention.
S: Smells of spice and sweet maltiness. A little bit of caramel and some pumpkin.
T: Mostly the same, spice is a little more subtle. Some toasted malt with a bit of bitterness in the finish. Decent taste overall.
M/D: Good mouthfeel, carbonation not too high. Medium bodied. Decent drinkability. A decent brew, was expecting a little bit more though with the combination of bock and pumpkin/spice.
493 characters

3.11
/5
rDev
-6.6%
look: 4 | smell: 3 | taste: 3 | feel: 3.5 | overall: 3
Poured a clear auburn brown body with a one-finger white head that went quick and had a very faint pumpkin aroma. An easy drinking beer with moderate pumpkin flavor but very little else. The cinnamon/nutmeg/peppery spices I am used to are not really there and there is very little in the malts. Pretty much light-bodied and smooth, a watery pumpkin pie if you will. Not bad to have one on a hot day, but this isn't much more than lawnmower beer.
445 characters
4.02
/5
rDev
+20.7%
look: 3.5 | smell: 4 | taste: 4 | feel: 4.5 | overall: 4
500 mL bottle purchased at Sam's Blue Light in Durham poured into a Weihenstephan dimpled mug. Pours a very bubbly and quite hazy orange with a nice frothy but quickly diminishing head. Aroma was a fragrant balance of pumpkin spice and sweet malts, both coming through rather strong. The taste was just what I expected from the name of the beer, the crisp malt bite of a bock with added pumpkin spice. The beer is quite sweet in the initial, with the pumpkin flavor coming through stronger in the finish. The beer is on the light side of medium with it's alcohol well hidden, the carbonation provides some smoothness as well. This is certainly on of the more interesting beers I've had as of late, one I would definitely try again.
731 characters
2.66
/5
rDev
-20.1%
look: 4 | smell: 3 | taste: 2.5 | feel: 2 | overall: 2.5
Although I dont like most of the Weeping Radish beers, I saw this was a Pumpkin Bock and couldnt resist the urge to try this "style".
Like most other Weeping Radish beers, the pop is topped and is followed by a loud fizz. The smell immediately hits my nose and is typical of WR beers; sour and rancid and vegetal. The appearance is pretty good. It is mostly foam but the head is thick and cloudy and rocky and dense. IT is about three fingers in size so the head occupied the majority of my pint glass.
With the look and smell combined, fingers point to an infection (like all WR beers). I dont know why these guys cant get their sanitation practices under control but it really ruins their beers.
Band aids, sour apples, overly carbonated on the tongue. A slight bit of pumpkin type flavors in the finish, but really light and hidden by all of the off flavors.
Not much bock and not much pumpkin in this one make it not enjoyable at all. Watery, sour, and no good. I tried one more time with this brewery but I cant ever imagine drinking another beverage from these guys.
1,078 characters
3.53
/5
rDev
+6%
look: 4 | smell: 3.5 | taste: 3.5 | feel: 3.5 | overall: 3.5
This is a pretty unique offering from Weeping Radish. I've had some pumpkin ales and even a pumpkin stout but not a pumpkin bock.
Pours a rich, dark golden color with a nice white head.
Smell is slightly sour actually with a small whiff of pumpkin (think Libby's canned pumpkin) but nothing sweet and over powering. I was expecting something more intense but maybe less is more.
Taste is light, bubbly and refreshing. The dark, rich pumpkin and malt I was expecting is not there. Its more of a very good lager with some faint pumpkin notes. This beer is rather dry in aftertaste with some sourness.
I don't think i would be up for more than one of these. Its a great beer to try but not one that I'd one to session.
Great offering from Weeping Radish, the only "pumpkin bock" I've seen or heard of.
803 characters

3.32
/5
rDev
-0.3%
look: 4 | smell: 4.5 | taste: 3 | feel: 2 | overall: 3
500 ml bottle into a Dogfish Head off-centered pint glass.
An aggressive pour releases a fluorescent orange body with a slight haze and a sluggish carbonation level. The off-white head builds to a finger's width before slowly receding to a plump ring and patchy cap of foam. I'm digging the aroma, as notes of sharp, spicy cinnamon and nutmeg pinch the nostrils and refuse to let go until smooth, creamy pumpkin and cool-whip notes take over.
The flavor starts out with a nicely placed soft pumpkin pulp, but quickly transitions to some over-cooked veggie notes and an acerbic spice profile. On the finish, a somewhat out-of-place hop note comes from left field to overpower the gentle pumpkin spice. Mouthfeel is exceptionally dry, wholly over-carbonated and over-spiced, leaving the palate uninspired and leaving me more and more uninterested. Although the Pumpkin Bock is better than the other two Weeping Radish brews I've tried, sadly, that's not saying a whole lot. This brewery could use some improvement.
1,015 characters
Pumpkin Bock from Weeping Radish Eco Farm & Brewery
Beer rating:
3.33
out of
5
with
8
ratings