Weeping Radish Eco Farm & Brewery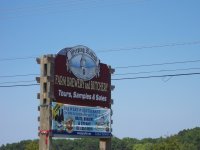 PLACE INFO
Type:
Brewery, Bar, Eatery
6810 Caratoke Hwy
Grandy
,
North Carolina
, 27939
United States
(252) 491-5205 |
map
weepingradish.com
Notes:
Operating brewpub serving food on site.
Added by MuddyFeet on 05-29-2007
Reviews: 13 | Ratings: 34
3.86
/5
rDev
+4.9%
vibe: 4 | quality: 3.75 | service: 4.25 | selection: 3.5 | food: 4
The place has an active farm outside including a pen with goats which my daughter really liked and the interior is rustic. It was between lunch and dinner times on a weekday when I visited so the place was not too busy.
Food and beer were well prepared but not really served in what I would consider proper glassware and with quite the attention I appreciate.
Our waitress was very nice, helpful, and attentive - we did not have to wait long for anything and she was quick to refill a water whenever it was needed. She was able to do a pretty good job explaining the differences between the different available beers and even let me know about a couple of other places in the area that had some interesting stuff available.
This is a brew pub and features only their own brews so the selection was not huge - all of the beers are made in a German style (by design) so there is not a wide range of styles either. There were 7 beers available on tap when I visited and you could take away any of those in growlers as well as the majority (like 5) in bottles.
The food is also German in style (which is something both my wife and I enjoy) and was well prepared - we got the 5 sausage sampler (the place is also a butcher shop and all of the sausages are made in house) along with the sweet potato liverwurst. The food was authentic to the style, well prepared, and pretty tasty.
Prices were pretty inexpensive which I appreciated... though the flight of beers was a touch higher than I expected considering the price of full beers.
1,534 characters
4.03
/5
rDev
+9.5%
vibe: 3.5 | quality: 3.5 | service: 5 | selection: 3.5 | food: 5
Stopped here when passing by going up the coast. Beers were ok to very good but the real star here to me was the food which was absolutely outstanding. It appeared everything they used was grown there on site. Prices were respectable, perhaps a little pricey for some but that goes with the exceptional quality. While I might not say this is a destination for beer, I would probably go back for the food. Highly recommended.
424 characters
3.75
/5
rDev
+1.9%
vibe: 3.5 | quality: 3.5 | service: 4 | selection: 4 | food: 3.5
The Weeping Radish Eco Farm is a sprawling complex located on US 158 in Grandy/Jarvisburg. The complex includes a brewpub and bar area along with a butcher's cooler of fresh meats.
Atmosphere: The building, which also houses the brewing facilities, is huge. Out front, goats frolic in pens. Inside the butcher's cooler abuts the brewpub area and the to-go coolers. The brewpub has bar and table seating. Weeping Radish breweriana and German styling are spread throughout.
Quality: After a few down years, the quality of the beer has rebounded significantly. There are few things like a fresh pint of Black Radish.
Service: Our waitress/bartender was very friendly, visiting several times throughout, chatting up the young ones.
Selection: House beers and root beer are available. The current selection (as of the date of this review) is Weizen, Fest, Corolla Gold, Black Radish, OBX Kolsch, and Radler. Also available are homemade root beers that are quite good. I had a weizen (so-so) and a Black Radish (incredible).
Food: Finger foods that stress local ingredients line the menu. Sausage sandwiches feature the in-house butchery's offerings. The menu is limited to appetizers and a few sandwiches, nothing like the range at the old Manteo establishment. The food is alright, passable, but the beer is the big draw.
In the past, the brewery had quality issues in its bottling and growler lines. Those problems seem to have been resolved. I have two growlers (Corolla Gold and Black Radish) that I'll be cracking open in order to render a final call on the quality. Here's hopin' though, because fresh the beers are quite good.
1,634 characters

3.69
/5
rDev
+0.3%
vibe: 3.75 | quality: 4 | service: 3.25 | selection: 3.5 | food: 4.25
Go for the food. Enjoy the friendly atmosphere and some fine German style beers. Moderate your beer expectations.
V - A Bavarian beer haus, but not. 3.75
SEL - 3.5
SER - Nice people but slow at both server and greeter = 3.25
Q - All the beer is brewed and bottled right there. 4
F 4.25
293 characters
3.85
/5
rDev
+4.6%
vibe: 3 | quality: 4 | service: 4 | selection: 4 | food: 3.5
Easy stop on the way to the OBX down 158 from VA. Not so easy for those of us used to coming in on 64 from the south.
Pub has more of a tasting room feel. Small bar with 5 taps going. Maybe 15 tables in a definite tasting room setting.
Menu is on the light side, but what they do server is very good. Sausage and brats available to go in the deli case. These are very good and well worth trying. OBBS serves these as well.
Beers have rebounded some from quality issues in the past few years. Black Radish seems a bit lighter to me than in past versions, but still very good. My wife still loves the hefe. All their beers are available in 22oz and in returnable 1-liter fliptops. Root beer is also available and my kids love it.
Service can be an issue, especially on a busy changeover Saturday. Well worth a stop though to pick up beer and sausages to go.
860 characters

3.75
/5
rDev
+1.9%
vibe: 3.5 | quality: 3.75 | service: 3.75 | selection: 3.75 | food: 4
First of all keep in mind this place serves German beer. For my beer snob friends this means if you're hop head you not going to find your favorite beer in this place , however if you're beer lover you will enjoy the visit
Good beer and reasonably priced food and a good atmosphere you'll enjoy
294 characters
3.71
/5
rDev
+0.8%
vibe: 3.5 | quality: 3.5 | service: 4.5 | selection: 3.25 | food: 3.75
Stopped here for lunch on our way to the OBX. Very German beer haus atmosphere. They make all their own sausages and they were very good. Beer list is just above average so there is lots of room for improvment. Service was really great, nice friendly girl who knew a little about the beer and kept coming back to check on us. Service was fast and that counts for something. My only complaint was the casing on the hot dog was a little tough.
441 characters
3.45
/5
rDev
-6.3%
vibe: 3 | quality: 3.5 | service: 4 | selection: 3 | food: 3.5
Stopped here on the way down to Nag's head. Very large barn type feeling inside. They have a small deli/butcher shop counter with very good german sausages and brats. The menu is limited but the brats are very good. The feeling is cold inside, not very inviting for those looking for a small town pub atmosphere. The area is big on tourism and they are geared toward that. The staff was very friendly and answered questions without looking bothered. The beer was decent and most is available in bottles to go. Not so much a destination as a place to try if you are traveling by.
578 characters

3.58
/5
rDev
-2.7%
vibe: 3 | quality: 3.5 | service: 4 | selection: 3.5 | food: 3.5
Stopped here on our way to Corolla for vacation and I was alittle let down.
I first tried to order a mix case on thier website but never recieved any confirmation.
A large roomy building that seems empty.
Not a large beer selection, got some black radish and kolsch and a mini growler of IPA25.
I inquired about gold and dobblebock but the lady at the counter, who was quite nice and infomitive, said that thir last two shipments came in all destroyed(?). So I guess they don't brew there I don't know.
They had a nice selction of meats at the butcher counter and was going to pick some up then but decided to wait until we departed. So the palce doesn't open till 12 on Sundays, my loss.
The pub area was large but didn't eat there so I can not comment.
All in all not a bad place. Could be better used I think.
DEfinitly would stop for beer but you live and learn.
870 characters

2.99
/5
rDev
-18.8%
vibe: 3 | quality: 3 | service: 2.75 | selection: 3 | food: 3.5
We made a detour on our recent trip south so I could visit Weeping Radish and pick up a case of Black Radish. Our GPS said we had arrived at our destination; of course we hadn't – another 0.2 - 0.3 miles further on we spotted it on the west side of the highway. The gravel parking lot was plenty big for the afternoon meal crowd.
A somewhat long wait to be seated in the nearly empty restaurant afforded us each time to hit the restroom and gave me time to peruse the "beer to go" cooler and partial pallet of canned beers in four-packs. The four-packs were Black Radish, Ruddy Radish, OBX Beer, and Corolla Gold, all of which were also available on tap.
We ordered: my wife got the mushroom and Swiss burger and iced tea (They were out of their home made root beer) and I got the classic Reuben and a Black Radish. My wife says her burger was good and my Reuben was excellent; however my Black Radish was just OK. I first had Black Radish at a microfest at Stoudt's in Adamstown in 2006 and loved it. Years later I purchased a case of bombers on line and still really liked it. Now something had changed, either the beer or my taste. My second beer was the IPA 25 which was only on tap – no cans. It was quite a decent IPA. The complete menu and beer list are on the Weeping Radish website.
Tours are only available one day a week – call ahead to schedule. However, there is a second floor observation area which you can visit any time. This overlooks the brewery; when I was there no one was working in the brewery.
A couple of months ago they switched from bombers to flip tops which cost you an extra $ 2/bottle. If you return the empty, you don't pay the $ 2 on the next bottle. But it's not a deposit – it's only worth the $ 2 if you pick up another flip top. I noticed there were different sized flip tops in the cooler, some with poorly removed previous labels. Also, they no longer ship beer.
To sum up – if you're in the area it's worth stopping in. If not, it's probably not worth the side trip.
2,037 characters

4.75
/5
rDev
+29.1%
vibe: 5 | quality: 4.5 | service: 5 | selection: 5 | food: 4
Awesome real German beer in the Outer Banks, NC. The owner is Uli and he has been brewing for decades. Very nice selection whenever I go...their Christmas Doppelbock and Ruddy Radish red ale are standouts. Prosit!
216 characters

1.74
/5
rDev
-52.7%
vibe: 1.5 | quality: 2.25 | service: 1 | selection: 2
This place appeared dirty and rundown especially the bar. I asked the bartender to tell me what she liked and she giggled and said im only 18 and I cant drink. What a joke. The beer was middle of the road at best.
213 characters

3.19
/5
rDev
-13.3%
vibe: 3 | quality: 3.25 | service: 3.25 | selection: 3 | food: 3.5
Visitied here just before NYE.
There was not much to see, you can go to the viewing deck and check out the brew house while you wait for a table.
They have packaged beer ready to go and you can check out right at the bar.
We were their for lunch and waited about 20 minutes for a table.
Food was pretty good. Traditional Bavarian food, sausages, pretzels, liverwurst. Everything pretty good. The sweet potato liverwurst was a personal favorite.
Beers are decent. I have had better but I really respect that they are trying all they can to do everything locally.
569 characters
Weeping Radish Eco Farm & Brewery in Grandy, NC
3.31
out of
5
based on
485
ratings.