Dismiss Notice
Dismiss Notice
Perfect Storm Double IPA
| Oakshire Brewing
BA SCORE
84
good
36
Reviews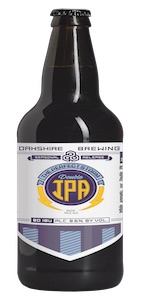 BEER INFO
Brewed by:
Oakshire Brewing
Oregon
,
United States
|
website
Style:
American Double / Imperial IPA
Alcohol by volume (ABV):
9.30%
Availability:
Rotating
Notes / Commercial Description:
No notes at this time.
Added by Cascadia on 06-24-2007
Reviews: 36 | Ratings: 112

3.59
/5
rDev
-4%
look: 3 | smell: 4 | taste: 3.5 | feel: 3.5 | overall: 3.5
A: Pours a clear copper color, slight white head and lace down the glass.
S: Citrusy hops, slight sweet caramel scent
T: Caramel up front followed by big bitter citrusy hop flavor.
M: Medium bodied slightly sticky mouthfeel finishes dry and hot
O: This double IPA is pretty drinkable but there are much better out there for sure.
★
330 characters
1.82
/5
rDev
-51.3%
look: 3 | smell: 1 | taste: 2 | feel: 2 | overall: 2
Had this beer out of growler, that was less than 30 minutes from the tap.
Pours a golden cooler with a white head similar to bud.
No hops to be found to the nose or tongue. For a double IPA this beer was lacking the IBUs for sure.
Would say more of a pilsner and less of an IPA for sure.
★
290 characters
2.96
/5
rDev
-20.9%
look: 4 | smell: 3 | taste: 3 | feel: 3 | overall: 2.5
On tap at the Green Dragon. Who'd have thought the Belmont Station would be closed at 11PM?!
A clear amber, with a coppery hue, this beer is capped with a dense, off-white head with excellent retention and lacing. The nose is rather disappointing. Moderately stale (not really aged, though) citrus hops are most noticeable along with the malt character which is very prominent. Way too sweet, I do get a moderate honey but this is mostly caramel. The palate opens moderately sweet with a balance of moderate hop bitterness and a rich, caramel sweetness. Not particularly appealing, I find this too sweet for my palate. Some honey is present in the mid-palate. Moderately bitter on the finish, there's plenty of sweetness that lingers. Medium in body with soft, creamy carbonation, this is pretty smooth on the palate, but ultimately, a little disappointing.
★
858 characters
4
/5
rDev
+7%
look: 4 | smell: 4 | taste: 4 | feel: 4 | overall: 4
On tap at Bailey's Taproom PDX 7.26.11, imperial pint.
Bright orange amber clear body, multiple streams of small carbonation bubbles rising lazily to surface, one finger white head a bit uneven, slow dissipation with decent lacing, spider legs. Nose is big hop bomb, mainly citrus with some pine essence, grapefruit both fruit and pith, dryish malts balanced the sweetness. Taste mirrors nose, fruity up front, got bitter on the back end as it warmed but not in a cloying fashion. Mouthfeel is medium, a bit sticky. This was a really good DIPA, not quite up to the Barley Brown standard, but nonetheless one I'd recommend to my hop head homeboys.
★
647 characters

4.2
/5
rDev
+12.3%
look: 4 | smell: 4 | taste: 4.5 | feel: 4 | overall: 4
The ale appears dark orange with a small off-white head.
Aromas of citrus fruit, caramel malt, bread like malt and grassy hops fill my nose as I smell the beer. I also get a mild floral hop nose to the beer.
It tastes of citrus like hops with a grassy undertone. there is a solid malt background that is a mix of sweet caramel malt and dry bread-like malt. the malt provide the backbone for a strong bitter hop bite. a very well-balanced and tasty brew.
there is a solid medium bodied mouthfeel to the beer.
Overall a somewhat heavy full-bodied Double IPA. though it has a nice malt body it is still quite bitter and nice. Another great beer from Oakshire.
★
660 characters

3.56
/5
rDev
-4.8%
look: 4 | smell: 3 | taste: 4 | feel: 4 | overall: 3
From notes, on tap at Belmont Station.
Clear, copper, respectable white head with decent retention and lacing. Very attractive.
Strongly boozy with plentiful fruity and floral hops present. A prodigious malty backbone is hard to detect as a result of the overpowering booze. Even the hops take a back seat.
Sweet malty body is more prominent, as are the piny, citrusy and flowery hops. the booze is not bashful, but dominate to the extent that it does in the nose.
Plenty carbonated with strong warming. Rich, thick, full bodied with high viscosity. Finishes surprisingly clean but with some loitering bitterness.
A DIPA or a hopped up Barleywine? Does it matter? It's a big, sweet, malty and hoppy sipper with in your face booze. I'd like to see how it ages.
★
764 characters
3.25
/5
rDev
-13.1%
look: 3.5 | smell: 3.5 | taste: 3 | feel: 3 | overall: 3.5
Another darker than expected iipa from Hopfest 09.
Again, not the dry hop aroma I want here. Wood and alcohol more prevalent than desired. Too much sweetness, not enough pine or citrus. English style I guess. A little thick and sticky going for it. Recedes downward. Was towards the end of the day, but so was Furious and that was great. Just a so-so beer, not anything to write home about.
★
392 characters
4
/5
rDev
+7%
look: 4 | smell: 4 | taste: 4 | feel: 4 | overall: 4
Had this on tap at the Portland International Beer Fest in summer of 2009. The colour was kind of a peachy-amber, with no head. The aroma was ultra hoppy with an even fragrance of pine and grapefruit. On the palate it was surprisingly malty but then came the wave of hops which again were somewhere between being piney and grapefruit-like. There was a kind of grain-like character on the finish, but all in all, quite nice.
★
423 characters
3.76
/5
rDev
+0.5%
look: 4 | smell: 3 | taste: 4 | feel: 4 | overall: 4
On-Tap @ Bailey's Taproom poured into Shaker glass.
Pours a murky sienna orange color with a creamy off-white head that lasts and leave a nice layer atop the glass and heavy lacing down the glass as it is drank. The aroma is filled with grapefruit, caramel malts, and toffee. The flavor is piney and grapefruit hoppiness, sweet malts, booze and ends sweet and dry. Its full bodied with a moderate amount of carbonation. Pretty tasty stuff. I wish the aroma had nearly as much complexity as the taste did. I loved most the flavors I was able to pick up on although maybe a little too much booze.
★
595 characters

3.48
/5
rDev
-7%
look: 4 | smell: 3.5 | taste: 3.5 | feel: 4 | overall: 3
On tap at Bailey's Taproom. The beer appears dark orange with a beige head and decent retention.
The aroma is that of a well balanced IPA. The malt is evident in the form of caramel with some breadiness. The hop profile is sugary grapefruit with some earthy notes. A little orange is also apparent, but I don't get any pine. I get more malt than hops in the nose.
The taste has a medium level of bitterness with a substantial malt foundation and a lot of residual sweetness. Some citrus is present in the form of grapefruit. The finish is dry and bitter with a lingering sugary sweetness.
Medium bodied with good carbonation and a sticky mouthfeel.
This one didn't do it for me. There weren't any standout qualities and in the world of DIPAs mediocrity doesn't really cut it. There are too many exceptional examples of the style. It's also possible I was having a horrible night. I'll revisit this if I see it again.
★
920 characters
4.64
/5
rDev
+24.1%
look: 4 | smell: 5 | taste: 4.5 | feel: 4 | overall: 5
On tap at the Beer Stein in Eugene.
A - Light, golden yellow color with a foamy, just barely off-white head. Head had good retention and lacing was excellent.
S - Well balanced aroma of strong citrus hoppiness, light floral aromas, and a sweet aroma of sugar cookies. All the smells played off each other very well.
T - A very hop forward beer with strong citrus tastes up front, primarily grapefruit with a light lemon zest taste mixed in. An almost sugary sweetness provides a nice balance. Bitterness comes through very strong and lingers for quite a while. A very well crafted DIPA here.
M/D - Medium bodied that leaves a reinous coating of the mouth behind. Good carbonation levels and very easy drinking.
★
714 characters
Perfect Storm Double IPA from Oakshire Brewing
84
out of
100
based on
36
ratings.