The Henry House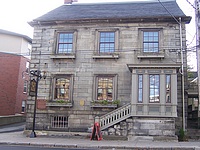 PLACE INFO
Type:
Bar, Eatery
1222 Barrington St.
Halifax
,
Nova Scotia
, B3J 1Y4
Canada
(902) 423-5660 |
map
henryhouse.ca
Notes:
No notes at this time.
Added by MMansfield on 06-02-2007
Ratings: 12 | Reviews: 8
Reviews by Buebie:
4.43
/5
rDev
+6.2%
vibe: 4.5 | quality: 4 | service: 4.5 | selection: 5 | food: 4
Visited this fine establishment on August 3rd 2009. As we walked up to it, it has an ominous old style look that just begs you to come inside. Once in, there is a chained off upstairs bringing you through a hallway to the bar/ dining area. Not as inviting in the hallway, but thats just fine. There are many rooms to this place, the basement tavern, very Cheers like in a welcoming warm way. I can onlu imagine what its like on a cold winters eve when the fire is crackling away. The restrooms are tidy and the place overall is very clean. The patio is also nice with several tables, all with a decent view of the street. We sat in the dinning area at a window table. One of the things Ive noticed in Nova Scotia, none of the bars restaurants have screens to the open windows. There is a nice breeze coming through with no bugs. Atmosphere is pleseant with an old world style that just makes you feel welcome. Our server was exceptionally friendly and quick to come back the seceond my glass was empty. She had knowledge of the food and the local brews. The food was great, but more along the lines of pub food, but still good. The prices were good too, not to spendy, but definatly not on the cheap either. It really helps having us dollars that are worth a bit more, as the prices are a little bit less in that sense.
Beer selection was definatly better then expected. I got a flight and had the lobster roll with a ginormous heap of fries.
The wife had fish and chips. Good fresh fish, crisp battered crust and the fries were good in comparison to a few other places. The food arrived hot and somewhat quick.
I would definatly recommend this place to anyone looking for good food, great beer and service with a really neat atmosphere.
1,740 characters
More User Reviews:

4
/5
rDev
-4.1%
vibe: 4 | quality: 4 | service: 4.25 | selection: 3.75
Lively, multi-story pub in a historic building that's in excellent condition. The bars are small bars with most people sitting at tables and, at dinner time, having both food and beer. Multi-level outside patio too.
At least 19 beers on tap including 3 hand pulled cask ales.
Three brewery-based 4-beer flights are available as well as 13 and 18 oz pours.
Warm and friendly atmosphere.
387 characters
4.06
/5
rDev
-2.6%
vibe: 4.25 | quality: 4.25 | service: 4.25 | selection: 3.5 | food: 4.25
4.55
/5
rDev
+9.1%
vibe: 4.5 | quality: 4.5 | service: 4.5 | selection: 4.5 | food: 5
I went there to have Propellers ESB on cask. WOW. Served at the right temperature and carbonation and on a hand pump. The bartender was very knowledgable of his beers and was willing to talk a lot about them. They don't mind allowing you to taste the beer before serving you a pint so that is a plus.
I was still full from lunch but my wife had not eaten so she had fish and chips. When they arrived they smelled so good that I ate 1/2 her plate. They were not only the best fish and chips in Halifax that I had, they were the best fish and chips I've ever had.
The main level looks like an old style classy while the downstairs looks more like a pub. They have a nice beer bottle collection downstairs.
They have a great menue selection as well as many great beers on tap. It's a must go if you are to go to Halifax.
822 characters
3.9
/5
rDev
-6.5%
vibe: 4 | quality: 4 | service: 4 | selection: 4 | food: 3
visited the Henry House on a Sunday evening after driving over from Quebec
the 1834 building is handsome from the outside - large block stone construction on the street facing side, the three levels of the interior offer a basement pub, restaurant, and private dining area on the top floor
the downstairs pub seemed pretty cool, but the air was stuffy and smelled of stale beer, so we made our way upstairs to the dining room, great interior construction with lots of wood on floor and ceiling and stone/brick all around, various historic replications adorn the walls, mostly a tourist crowd, music extremely questionable for the setting - mostly tired US artists from the 80s and prior
the beer selection was nice, with five real ales on cask from the local Granite Brewing, the Peculiar was pretty good and I'd recommend giving it a try, there were also maybe six or so taps from McAuslan in Montreal
food was not a hit, the fish side of my fish and chips was absolutely swimming in grease, starting adequately crisp but eventually going doughy, by the end I had to liberate the poor fish from it's greasy shell, the seafood chowder was okay but could have easily been frozen and purchased in-store, the side salad was overloaded wtih dressing
no problems with the service, reasonably quick and responsive
beers ranged from about 3.75 to 5.25 depending on brewery and serving size, with both 12 oz and 18 oz available, most entrees 12-14 dollars
1,453 characters
4.63
/5
rDev
+11%
vibe: 4.5 | quality: 4.5 | service: 5 | selection: 4.5 | food: 4.5
The closest thing to a perfect pub I have reviewed.
This place is a traditional style alehouse, built into a traditional 19th century Halifax mansion near the center of downtown Halifax. This pub has a dual level system, upstairs and down. Upstairs is a more formal isolated restaurant style setting, downstairs is an informal pub type setting. The whole 19th century feel is extremely well presented and one can get caught up in the atmosphere itself. Full bar and menus are available on both levels.
Quality, Cask ale's are a specialty here and they are kept, and served with absolute perfection. Bartenders and apparently tapsters are adept at ensuring quality. So the beer in the glass was presented close to absolute perfection.
Service, bartenders taught me stuff about cask ale. Servers were also impressively knowledgeable. In all cases tenders/servers were amazingly helpful and obliging, and have earned the first 5.0 I have given out to date.
Selection. With three casks on hand, and a variety of local rarities including entries from two local breweries to choose from on the regular taps, selection for the beer adventurer is not a problem.
The menu is not long but the food is definitely bring the SO to dinner quality. I had the lobster with garlic alfredo and penne pasta. It was spectacular.
Value, for what you get, this place is dirt cheap. I was impressed at every step of the way and came away with modest bills for my patronage.
Overall assessment. If I have been to a better pub, I cannot recall it. If this pub were in my state, it would be my favorite pub. If I find myself within an hours travel to this pub again, I WILL RETURN.
1,666 characters

4.1
/5
rDev
-1.7%
vibe: 4.5 | quality: 4 | service: 4 | selection: 4 | food: 4.5
A lovely two level establishment..."fancy" dining area upstairs, more intimate cozy warm atmosphere pub downstairs. In a building that must be from colonial times.
Upstairs is clean, bright, and classy. It's usually quieter than the basement, and is perfect for eating a nice meal. Downstairs is a wonderful dark basement pub, brick and stone and wood, with a bar, tables, and wonderful little booths. Hearth and darts and real ale. Both places wonderful anachronisms.
From what I understand this use to be the Granite Brewery house, and I visited years ago when it was so. Now it is under private ownership but they stll serve Granite brews in addition to others. Nine forced gas taps and three hand-pulls for a total of tweleve. The Granite brews were on the cask.
We had the Granite Best Bitter Special dry hopped with Fuggles and the Granite Peculiar Strong Ale. Both of which were spot on and trasported me back to a warm cozy pub in southeast England!
Our dinner was great. I had an Atlantic Salmon dinner that was the among the best I have ever had. In addition the bread pudding was as good as any PA Amish lady could make!
The bartender was very friendly and knowledgeable. He found numerous opportunities to stop and chat with us during the course of our visit.
A most pleasant experience that I would love to repeat in the future!
1,348 characters
4.28
/5
rDev
+2.6%
vibe: 5 | quality: 4 | service: 4 | selection: 4.5 | food: 4.5
My favourite public house. Take your date here. Take your mother here. Take your cooler friends here. It's wonderful.
Upstairs is clean, bright, and classy. It's usually quieter than the basement, and is perfect for eating a nice meal. Downstairs is a wonderful dark basement pub, brick and stone and wood, with a bar, tables, and wonderful little booths. Hearth and darts and real ale. Both places wonderful anachronisms.
It's a Granite Brewery house, although they now serve a few other beers (St. Ambroise Apricot Wheat is the only one I can think of). It would be silly to go to the Henry House and drink anything but Granite. I believe that all the Granite beers are on hand pump; there are certainly enough beautiful beer engines about for that to be the case. Best Bitter Special and Peculiar are great; Best Bitter, Ringwood, and Stout are good; the IPA is uninspired. Served properly in proper glassware. CAMRA would love this place.
Food is great. You can get good traditional or contemporary pub grub, or genuine restaurant appetisers and meals. Try the ultimate burger, the bread pudding, the artichoke dip, or really any of the menu items.
Staff are competent and knowledgeable. The owner recognised me and chatted with me about my last visit.
Wonderful wonderful place.
1,288 characters
4.08
/5
rDev
-2.2%
vibe: 4.5 | quality: 4.5 | service: 4.5 | selection: 3 | food: 4
I'm reviewing this based on the 30+ times I've frequented this place before it changed ownership. It was owned by the Granite Brewery, however, it is now owned by someone else, yet they still serve the Granite brews. They do, however, now serve other domestic/imports.
The atmosphere is great. It's a registered historic property in Halifax, one of the cities oldest buildings. The upstairs is a nice restaurant, and the basement dark, warm pub with brick walls. The pub has a fire place, dart board, a couple of booths, and various tables. A small bar in the corner offers up some great Granite brews.
The service was always great, often very knowledgable about their products, and always serve a good pint. However, now i heard stories of dirty tap lines... But I've never experienced it.
They offered all the Granite brews and some bottled domestics. I recommend the Peculiar. The food is standard pub fare, but still excellent.
The beer is pricy, but the food is pretty good.
Overall, a great place to for a pint in the winter.
1,048 characters
The Henry House in Halifax, NS, Canada
4.17
out of
5
based on
12
ratings.