Eola School, Brewery, And Lodge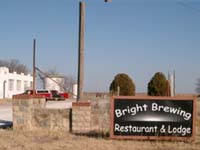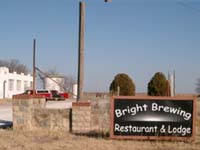 PLACE INFO
Type:
Brewery, Eatery
12119 FM 381
Eola
,
Texas
, 76937
United States
(325) 469-3314 |
map
eolaschool.com
Notes:
No notes at this time.
Added by HardTarget on 06-02-2007
HISTOGRAM
View: Beers | Place Reviews
Ratings: 9 | Reviews: 7
Reviews by HardTarget:

4
/5
rDev
+4.2%
vibe: 4 | quality: 4 | service: 5 | selection: 3 | food: 4
Atmosphere: He's rebuilding an elementary school from the 20s that was left rough for a lot of years. The heart and soul poured into the place is obvious. Slick modern brewpub? Not a chance. Very cool do it yourself set up with loads of potential: check. Matt's living the dream, if you can't see it, the problem is in you.
Quality: Very impressed with his beers. Light pils was really nice. Better in the glass (ok, styrofoam cup) there then in the growler later, but still a very well made brew.
Service: It's just Matt. He hopped off the mower to pour me beers and give me the tour, then worked with the band that was planning an upcoming event, then poured beers for his other two customers. Great guy, made everyone feel at home.
Selection: Just had the Pils and a low hop "IPA" on tap, with his Mexican lager coming up (got a sneak peak).
Food: GREAT BBQ, fries were average.
Value: All told, not cheap, but worth the money. Pouring beers for about $3 a glass with growlers to go.
If you're anywhere in the area, you've got to stop by. Rock on Matt.
1,062 characters
More User Reviews:

3.63
/5
rDev
-5.5%
vibe: 4 | quality: 3.5 | service: 3.5 | selection: 4 | food: 3
I was quite surprised when I rolled up on the Eola School Brewery/Restaurant...I think I heard dueling banjos on the way in, but I may have been mistaken. Mark was very entertaining and he took us on a tour of the facility. There were no other customers when we first arrived, but we got there fairly early in the day and he had only been open for an hour or so. This place screams "potential" if there were someone with an extra half a mil laying around and willing to invest...lots of work to be done to clean the place up, but with the right market you could have yourself a nice little brewpub out among the sands of west Texas. The beer was fantastic and the atmosphere was wonderful, but Mark would be better off if he had someone to help him out with the day to day routine.
781 characters
4.05
/5
rDev
+5.5%
vibe: 4.5 | quality: 4 | service: 5 | selection: 3 | food: 4
We heard about this spot from another guy and felt that it was worthy of a visit. We arrived and Mark immediately made us feel like we were all old buddies. A Farmhouse Ale was quickly within our hands and we were chatting about the building, the beer and the brewing.
The first selection we tried was the aforementioned farmhouse ale. It was very pleasant and seemed like a perfect beer for sitting around and chatting while drinking. Light, very drinkable and refreshing.
Next we went for the 2IPA that he had...amazing. Very well done with wonderful aromas from the hops but not much bitterness. Very easy on the palate and quite drinkable.
I then went for his foray into the Dunkel Weissen realm. While the mouthfeel and initial palate left something to be desired, the aftertaste was of deep, rich coffee/chocolate and quite enjoyable.
Food was decent, nothing magnificent/nothing to complain about but then I only had a cheeseburger and fries.
All in all this was an amazing way to spend a few hours on a Saturday afternoon. Felt like hanging with an old buddy instead of visiting an establishment. Beers were good and I left satisfied. Definitely worthy of a stop if you find yourself in the area.
1,211 characters
3.93
/5
rDev
+2.3%
vibe: 4 | quality: 4 | service: 4.5 | selection: 3 | food: 4.5
Good beer, neat historical place. I would recommend stopping by and checking it any chance you get. "Mark" usually has two beers on tap, one light one dark, you can get growlers to go. He makes burgers and pizza along with other things, all taste good, better than most food in Angelo. It's a good value and worth the drive to eola. Beers are $2.50 made here on site, always something different, typically every two weeks.
Shirts and hats are always for sale for your favorite beer, great designs and top quality.
514 characters
3.68
/5
rDev
-4.2%
vibe: 4 | quality: 3.5 | service: 4.5 | selection: 3 | food: 3.5
Stopped in here on 31 Jan 2011.
Arrived a bit early in the day so our group was given undivided attention from Mark. As previously mentioned, he is basically a one man operation, doing the brewing, cooking and renovations on the building himself. He had recently replaced several sections of metal roof on the building with plans to install a rain harvesting system so he can have softer water to brew with.
Dining room/bar is a repurposed classroom with the menu on the chalkboard. Burgers, chicken sandwiches and fries compose most of the menu.
He had a smoked porter aged on oak and an alt on tap. Both were well made examples of the style. Mark mentioned that he sold more of the alt than any of his other beers. We also sampled the porter that was the base for the smoked porter.
All told it set us back $35 for four lunches, five beers and two souvenir glasses. Definitely worth stopping by if you are in the area.
926 characters

3.55
/5
rDev
-7.6%
vibe: 3 | quality: 3.5 | service: 4.5 | selection: 2.5 | food: 4.5
I stopped by Eola School Brewery and Lodge while traveling to Midland. I arrived at 2 pm, and Mark let me sample his beers, and we talked beer and brewing. I ordered his brisket sandwich, and it was a great sandwich. The fries are homemade, and excellent. Mark gave me a brief tour, and told me about his Labor Day Festival. I left with a growler of his Warlock Wheat. This is a great, laid back place. Nothing fancy. But if you're in the middle of West Texas and want a craft beer, this is the place to stop. And mark is really friendly!
538 characters
3.95
/5
rDev
+2.9%
vibe: 5 | quality: 3.5 | service: 5 | selection: 3 | food: 4
The Eola Schoolhouse, home of Bright Brewing, is an awesome place, but definitely a diamond in the rough. We had an incredible time there, so I'd recommend it to anyone.
Eola, Texas (population 200) used to have its own school building, which was built in the 1920's and abandonded in 1983. It sat vacant for over 20 years, to the point where it was in very rough shape. Mark, the owner of the place, bought it about three years ago, and has slowly been turning it around. There is still much work to be done, this isn't a real polished place, but it one of the neatest places I've ever been. It's just north of the only intersection in town, you'll see the sign that says "Eola School". Don't be afraid. The place only looks closed, he's there 7 days a week, lunch and dinner.
This place is entirely a one-man operation. Mark is the owner, brewer, chef, waiter, bartender, renovator, groundskeeper and everything else. He's poured his life savings into his dream, and I wish him the best. We were his only customers that evening, so we certainly got the full tour. One classroom is the bar area, one is the kitchen, one is the brewery area, another is a second dining area for groups, one he has some couches and bunk beds in, in case you want to crash for the night (which we did, and he makes a mean breakfast, too) and one of the classrooms he lives in.
The menu is pretty much written on the old chalkboard in the bar/classroom, and it's basically burgers and sandwiches and such, although he had a brisket special that day which was killer. He's been making his own beer for about a year now. There were two beers on tap, the Warlock Wheat and the Pale Ale, although he let us sample the Sunshine Wheat which wasn't quite ready yet. All three were great. Nothing hugely creative, but when he talked about how hard it was trying to sell craft beer to old-timers in small-town central Texas, I could forgive him for not making an Oatmeal Stout.
If you prefer a stylish, trendy corporate place, stay far away from Eola. If you'd like to discover one of the purest incarnations of the spirit of do-it-yourself brewing in America today, you'd best get yourself over there right quick.
2,197 characters
Eola School, Brewery, And Lodge in Eola, TX
Brewery rating:
3.96
out of
5
with
12
ratings