Brauerei Eschenbräu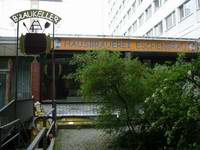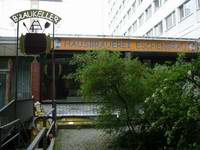 Brewery, Bar, Eatery, Beer-to-go
Triftstraße 67
Berlin
, 13347
Germany
+49 30 4626837 |
map
eschenbraeu.de
Notes:
Recent ratings and reviews.
| Log in to view more ratings + sorting options.
Ratings by foamee:
Reviewed by foamee from Maryland
3.66
/5
rDev
-9.6%
vibe: 3.5 | quality: 4 | service: 3.5 | selection: 3.5
Eschenbrau is a small brewpub located in the center courtyard of an apartment complex in the Berlin suburb of Wedding. The courtyard has about 20 large picnic tables and a kiosk where the beer is served. The lone barmaid also runs the bar in a nearby small and cozy cellar. The brewing operation is displayed in a storefront above. Menu's were available, but a kitchen was not evident. The beer menu has the release date for each of the nine seasonal releases. They also have a pilsner, a dunkel, and a hefeweizen year round. This was a very nice place to drink beer.
Aug 12, 2009
More User Ratings:

Reviewed by pthread1981 from Germany
3.3
/5
rDev
-18.5%
vibe: 3 | quality: 3 | service: 4 | selection: 3 | food: 3.5
Eschenbräu isn't nearly as hard to find as some people make it out to be, or at least it isn't these days. There are a lot of signs and while as other reviewers say it seems you are going where there should not be a bar, there is indeed one. After following the steps down you are led into a pretty decently sized place, with lots of seating available, at least on the weeknight (Wednesday) I was there.

The staff is super friendly and the beer is okay, but there isn't much of a selection to write home about, and the seasonal I had when I was there, the Alter Schwede, was just okay. I'd be curious to try some of the other seasonals that might be a bit more adventurous. If you go on their website they have a rather long list of seasonals, so be sure to check it out before you go.

The food selection is small, but the Flammkuchen hit the spot. Overall I'm not sure I'd recommend going out of your way for the place, but it's enjoyable enough and easy on people who aren't big into craft beer.
Jan 15, 2014
Reviewed by sydneyMTBdog from Germany
4.05
/5
rDev 0%
vibe: 4 | quality: 5 | service: 3 | selection: 4
Great local micro brewery in an inauspicious setting! The beer is crafted with passion and enthusiasm; you can taste it in the beer and sense it in the atmosphere. Meet the brew master and you'll see where it comes from!

You got to know where this place is to find it -- situated in the courtyard of multi-storied housing unit in an off-the-beaten-path neighborhood. Sit outside in the garden when the weather is good. Enjoy the rustic setting of the underground restaurant when not.

Love their regular beers, but especially their seasonals. Get there early for the seasonal brews because they go fast at this popular hang out for locals.
Oct 12, 2012
Reviewed by sfprint from Germany
4.33
/5
rDev
+6.9%
vibe: 4 | quality: 5 | service: 4.5 | selection: 3.5
Located in a student housing complex, which I found odd and made me skeptical. But the basement bar is actually quite homey, with a friendly bartender and a bunch of regulars filtering through. I noticed at least 4 people come in to refill their growlers or return kegs during the 2.5 hours that I was there. The prices of the growlers or kegs translate to about a euro per half liter, which is the same or slightly more expensive than many normal beer shops. To me this was a testament to how nice their beer is. I tried all 4: the Pils, Alt Berliner Dunkel, Hefeweizen which are always on tap, and the seasonal Maibock. I was pretty astounded by the quality of their beers. Some of the best beers I've had in Germany so far, but maybe this is because it was a brewpub? I consumed very little beer at breweries or brewpubs. We didn't try the Flammkuchen (about 5 euros) or the pretzels (0.80) that they were serving, but the flammkuchen certainly smelled nice. If this place was in my neighborhood and I wasn't trying to try every single beer available in Berlin, I would be a regular at this place.
May 02, 2011
Reviewed by calibrewfan from Louisiana
3.4
/5
rDev
-16%
vibe: 4 | quality: 3 | service: 4 | selection: 3
This place is almost a cavern. It is located underground near an apartment complex. It is definitely in an odd neighborhood in Berlin. We were there in Dec 2010 and it was recommended to us by another brewer in Berlin. We had the hefeweizen, dunkel and their seasonal which was an Alter Schwede. To be honest the beers were a bit boring. I also tried their spirit that they distill which is very strong! A bit like an eau de vie with an apple flavor. If you are doing a tour of Berlin haus brauerei's in Berlin then check this place out, but I would go to Hops & Barley and Brewbaker before I head out here. From what I could tell there is nothing else to check out in this area.
Jan 03, 2011
Reviewed by BlackHaddock from England
5
/5
rDev
+23.5%
vibe: 5 | quality: 5 | service: 5 | selection: 5
Wedding isn't too far out of the centre, get here via the S Bahn, walk along until you see Triftstrasse and when at 67 turn left off the road, Um Die Eche (round the corner) is in big letters on the building at 67.

I read on the Brewpubs website that they were digging up a barrel of beer they had buried.

We turned up at the alloted time to find two blokes with pickaxes and a lady with a spade hacking away at the frozen earth. The three turned out to be the brewer (Martin), his wife and her father. It was very cold and getting dark, so we left them to it and walked down the stairway into the bar.

An hour later the barrel of 'Alte Schwede' was broached and we had a long chat with the brewer and a bunch of his regulars. He is from Karlsruhe originally and his beers were wonderful. The regular light and dark beers were spritzy, tangy and obviously fresh, we were
sat below the brewing kettles, so they hadn't travelled far. The beer raised from the earth had been in the ground 10 months and we were all keen to see what effect, if any the ageing had done. It was a mellow, smooth tasting brew which the brewer claimed had changed greatly from the original fresh 'Old Swedish'. It was also the best beer I had during my week in Berlin (Green Week 2009).

The celler bar was a mass of humanity when we left at 20.00, full of happy people drinking his beers. A real mix of ages, some old, some young. When we arrived at 17.00 it was queiter and we had the choice of any seats we wanted. Low ceiling and basic furniture, the actual bar is to your right as you walk in. Not a cosy, warming sort of place, but a no-nonsense beer bar which we loved. The beer-garden was being dug up on our visit, but in the summer I bet it is a great place to have some interesting beers.

While we were there some people came in with Pizza's, the bar has a 'Pretzel Oven' but otherwise it is bring your own.

A great place to drink beer in, and Martin is a top bloke too.
Feb 01, 2009
Reviewed by 4thoseabout2bock from Illinois
4.16
/5
rDev
+2.7%
vibe: 4 | quality: 4.5 | service: 4 | selection: 4
Original Review:Follow the signs around the corner, and then again, and then down the stairs into the keller of this apartment complex.

We came from the Wedding stop, but the stop at Leopoldplatz is perhaps closer (and what they list on their brochure).

Great beer garden setting -- would have love to see it in action, but as we were visiting in October, we missed the garden weather. What we got however was excellent, freshly pressed cider. It wasn't alcoholic, but nicely tart, not overly sweet -- a real treat. The inside of the brauhaus is also a great Keller setting with old wooden tables and barrel vaulted stucco walls and ceiling. A great vibe. Mainly an older crowd (with dogs -- I love that!) on the Friday night that we visited.

The brewer was very friendly and his beers are solid. The offerings were standard for Berlin especially during Oktober when Fests and Marzens are the standard seasonal: Pils, Dunkel, Hefe and Marzen. The Pils was perhaps a bit hoppier than most. The cider was an unexpected and wonderful treat.

Also, NB We tried to combine this stop with a stop at Alter Fritz, but unfortunately found it closed for rennovation (sign said atleast until mid-November 08).

Update as of May 2011: still going strong. really loved the dunkles this trip -- grainy and dark. Sad we missed the Maibock -- but the Pils also remains in good form! One of our top 5 places in Berlin: others are Brewbaker (new location near Turmstrasse, Arminiusstrasse 2-4
D – 10551 Berlin-Tiergarten/Moabit), Rollberg (under the old Kindl Brewery), Sudstern (near Rollberg and specifically for the XXL triple bock beer), and Spandau

NOTE: BREWBAKER IS BACK IN BUSINESS -- don't know how long BA will take to update -- it is now here
http://www.brewbaker.de/index.php?id=147&id_news=314&mehr=true
Nov 09, 2008

Reviewed by elmocoso from Nebraska
3.33
/5
rDev
-17.8%
vibe: 4.5 | quality: 3 | service: 2.5 | selection: 4
This is was one of my go-to spots during my 6 month stay in Berlin. It is located in the courtyard of the House of Nations (student housing). Not a tourist in the place. In fact, it took me 3 tries to find it myself.

It is located in a basement and during the winter, it can get quite smokey here, but in the spring they open up the Biergarten and it is quite a treat. they have a make-shift bar outside and only staff that in the summer. You can hear the sound of students of the orchestra practicing in the evening. Violin in one window, Piano from another and Opera from a third. Quite an experience.

They make 3 house beers: A pils, dunkle and a weizen, which are all decent with an occasional off batch. But the thing i love, is at least once a month the brewer makes a seasonal beer (uncommon in Berlin, i find) and on the release day there is a free keg tapped. Come early if you want a seat.

The crowd is unusual. There are of course students from the HoN, but there is also an older crowd which surprised me.

Not much food here. You can buy a fresh pretzel, a mini pizza or a can of Pringles. I've brought doners here and nobody complained, so i guess it is OK.

Service can be either real shitty or decent depending on the Waitress. Being off the beaten path, the prices are great for fresh Berlin beer.

Check this place out.

el
Jun 11, 2007
Brauerei Eschenbräu in Berlin, Germany
Brewery rating:
3.75
out of
5
with
21
ratings