Fanzine

Fort George Brewery + Public House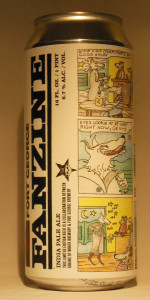 Write a Review
Beer Geek Stats:
| Print Shelf Talker
Style:

ABV:

6.7%

Score:

Avg:

4.06

| pDev:

5.91%

Reviews:

13

Ratings:

From:

Avail:

Rotating

Wants

Gots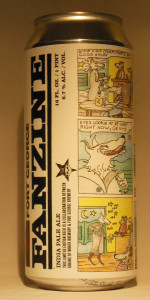 Notes: In an ever hazier world, West Coast IPAs have nearly gone the way of the landline and fax machine. As the condensation slowly evaporates from the window of the indie punk bookstore, Fanzine IPA comes into focus – a crisp, clear, West Coast style collaborative presentation from Fort George Brewery and Grains of Wrath Brewery. Fanzines are deeply rooted in the DIY ethos of the fiercely independent, small run, self-published, xeroxed and stapled testaments to the object of a true fan's reverence. The Fanzine IPA can features the art of independent folk legend Michael Hurley, who himself is the subject of a Fanzine. A piney bitterness backs up the heavy hop additions, with grapefruit and other citrus notes. Mild sweetness from the malt bill lingers with a taste of orange juice.
3.79
/5
rDev
-6.7%
look: 4 | smell: 3.75 | taste: 3.75 | feel: 4 | overall: 3.75
Pours a crystal clear bronze color. Thick pillowy white head forms quickly, but then also dissipated quickly. Lots of sticky white lacing is left behind on the glass.
Aroma has notes of mango, melon, with grassy hops that provide a minor to moderate bitterness.
Taste has a nice cracker malt backbone with a strong hop present with notes of mango, orange, light pine notes and a bit of grassy hops. There is a slight woodiness to the beer.
Feel is light, pretty crisp with a dry finish. Moderate carbonation.
Overall, a really nice west coast style IP
559 characters
4.12
/5
rDev
+1.5%
look: 3.5 | smell: 4 | taste: 4.25 | feel: 4 | overall: 4.25
A: The beer is clear yellow in color and has a light amount of visible carbonation. It poured with a short white head that left a thin film of bubbles covering the surface and some lacing down the sides of the glass.
S: Light to moderate aromas of mangos are present in the nose, which quickly transition over to aromas of pine.
T: The taste follows the smell and starts off with some initial flavors of mango and melon but quickly transition to strong notes of grapefruit and pine, the latter of which lingers into the finish. There is a light to moderate amount of bitterness.
M: It feels medium-bodied, somewhat crisp, and a bit juicy on the palate with a moderate amount of carbonation.
O: This beer is very much of a West Coast IPA. While it initially seems like it will be a New England IPA, both the smell and taste quickly transition over to the aromas and flavors you would expect from a West Coast IPA.
Serving type: can
932 characters

4.21
/5
rDev
+3.7%
look: 4 | smell: 4.25 | taste: 4.25 | feel: 4 | overall: 4.25
16 oz. can from Lifesource Natural Grocers in Salem OR
$3.49
Pours a clear golden colour with an attractive large thick and frothy white head.
Very fresh and strong fruity hop aromas..very tropical. Fruity and floral. Can smell the glass from 4 feet away outside!
Taste the same so juicy so tropical fruit.. some tiny bit of ye olde Oregon dank in the end to calm it down a bit!
Good smooth medium mouth feel.
Very nice IPA..not a hazy hooray!
447 characters
4.23
/5
rDev
+4.2%
look: 4.25 | smell: 4.25 | taste: 4.25 | feel: 4 | overall: 4.25
Clear deep gold with three fingers of white head. Rings and swathes of lace appear as the levels fall.
Smell is pungent fruity hops with good malt support.
Taste is fruity bitter leather resinous lightly dank with some bready malt.
Mouthfeel is medium with good carbonation. Finish is dry and medium bitter.
Overall a tasty IPA. I enjoyed it a lot. Canned on date 03/20/2020.
From a 16 ounce can. 6.7% abv.
406 characters
3.17
/5
rDev
-21.9%
look: 3.25 | smell: 3 | taste: 3.25 | feel: 3 | overall: 3.25
16oz can (canned on date 2/26/20) poured into 14oz teku. Poured a very hazy orange-yellow color with 1-1/12 inches of white head that had very good retention and decent lacing.
The aroma was all frooty hops, mo malt or grain foundation.
Similar on the tongue, with the addition of a slight grapefruit tang on the finish.
The body was the typical light of the style, and had a semi-dry finish.
Drinkability was fine, no issues.
Overall, another average-ish NEIPA.
467 characters

4
/5
rDev
-1.5%
look: 4 | smell: 4 | taste: 4 | feel: 4 | overall: 4
16oz can into a Sam Smith pint nonic. Back to the West Coast...
A: Clear gold with good head that dies off and leaves some lacing behind.
S: Fairly old-school West Coast with pine and grapefruit. Fairly dank with some herbal notes as well.
T: More of the same, grapefruit/citrus pith leads the hop profile and there is an underlying piney note as well as that pale malt backbone. Honestly not as bitter as I would expect.
MF: On the lighter side with good carbonation.
O: Exactly what it says it will be, a West Coast IPA revisited, not earth-shattering or overly bitter, just a good, approachable example of the style.
624 characters

3.98
/5
rDev
-2%
look: 4 | smell: 4 | taste: 4 | feel: 3.75 | overall: 4
Poured from 16oz can into a tulip.
Appearance: rich golden hue with three fingers of frothy ivory foam. A legit-looking IPA!
Smell: dank and herbal hop character with a nice earthy undertone. There's some piney character in there too; a classic West Coast IPA.
Taste: piney, herbal and dank. There's just a little bit of sweetness, and bitterness is moderate; it's got that classic WCIPA character.
Mouthfeel: medium body with a moderate carbonation and creaminess.
Overall: a decent west coast IPA. I like it; it's interesting to try this style of IPA in today's context. Bitterness is maybe lower than it would have been 5 years ago; still, it's a good beer.
675 characters

4
/5
rDev
-1.5%
look: 4.25 | smell: 4.25 | taste: 3.75 | feel: 3.75 | overall: 4.25
Beautiful crisp clean golden light amber. The colour of apple juice. Fizzy white head that settles in to a ring and island. Decent lacing.
Light fruity/grassy hops. Maybe a hint of floral. Clean and bright, it smells like a classic IPA of about five or ten years ago. Maybe some honey/nectar thing going on as well.
Taste jumps into that same non-specific fruity/grassy hops then brings in a swelling bulge (heh) of pithy bitterness that builds and lingers. There is a slightly sweet distraction playing around the eaves that drops it a little bit for me, but I can't quite put my finger on it.
Aggressive carbonation feels appropriate and helps give depth to an otherwise medium bodied at best brew. The bitter finish lingers and lasts and it really just reminds me of a nice solid no-frills IPA from five or ten years ago. In a sea of distractions, it's a welcome respite.
878 characters

4.06
/5
rDev 0%
look: 4 | smell: 4.25 | taste: 4 | feel: 4 | overall: 4
Poured into a Seattle Beer Week pint glass. Pous a medium golden amber with a half finger white head with good retention and lacing. Aroma of lightly caramel malt, citrus and piney hops, orange, lemon, light grapefruit and pine needles. Flavor is pale malt, piney and citrus hops, grapefruit, pine needles, light mixed tropical fruit; piney and grapefruit rind finish with light astringency. Medium bodied with light creaminess. A solid Northwest style IPA that is somewhat drier than most. Great pine and citrus hop bill, leaning to the piney side, although there are good citrus rind flavors too, particularly in the finish. Great assertive hop bitterness. A collaboration with Grains of Wrath. A fine IPA from two breweries that know their hops.
748 characters
3.82
/5
rDev
-5.9%
look: 3.25 | smell: 3.75 | taste: 4 | feel: 3.75 | overall: 3.75
16 oz can from Boise Co-op. Clear golden pour, foamy head subsides to patches. Malty aroma with some fruity hops rising up, tropical. Taste moves the hops forward, front and center. Mango, melon, guava. Finished a tiny bit bitter and dry.
239 characters
3.99
/5
rDev
-1.7%
look: 4.25 | smell: 4 | taste: 4 | feel: 3.75 | overall: 4
Poured from a 16 ounce can into a tulip glass.
Look- Pale gold, clear, frothy white head, above average head retention and lacing.
Smell- Grapefruit, piney, citrus, earthy, slightly dank.
Taste- Grapefruit, piney, citrus.
Feel- Thin body, average carbonation, slightly astringent finish.
295 characters

4.12
/5
rDev
+1.5%
look: 4.5 | smell: 3.75 | taste: 4.25 | feel: 4 | overall: 4.25
A very pretty beer! Pours like a lager -- crystal clear, light gold color. A big change from all those hazy / murky IPAs so common here in the PNW. Nose is a piney, dank blast of hops. You get more in the IPA style with pronounced bitterness, long finish and hints of a balanced malt foundation. This is a really fine beer. Too bad it's a one-off...we'd love to have this on a rotation.
395 characters
4.1
/5
rDev
+1%
look: 4 | smell: 4 | taste: 4.25 | feel: 4 | overall: 4
16oz can poured in to a nonic glass, canned on 03/02/20.
Look- Clear golden amber color. Solid bright white with great retention and lacing. Very active carbonation streams visible.
Smell- Citrus (bright orange, grapefruit and lemon), some melon, caramel malt, resinous pine and floral/herbal notes.
Taste- Similar to the aroma. Big citrus, sweet malt, a hint of tropical fruit, pine, lingering moderately hoppy bitter finish. Nicely balanced.
Feel- Medium bodied, dry side and really crisp. Medium carbonation on the tongue.
O- A really solid old school west coast style IPA. Fort George did good here.
608 characters
Fanzine from Fort George Brewery + Public House
Beer rating:
88
out of
100
with
24
ratings