McMenamins Spar Cafe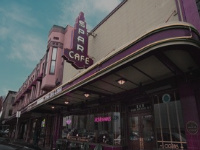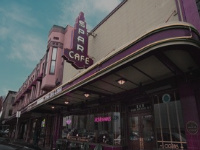 PLACE INFO
Type:
Brewery, Bar, Eatery
114 4th Ave. East
Olympia
,
Washington
, 98501
United States
(360) 357-6444 |
map
mcmenamins.com
Notes:
No notes at this time.
Added by RedDiamond on 06-02-2007
HISTOGRAM
Ratings: 14 | Reviews: 8
Reviews by welldigger888:

2.78
/5
rDev
-19.4%
vibe: 4.5 | quality: 3 | service: 3 | selection: 1.5 | food: 3
So, the place was real cool and from the 1930's. The decor was neat and to the period and fun. The staff was friendly and not real savy about the beer. That said the burgers we ate were tastey but a bit steep in cost. So now we asked about the beers and ahhh ummm and so forth. I ordered the hammerhead, wife ordered the wheat. The hammerhead had flavor, a good thing, but I think they do not go through their stock very fast as it tasted a bit past it's prime. Now for the wheat, aside from a dash of more color from than a bud and a little more nose than say schlitz, the stuff as washed out and nearly as tasteless as macro, I know because the wife had a sip and took the hammerhead i ordered and I drink this crystal clear tasteless wheat. Again, the place was cool the food was tastey so it is what it is, maybe the McDonalds of craft beer maybe.
851 characters
More User Reviews:
4
/5
rDev
+15.9%
vibe: 4 | quality: 4 | service: 4 | selection: 4 | food: 4


3.65
/5
rDev
+5.8%
vibe: 4.5 | quality: 3.5 | service: 3.5 | selection: 3.5 | food: 4
Pretty typical McM, but I do like the vibe, atmosphere and layout of this place. There are high ceilings and plenty of ceilng plants up front in this sizeable establishment. The usual McM artwork adorns the walls, but there's also plenty of old wood and a copper bar... it makes for a very nice, comfortable setting. Also, this place had a couple of TV sets, which was a plus on NFL Sunday. The beer selection was the McM usual suspects, but with the spartesian IPA as a local offering. Twas tasty and went well with my wings and McM's fries. Service was mehhh I thought... we sat at the bar and the wait seemed longer then it should have been. The place was pretty empty, and there was plenty of staff, but apparently our particular waiter (who actually had several tables to follow up on) was the only one who could help us. Whatever. Service was friendly and efficient otherwise, and we had an enjoyable meal (and everything came quickly once we ordered). The food was the usual McM stuff, but I've never been unhappy with that. The cream of mushroom soup was excellent, and the fries and wings were more than adequate. Prices were OK. We were here during happy hour, but the food offerings looked so pathetic, we stayed with the usual menu.
Another solid offering from the brothers. We'll likely be back.
1,310 characters
2.98
/5
rDev
-13.6%
vibe: 4 | quality: 3.5 | service: 1 | selection: 3.5 | food: 4
This is one of the first place we discover since moving here. First of all the service is awful. Waiting along time for my beer and had to go to the bar to get a second. That being said, I still go back on a regular basis. The food and beer and especially the atmosphere is worth it for me. And its kid friendly so that always nice. The crab cakes are delicious and their pizza is pretty good too. As for their beer, I have tried the sampler which where all decent and have had their IPA as well, which is pretty good. I recommend this place, but do have a little patients.
573 characters
3.4
/5
rDev
-1.4%
vibe: 4.5 | quality: 4 | service: 2.5 | selection: 3.5 | food: 2.5
I stopped at the Spar for dinner while on a business trip in the Olympia area.
The Spar is McMennamins style cafe (see other McMennamins reviews) with some history in downtown Olympia. Long copper top bar. Booths and pool tables. It is kind of an earthy irish place. Tall wainscote, high ceilings and a lot of plants. There is a selection of cigars. even or so really nice small private booths, with curtains and ceiling high walls. Booth and table seating for about 75. Bar seating for about 40. Free wifi was popular.
Quality was typical McMennamins brews. If you like them the quality is good.
Service was a little slow at the end of the dinner rush.
Selection was again McMenamins. 16 taps or so.
Food was questionable. I had fish and chips, overcooked and a small portion for $11.50.
The food is a bit pricey for what you get. Beer is OK at $4.35 a pint.
I've had better food at other McM's places. I'd probably go back again, maybe just for s few beers.
966 characters

2.98
/5
rDev
-13.6%
vibe: 4 | quality: 3 | service: 2.5 | selection: 3 | food: 3
My wife and I were walking our little one and decided to step in for a bite.
A- This place used to be an old smoke shop/bar. They still sell cigars, but the atmosphere is very old 30s-40s decor. Lots of plants and a large bar.
Q- We thought it was a neat place to hang out and grab a beer and some food. The price seemed to be good for the down town area.
S- The service was a bit slow when we were there. There was maybe 10 other customers in, so things just seemed to be a bit more relaxed. Like most of Olympia.
S- The selection of brews was pretty limited to the McMenamins brews. But I was fine with that because it was their place.
F- The food wasn't too bad. Although they could have seasoned things a bit better. And the seasonings they used seemed to be a bit strange for the dish. But it wasn't bad.
We will stop by again if in the area.
855 characters
3.44
/5
rDev
-0.3%
vibe: 3 | quality: 3.5 | service: 4 | selection: 3
A: Your typical McMenamins. Lots of packed bar stools at the bar. Plenty of seating elsewhere. Everybody in grabbing a pint. Some espresso class was going on at the bar.
Q: Mcmenamins stuff ranges from avereage to good. You wont get a bad beer.
S: Service was standard, not to bad, she knew the beers and what was draft without having to look
S: Your traditional McMenamins lineup here plus a seasonal.Hammerhead, Terminator and a Brown Ale that Icant remember the name of.
F: Did not have any food here
507 characters

3.46
/5
rDev
+0.3%
vibe: 4.5 | quality: 3 | service: 4 | selection: 3
I stopped in for a beer while in Olympia on business.
I've been to several McMenamins pubs so I figured I had to stop in for a quick visit. I love the way the McMenamins take a building with some history and/or charm and preserve it as a pub (the Kennedy School in Portland would be the perfect example). They always have a great atmosphere and Spar is no different. It feels like a piece of the past. The wooden booths, fixed bar stools and glass front cabinets behind the bar are fantastic.
But when it comes to the beer, I don't think McMenamins offers anything special. And Spar was no different. I had an IPA and it was pretty ordinary.
Spar is worth a stop to soak up the atmosphere if you're in town.
711 characters
3.78
/5
rDev
+9.6%
vibe: 4.5 | quality: 3.5 | service: 4 | selection: 3.5 | food: 4
There are few people left alive who can remember what Olympia was like before The Spar opened for business. It's been a cultural institution as much as a Main Street diner since the mid-1930s. Now it's a McMenamins brewpub. Is this transition a good thing? Well, nothing lasts forever. Change is inevitable. Etc. And the place wasn't even as old as a good tree. I suppose if the day had to come when the Spar changed hands, it may as well have ended up with the Brothers McMenamin. I've always admired what they've done to restore and revitalize other historic landmarks in other towns. But this was my local café that I'd been patronizing for nearly a quarter-century. Changing it in any substantial way felt like sacrilege.
The good news is that, while the McM brothers have infused the place with their customary quirkiness, The Spar itself looks and feels much as it has for as long as I can remember. A few remodeling efforts have altered the floor plan somewhat – most notably the removal of the rear wall that once isolated the bar from the restaurant. The former bar space is now open as an extension of the total environment. Booths and pool tables span the full length of the restaurant, and a cramped brewhouse has been fitted beside the kitchen. Seating along the east wall has been partitioned behind an artsy pavilion, and the restaurant's historic counter is now a full service bar. These may sound like substantial modifications, but rest assured, the historic identity of The Spar still persists.
As you walk through the front doors, the first thing that greets you is a porcelain water fountain that's probably been in use for most of the Spar's seventy-five years. This introduces you to one of Olympia's famed and treasured artifacts – its pure artesian well water. Several downtown restaurants boast of serving artesian well water. With the Spar's conversion to a brewpub, craft ales are now also derived from these celebrated waters. Though the brewery is so small that most equipment must be repositioned on brew days, my first encounter with the Spar's house beers has been encouraging. Perhaps those waters do possess qualities beyond the scope of the municipal water sources that most beers derive from.
Food at the Spar has been McMenaminated. As much as I enjoy the McMenamin theme, The Spar is now a franchise – albeit a small, regional one – and the food is much the same here as at other locations in the Kingdom. And of course, the standard McM beer lineup is also replicated here – Terminator, Ruby, Hammerhead… you know the drill. The one thing I don't care for now is the tight seating space at the bar. They've wedged the seats behind a barricade to keep the isle clear and it's ridiculous that guests have to ask neighboring patrons for clearance every time they get up to visit the john. Speaking of which, the men's room has been upgraded from atrocious to tolerable. Since there was nowhere to go but up from its previous condition, the old Spar's standard won't be missed here.
One thing I'm glad they retained are the old swivel counter seats with the clip on the back for hanging your hat. Many were replaced by a newer style of immobile bar stools, but at least a dozen or so remain along the counter nearest the street. And they still sell cigars as they have since the 30's though you can't enjoy them with a brandy. Washington law prohibits off-sale of Edgefield spirits at The Spar and of course, there's no smoking indoors anymore.
3,515 characters
McMenamins Spar Cafe in Olympia, WA
Brewery rating:
3.59
out of
5
with
3
ratings