The Bear Brew Pub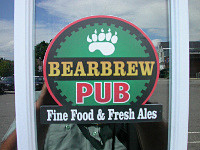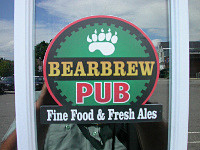 PLACE INFO
Type:
Brewery, Bar, Eatery
36 Main St
Orono
,
Maine
, 04473-4006
United States
(207) 866-4111 |
map
Notes:
No notes at this time.
Added by BeerAdvocate
HISTOGRAM
Ratings: 13 | Reviews: 12
Reviews by Bowdoinbeerboy:
3.25
/5
rDev
-8.2%
vibe: 3 | quality: 3.5 | service: 4 | selection: 2 | food: 4
Stopped in here this past weekend with some buddies for a drink and some food. The pizza was delicious, a bit pricey for a slice but hey, its a bar what do you expect?
The beer selection was most unimpressive, less than a dozen on tap and most of it a typical variety of macro lagers. They do brew their own and the IPA I had was pretty decent, nothing head spinning but a solid take on a classic.
The three levels are pretty sweet, especially the 3rd floor if you can snag a pool table. Check it out!
503 characters
More User Reviews:
3.88
/5
rDev
+9.6%
vibe: 4 | quality: 4 | service: 4 | selection: 3.5 | food: 4
I said in a previous review of another establishment that I appreciate it when smaller restaurants take the time to brew their own beer. That place did not do it well. However, Bear Brewpub is a fine example of how good it can be when executed properly. Bear Brewpub is a sports bar in a sports town. University of Maine hockey jerseys and memoribelia align the walls. There are plenty of tvs so you can watch the games. The building is a step above divey, in a good way. This is very much what I expect from a college bar and is warm and inviting. This is a place that I want a pitcher at. The menu consists of sandwiches, some entrees, and burgers. I got a Cajun burger with sweet potato fries and was very pleased with all the flavor that was bursting out from it. The waitress was very friendly and helpful. They had roughly 20 beers on tap and at least a quarter were macro. That said they did try to highlight some quality New England and Maine brews. Additionally they brew three house beers. The stout and red both exceeded my expectations. Bear Brewpub is not an elite craft beer bar. What it is though is an excellent place to spend a night relaxing, getting upset about shots on goal, and having a few tasty pints. I would not hesitate to stop here again.
1,266 characters
3.7
/5
rDev
+4.5%
vibe: 4 | quality: 4 | service: 4 | selection: 3 | food: 3.5
Given the limited variety of brewpubs in the Orono area this one isn't bad. Late night pizza is a must even though it is a bit pricey. They do run 2 for 1 pizza deals on Tuesdays, but the large pizza box they hide the small pizza in is decieving.
Pretty typical beer selection, long trail, bud, and usually one of their own.
It is however the best place to go to watch a sports game on a weeknight up on the 3rd floor where usually you have the place to yourself. Unless of course it is a thursday and the second floor dance mayhem is going on.
Like I said, it is a good place to get drinks and hang, given the competition.
626 characters

3.9
/5
rDev
+10.2%
vibe: 4.5 | quality: 3.5 | service: 4 | selection: 4 | food: 4
One of my local favorites to eat out, and especially, drink at. The first floor, the deck or the third floor are the best spots to be, skip Soma (the dance floor area on the second floor). Soma is a typical lame club with hip-hop dj's blaring music, which doesn't even pick up until after 11pm, used to be a better billiards section before the reconstruction.
The rest of the pub though has a nice feel to it. The first floor has the most cozy feel to the place and is my preferred spot. They have trivial pursuit and a chess board (although no chess pieces since they were stolen) as well as a couple tv's to entertain yourself with.
Food is alright, the brick oven pizza is a highlight, but the best dishes are the Spinach and Artichoke Dip and the Red Pepper and Gouda Dip. They may be appetizers but they're a meal of their own.
The Bear Brew Pub has a mug club which is similar to other mug clubs where you get a 20oz beer for the price of a 16oz, I've certainly got mine. Prices have been going up the past few years which is a shame, but it's not as expensive as the next closest place that brews their own (the Sea Dog in Bangor, ME).
The beers are typically nothing to write home about though. The Pale and IPA are standard and nothing special. Brown is decent, hefeweizen used to be very good but has declined in the past few years as well. Blueberry is good though, more subtle than most and not very sweet. The best beer (and most delicious) they offer though is the Hibernator during the cold winter months, which has a strong spicy taste.
1,556 characters
1.8
/5
rDev
-49.2%
vibe: 3 | quality: 2 | service: 1 | selection: 2 | food: 1.5
so, I'm in Bangor with the family and find this place by accident. I decide to convince the wife we need to go here. She knows I love beer so she's on board. We walk in the back entrance and she almost walks out. It's a classic look sports / smoking bar, a quick check and the upstairs is similar but with an open deck. Due to the volume of patrons we stay on the basement dining section.
Food - positive nod on the thin crust pizza dough / pesto & mozzarella cheese appetizer noted as bread sticks. With a side of sauce it's quite tasty. A major knock when it came to the calzone - chicken & pineapple - no sauce at all and really greasy as well as the steak and cheese pizza. Yeah there was a bit of steak and onions but quite frankly it was a stretch to say it was a steak & cheese pizza. Rather it was tidbits and little cheese.
Service - it was a really hot day and the place has no AC. My wife took our son outside to walk while waiting for food. On her second trip back in the door she carried our pizza's back from the pizza cook area since our server was not apparently paying attention or was dehydrated and doing the best she could.
Beer - the brews by bear brewpub that were actually available (2 of 4) where great. The bottle / other beer selection looked great but I didn't try to determine what else was or was not in stock. It's their brewpub and I wasn't interested in another brewers beer while in the "home base" of the brewpub.
Moral of the story - don't take your family. This is a definite college brewpub. The beer / bar specials and daily specials said all I needed to know. Come here with only the wife or girlfriend after a real dinner or as a prelude to a real dinner. If you're significant other is a sportsfan, come for a game on a cool day and take advantage of the specials. If your situation is like mine and two other families that wandered in during my dinner, please go somewhere else for your dining experience. If you want a growler I recommend the IPA but I didn't ask if they offered growlers so call first just to be safe.
2,066 characters
3.93
/5
rDev
+11%
vibe: 4 | quality: 4 | service: 4 | selection: 3.5 | food: 4.5
Stopped here on our way to the Vermont Brewers fest last week. Although I can see where some of the previous complaints stem from, this place was decent. The beer was good, not exceptional, I tried the Porter and the Stout both would have had me going back for another. The bartender was pleasant, knowledgeable and informed us a lot about the history of the place...I think he said its been there about 10 years, maybe more.
Summer is the off season here, as the University of Maine is just up the road.
507 characters
4.18
/5
rDev
+18.1%
vibe: 4.5 | quality: 4 | service: 4.5 | selection: 4 | food: 4
This is the type of place that college students have come to love. As a college student I discovered this place last year and I got to say it has been a great place to eat at and be at. I do say the value is reasonable because of the fact that as a college student they give me a lot of discounts. For example every Saturday is half off night for college students and Tuesdays is two pizzas for one. Add to the fact that the pizza is brick oven made and that right there is worth the price by itself. They brew their own beer which is pretty decent too. They have a decent selection of beer for a little brew pub in the little town of Orono, Maine. Overall this place is great to have around whenever a college student needs to relieve some college life stress.
761 characters

4.1
/5
rDev
+15.8%
vibe: 4 | quality: 4.5 | service: 4 | selection: 4 | food: 3.5
Stopped in here for a quick lunch and drink one Monday afternoon while waiting for a friend (The whole theme of my last trip north was "hurry up and wait" but occaisionally I got to sample some beer I wouldn't have normally). Nice looking bar area downstairs, lots of wood and the place is kind of funky shaped to begin with which give it a nice local tavern feel. Service was prompt and friendly, of course I was the only one in the place at the time. Literally.
I ordered the house IPA and a bowl of corn chowder seeing as how it was a rainy day and all. They had about 8 house beers on tap (IPA, brown, stout, blonde and fruit beer among them.) Also some other locals on tap including Casco Bay, Geary's, Atlantic. Other bottles from Unibroue, Magic Hat, Long Trail and the "national" micros. Some BMC in there somewhere too. Anyhow, the IPA was pretty decent and the chowder certainly hit the spot. Would like to come in here for a good drinking session one day but a pretty good stop nonetheless.
All in all it overcomes the least imaginative name for a brewpub I have come across in 14 years of beer hunting.
1,121 characters
3.15
/5
rDev
-11%
vibe: 4 | quality: 2 | service: 3.5 | selection: 3.5 | food: 4
i had to go to the bear brew after all these years. and because jennie told me to. i've had their beers at oktoberfest and such but not in a while.
so we went up tp orono to meet jennie and andy. the were already there and had had trouble finding the door. usually this happens when you leave a pub, not when you are trying to get it. so: WHEN GOING IN THE BEAR BREW YOU GO IN THE BACK! there is no street entrance. which is odd.
it is a nice little oub downstairs. there is an upstairs but it wasn't open. there is also a cool looking deck but one sign said it was closed and another said it was openning june 1 (it was the 4th when we were there). i didn't bother asking.
me and andy got a sampler tray. jennie got an ephemere balck currant. SHE had water. jennie made out the best of us....
service was okay. there was one customer and one waitress when we got there but it got busy later and to her credit the one waitress called for help and they came.
they had 5 of thier own beers on and maybe 5 more craft beers. no doubt they had some crap on tap too but i think that was upstairs where the "club" portion of the joint is. the place was bought fromt he original owner (boris the crazy russian) a few years back and the new owners treat it more like a club than a brewpub.
the menu looked pretty good. i was having a time deciding what to order but only ended up with some onion rigns which were prety damn tasty.
this place is a nicer room than the sea dog but if in the orono/bangor area i'll go to the dogger.
1,542 characters
4.01
/5
rDev
+13.3%
vibe: 3 | quality: 4 | service: 4.5 | selection: 4
David and I stopped in here after meeting Bennybrew and Co at the Bangor Seadog. I'm glad we did, as we were a bit disapointed in the Seadog. We saw it on the street, but had to go around back to the parking lot to get in. Walked in, and they have a pizza oven where they make some pies. Entered the place proper, and didn't go any further because there were empty seats at the 6-8 seat bar. There are two levels, but we stayed put. Decor was pretty basic, a mix of guiness and sports pix, etc. They usually have 4-6 beers on, and of course, we tried them all. Service was good, especially as we bagan talking beer to the bartender. Beers were all fresh and tasty: we had the Porter, IPA, the Quadberry, and the Pale Ale. They seemed to have a full menu of pub grub fare, and folks were eating (we weren't hungry). I would definitely come back here again, no problem. Not the most awesome brew-pub ever, but much tastier and fresher than the Seadog. pat
953 characters
3.38
/5
rDev
-4.5%
vibe: 4.5 | quality: 3 | service: 3.5 | selection: 3 | food: 4
Every college town should have a brewpub. Orono's isn't blessed with distinctive versions of various styles. Some of them are just passable. What gets me coming back is the funky vibe to the place. I encourage low-key stabs at brewpubs in small towns.
Only about eight stools at the main bar. Tables on two levels and some outdoor opportunities in the warmer months (all two of them.) Much of the building looks cobbled together and there are hand drawn panels on the wall celebrating their beers. I wouldn't be surprised if the breweriana on the walls was found at yard sales. I believe on my last trip through all the extant brewpubs in Maine, the pints at Bear Brewpub were cheapest of all, and not just during a happy hour.
The food has been good to very good each time, with regular pub appetizers and pizzas alongside full-blown dinner entrees. There's only three or four restaurants close by, so this place does get used by the Orono population as a place to get dinner (beyond the ubiquitous college crowd.)
1,021 characters
2.98
/5
rDev
-15.8%
vibe: 3 | quality: 3 | service: 3.5 | selection: 2 | food: 4
The beer selection is nice, but only two made here. I had the brown ale, a bit on the thin side, lack of malt, poor mouth feel... (Oh yes, the bartemder told me that this is the best beer on the world - he should get out of town. Having lived in Portland, Oregon for two years, well.) I was struck when the brewer could not tell me the OG or IBUs. Nice little place, but don't go out of your way - I won't.
410 characters
The Bear Brew Pub in Orono, ME
Brewery rating:
0
out of
5
with
0
ratings