Killer Red
| Double Mountain Brewery & Taproom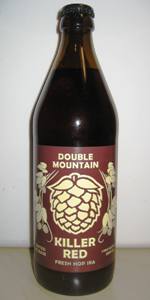 BEER INFO
Brewed by:
Double Mountain Brewery & Taproom
Oregon
,
United States
doublemountainbrewery.com
Style:
American IPA
Alcohol by volume (ABV):
7.20%
Availability:
Fall
Notes / Commercial Description:
"Fresh Hop Strong IRA"
"It's harvest time again, which means using just-picked hops straight from Sodbuster Farm in the Willamette Valley. Our choice of hops for the Killer Green were a little late this year, so we decided to craft a sister brew with fresh Perles to fill the thirsty void. Killer Red has distinct apple/pine/orange notes from the hops, and pulls that biscuit/caramel character you find in our India Red Ale ("IRA"). Drinks like it's IRA, but the extra strength is worth respecting."
7.2% ABV, 88 BU
Added by msubulldog25 on 10-19-2011
Reviews: 14 | Ratings: 83
3.6
/5
rDev
-11.3%
look: 4 | smell: 4 | taste: 3.5 | feel: 3 | overall: 3.5
2015 version on tap. Huge hop bitterness with grassy pine assault on your taste buds and a tropical fruit aftertaste. Bitterness is extreme in my opinion a little more malt would of helped
★
188 characters
3.71
/5
rDev
-8.6%
look: 3.5 | smell: 3.75 | taste: 3.75 | feel: 3.5 | overall: 3.75
Pours a murky dark orange with a foamy orange-tan head that settles to a partial film on top of the beer. Small dots of lace form around the glass on the drink down. Smell is of malt, citrus fruit, citrus zest, and slight pine aromas. Taste is much the same with citrus fruit and citrus zest flavors on the finish. There is a mild amount of hop bitterness on the palate with each sip. This beer has a lower level of carbonation with a slightly crisp mouthfeel. Overall, this is a pretty good beer with a solid citrus forward hop presence.
★
538 characters

3.75
/5
rDev
-7.6%
look: 3.75 | smell: 3.75 | taste: 3.75 | feel: 3.75 | overall: 3.75
Poured from a 500ml bottle. Not bad but expected more from these guys.
A: Pours a nice red amber no head or lacing.
S: A sweet hop nose
T: A fruity hop taste a nice sweetness there.
F:Medium Carbonation with a nice hop bitterness.
O: Not a bad Red Fresh Hopped IPA but missing the hop kick in my opinion.
★
305 characters
3.86
/5
rDev
-4.9%
look: 3.75 | smell: 4 | taste: 3.75 | feel: 3.75 | overall: 4
500ml bottle, more fresh-hopped brew to enjoy now before the snow flies!
This beer pours a slightly hazy, medium bronzed amber colour, with three fat fingers of puffy, densely foamy, and mildly creamy ecru head, which leaves some chunky and splotchy lace around the glass as it slowly and not so evenly subsides.
It smells of blood orange, red (purple) grape juice, grainy pale malt, laid-back leafy pine resin, crisp green apple, and a small yeasty alcohol edginess. The taste is bready, lightly doughy pale and caramel malt, more mixed domestic fruit - orange, lemon, apple, and above all, fresh red grapes - a consistent bit of testy yeast, and more floral, leafy, and diminishing pine hop bitterness.
The carbonation is quite involved via its equally fizzy and frothy twin guns, the body a decent middleweight, and generally smooth, with perhaps just a wee boozy astringency slowly picking away as time moves on. It finishes off-dry, the varied fruitiness really showing some staying power, while the malt and other typical green hop notes wander around, sort of stunned.
An interesting result for a fresh-hopped beer, where you don't always know what you'll be getting. Here, the expected pine and citrus characters play a distant second fiddle to a nice grapey and lesser tropical fruitiness. Huh, roll the dice, and sometimes you win something you didn't even know that you wanted.
★
1,395 characters
3.95
/5
rDev
-2.7%
11/8/14 - 22 oz bottle poured into an ale glass. Pours with a frothy, white head that dissipates quickly leaving a film. Copper colored and slightly cloudy. Tons of lace on the side. Spruce and pine aroma, green apple, with butterscotch and roasted malt. Starts bitter, slightly metallic, with a slightly sweet finish. Medium body, well-carbonated, rich, long finish. Very nice.
★
385 characters

4
/5
rDev
-1.5%
look: 4 | smell: 4 | taste: 4 | feel: 4 | overall: 4
Poured into a Chuckanut pint glass. Pour a reddish coppery amber with a fine half finger off-white head with great retention and lacing. Aroma of citrus, piney and herbal hops with light caramel malt that is overwhelmed by the hop goodness. Flavor is also dominated by fresh piney, citrus and herbal hops with a light sweet malt body. The hops are aromatic and flavorful, but not heavily bitter. Lingering citrus and grassy hops aftertaste. Medium bodied with hints of creaminess. A nice IPA that showcases the hops without a lot of bitterness. The malt body is supportive, but not present enough to be a real red ale; I think the BA designation of American IPA is spot on. Both the red and green versions were quite nice and had distinctive hop flavor profiles. Tasty.
★
769 characters

4
/5
rDev
-1.5%
look: 4 | smell: 4 | taste: 4 | feel: 4 | overall: 4
500ml bottle bought from Lifesource natural grocers in Salem OR $4.99 2014 . 7.2% alc and 88 IBUs. Amber coloured body,clear, with a lovely tight bubbled but large off white head. Different hop profile from the "green", more powdery and resinous..but equally fresh again caramel malts. Very much balanced in taste with mote fruitiness than the "Green", and the hops showing mote progress in the end. Great mouth feel to this one also..lower carbonation but slick. Again a very nice fresh hop beer.
★
497 characters

4.03
/5
rDev
-0.7%
look: 4 | smell: 4 | taste: 4 | feel: 3.75 | overall: 4.25
The Perle hops are interesting and I can't say I've had a single-hop beer brewed with them. After this warms up a little the aroma is really distinctive, like a ripe canteloupe and alfalfa. Pleasantly carbonated with an attractive bright, clear coppery color in the St. Bernardus globe. Appealing sudsy mouthfeel.
Starts with some warm malty notes and a tang of citrus. Some sweet orange along with green papaya in the flavor. Moderately bitter but so fruity and mellow it's hard to put down.
This is really quite drinkable, but it's more like a different sort of Pale Ale somewhat hopped up, rather than the acidic and bitter IPA style. A taste of cedar and something like cilantro add to the interest. From the 500 ml bottle purchased at Bine & Vine in San Diego.
★
768 characters
4.04
/5
rDev
-0.5%
look: 4.25 | smell: 4 | taste: 4 | feel: 4.25 | overall: 4
Enjoyed out of a hefty brown bottle with no dating that I can find. However, this is definitely the 2013 vintage--enjoyed on Halloween, because this beer is a real KILLER. I'll be here all week, please tip your waiters and waitresses... ...poured into the fancy Speigelau IPA-specific glass from SN/DFH.
Appearance - A glowing orange and yellow body, with some hints of ruddy red/burgundy as well, but subdued. Atop the body sits a positively massive four+ finger head that begins receding immediately, but at a snail's pace. The foam begins to sink right around the edges at first, creating a little moat-like trench between the thick sheets of lacing and a mound of foam in the middle that is still going strong. Eventually, the bubbles start to expand and burst, leaving a cobweb of foam, and thick, leopard-print sticky lacing. Another beautiful one, just like it's "twin" Killer Green.
Smell - Notes of apple, citrus orange and even some pineapple and a healthy backbone of fresh-baked bread and toasted caramel notes. However, make no mistake, on the spectrum of "red IPAs" (or "IRAs"), this one leans more towards hop dominance of the IPA than the more caramel-infused characteristics of an amber ale.
Taste - Again, the hops are on full display, but now the caramel malts provide a nice rustic counterpoint to the more pungent hop characteristics. Again with orchard fruits--orange, apple, even some bosc pear and maybe nectarine. However, I really enjoy the nice biscuity and rye bread tasting element to the malt backbone. Some more generic floral notes float over the top and give this one a depth of flavor that I don't typically find in a standard "red IPA".
Mouthfeel - Medium bodied and toothsome, with good carbonation and a mostly dry finish.
Overall, while I like both of Double Mountain's fresh IPAs, I think I slightly prefer this one, just because it's a bit more unique than a lot of the fresh hop IPAs that are out there due to the caramel and roasted malts. Would gladly have again and hope that they continue to produce it.
★
2,053 characters

4.09
/5
rDev
+0.7%
look: 3.75 | smell: 4 | taste: 4.25 | feel: 4 | overall: 4
500mL into a tulip. Pours a slightly hazy reddish brown w/ a 1-finger off-white head.
Aroma is lots of juicy and citrusy hops with an underlying sweetness.
Taste is bready and sweet with a nice sharp bitterness and tons of ripe pink grapefruit. Loads of alpha acids attack the palate.
Mouthfeel is medium-bodied and resinous. Bitter aftertaste sticks around.
Overall a very nice, balanced fresh hop beer.
★
409 characters
4.28
/5
rDev
+5.4%
look: 5 | smell: 4.5 | taste: 4 | feel: 4 | overall: 4.5
From a bottle (16.9 oz/500ml), new for the fall 2012 release; poured to a Breakside pint glass. Have had the bottle about 5 weeks. Will it still be 'fresh hop' fresh? Let's see!
As an aside: I love the new DM bottles. They're a great size and the label encourages one with: "Don't crush me!!! I'm refillable!", giving a website and QR code to learn they can be redeemed. A novel approach on the bottle bill...
A: Moderately hazy pour of rusty red, with a very steady carbonation. Head is gorgeous, a full THREE fingers of ivory cream - long-lasting with loads of sticky/filmy lacing. Once it winnows down, the scant head remains fluffy and pock-marked with spongy bubbles. Very close to a '5', looks-wise. Nah, it's a '5' - absolutely gorgeous 'autumnal' color, great head/retention and perfect lacing.
S: Purchased on 9/29/12... as mentioned above, I feared that this 'fresh hopped' beer was held 'too long'. Not the case! Awesome hop aroma, as if freshly picked comes were rolled and crushed seconds before the first sniff. Minutes later, aroma is still vibrant - grassy and green, spicy and earthy. Again, so close to a '5'.
T: Malty, rich, tannic, green. Lots of mild roast, stingy spice, grass, bark. Flavor rounds off as woody and a bit tea-like. A mild citrus juicing, sweeter like naval orange and tangerine. Hops share LOTS of lupulin, flavors are oily and pungent and green. I like it a lot, almost love it.
M: Feels luscious, smooth. Carbonation is creamy, body and thickness is medium-full, but wanes a little as it warms.
O: I really love this beer for its drinkability. IRA is a beautiful medley of savory/tangy/juicy India Pale Ale and brassy/malty Red Ale; this fresh hop 'Killer' version kicks it up several notches. Very tasty, well-balanced, so seasonal. Highly recommended --- I hope this bottling makes it into wider distribution in 2013 (as such, it was $5/bottle; picked this up in Hood River before the Fresh Hops Festival and saw it it in only a couple places in Portland)
★
2,004 characters

4.38
/5
rDev
+7.9%
look: 4.5 | smell: 4.5 | taste: 4.25 | feel: 4.25 | overall: 4.5
Had 2013 version in a bottle. have had previous years out of the tap
appearance - copper with white foamy head
smell - hops galore, floral and sweet.
mouthfeel - standard IPA/IRA
taste - SO delicious. by far my favorite fresh hop beer. the only one that comes close is Deschuttes Fresh Hop Mirror Pond, but honestly this one is hands down the best. much better than Killer Green too. Just a fresh floral beer that you can tell is made with high quality fresh hops. very well balanced, not bitter at all. Double Mountain is a fantastic brewery and this is one of their best. Not even a huge Red Ale fan, but this one is just great. Hoppy, drinkable, and lots of pine balanced with the malt. well done!
★
704 characters
4.43
/5
rDev
+9.1%
look: 4.25 | smell: 4.25 | taste: 4.5 | feel: 4.5 | overall: 4.5
On tap at Claudia's sports bar the other day. I was about to take off after watching the morning football games, but then saw that they'd just put on a keg of this bad boy.
The beer pours a reddish amber color with very good head retention and lacing. On the nose, this beer is all fresh hop goodness, but in a reddish ale package. The beer displayed considerable roasted malt, smoke, dry citrus and that beef buillon aroma I associate with certain fresh hop beers. Flavor profile replicates the nose pretty closely in this excellent beer; there's some noticeable roasted malt flavor, but then the fresh hops come on strong, leading to a dry, bitter finish. Mouthfeel is ilght to medium bodied, but this beer is incredibly well balanced (for a fresh hop IRA/IPA), and drinkability is terrific. Alcohol is very well integrated into the flavor profile (I wasn't sure what the abv. was, but the listed 7.2% makes sense).
It was very hard not to order a second glass of this at Claudia's, but I had a long drive back to Eugene, and so opted against it.
Excellent stuff. I rarely drink red ales any more, but if more of them tasted like this, I likely would drink little else. Can't wait to try this year's version of killer green at the fresh hop fest in PDX next weekend!
★
1,272 characters

4.78
/5
rDev
+17.7%
look: 5 | smell: 4.5 | taste: 5 | feel: 5 | overall: 4.5
appearance - red/amber, great head, great retention, mostly transparent
smell - big hop nose, very floral, resinous, dank
taste - excellent hop flavor, grapefruit, floral, fresh, pungent, just enough pleasant hop bitterness
mouthfeel - full mouthfeel, full carbonation, dry finish
overall - probably the best fresh hop beer i had this year or at least in the top 3
★
368 characters
Killer Red from Double Mountain Brewery & Taproom
4.06
out of
5
based on
83
ratings.