Rude Elf's Reserve
| Allentown Brew Works
BA SCORE
83
good
44
Reviews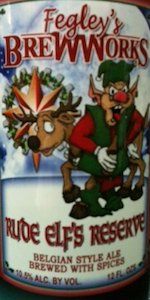 BEER INFO
Brewed by:
Allentown Brew Works
Pennsylvania
,
United States
thebrewworks.com
Style:
Herbed / Spiced Beer
Alcohol by volume (ABV):
10.50%
Availability:
Winter
Notes / Commercial Description:
No notes at this time.
Added by ClockworkOrange on 02-08-2009
Reviews: 44 | Ratings: 193

3.88
/5
rDev
+6.9%
look: 4 | smell: 3.5 | taste: 4 | feel: 4 | overall: 4
Pours red coper in color with a small red/tan head. Smells of cloves and spices and candy.
Taste is cloves,nutmeg,cinnamon and candy and malt. Spices are very active and it is fizzy.
Your mouth feels clean at the finish with a small taste of spices leftover. This a beer you drink one of as it is 10.5 ABV. It Sure is a Holiday beer and very different a nice Job from the small Brewery in Allentown and Thanks to Jason from Epps Beverage for giving it to me to try! Give it a try it is very different. I give it a 4.0 overall rating
532 characters

3.67
/5
rDev
+1.1%
look: 3.5 | smell: 4 | taste: 3.5 | feel: 4 | overall: 3.5
Pours a muddy brown color with some honey highlights. The khaki head is rather small and settles into a solid ring.
The aroma is quite spicy. Big notes of cinnamon and nutmeg. There also may be some peppermint in there as well. Some clove and a light fruitiness tie it into the belgian style.
The taste is just as spicy as the aroma. While the strength may be nice in the aroma, I can see it getting cloying in the flavor. Candied cherries brings a fruitiness to the brew as well as some honey notes. Waves of clove bring in the authentic belgian yeast flavors. Then there is the spice. Strong cinnamon and peppermint flavors, as well as some nutmeg. Definitely a holiday brew. The flavors do work to a certain level but again the spiciness may become cloying and there is a bit of an alcohol presence in the end.
The feel is light with fizzy carbonation. Sweet on the palate but the spices bring in some balance. It actually finishes a bit dry which is surprising and definitely helps the drinkability.
Not a bad beer, really. It does work to a certain degree but it is quite spicy. I am not disappointed.
1,110 characters
3.4
/5
rDev
-6.3%
look: 3.5 | smell: 3.5 | taste: 3.5 | feel: 3.5 | overall: 3
Been getting on my local brewing options and found the rude elf in Jersey in 12oz format, single purchased and put in a small snifter glass. I know buying local from a different state is kinda counterintuitive, but those PA prices be making my behind hurt, if you catch my drift.
Out with a hiss Fegley's Rude Elf 'Reserve' pours out a cloudy blood red color with some mahogany corners. I gave this one a very tilted pour and ended up with ½ an inch of ivory colored foam with a small reddish tint. Kinda full looking, but it whisps away fairly quick leaving no stick. The liquid looks dead in the water after wards with no activity.
Smell is what I expected in this bier, a huge spice bomb. The spice overpowers a lot of the other ingredients and it almost gives off a sweet candi like scent that reminds me of a certain candi cane. Caramel some candied apple, and a spice that I can't place but there is a ton of it. No detectable hops in this one though, and it's pretty fresh stuff.
Taste is a winter spiced ale, winter warmer/BSDA type of beer that needs some direction in it's life. Im not sure how to place it. OK , not really any dark fruit in here under the blast of spice so BSDA is out. Well, let's just call it a winter warmer, a strong one at that. The spices and the kinda hot alcohol make for a heated ride with a cloying sweetness that is mid palate. With some warming a bit of metal comes out and it kills this for me. I get cinnamon and some spice on the end.
Rude Elf has a malty body and a spicy finish. The body is above medium but does not seem overly carbed up, which I feel works best with this style (whatever it is). Just seems a bit over spiced and a bit underattenuated. The alcohol heat does not help. I don't see why this has to be so high in alc. Content and I think that's what's holding the rude elf back.
1,843 characters
3.28
/5
rDev
-9.6%
look: 4 | smell: 3.5 | taste: 3 | feel: 3 | overall: 3.5
Pours a chestnut brown body with reddish hues beneath an off white head that quickly disappears to leave behind only a thin layer of lacing.
The aroma offers a very diverse variety of spices that seem to include pepper, nutmeg, tobacco, and sugar. There is definitely some combination of sweetness and spiciness that is not like anything I have had before.
The flavor is highlighted by generous winter spices such as nutmeg and cinnamon with black pepper and again the sugary sweetness almost resembling bubble gum. It almost seems as if banana and clove appear as the beer warms.
Medium in body and generous in carbonation, this falls somewhere between beer, cinnamon stick, and cookie.
The spices may be a touch overwhelming and are quite varied. Given the style, this is not necessarily a bad thing given the style. Certainly worth a try.
845 characters

4
/5
rDev
+10.2%
look: 4 | smell: 4 | taste: 4 | feel: 4 | overall: 4
BA crimson liquid with a decent off-white head, this beer is a treat. The smell is a great mix of spices (cinnamon-like scents sticks out) and malt. Toffee, caramel, and lightly toasted bread crust. The state is quite strong...lots of alcohol. This is a sipping beer! Warming and moderately fruity (dark, rum-soaked fruit). Some esters and Belgian-sytle phenols. Full body. This is a solidly good holiday beer!
410 characters

2.95
/5
rDev
-18.7%
look: 3.5 | smell: 3.5 | taste: 2.5 | feel: 3 | overall: 3
Last year's vintage poured into a St. Bernardus goblet. Thanks to Ineedabeerhere for sending this out last winter.
Color is a moderate garnet-brown color that starts with a bubbly, two-finger head. Cream-colored, it fades quite quickly, leaving behind a collar and a slight cap on top. The nose is fairly spicy with a load of cinnamon and allspice coming through. Maybe a bit of ginger. Some dark fruits meander in the background.
The flavor brings forward a large amount of cinnamon, ginger, and allspice. Some clove and booze are there as well. There is some light sweetness in the background. Moderate yeast character, though not much. Body is somewhat light for the style, though I'd say more toward medium overall. Low to moderate levels of carbonation. A bit strange and full of spices without much else. No real Belgian character. Not a big fan.
854 characters
3.72
/5
rDev
+2.5%
look: 3 | smell: 3.5 | taste: 3.5 | feel: 4 | overall: 4.5
This beer pours a copper red.
Aroma: The usual winter spices and cherrys.
Taste: Starts off smooth with a toffe-like breadness and then the warmth and the spices come in with a bit of spice and cherries at the end.
Overall: I like that this is easy to drink for a 10.5% beer, and it had some nice spice to it. That being said, it lacked the complexity and b*&lls that a beer of this style should have. Worth a try if someone has them in their basement, but I would not pay for this again. Either way, Cheers!!
512 characters
3.62
/5
rDev
-0.3%
look: 3 | smell: 3.5 | taste: 3.5 | feel: 4 | overall: 4
Poured from a 12 oz. bottle into a tulip glass.
Appearance: Deep reddish-brown in color with an off-white coarse head that quickly recedes. No lacing; minimal head retention.
Smell: Sweet aroma of brown sugar and honey; notes of orange zest and candied cherry. Spicing is faint with presence of cinnamon and clove. The nose is malty and yeasty as well. A strong alcohol aroma is very noticeable.
Taste: Sweet and bready malt character for the palate; spice and sharp alcohol in the finish.
Mouthfeel: Medium-bodied with prickly carbonation in the finish.
Drinkabilty: It's a sipper for sure. I think that the body doesn't complement the high ABV too well, but overall it's something worth trying.
701 characters
3.47
/5
rDev
-4.4%
look: 3.5 | smell: 4 | taste: 3.5 | feel: 3 | overall: 3
A- A nice mahogany/chestnut color with a half inch head that disappears rather quickly and leaves very little lacing. A minuscule film last the whole glass long.
S- Cinnamon, nutmeg, clove, and a very peppery alcohol presence. Cherries, apples, and extremely overripe bananas as well.
T- Light malt and spices in the beginning. Hints of black cherry in the middle. Finishes with a very aggressive/spicy alcohol flavor. "Belgian" characteristics are present, but spices and strong alcohol keep them very low-key.
M- Medium feel with very little carbonation. Has a very dry finish.
D/O- This beer is the definition of a sipper with the amount of alcohol in it. I've had beers that had bigger percentages of alcohol, but they hid their potency better than Rude Elf did. Personally I would have liked the spices and booze to have been toned down a notch and the Belgian yeast characteristics to have been upped a notch. I imagine that putting this beer in the cellar for one or two years will result in a very good beer. There's definitely better BSDAs out there, but if you can find a single of this go for it. Cheers.
1,121 characters
4.1
/5
rDev
+12.9%
look: 4 | smell: 4 | taste: 4 | feel: 4 | overall: 4.5
A - Pours a deep, clear, amber red color with minimal carbonation and head and slight head retention and a thin white ring around the top. Swirl the snifter and the residue oozes down the sides of the glass like cough syrup, it's a thick one!
S - Spiced nutmeg, cinnamon, cherries in the far background, Belgian yeast, and slightly bready (not much, but slightly)
T - Everything experienced in the nose: spiced nutmeg, cinnamon, faint cherries, Belgian yeast, slightly bready, and a moderate amount of booziness.
M - Very mild on the tongue, thick, not overly sticky (which is surprising for a beer with this kind of Belgian punch). Leaves a boozy, Belgian, cherry tang aftertaste that lingers and coats the mouth.
D - I was never really one to get overly excited about Winter/Christmas beers but this one has resurrected an interest to explore this particular style, very enjoyable. I could handle, maybe two of these. Three...pushing the limits. This is a really well brewed beer. GREAT job!
998 characters
3.21
/5
rDev
-11.6%
look: 4.5 | smell: 3.5 | taste: 3 | feel: 4 | overall: 2.5
Pours a three finger dark tan head over a brilliant dark brown liquid. Looks nice. Smells of holiday spicing (nutmeg, cinnamon, ginger, allspice) with clean alcohol, some graham cracker, and a dash of dry chocolate.
Tastes strongly of spice and some minty menthol character. Interesting rounded spicing with minty zip accompanied by mild clean alcohol and palate cleansing carbonation. Warming in the belly. Thick slick mouthfeel that's oddly md light. Leaves the mouth due to the carbonation leaving a woody-flavored dry aftertaste.
Hard to tell what the base style is beneath as the malt flavor is mostly covered up. A little bit of chocolate is all that pokes out from the spice and alcohol, which has become stronger as I've gotten into the beer.
This beer needs a couple years in the cellar to round out the alcohol heat and hopefully the spices will settle. The flavors come across as a bit disjointed, but time would likely help blend things together.
961 characters

4.32
/5
rDev
+19%
look: 4 | smell: 4.5 | taste: 4.5 | feel: 4 | overall: 4
Pours a deep mahogany color w/ about 2F of tan head, and plenty of carbonation.
Smell is fantastic. Tons of spices atop a rich, deep-fruity malty aroma. Cherries were at the forefront.
Flavor was also quite nice. Some chocolate covered cherries, plum skins, and rich malted barley. Heavy winter spice profiles continued through as well.
Had a fairly high level of carbonation keeping it from becoming cloying at the high ABV.
I found this highly enjoyable overall, and will seek it out in the future.
507 characters
3.03
/5
rDev
-16.5%
look: 3.5 | smell: 3 | taste: 3 | feel: 3 | overall: 3
On tap at the Allentown location. Pours a deep red, clear, with a small white head. Aroma of lots of spices -- ginger, cinnamon, gingerbread, clove. Flavor again is dominated by the spices mentioned above. Heavy mouthfeel. This was just a little overkill for me with all the spices and alcohol.
294 characters
4.32
/5
rDev
+19%
look: 4 | smell: 4.5 | taste: 4.5 | feel: 4 | overall: 4
Here was the Brew Works description:
"Our Silver Medal winning Belgian style holiday beer brewed with dark Belgian candi sugar and special spices. This brew has a spicy aroma and flavor with a sweet malt taste. At 10.5% alcohol it is sure to warm you up during the holiday season."
The Rude Elf's Reserve was definitely worth the trip. Everything you could have hoped from a Belgian holiday beer. The green apple flavors were amazing and perfectly placed with the other spices and candi. A 1/2 gallon growler was going for about $25, so I didn't get one, but I'm kicking myself now. Guess I'll have to wait until next year to have one again.
642 characters
Rude Elf's Reserve from Allentown Brew Works
3.63
out of
5
based on
193
ratings.