Conchtoberfest
| Florida Beer Company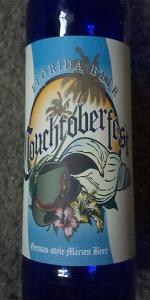 BEER INFO
Brewed by:
Florida Beer Company
Florida
,
United States
floridabeer.com
Style:
Märzen / Oktoberfest
Alcohol by volume (ABV):
not listed
Availability:
Rotating
Notes / Commercial Description:
No notes at this time.
Added by ktrillionaire on 09-28-2011
Reviews: 9 | Ratings: 48
3.62
/5
rDev
-0.5%
look: 3.5 | smell: 4 | taste: 3.5 | feel: 3.5 | overall: 3.5
A: no head to speak of with my pour on an amber with golden hues clear body
S: toasted and caramel maltiness at the level of a barleywine with sweet, sour and tart notes.
T: malty and spicey with sweet corn and grains. little boozier in the finish than expected.
M: medium body and moderate carbonation.
Overall: Not too bad. Definitley malt forward in both aroma and flavor. Not quite spicey enough for the style though.
425 characters
3.24
/5
rDev
-11%
look: 3.5 | smell: 3.25 | taste: 3.25 | feel: 3.5 | overall: 3
a real average take on the style here. sweet up front, sweet down the back stretch, not real authentically german with the grain either, although the character of the grain is not my issue. i am looking for a more flavorful beer, caramel sweetness does not equal a marzen beer. the lager yeast has no flavor at all, and may not have finished its duty, while a thin body and slightly metallic tinge doesnt help. i get some apple in here, which works for a fall beer but may be a product of an off flavor. carbonation is fine, average body, standard feel. this is one of those styles that can be such an expression of the season, but this seems sloppy all over. the residual sugar is the biggest mark against it, but i did finish my glass, so it wasnt appalling by any stretch. not a great first beer from these guys for me.
822 characters

3.43
/5
rDev
-5.8%
look: 3.5 | smell: 3 | taste: 3.5 | feel: 4 | overall: 3.5
12oz bottle
A- Blue bottle poured into a pint glass. Pours a clear amber color with an off-white head.
S- The aroma is malty with some caramel and very mild hops in the aroma.
T- The taste like the aroma is malty up front with some sweetness coming in from the malt. There is some caramel flavors and just a touch if hops in the finish.
M- The mouthfeel is light bodied with a good amount of carbonation.
O- Overall, not a bad Oktoberfest beer. Worth a try.
462 characters
3.06
/5
rDev
-15.9%
look: 3.5 | smell: 2.5 | taste: 3.5 | feel: 2.5 | overall: 3
From a cool-looking blue bottle pours a nice, rich, golden amber colored liquid. Smallish head drops fast and with a lot of fizzy noise. Won't be any lace here, either.
Smell is overly hoppy for the style. Malt present but weak. A medicinal note shoves it way up the nostrils.
Taste is more well balanced. Malt and hops evenly vie for the tastebuds. A slight caramel note, maybe some light brown sugar.
Medium-bodied with an effervescense that is sharp upfront but mellows quickly. A coating on the palate and tongue leads to a thickening feeling in the throat. Not particularly good that. Overall, I am not impressed by the company that brought Gaspar's Porter to my lips.
673 characters
4.07
/5
rDev
+11.8%
look: 3.5 | smell: 4 | taste: 4 | feel: 4 | overall: 4.5
Yet another very nice American take on the Oktoberfest brew... I've been seeing a lot of these lately. This has the additional laurel of being the best beer I've yet had from Florida Beer Company. The brew pours a lustrous copper hue and is topped with a thin cap of off-white froth. The nose is faintly earthy-spicy and shows a good bit of nutty, toasty malt. Right about what I'd hope for in the style. The flavor carries on with the goodness; it is lightly malty, again in a toasty-nutty sense, and has just a bit of zesty and earthy bitterness to balance the brew out. Very refreshing, and easily poundable, as the style should be. A very nice basic drinking beer; it is not something to endlessly wax poetic over, and it is greater than the sum of its parts.
763 characters

3.94
/5
rDev
+8.2%
look: 3 | smell: 4 | taste: 4 | feel: 4 | overall: 4
Poured from a 12oz bottle (that's quite blue) into a Sam Adams perfect pint.
This one's a red-orange with a tiny head that quickly recedes. Aroma is solidly lagery, with toasted malts and a decent amount of hoppiness. The taste is a good Marzen, this one remembers it's lager roots with a bit of a noble hop taste behind the toasted malts. There's also some graininess that isn't unpleasant. The mouthfeel is light and briskly carbonated, and the drinkability is good. A solid offering from Florida Beer Company, I'm excited to see what kind of new stuff they have in the pipeline.
583 characters
4.23
/5
rDev
+16.2%
look: 4.25 | smell: 4.25 | taste: 4.25 | feel: 4 | overall: 4.25
A local brewer that I do like, and this Octoberfest offering of theirs might very well be my favorite of their offerings...
A very nice orangish hue poured from the glass with very little head or lacing. The smell was mostly wheat-beer-like, which I found a very interesting twist to the normal marzen. The feel was somewhat carbonated, very dry, yet smooth and drinkable. Speaking of drinkability - that taste was good - I noted some wheat, a touch of spice, maybe even maltier than most other Octoberfests I have had. Again, I really like this beer. It was another example of one I almost walked away from but am now glad I grabbed and had the pleasure to try.
668 characters
4.07
/5
rDev
+11.8%
look: 4 | smell: 4.5 | taste: 4 | feel: 3.5 | overall: 4
Oktoberfest is a time for celebration complete with German oompah bands, steins, and attractive women toting whole handfuls of overflowing Seidels to the thirsty masses. Florida Beer Company out of Melbourne has their rendition dubbed "Conchtoberfest". Packaged in a sea glass blue bottle, this beer brings the essence of the beach to your hand.
Appearance: It is being served chilled in a US tumbler. It pours a crystal clear ocher color with a one finger, off-white head. The hue is reminiscent of a dewy Florida sunrise off the Gulf coast.
Smell: There are nice toasty malts with a mix of salted caramel and some earthy hops in the background. The nose is sweet and potent in line with the true Marzen style.
Taste: It is malt forward but the caramel blends with a touch of biscuit flavor. The finish sticks long and sonorous with an alcohol twang. It remains easy drinking to the end.
Conchtoberfest proves to be a worthy Marzen and just in time for the fall months.
978 characters
4.2
/5
rDev
+15.4%
look: 4 | smell: 4 | taste: 4.5 | feel: 4 | overall: 4
I am a beginner home-brewer. I do not know all the technical terms yet to give a true educated review, beyond personal taste.
I am lucky enough to live right down the road from Florida Beer Company. I tried Conchtoberfest at a friends, and had to go pick up a keg. It's best kept around 38° with a serving temperature of 40°-46° degrees fahrenheit. I will be looking forward to this one every year now.
407 characters
Conchtoberfest from Florida Beer Company
3.64
out of
5
based on
48
ratings.