Resto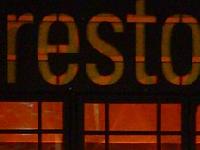 PLACE INFO
Type:
Bar, Eatery
111 E 29th St
New York
,
New York
, 10016-8028
United States
(212) 685-5585 |
map
restonyc.com
Notes:
No notes at this time.
Added by meguiar on 06-25-2007
Reviews: 12 | Ratings: 17
4.5
/5
rDev
+3.2%
vibe: 4 | quality: 4.5 | service: 4.5 | selection: 4.5 | food: 5
There's just no way of telling how long it'll take to get downtown, let alone dealing the parking thing. Gave myself ample time and found the bridge wide open and the FDR moving unusually well, and then landed me a mint parking spot just off the corner at Lex. I was way early, but shouldn't couldn't wouldn't complain. Put my name on the list, an hour and a half's wait but not really, or so they say, and then mulled around suspiciously sidewalkside for a while with the others en table waiting. Ooooh, a couple dropped off, she's in but he doesn't want to wait anymore; leave, go on, leave, just brings me closer to a seating is all. Took down some of the waiting time looking over the beer menu and here's Trouble on 29th now...
Seemingly smallish place down below street level with windows opening out over the sidewalk. An "L" shaped marble topped bar seats a dozen or so on shiny shiny stools off to the right; the barback there being a wood unit with glass shelving over mirrors holding glassware, wines and booze below. Lots of appropriate glassware shaken down from some poor distributor and some steins and mugs above. Brand spankin' new pressed tin ceiling with blended in ductwork, wood plank floorings, and white stucco walls over midway wood board trim at the seat backing height. Old salon type hairdryer shaped bulb drop lamps across the middle of the room, martini glass shaped glass lamps over the bar, and twisted metal lighting fixtures on the walls. Nearly a dozen and a half tables throughout; a large 6 seat table below the front window nook, 4 smaller tables angled in a row adjacent to the bar, and twosies to the rear, shuffled and pushed together when need be. Rumors abound of a 4 seat marble table in the kitchen where you can watch everything from front row center, if you can score it.
7 taps (Grotten Brown, Strubbe Pils, Kwak, Tripel Karmeliet, Chimay Cinq Cents, Delirium Tremens, Ommegang Wit), and 45 bottles; the list broken out by style (saison, trappist, lambics, abbey blonde & tripels, abbey dubbels & brown ales, wit, amber, red), all Belgians and an infrequent Belgian style selection from Ommegang. Middle of the Belgian road for the most part; although it appears they've since added another dozen bottles, and kicked the range and quality up some (Cantillon Gueze & Kriek, Fontaine Schaerbeekse Kriek, Des Geants Goliath), and still no Stella, Hoe, Leffe, blah.
Looking over the food menu, I'm convinced that either it's written partially in another language, or they're just making up words. Every item on the menu has at least one word that I cannot decipher. It was nothing for Trouble, however, as she's paid library late fees for the decryption book on more than one occasion, and thus provided her usual assistance.
We started with apps, I had the double cooked pork with Belgian endive vinaigrette, paired with a Grotten Brown. I figured that if cooked pork is good, double cooked pork must be twice as good. And Frisee Au Lardon (Endive, with poached egg, fine herbs and lardon, which is basically French bacon) for Trouble, paired with an Ommegang Wit. For entrees, I had the burger, yes, the burger, with Passendale cheese & onion, the best burger ever, made from ground hanger steak, beef cheek and fatback. Holy shit, the thing was like butter, holy shit, paired with a Saison DuPont. My frites came with dips; lime pickle, sweet chili & mayo (The pickle was the pick, had some nice heat to it). She had the beef cheek carbonnade over frites, paired with a Corsendonk Brown. Truly amazing, the beef just melted, it was so good, and the frites just soaked it all in, "Just heavenly", says she. Dessert; I had the mango sorbet, she had a Liege waffle, with crème fraiche anglaise; and split a Liefman's Kriek. They also comped us a walnut tart, caramel, chocolate ganache and banana ice cream. It was killer and you know I hate goddamn walnut anything.
It was just a perfect meal; food and beer, in a comfortable place albeit a bit loud, good service, this you really ought to see.
4,046 characters

4.06
/5
rDev
-6.9%
vibe: 4.5 | quality: 4.5 | service: 3.75 | selection: 3.5 | food: 4.5
Easy to locate with the Resto sign on 29th Street just off Park Ave. This is a decent sized restaurant with plenty of tables and a bar with a white grey stone top that can seat about 10. Potted plants line the front window and the place is comfortable with all the woods. Look like 8 beers on draft - Piraat, LaTrappe, Martens Witte, and Bavik were a few. The burger is very flavorful and juicy. Service was a bit slow despite the small crowd, but was friendly. This is a great stop for food and a belgian beer.
511 characters

4.38
/5
rDev
+0.5%
vibe: 4.5 | quality: 4.5 | service: 4.5 | selection: 4 | food: 4.5
One of our new Manhattan favorites. This was on our list based on recommendations from the staff at Teresa's, our favorite local.
Resto is located just a bit east and south of Rattle n Hum, our favorite bar on this end of town. About a dozen bar stools and seating for about 50. Cool bistro vibe, a bit cramped but not overwhelmingly so.
Beer selection is largely focused on Belgians and American renditions of Belgian styles. The beer and cocktail list is pasted into pages of old library books, a very cool touch.
Food was outstanding, featuring simple but highly detailed bistro plates. Hangover pasta (a twist on carbonara with a fried egg), skirt steak and eggs, deviled eggs over pork "toast", all outstanding.
Service was great. We loved this place!
HV
764 characters

4
/5
rDev
-8.3%
vibe: 4 | quality: 4 | service: 4 | selection: 4 | food: 4
A friend of mine told me in the past that if my wife and I were in town, there was a restaurant that he and his wife wanted to take us to. Well, we were in NYC this week and the four of us had dinner here his past Tuesday night. Good looking place when you walk in, sparse decorations but comfortable. Nice looking bar with all the glassware laid out on shelves behind it. Sat at the bar for a drink before dinner. I like the beer list: they take an old college text book and glue the list onto the pages. We got some scholarly book on advanced physics and at first it threw me off, but then I got the joke. Bartender was friendly and gave my friend some suggestions. Had a draft Petrus Oud Bruin, served in a branded goblet. Moved over to our table and were served by a very patient waitress, as our table kept chatting and not figuring out what to order. I liked the app we had, which was deep fried doughy meatballs called bitter ballen. The mussels & frites were good, but not the best I've had lately. The two deserts we split were tasty: a waffle and an order of beignets, which were moist and flavorful. Also ordered a bottle of Scotch Silly, and it was served in a branded glass also. Prices were a bit on the high side for beers and food, but the selection and quality were quite good. I noticed on the menu they had a prix fixe option for both lunch and dinner, which seemed like a good deal. Resto was a nice place to meet and relax with friends over some good food and Belgian beer.
1,494 characters
4.38
/5
rDev
+0.5%
vibe: 4.5 | quality: 4.5 | service: 4 | selection: 4.5 | food: 4.5
Resto is not just a place to drink good beer. It is a place to dine. Please note that I didn't say "eat." I guess it's a bit more refined than most of the places that focus on beer in town. The food is good and fits the NYC culinary world well. If you are going out for a nice dinner, but want a good selection of beers, this is definitely a place to keep in mind. Just keep in mind the area and that the vibe and decor will follow along those lines. Oh, also, the beer here is Belgian in theme.
495 characters

4.25
/5
rDev
-2.5%
vibe: 4 | quality: 4 | service: 4.75 | selection: 4.25 | food: 4
A-Resto is medium-sized for a spot in the heart of NYC. It is dimly lit with and not terribly crowded for a Saturday night with a number of tables sitting empty even around 9 pm. The vibe is friendly with hipster-leaning servers and a rustic-meets-Paris type decor. The bar is small and not terribly happening, but Cannibal next door was pretty full.
Q-The beers are served in appropriate glassware and with a proper pour by our server. They are also served at the right, i.e., not too cold, temperature, which is nice. The beer list is mostly bottles with a few, maybe 5, tap items. All of the big-name Belgian beers are on offer, as well as a few oddballs, so quality was good.
Ser-The servers are quite friendly and they know their beer. When I ordered something a little off the beaten path, our waiter recognized as much and could comment on the weird French bottle I selected. TIming of food delivery was good, too. Nothing fancy, just good service.
Sel-The bottle list containes nearly every mainstream Belgian brew you could think of short of Cantillon or Westy. There are also a few French beers, which is always nice to see, and a decent selection of American takes on Belgian styles. If you aren't into Belgian styles, you'll probably leave disappointed, however.
F-The food is fancy for a beer joint and has a heavy French/Belgian influence to match the beer list. It is above-average in quality, but in NYC, you have to bring out the real good stuff to get high scores from me.
V-Resto is not outrageous, especially for NYC, but the prices are a bit high.
O-A nice, upscale beer restaurant with a solid selection of Belgian styles.
1,651 characters
4.4
/5
rDev
+0.9%
vibe: 4 | quality: 4.5 | service: 4.5 | selection: 4.5 | food: 4
Resto is a Belgian Gastropub. This is more of a restaurant than a pub but it has enough good beers to qualify for this site.
When you walk in there is a bar to the left and some tables in the rest of the place. The decor is European and somewhat inviting. The bar area is usually packed.
Beer wise they have a large selection of Belgians and American Belgian styles. The selection is eclectic and there are always interesting beers to try in the bottle. The taps will be things you have heard of but are good. There are six or seven beers on tap at any given time. Here is the current list:
pretty things, 'jack d'or', cambridge, ma
popperings hommel, west flanders
piraat, west flanders
maredsous 8, namur
hof ten dormaal, brabant
koningshoeven quadruple , tilburg, netherlands
st. bernardus christmas ale, west flander
A nice list. The tap lines are clean and everything I had has been good.
The food is very good here as well. Their namesake burger which is a pork/beef blend is excellent. They also do a full animal feast for large groups where they willmake a full meal from the animal of your choice. I have done this once with a goat and had a great meal.
The place can get pricey but it is a nice place that focuses on the beer, has a beer somelier for pairing and generally does well. I would recommend Resto for people who enjoy Belgians and pairing it with high class pub food.
1,410 characters

4.78
/5
rDev
+9.6%
vibe: 4.5 | quality: 5 | service: 4.5 | selection: 5 | food: 4.5
I have been going to Resto for a few years and absolutely love this place. I work within walking distance of the place, which is on a strange block in NYC and kind of in the middle of nowhere, but that just adds to the allure in my opinion since anyone going there had to hear about it or sought it out to visit.
Atmosphere is very casual and friendly, as the place is always on the dark side indoors but there is always a bustle going on with the staff and people. Everyone always seems to be having a good time and engaged conversations while dining, which allows the place to get loud at times in a good way. The crowd has always been a mix and everyone seems cool and there to enjoy some good food and have some fun. The bar is a great place to hang out as well, with great bartenders and a very good lineup of tap beers as well as the full viewing of the hundreds of different glassware of the shelves for each particular Belgian beer; the glassware is as impressive as the beer selection itself. The bar can get crowded, but it's not a scene where some jerk might start a fight, it's just not that type of place. Bathrooms are always clean as a bonus!
The quality of the food and beer has always been great. The lunch selections are just the right size, with my particular favorite being the burger with a fried egg on top; the burger is a mix of meets and extremely juicy and tasty, and naturally the frites and sauce selections are top notch. Dinners are just as good, and my favorite appetizer is the deviled eggs...I have ordered the deviled eggs every single time that I've eaten at Resto and will do so every time that I go. They are a must have when you go there.
I have always found the service to be excellent at Resto. The bartenders are attentive and extremely knowledgeable, to the point that if you tell them what you are looking for they will pair it very closely; the wait staff is also very are attentive and knowledgeable, and go over the meals and beers in great detail. There is one gentleman (his name escapes me now) that is always there and is by far one of the best waiters I've ever encountered; his love of beer is equal to anyone that I've ever met. Overall, the service has been great, even when the place is packed.
The beer selection is outstanding, and over the past 6 months Resto has incorporated more US beers to go along with the extraordinary Belgian selection. There are some very rare Belgians here, with some very interesting large bottles that can be a bit pricey, but worth it if you like to treat yourself or can go with someone who has an expense account. The beer (and wine) menu is very cool, as it's taped to the pages of old books, so you literally have to sift through 5 or 6 pages to get through the entire list. It's a great novelty act in the food industry and just adds to the coolness of the place.
I go for both lunch and dinner, and the vibe, service, food and great beer are consistently good. If you are in NYC then I suggest stopping in for lunch or dinner for a real treat. The staff always makes you feel welcomed, and the food and beer are so good that you won't mind paying prices that are slightly above average. One of my favorite places to eat in NYC.
3,226 characters

4.38
/5
rDev
+0.5%
vibe: 4.5 | quality: 4.5 | service: 4.5 | selection: 4 | food: 4.5
In NYC at xmas time (late review), BeerFly lead me to Resto. We were here twice in the same night. First, we were looking for a nice bar to warm up in and have a beer. We were near by and popped in. As it was early, not too many customers were there, just a few at the bar like us. We had a St. Bernardus Christmas Ale which was perfect. The beer list is heavy with Belgians.
We came back for dinner. We had missed their pork night, but we were still able to take advantage of many of the great pork dishes. I had ribs and GF had a pasta dish. Both were great. Great starters too.
Service was friendly, the vibe is neighborhoody, and the value is spot on. I am a sucker for beer-centric fine dining spots. This is a great one.
730 characters
3.88
/5
rDev
-11%
vibe: 4 | quality: 4.5 | service: 3 | selection: 3.5 | food: 5
Resto
Came here for a beer dinner, passed a nice little outdoor seating on our way in, dark small interior with a medium sized bar, lots of bottles around and glassware, slightly cramped but that's Manhattan for you.
Service was alright, somewhat inattentive throughout the meal, there would be nobody for ten minutes and then suddenly a flurry of activity.
This was a Goose Island Beer Dinner, so their beers were featured with our meal. The food and beer were phenomenal, the food especially I give kudos to Resto, it was top notch and went well with each beer. Our beer dinner was Belgian themed, as is all of their food and beer.
Tab was expensive but reasonable. Overall, a great place, while I am not the Belgian beer zealot many are I can appreciate this place for its focus on beer and good food. Be sure to come in for one of their many beer dinners.
865 characters

4.83
/5
rDev
+10.8%
vibe: 5 | quality: 5 | service: 5 | selection: 4.5 | food: 4.5
went here for my birthday last night. Very very nice place upon entering, dim lighting sets the mood with the bar on the right and a very impressive shelf of proper belgian glasses and growlers. this place actually does have beer to go in growlers for 25 bucks with the growler and 20 to fill off premium belgian drafts. They menu was impressive with very nice authentic simple belgian cooking. we started with moule frites and had after suggestion by the ciccerone pretty things jack d'or saison. perfect combination. we then movedd to a pretty things pale ale style beer that went well with finishing the mussels and moving towards the belgian charachuterie platter of the best house bacon, sausages, cheese spread and sauces and breads. The ciccerone was very helpful and pointed us in the right direction for beer choices and foods. we finished with the beef rib over mustardy potatoes and had a pretty things dubbel that workd perfect and worked well with our belgian waffle. Really reccomend this place. for nyc and the location its in, its actually reasonable regardless of location. prices are around 15 bucks for a bomber, with specialty beers in the 20s and they have large format bottles for parties. a great belgian bar with belgian food. they have a lot of good belgians on draft and in bottles as well as a few american breweries with beglian styles like pretty things and goose island. they also have a small american craft beer list of non belgians to look through. again, its highly reccommended you go there is your in town.
1,542 characters
4.83
/5
rDev
+10.8%
vibe: 4.5 | quality: 5 | service: 5 | selection: 4.5 | food: 5
My Fiancee and I took an out of town friend big foodie, but not a huge belgian beer fan here for brunch. We were warned of a 30 minute wait, but by the time we got around to figuring out what we wanted while waiting at the bar, a table opened up. At the bar they had a few tap options, and a huge stack of glassware, supposedly the proper glass for each beer.
Upon sitting I gave a suggestion to our guest, (Mardsous 8) and I went in for a st. Bernardus. Our waiter was highly knowledgeble and made some suggestions, with samples.
Both the guest and I had the burger, and My Fiancee the French Toast. Both were absolutely top notch, and the dark belgians paired wonderfully. The serving sizes were a bit small, but no one left hungry. The fries were great too, especially with the creamy, mild mayonnaise
For Dessert, the Leige waffle is a must, Our party shared one, and I paired it with a rodenbach. Interestly, the waitress came back when I ordered it to make sure i understood that a rodenbach is a sour beer. I've had rodenbach before, so the warning wasn't necessary, but it demonstrated a knowledge of the beers being served above and beyond the "Hey what's Good?" question.
Despite having many of the beers, hunters of belgian exotics might not find anything totally new there, but for those who just enjoy great belgian beers perfectly paired with great food, resto is a great destination.
1,406 characters
Resto in New York, NY
4.36
out of
5
based on
17
ratings.