Francoise Bourgeois
| Microbrasserie de l'ile d'Orléans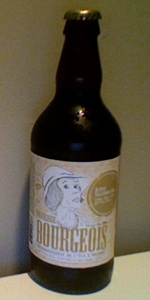 BEER INFO
Brewed by:
Microbrasserie de l'ile d'Orléans
Quebec
,
Canada
microorleans.com
Style:
Belgian Strong Pale Ale
Alcohol by volume (ABV):
9.00%
Availability:
Summer
Notes / Commercial Description:
No notes at this time.
Added by eat on 07-21-2009
Ratings: 11 | Reviews: 8
None found.
More User Reviews:
3.35
/5
rDev
-4.8%
look: 3.5 | smell: 3.5 | taste: 3.5 | feel: 2 | overall: 3.5
Medium yellow, with a small amount of white head, and a few drops of laceing. Aroma of sweet yeast, some spice, vanilla. Mouthfeel is a little thin, the carbonation burns the palate, and leaves a dryness. The taste itself is not bad, there is some musty yeast mainly, a little apple juice in the finish, corriander, white pepper. Somewhat drinkable, but not for everybody's taste.
380 characters
3.42
/5
rDev
-2.8%
look: 3.5 | smell: 4 | taste: 3 | feel: 3.5 | overall: 3.5
Another one from this brewery that looks so tasty and people seem to think is tasty but I just don't think it's tasty.
A- Nice light clear copper with a storm of carbonation bubbles. Nice head too. It's white, slightly frothy and creamy and thick enough. Some thickish lacing.
EDIT 10-21-10: Brother in-law left a bottle and so I had the chance to try it again. It really smells and tastes like PartyMix or ChexMix or ... goldfish crackers.
S- Started off with a nice belgian pale ale light herbal hop but it all flipped in the time it took me to describe the appearance. I now smell goldfish crackers. Pretty strange. Some creamy fruit, goyave maybe.
T- A hint of sweet maraschino cherry (really only a hint) with some grain followed by an standard/bland belgian pale ale and ending with very present alcohol. The alcohol is alright though not too strong and I hadn't even noticed this was a 9% brew. Goldfish cracker finish stands out to me amongst the usual grainy malt and soft (noble?) hops.
M- Medium carbonation. Mouthfeel is pretty full. About halfway to being considered dry. Quite enjoyable.
D- Good. Lacks finesse.
A different and fun beer to drink but... it tastes like crackers.
Thinking this is kind of expensive... even after taking it out of the fridge and discovering it's 9%
Wouldlike to try it on tap.
1,331 characters
2.43
/5
rDev
-31%
look: 3 | smell: 2.5 | taste: 2 | feel: 3.5 | overall: 2.5
Pours a beautiful amber colour; opaque with an airy, off-white head. No retention or lacing, the head completely disappears in a matter of seconds. Really nice colour but lacking everywhere else.
Really faint smell; it's hard to pick much out. Caramel, some hops and faint spices. Not much smell to speak of, probably due to the complete lack of head. What's there does smell like it could be nice if it were at all present.
Way too sweet. I haven't yet described a beer as cloying but here it is. The sour malt tastes similar to malt liquor. There isn't much to taste beyond that; just sweet, sour malt along with the faintest of background spices. This is probably the sweetest "Belgian" I've ever tried. Extremely dry, bitter finish. This literally dries out my mouth. Fairly present alcohol, although I suppose it is somewhat smooth for 9%. Tastes like a full-on 7-8%.
Decent enough feel; creamy medium body with a refreshing medium carbonation.
I bought this on a recommendation from the guy working in the beer store; it came highly recommended according to him. This beer is his first bad recommendation; I don't think anyone would be impressed with this. I was curious to try something from this brewery since I've never picked up anything from them. Like malt liquor, the only reason I would want to drink this stuff would be for the buzz. This isn't a drain pour but I certainly can't say it's good.
1,424 characters

4.1
/5
rDev
+16.5%
look: 4.5 | smell: 4.5 | taste: 4 | feel: 3.5 | overall: 4
Tasted on July 10, 2009.
This beer pours with a light veil. Golden yellow color with a nice huge head. The head is cloudy looking, I like it. The aroma is strong, fruity and belgian yeast. Fruit, I get mainly pears. Should be very refreshing. Taste is just like the smell was announcing. Fruity (again pears) and a little bit spicy. Refreshing. Drinkability is good. Very good summer beer which doesn't show it's 9.0% (dangerous!).
433 characters

3.16
/5
rDev
-10.2%
look: 2 | smell: 3.5 | taste: 3 | feel: 4 | overall: 3
A: Some cloudy dark orange, almost brown. Head is off white, is hard to get and do not last. Some lacing.
S: A bit faint, but interesting. Green apple, cloves, cinnamon, honey, bread, orange, pepper. The classic belgian smell. Makes me more think of a dubbel than a strong pale tho...
T: again, more of a dubbel than a strong pale. Very malty brew. Bread, caramel and honey is strong. Cinnamon and cloves are there, but pepper is a bit more hidden. Green apples, orange and pear are present. Hops bring a little of grapefruit. Alcohol is very well hidden, and balanced brew. The water they use at this brewpub has a lot of minerals and it serves well the brew here.
M: Heavy but not syrupy. Carbonation is mid.
D: Being this heavy is good when drinking but does not help to drink a lot. However, alcohol is well hidden.
823 characters
4.06
/5
rDev
+15.3%
look: 5 | smell: 4 | taste: 4 | feel: 4 | overall: 4
Bottle from Broue HAHA.
A - Pours a dark golden colour. Very hazy or cloudy. Very effervescent. Loose but pillowy like head of two fingers with a white colour. Crazy, thick rings of lacing with a full finger of retention. Beautiful.
S - Orange, banana, sweet spice, and yeast.
T - Woah. Much better than the aroma. Strong orange and banana coming in too. Yeast is pretty strong with some sweet spice. A pear-like fruit note as well.
M - Very good carbonation with a full body and a sweet but not cloying finish.
O/D - A pretty solid Beglian Strong Pale. All the flavour you're typically looking for in the style. It doesn't exactly stand out and could use a bit more hopping but I'm not complaining and happy I tried it.
726 characters

3.82
/5
rDev
+8.5%
look: 3.5 | smell: 4 | taste: 4 | feel: 3.5 | overall: 3.5
A: Hazy golden orange colour with a fuzzy two-finger head. Quickly recedes to a thin blanket and then to an outer ring.
S: Belgian yeast, strangely quite a bit of tropical fruits, honey, peppery spices, and subdued caramel malts in the background. Also picking up some alcohol.
T: Tropical fruit taste upfront, caramel malts, honey, peppery spice - much like the smell. Overall quite a decent and balanced BPA taste.
M: Rather thin for the style, and average carbonation.
D: I like this offering and would likely pick it up again. Unlike most of these styles, I don't find this product too overly sweet. Worth a try.
621 characters
3.57
/5
rDev
+1.4%
look: 3 | smell: 3.5 | taste: 3.5 | feel: 3.5 | overall: 4
This seems a little bit sub-par for Belgian Strong Pale Ale, and while its drinkable it wouldn't be something I'd hunt down again.
Francoise Bourgeois pours a rich burnished gold with two fingers of foamy white head, which eventually dies down to a film and leaves only a few spots of lace. Its appearance is promising as first, but transcends through to average and then on to disappointing. A fragrant aroma of flowers, grass and caramel greets the nose and there's also a strong spiciness, which blends in with grain and alcohol. While these smells take a while to appear, they are pleasant when they do arrive on the scene. The body is as you would expect for the style - medium weight and medium carbonation.
A bit of a mixed message so far, but let's move on to the flavour. Essentially this is a fairly standard Belgian Strong Pale Ale, but with a bit of a twist. Honey and caramel malts provide a background for a peppery spiciness. As with the aroma, grain mixes in with alcohol in the finish, and this makes it seem a bit heavier than it is. I feel that there are a fair few residual sugars in here, which helps to make it quite sweet, though I guess no more so than you'd expect. The peppery feeling of the finish really marks this out as unique, but I feel as a whole it doesn't quite work.
So there you have it - an average BSPA and nothing more. I'd be interested to try more of Orléans because there is a lot of promise here, and I'm curious if they are able to deliver on it. They certainly came through with their scotch ale, so I have hope. Thanks to zorprime for the bottle!
1,597 characters
Francoise Bourgeois from Microbrasserie de l'ile d'Orléans
3.52
out of
5
based on
11
ratings.