Louis Gaborit
| Microbrasserie de l'ile d'Orléans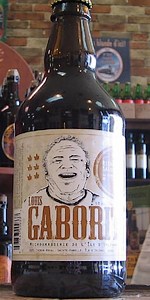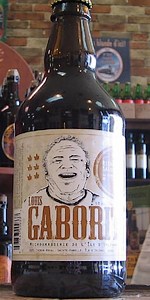 BEER INFO
Brewed by:
Microbrasserie de l'ile d'Orléans
Quebec
,
Canada
microorleans.com
Style:
Belgian Strong Pale Ale
Alcohol by volume (ABV):
9.00%
Availability:
Spring
Notes / Commercial Description:
No notes at this time.
Added by Yoonisaykul on 03-11-2010
HISTOGRAM
Ratings: 12 | Reviews: 10
None found.
More User Reviews:
3.67
/5
rDev
+5.2%
look: 3.5 | smell: 4 | taste: 3.5 | feel: 4 | overall: 3.5
Good sweet aromas, that's where I got more maple than in the taste. Above average mouthfeel, buffeted by the maple. Candi and carmel as well.Some hops, but basically a dessert liquor. Decent drinkability and darkish colour and thin white head.Bottle from marche Atwater.
270 characters
3.61
/5
rDev
+3.4%
look: 3.5 | smell: 2.5 | taste: 4 | feel: 4 | overall: 4
I'm having this maple syrup seasonal with my bacon and egg breakfast.
A- Liquid looked heavy and gooey while pouring. Nice brown-amber. Thin off-white head
S- Belgian yeast and cider is what I get right away while it's still pretty cold. Warming up releases some dried dark fruit aromas.
T- Strong alcohol taste. Something sweet but no real maple syrup. More like some type of vegetable. Flavors from the smell are also present here.
M- Medium carbonation. Not nearly as thick as I though it was while pouring it. Good medium body.
D- Refreshing. Offers a good drink. The 9% gets to you though, especially with breakfast.
I was expecting an american brown ale, so the Belgian yeast kind of came as a shock and didn't compliment my b&e that well. I still think it's a good beer. Nothing extraordinary though.
Doesn't taste like maple syrup. I can feel it's in here but nothing the right malt engineering couldn't offer. My girlfriend took a sip and asked me: ''If they're gonna write it on the bottle, why don't they put more maple syrup in it and make it taste like it.'' I didn't know what to say... ''maybe the brewer likes it like that''.
1,149 characters
3.5
/5
rDev
+0.3%
look: 3.5 | smell: 3.5 | taste: 3.5 | feel: 3.5 | overall: 3.5
Bottle: Poured a cloudy brown color ale with a nice thick foamy head with good retention and some lacing. Aroma consists of light residual sugar with some good notes of caramelized Belgian malt. Taste is also a mix of caramelized Belgian malt with residual sugar. Maple syrup is not a huge factor in this one. Body is quite full with good carbonation and no apparent alcohol. Well brewed with limited character.
411 characters

3.2
/5
rDev
-8.3%
look: 3 | smell: 3 | taste: 3.5 | feel: 3 | overall: 3
Wanted to try some maple syrup beer, since the season of maple syrup is here. The beer is brown color and very dark... not very beautiful since there is absolutely no head too. The aroma presents some notes of bananas, burnt sugar and no maple syrup... maybe it's the burnt sugar. It says it is made with maple syrup from l'Ile d'Orleans... but I don't remember how the maple syrup from that place taste or smell like. The taste of the beer shows some maple syrup but you have to think about it very hard :) I still get that burnt sugar in the taste.
The mouthfeel is warm due to the high ABV thus it warms up the body a little. Carbonation is present too, however not enough to produce a good head... or at least the appearance of...
735 characters
3.9
/5
rDev
+11.7%
look: 4 | smell: 4 | taste: 4 | feel: 4 | overall: 3.5
a: unibroue tulip, pours with a one-finger khaki head atop a deep grade B maple colored beer, light retention
s: dark caramelized and toffee malts with a solid Belgian yeast lean - mild clove and some flashes of overripe banana, great maple syrup aromas blend in well with the sweet malts, gotta disagree somewhat with the others - this aroma has maple written all over, date puree, very rich and dubbel-esque
m: carbonation around light-medium, smooth, with a sugary-slick medium-full body
t: lots of deep toffee, caramel, maple syrup, sugary dates, quite sweet, mashed banana, some yeasty spice trying to push through, moderate levels of pulpy hop flavor in the finish clean things up well, mild-moderate bitterness, with a roasty flavor lingering
d: quite liked this one, the booze here has a tough time pushing through the sugary aroma - but the effect comes on quickly, which leads me to the only hindrance to drinkability...that thorough sweetness, but it's also something I couldn't imagine a maple beer without
500 mL picked up at Dépanneur Peluso in Montreal, we did make it to L'Ile d'Orleans on the trip but it was an early-morning deal so no pub visit
1,169 characters

3.65
/5
rDev
+4.6%
look: 4 | smell: 4 | taste: 3.5 | feel: 3.5 | overall: 3.5
Bottle shared by Sammy, served in a snifter.
Poured brown with some lighter highlights, a light tan head and moderate retention and light lacing. Nose holds some sweetness that's not distinctly syrup, nuts and a hint of mild funk (?). Taste is a little more inline with my expectations of this, with some brown sugar, mild maple syrup notes and a lesser nutty characteristic. Medium full mouthfeel, and almost cloyingly sweet in the finish. Decent flavour overall, but too sweet for my liking without enough complexity to make this worth a revisit.
549 characters
3.8
/5
rDev
+8.9%
look: 3.5 | smell: 3.5 | taste: 4 | feel: 3.5 | overall: 4
Poured an amber-brown colour with thick off-white head that quickly dissipated. The smells starts of maple syrup and Belgian yeast. The taste is is like a Belgian ale, but with the maple syrup in there. I'm not sure if the syrup flavour integrates as well as it could, but it is still nice. I'd prefer a little bit more carbonation in the mouthfeel. Quite drinkable for 9% abv, I would have guessed it was lower than that.
422 characters

3.65
/5
rDev
+4.6%
look: 3.5 | smell: 3.5 | taste: 4 | feel: 3 | overall: 3.5
Although it's released as a Spring seasonal, the beer looks (and seems to me) more apt as an Autumn offering; it has a lovely glistening, earthy auburn colour whose lack of clarity and shadowy tone suggest darker, colder days are ahead. As well, its head, a nest-egg of spongy foam, looks like it's been stockpiled to last through a long winter.
The aroma, an initial metallic twang notwithstanding, is a pleasant bouquet of clove-like spice, sweet syrup, earthy hops and dried fruits - Belgian yeast is obviously at work here. The spiciness is appreciated although it marries all too well with the upfront and unabashed alcohol (together, they make heat, rather than sweet, the more noted of the two).
Seems to me this makes a pretty darn good Dubbel (and I'd be shocked to learn that wasn't what the brewer had intended). Caramelly malts, hints of sherry, spiced pumpernickel bread, bruised banana and a good shake of clove all adds up to a (seemingly authentically Belgian) delicious, entertaining and, as it warms, ever-evolving flavour.
Along with the plenitude of esters and phenols, there is a prominent booziness that tends to come and go, as if it were a game of 'peek-a-boo'. More malt would definitely have leveled that out. The maple syrup, in all honesty, is fairly useless. The beer would have been no worse-off without it; its inclusion goes virtually unnoticed.
Louis Gaborit is commemorated as a "gourmand" which could refer either to, in the modern usage, someone who appreciates fine food and drink, or, in the older French meaning, a glutton who characteristically ate and drank to excess. This beer doesn't really shed much light on it: it's not exactly gourmet fare nor does it seem appropriate for excessive consumption. In sum: it deserves appreciation, but it ain't the pinnacle of culinary arts.
1,830 characters
2.84
/5
rDev
-18.6%
look: 4 | smell: 2.5 | taste: 3 | feel: 2 | overall: 3
Bottle from Broue HAHA.
A - Definately not a PALE ale. Pours a murky, very dark brown with significant carbonation. One finger khaki head. Good retention with an alright amount of lacing.
S - Maple, sugar, caramel, toffee. Very weak.
T - Spice, yeast, and some other odd sweetness. After inspecting the bottle, this is apparently maple syrup, which makes quite a bit of sense. The syrup comes out pretty strong and aggressive, borderline un-appealing. Sugar and caramel come out as well. Overly sweet. A little nutty.
M - Strong carbonation with a full body and a cloying sweet finish that lingers offensively.
O/D - Can't do it. I won't be finishing this. Way too much maple syrup with cloying sweetness. If the maple were toned down and smoothed out with less harsh sweetness it could work. But not yet. After a while it opened up and became alot more caramelly and less cloying, but it was still not my cuppa.
918 characters

3.85
/5
rDev
+10.3%
look: 3.5 | smell: 3.5 | taste: 4 | feel: 4 | overall: 4
bottle shared by northyorksammy
Caramel colour, decent off white head, no real lace to speak of. Smell is of maple, sweet caramel like notes, barnyard notes, funky, brett like, some alcohol. Taste is of funk and maple, some alcohol, wheat, slightly toasted. Med-high carb, good feel, lightly syrupy. Good stuff here, very nice understated brew.
345 characters
Louis Gaborit from Microbrasserie de l'ile d'Orléans
Beer rating:
3.49
out of
5
with
12
ratings