Autumn Wheat Ale
| Mayflower Brewing Company
BA SCORE
80
good
35
Reviews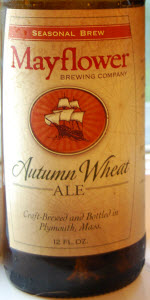 BEER INFO
Brewed by:
Mayflower Brewing Company
Massachusetts
,
United States
mayflowerbrewing.com
Style:
American Dark Wheat Ale
Alcohol by volume (ABV):
5.80%
Availability:
Fall
Notes / Commercial Description:
No notes at this time.
Added by mcallister on 08-18-2010
Reviews: 35 | Ratings: 114
2.51
/5
rDev
-27.7%
look: 4 | smell: 3 | taste: 2 | feel: 3.5 | overall: 2
This is a new style for me and I was shocked by what I saw. Wheat beer and it is dark..way dark.
Nice thin layer of floating foam that lingers. Just dark, dark...body of the beer is typical wheat.
The smell is somewhat malty which makes sense given the dark wheat style which I assume comes from more malt than normal american pale wheat.
The taste is ok at first, but it gives way to a real open, airy fluffy mouthfeeling feel.
This is not an enjoyable drink. Accordingly, headed to the drain.
498 characters

3.9
/5
rDev
+12.4%
look: 4 | smell: 4 | taste: 4 | feel: 3 | overall: 4
Well, it certainly is different.
Crystal clear dark brown with a smoothed out tan head. Consistent retention leaves a few lacey webs. Aroma is dry dirt, toasted pumpernickel and char. Has a vanilla/licorice barrel aged type of sweet going on too. Taste like German dark wheat bread with bitter drying in back. Mild caramel sweetness to balance the roasted elements. Spicy. Highly carbonated and fairly thin which is the only flaw in this beer.
Mayflower is one of my favorite breweries due to the inherent earthy flavors in all their beers and this one falls right in line. Don't see this style to often. Great, great campfire beer.
635 characters
3.5
/5
rDev
+0.9%
look: 3.5 | smell: 3.5 | taste: 3.5 | feel: 3.5 | overall: 3.5
pours a dark ruby brown with a nice sized khaki head, that fades to a film.
the aroma is sort earthy and rootbeer-y.
the taste has got some clean dark malty flavors(mostly chocolate), along with rootbeer and licorice it's also got some earthy hops going on with a moderate bitterness. the wheat seems to serve to lighten the beer and give it a little bit of that wheat tang.
the mouthfeel is just shy of medium bodied with moderate carbonation.
the drinkability pretty good, it's a pretty unique beer with some interesting things going on, but it lacks cohesion in my opinion. i can't see myself drinking more than a couple, the tang catches up with me. overall a good concept and pretty good execution.
703 characters
2.54
/5
rDev
-26.8%
look: 4 | smell: 2.5 | taste: 2.5 | feel: 3 | overall: 2
Picked up a bottle to try this interesting new style.
First impression that the beer was much darker than I even imagined. Dark brown in color with good clarity despite the deep color. A finger of off white head that fades to a thin foamy cap. Some light lacing.
Aroma is of dark roasted malt with a grainy quality to it.
What's interesting is that the flavor follows the aroma.. Dark roasted flavor with a really distinct grain flavor. Some bready tomes at the finish and the aftertaste is almost burnt in your mouth. The almost harsh grain flavor is not that appealing.
Very little carbonation almost oily.
Not very interesting to be honest.
648 characters
2.95
/5
rDev
-15%
look: 4 | smell: 4 | taste: 2 | feel: 3.5 | overall: 3
I had high hopes for this beer but I was sorely disappointed. The beer pours a very dark ruby brown even for a dark wheat beer. The looks much more like a porter than anything else. There is some nice tan creamy head, some lacing. The retention is respectable. The nose is quite nice, although it isnt all that characteristic for the style. There are slightly charred dark malts, some cocoa flavors in the nose, some sweetish malts, maybe a hint of peat or bark in there too. The nose is nice, not really in line with the style, but nice nevertheless.
The beer is fairly medium bodied, decently carbonated, and more creamy on the tongue than not. The taste is a deal breaker. It tastes like there is rye and bittering spices which really do nothing to endear me to this beer. The back end is just hard to take. At first I thought maybe there were some Bretty yeasts going on, than maybe some spices, maybe an odd variety of hop, maybe some rye wheat. I'm not sure what is causing this somewhat harsh bite in the finish, but it isn't good. The coarse wheaty feel is pretty much absent from the beer. There are plenty of slightly charred brown malts, some crystal malt I'm sure, but it comes down to that really harsh finish that just slays this beer for the worse. One and done for me.
1,285 characters
3.76
/5
rDev
+8.4%
look: 4.5 | smell: 3.5 | taste: 4 | feel: 3.5 | overall: 3.5
Dome settled head that leaves some chunky clumps of lace. Ruby brown color where only the faintest of light passes.
The smell reminds me of tree bark. More conventionally, I detect some darker, dry malts with what I believe to be black patent.
Flavorful dark malts, light bittering hops. The body is quite thin with an average level of carbonation. I taste things similar to bark like sassafras. This is a dry beer with a very short aftertaste.
447 characters

3.43
/5
rDev
-1.2%
look: 4 | smell: 3.5 | taste: 3.5 | feel: 3.5 | overall: 3
Served in a standard pint. Poured a dark, reddish-brown with ruby highlights around the base. Head was a half inch, loose and cream-colored. Nose was malty with a suggestion of lactose. Taste consistent with nose - toasted, medium-dark malts and a hint of nutmeg in the mix. Mouthfeel was light-medium, but had a somewhat water consistency, and carbonation was a bit fizzy. Flavors seemed a little muddled for me. Unfortunately, the whole package didn't really come together in my opinion.
489 characters
3.65
/5
rDev
+5.2%
look: 4 | smell: 4 | taste: 3.5 | feel: 3.5 | overall: 3.5
Clear, dark brown with a reddish hue -- more coppery than chestnut in tint. The fizzy beige cap fell quickly to a collar, which clung to the glass and left some short-lived, spotty lace behind. The aroma was sweet with dark, earthy malts (caramel and bread crust) and dried fruits - raisins mostly, but a bit of fresh plum as well. Slightly spicy. Balanced up front, herbal bitterness and bready malt, caramel, ripe plums. As the malt faded, the bitterness really took over, lingering long into the finish. It was much harder to pick out any spicy character in the flavour, but it was there towards the end once the beer warmed up a bit. Medium bodied with low carbonation, palate coating with light astringency. Quite smooth in texture. An interesting beer overall. I enjoyed it from start to finish.
801 characters
3.62
/5
rDev
+4.3%
look: 3.5 | smell: 4 | taste: 3.5 | feel: 3.5 | overall: 3.5
A bubbly fizzy head of about 1/2 finger just hangs out for a while not really fading at all, the beer is much darker than I thought and it's like a super dark molasses brown almost black color. When the head eventually fades it leaves a light lacing on the sides of the glass.
The nose is loaded with wheat, dark wheat and sweet aromas, reminds me a lot of a doppelbock. Some dark roasty malts and various crystal malts, a nice toasty and roasty as well as sweet and lightly syrupy aromas. A little fruit as well, dark dried fruits, almost a concord grape like musty fruit aroma.
The taste comes off similar to a bock as well, but not as much as the nose. It has lots of heavy wheat flavors, semi sweet and even a little creamy. It also has a slight dry quality to it. A light toasty and roasty dark malt flavor with hints of dark fruits and juicy. A little chewy as well as the dark malts pick at me. There is a hint of minerality as well from the dark roasty malt flavors, and I think I get a hint of diacetyl with a little creamy buttery flavor, and a hint of biscuit. Also comes with a hint of a nutty flavor, almost a nutmeg like spiced nut flavor.
The mouth is creamy and medium to lighter bodied with lower but decent carbonation.
The finish comes mostly dry with a little lingering sweet syrupy flavor remnants. Some bitterness comes through as well, but just a little. More of the minerality flavors and more diacetyl. A slight dark wheat and bock flavor still, and hints of dark malts again. It gets very sticky and flemmy with the sticky flavors and dry feel combined.
1,584 characters

3.55
/5
rDev
+2.3%
look: 3 | smell: 3 | taste: 4 | feel: 3.5 | overall: 3.5
This is a very dark reddish brown brew with nice carbonation out of the bottle. Roasty aroma. Flavor is not like your typical dunkelweizen. American yeasts, apparently. Flavor is quite roasty, almost a bit smoky. Kind of like a pseudo-porter or deep brown ale. Mouthfeel is medium and it finishes with roasty-bread notes. Very drinkable.
337 characters
Autumn Wheat Ale from Mayflower Brewing Company
3.47
out of
5
based on
114
ratings.