Mayflower Spring Hop
| Mayflower Brewing Company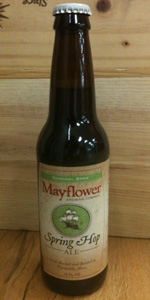 BEER INFO
Brewed by:
Mayflower Brewing Company
Massachusetts
,
United States
mayflowerbrewing.com
Style:
American Amber / Red Ale
Alcohol by volume (ABV):
5.30%
Availability:
Spring
Notes / Commercial Description:
No notes at this time.
Added by Reagan1984 on 03-12-2011
Reviews: 88 | Ratings: 278
3.75
/5
rDev
-7.6%
look: 4.25 | smell: 3.5 | taste: 3.75 | feel: 4 | overall: 3.75
12 oz bottle was poured into a pint glass.
Appearance: This beer poured a one finger head that reduced to a thin layer and left some nice lacing on the glass. It is a deep copper and amber color with good clarity and bubbles coming up through the glass.
Smell: Caramel and bready malts with some citrus and piney aromas in the rear. The scent is a bit on the light side and would be a lot better if it were more fragrant.
Taste: Same as above. Hops are nice with some lingering bitterness in the end.
Mouthfeel: Creamy and silky smooth, medium carbonation, and medium bodied.
Overall: Pretty nice amber/red. The taste could be cleaner and the aroma more noticeable, but I'm happy with this one.
700 characters

3.75
/5
rDev
-7.6%
look: 4 | smell: 4 | taste: 3.5 | feel: 3.5 | overall: 4
12oz bottle into Duvel tulip. Packaged 2/17/12. Thanks to BA morningthief for picking me up this beer.
Appearance: Free pour yields a three inch, frothy and bubbly, bone-white head that dissipates slowly and leaves a few rings of lacing. Pours a semi-translucent dark, brownish red, and leaves occasional lacing islands.
Smell: Citrusy hops, with a sweet mango note. Interesting dark malt background aromas that are difficult to describe further, but good.
Taste: Bready malt up front, with subdued citrus and mango hop flavor in the background. High bitterness relative to the rest of the flavor (gives a refreshing impression, at least for me). White bread aftertaste.
Good malt flavors, decent hop flavor. Well put together beer. Nothing flashy, but nothing to complain about either.
Mouthfeel: Medium bodied, a bit watery sometimes. Good carbonation (high side of moderate). Crisp, semi-dry finish.
Overall: Solid beer. Ideally would be consumed on tap, in abundance, with good company and/or over a good meal.
1,020 characters
3.74
/5
rDev
-7.9%
look: 4 | smell: 5 | taste: 3 | feel: 3 | overall: 4
The first impression after evaluating the appearance and aroma was that this is a well-made beer that was going to deliver a lot interesting flavor. The color is medium amber, and the nose is very fragrant with dark and heavy aromas that are consistent with the color.
However, it doesn't follow through on the palate. It's light at the beginning with citrus and spice and finishes with a pleasant amount of hops accented my some malt. The problem is it does develop as much intensity as its nose leads you to expect. Maybe if the nose wasn't as powerful, the overall impression would be better since there wouldn't be such a disconnect between the nose and palate.
Since the beer was tasted on the day it was bottled, it was definitely as good as it gets. As a final thought, if you consider the price of $10 for a 12oz six pack, it is a good value. Anything better would definitely cost more.
898 characters

3.74
/5
rDev
-7.9%
look: 4.5 | smell: 3.5 | taste: 3.75 | feel: 3.75 | overall: 3.75
My first Mayflower brew, an in-state brand I had overlooked out of ignorance. Attracted by the name and by the fact I had read somewhere it is a good brewery.
Bottled on Feb. 16(?) 2014. Hard to read the numbers printed over text on the label. Self-served at 48 degrees.
Poured from the 12 oz. bottle into a Tree House snifter.
a: Clear copper with an inch tall white head which receded to considerable surface foam and dense lacing.
s: Bready malt
t: Mild biscuity malt under a moderate hop bite. Some dark fruit notes appear later.
m: Light to moderate, good body.
o: A pretty good dinner drink, just not an awful lot of flavor, especially at first, leaving the hop bite prominent. Looks like it will be full of flavor, but comes up a bit short.
754 characters

3.73
/5
rDev
-8.1%
look: 4 | smell: 4 | taste: 3.5 | feel: 3.75 | overall: 3.75
Bottle from the Lazy dog
Lightly hazy red amber color with a huge frothy off white head. Big pine and resin with some citrus on the nose. Plenty of bread and caramel and just a touch of chocolate to round things out. Drinkable with an old school feel to it.
257 characters
3.66
/5
rDev
-9.9%
look: 4.25 | smell: 3.75 | taste: 3.5 | feel: 3.5 | overall: 3.75
From the 12 fl. oz. bottle that appears to be stamped 1/30/13. Sampled on June 18, 2013.
The pour is a very attractive medium amber but there's little to no head and the carbonation seems a little slow and stagnant.
The aroma has a fine floral character like the blossoms of a New England spring. Also a moderate caramel malt character but it it still overpowered by the hops.
The body is medium with a vague acidic texture.
Wonderful hoppy taste with additional flavors of biscuit malts and sweetness. But even though the hops are predominant they still do not result in a biting bitterness.
597 characters
3.65
/5
rDev
-10.1%
look: 4 | smell: 4 | taste: 3.5 | feel: 3.5 | overall: 3.5
Poured on-tap and served in a tumbler pint, the beer is a vibrant, slightly opaque, blended copper-amber coloring with a frothy, big bubbled, off-white head that settles into a filmy coating of the surface. Aromas are very well blended, with a complex malty backbone of caramel, nut, and toffee giving rise to a hoppy, floral, and resiny highlight. Flavors are hop forward, with a green and resiny hops presence overlaying a solid caramel and toasty malt backbone. There are some buttery toasted characteristics throughout, and even a buttered popcorn flavor at some points. Good, complex flavor profile. The aftertaste is mild, with a resiny and bitter blend, leading to a bitter and somewhat resiny, drying finish. Almost astringent. Decent brew, giving an interesting twist to the red style.
794 characters

3.62
/5
rDev
-10.8%
look: 3.5 | smell: 4 | taste: 3.5 | feel: 3.5 | overall: 3.5
Mayflower Spring Hop has a translucent, brown body and a creamy tan head. Pretty good retention and some decent lacing.
The aroma is pretty good, with loads of orange, lemon, and a little bit of floral scents. Very hoppy, with just a bit of sweet, biscuit-like malt in the background.
The flavor isn't nearly as hop-centric as the aroma suggests. Up front comes a blast of orange, some grapefruit and just a hint of lemon. A little bit of grass. The malt comes in and takes the beer over, with biscuits and a little bit of molasses.
Medium bodied and well-carbonated.
I liked the aroma of this one more than I liked the flavor. Not bad at all though.
654 characters
3.53
/5
rDev
-13.1%
look: 4 | smell: 3.5 | taste: 3.5 | feel: 3.5 | overall: 3.5
Bottle into nonic pint
Got about three fingers of light colored head with an aggressive pour. A little pillowy on top. Color is a nice deep, dark amber red/brown. There's a bit of chill haze but it is short lived. Some lacing but not much.
Smell is very piney and resiny. It's a sharp smell and you could probably pick up the hops off this one from 7-8 feet away. Some citrus comes through as well but it's more pith than fruit.
The taste has a lot more of the pine at first. That fades out some to let malt come through towards the end of the taste. Bitterness hits pretty well at and I think it could use more balancing out. Maybe the hop high point doesn't have to be so high. Any fruit I get in the taste is not sweet but tending towards bitter, much like how the smell was. The sharpness of the pine lessens somewhat as the beer warms up a little but it is still the dominant flavor. This also makes the beer feel a little smoother overall with the malt coming forward some more.
Mouthfeel is good overall. The carbonation is somewhat prickly on the tongue. Aftertaste feels neither wet nor dry to me. Comes off fairly neutral. The bitter citrus lingers but not that strongly.
I like a hoppy amber. Zoe from Maine Beer Co. was great for me. However, Spring Hop feels like it needs some evening out. The malt didn't present enough overall for my taste and I kept feeling more like I was having an IPA at points than an amber. This is not to say the beer was bad in any way. It was fresh and very tasty but just not quite what I'd had in mind going in. The total is not equal the sum of the parts when I work out the scoring. I'd be happy to try Spring Hop again and perhaps I'd enjoy it more while not thinking in terms of a review.
1,760 characters

3.53
/5
rDev
-13.1%
look: 4 | smell: 3.5 | taste: 3.5 | feel: 3.5 | overall: 3.5
Thanks goes out to TheManiacalOne for this beer.
PKG 04/07/11
Pours a nice clean/clear dark golden amber color, nice carbonation, nice one-finger creamy off-white head, with some nice sticky lacing left behind. The nose is big on malts, with some slight spice note. The taste is sweet, malty, slightly spicy. Medium Body. A tasty brew.
337 characters

3.47
/5
rDev
-14.5%
look: 5 | smell: 3 | taste: 3.5 | feel: 3.5 | overall: 3.5
Pours a three-finger cream head that fades slowly leaving a good lace. Nice crystal clear, deep amber color. Good carbonation and medium bodied. Nose is light grapefruit hops, flavor is grapefruit, bread and tiny hints of caramel. Close to an IPA. Lingering bitter aftertaste. $1.79 for a 12oz bottle from Kappy's Fine Wine & Spirits Peabody, Ma.
346 characters
3.47
/5
rDev
-14.5%
look: 3 | smell: 3.5 | taste: 3.5 | feel: 3.5 | overall: 3.5
Poured into a Wachusett Brewing pint glass.
A: Poured with a pinky of off-white head. Crystal clear brown with slight ochre highlights.
S: Hoppy. Not overpoweringly so, but the piney hop qualities are all I could really notice.
T: And again, as the name might already have you expecting, this one comes out hoppy. Pine needles and a little pale malts with some bitterness throughout and a touch of toastiness on the end.
M: Light and sticky and foamy. Like drinking a rabbit.
O: I need to stop trying very highly rated brews where hops are playing the main stage. Not that I can't enjoy them, or didn't enjoy this, but I feel like I'm not getting as much out of it as others are. An enjoyable clean brew that tastes a little like a coniferous forest. Good if you're into that sort of thing.
795 characters
2.8
/5
rDev
-31%
look: 3 | smell: 3 | taste: 2.5 | feel: 3 | overall: 3
A: rich medium amber with a dense, easily-resuscitated khaki head. The aroma picked up bready and lesser fruity notes topped by resiny pine and earthy hoppage.
T: The flavor found bread and biscuity malts at the core, with earth and light fruity bitterness around, tacky caramel and biscuit malts plus some unidentifiable bitterness on the finish.
M: Medium-bodied, but with a thicker feel at times on the palate.
overall a decent brew.
439 characters
Mayflower Spring Hop from Mayflower Brewing Company
4.06
out of
5
based on
278
ratings.