Mayflower Spring Hop
| Mayflower Brewing Company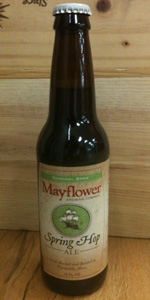 BEER INFO
Brewed by:
Mayflower Brewing Company
Massachusetts
,
United States
mayflowerbrewing.com
Style:
American Amber / Red Ale
Alcohol by volume (ABV):
5.30%
Availability:
Spring
Notes / Commercial Description:
No notes at this time.
Added by Reagan1984 on 03-12-2011
Reviews: 88 | Ratings: 278

4.57
/5
rDev
+12.6%
look: 4 | smell: 4.5 | taste: 4.5 | feel: 4.5 | overall: 5
A-A real nice looking ale with a solid head that stays around for a bit. Deep red color. Almost looks like a red delicious apple.
S-A real hoppy, floral smell. Creamy smell as well. Very nice.
T-Creamy taste with a mild hop kick. Mild spice notes as well. Very tasty.
M-Creamy feel within the mouth. Very pleasing on the palate.
O-I heard about this beer online and couldn't wait to try it and it totally did not disappoint. This is a hell of a beer and possibly the best offering from Mayflower. Well done.
513 characters
3.53
/5
rDev
-13.1%
look: 4 | smell: 3.5 | taste: 3.5 | feel: 3.5 | overall: 3.5
Bottle into nonic pint
Got about three fingers of light colored head with an aggressive pour. A little pillowy on top. Color is a nice deep, dark amber red/brown. There's a bit of chill haze but it is short lived. Some lacing but not much.
Smell is very piney and resiny. It's a sharp smell and you could probably pick up the hops off this one from 7-8 feet away. Some citrus comes through as well but it's more pith than fruit.
The taste has a lot more of the pine at first. That fades out some to let malt come through towards the end of the taste. Bitterness hits pretty well at and I think it could use more balancing out. Maybe the hop high point doesn't have to be so high. Any fruit I get in the taste is not sweet but tending towards bitter, much like how the smell was. The sharpness of the pine lessens somewhat as the beer warms up a little but it is still the dominant flavor. This also makes the beer feel a little smoother overall with the malt coming forward some more.
Mouthfeel is good overall. The carbonation is somewhat prickly on the tongue. Aftertaste feels neither wet nor dry to me. Comes off fairly neutral. The bitter citrus lingers but not that strongly.
I like a hoppy amber. Zoe from Maine Beer Co. was great for me. However, Spring Hop feels like it needs some evening out. The malt didn't present enough overall for my taste and I kept feeling more like I was having an IPA at points than an amber. This is not to say the beer was bad in any way. It was fresh and very tasty but just not quite what I'd had in mind going in. The total is not equal the sum of the parts when I work out the scoring. I'd be happy to try Spring Hop again and perhaps I'd enjoy it more while not thinking in terms of a review.
1,760 characters
3.98
/5
rDev
-2%
look: 4 | smell: 3.5 | taste: 4.5 | feel: 4 | overall: 3.5
12 oz bottle. Drank on 5/22/11. Many thanks to scottfrie for sharing.
A: Pours a DEEP red with a medium head (~one finger). I can't figure out why, but the color is entrancing.
S: Hoppier than I was expecting, but not overwhelmingly so. Definitely a hint of malt, but not as robust as I thought it would be. Very simple, without much depth.
T: Here is where the beer starts to distinguish itself. Hops and malt are nicely balanced, with the slightly citrus flavor countered well by the lightly spiced malt. Definitely not the taste that's suggested by the nose.
M: Not as heavy as I'd like, almost to the detriment of the balanced nature of the flavor. I like the finish as it's nice and dry, not cloying in the least.
O: A very solid amber, but not quite the fantastic brew I was hoping for. I would definitely drink again, and would even pay for it, but it just missed blowing me away.
892 characters
4.12
/5
rDev
+1.5%
look: 4 | smell: 4.5 | taste: 4 | feel: 4 | overall: 4
A - nice dark copper/red. Usual UBH head but lace clings nicely. A lot of red beers on the bar this afternoon. This looks the same as SA Brick.
S - is very nice. This ranks up there with Flower Power for big noses. Smells like a pine forest after a spring rain.
T - Surprisingly thin at first. Takes a few seconds for the hops to kick in on the sides of the tongue. Slightly bitter aftertaste but expected with IBU level. Haven't checked yet but I expect this is dry hopped to account for the finish.
MF - As I said, a bit watery up front but it fills up the mouth and taste lingers.
D - still not doing overall, sorry. I think drinkability is better metric. This is good but not until Boston breaks out of the cold. This would be good with BBQ chicken with spicy butter/lemon sauce PR Lobster & drawn butter.
813 characters
3.86
/5
rDev
-4.9%
look: 4 | smell: 3 | taste: 4 | feel: 4 | overall: 4.5
12 oz bottle into my Opa-Opa Pint Glass
A - deep orange, very foamy. Settles down quickly, with some nice lacing. Not cloudy.
S- sweet resiny hops smell. Not overpowering.
T - crisp hops bitterness out front, a little sweetneess and vanilla malt follows.
M - tingly bubbles, a little bit of stickiness, but not as full as some others. Fairly light going down actually.
O - drinkable, nice beer. Not an extreme hoppy beer, compared to some I've been drinking recently, just nice balance. Extra point for local.
511 characters
4.05
/5
rDev
-0.2%
look: 4 | smell: 4 | taste: 4 | feel: 4.5 | overall: 4
12 oz bottle poured into a Murphy's Imperial Pint Glass (tulip-esque, not sure what else to call this)
Bottle dated: "PKG 4/07/11"
A-> Pours a beautiful reddish/copper/amber hue with a beefy 2 fingers worth of creamy white head. As it recedes, it leaves a nice coat of sticky lacing behind. Some widespread yet sparse nucleation in the glass.
S-> Smells fruity and hoppy right off the bat. Getting that "amber-ish" aroma after a bit as well. Further sniffing reveals a citrus and pine hop aroma that is probably the most prevalent in the nose. Some nice floral scents emerge as well.
T-> First few gulps hit with a mild bitterness that coats the tongue with an almost spicy taste and leaves a faint hint of cinnamon lingering on the immediate aftertaste. Almost get a creamy mint flavor on the next few sips initially which fades into an earthy and woody flavor that is both mild and refreshing. (Invokes thoughts of Winter transitioning to Spring for the beer connoisseur as in the transition from bold stouts and porters, to lighter spring ambers and the like.) Still get a bit of faint cinnamon mint on the aftertaste as this beer warms, but it not a detraction, just an observation. Getting more of the herbal and floral notes as this warms as well. Citrus too. Delicious and mild.
M-> Carbonation is so wonderfully perfect. Right amount of bubbly bite with a mild and creamy smoothness at the same time. Leaves a pleasant coating on the tongue and top of the throat that just begs for another sip. Crisp, light, and refreshing.
O-> Really love this brew. Not usually a big amber fan per se, but this is one that I really enjoyed. After having it several times it was time for a thorough review. The bitterness did get too be a bit much for the style towards the end, however that is hardly a fault in an otherwise stellar concoction.
1,858 characters
4.43
/5
rDev
+9.1%
look: 4.25 | smell: 4.25 | taste: 4.5 | feel: 4.5 | overall: 4.5
Pours a brown color but pretty transparent, hinting at the overall lightness of the beer. The smell has a hoppy fragrance over the malt. The taste is delightful. A deceptively light malt base despite the full flavor carrying an almost session IPA-like hop profile that also is light but impressively floral. The feel is similarly appreciated. An exceptional, stand-out springtime hoppy brown.
392 characters

4.6
/5
rDev
+13.3%
look: 4.5 | smell: 4.5 | taste: 4.5 | feel: 4.5 | overall: 5
I do not drink the same beer twice very often. The first time I had this on draft(Union Brew House), I ordered it twice. An excellent amber! Even better that it comes in at 5.2%. The nose has a lot of floral hop notes that are balanced by sweet malt notes. Spice comes across. like rye. This is a delicate easy drinking beer with few to no flaws. I have been begging for it to become a year round offering but do not see that happening. I have three current favorite ambers. This is number one, with White Birch's Hop Session and Maine Beer Co.'s Zoe close seconds.
565 characters
3.84
/5
rDev
-5.4%
look: 3.5 | smell: 4.5 | taste: 3.75 | feel: 3.5 | overall: 3.5
Bottled 3/17/13 Bought at Quality Liquors in Salem.
A - Dark amber color, was not expecting it to be so dark and my fears were later confirmed that this was a much more malt balanced beer than the title indicated. Nice bubbly head but it didn't last very long at all.
S - Best part of the beer. Fresh hop aroma, citrus-grapefruit and malt together great combination.
T - Has a nice hop taste up front, but there was a whole lot of malt taste in this beer considering how fresh I bought it, and because the beer didn't have much carbonation which lead to a light english style flavor.
M - Although the head was well formed, the beer was sort of flat and didn't carry the malt over as well. This could be a potentially delicious cask ale.
O - Nice ale to warm up with while the spring is coming on. Darker than most other spring style or session ales. Quality choice for the value in a six pack, especially if you're a fan of mayflowers other beers.
956 characters
4.3
/5
rDev
+5.9%
look: 4 | smell: 4 | taste: 4.5 | feel: 4 | overall: 4.5
Had from cask at the Birtish Beer Company in Framingham, MA.
A- Amber with 1 finger head
S- Hoppy and floral, but also caramel malt tones
T- Medium taste of bitter hops combined with a medium caramel taste made for a refreshing and tasty beer.
O- A lucky find at the BBC in MA and I will be searching this one out again in the future.
340 characters
3.74
/5
rDev
-7.9%
look: 4 | smell: 5 | taste: 3 | feel: 3 | overall: 4
The first impression after evaluating the appearance and aroma was that this is a well-made beer that was going to deliver a lot interesting flavor. The color is medium amber, and the nose is very fragrant with dark and heavy aromas that are consistent with the color.
However, it doesn't follow through on the palate. It's light at the beginning with citrus and spice and finishes with a pleasant amount of hops accented my some malt. The problem is it does develop as much intensity as its nose leads you to expect. Maybe if the nose wasn't as powerful, the overall impression would be better since there wouldn't be such a disconnect between the nose and palate.
Since the beer was tasted on the day it was bottled, it was definitely as good as it gets. As a final thought, if you consider the price of $10 for a 12oz six pack, it is a good value. Anything better would definitely cost more.
898 characters
4.35
/5
rDev
+7.1%
look: 4 | smell: 4 | taste: 4.5 | feel: 4.5 | overall: 4.5
Appearance is dark amber; darker than I was expecting for a spring hop beer, but nice color and decent lacing.
Smell is almost more like light orange or tangerine to me, with a hint of the typical grapefruit.
Taste is grassy with a hint of caramel on the side and the malt comes in as well. Not too flowery but that's OK for this one.
Mouthfeel is great and the taste stays with you.
Very drinkable and I think the ABV is manageable for being a session beer. Overall, a great beer from Mayflower; up there with their IPA, which I think is one of the best IPA's in the Boston area.
586 characters

4.08
/5
rDev
+0.5%
look: 4 | smell: 3.5 | taste: 4.5 | feel: 4 | overall: 4
First Review on BA.
Serving Type -- Two 12oz bottles, in a big "20 oz" beer mug that actually fits 23.90 oz. Not quite a maskrug, but a worthy vessel in any case. (for $1 @ Dollar Store, by the way. Check the endcaps.)
Appearance -- Color is surprising for such a hoppy ale, would expect far more malty tones based on presence of red. Before pouring, I had assumed it was closer to the IPA-ish end of the spectrum, based on what I had heard about hoppiness levels. Once poured, no longer sure what to expect. Color is dark, a brown-with-heavy-red overtones, but is misleading relative to taste.
Smell - Despite owning a "power nose", tough to discern anything unique. Similar to an IPA, as best i can make out.
Taste - First, immediate, taste on a clean palate is truly redolent, in a big way, of copper or other metal (Amstel Light or Strohs, almost "rusty"), but almost ****<b><u>immediately</b></u>**** (within seconds) is superseded by the big big big big big big big big "Big Pine Tree" hops tones. Afterwards, some malty aftertastes, mixed with bitter hops.
Mouth Feel -- I am not sophisticated enough to put a fine point on things related to mouth feel, but my impression is that this is lighter/smoother than a stout or porter or even a heavy nut brown. Feels about as heavy as a IPA or lager. Liquid, not creamy in any way. Crisp.
Overall -- Wow. Talk about crazy good hop combo. Pine trees. Big pine trees. Very unique, intense combination of flavors. Color adds to overall surprise/wow factor. Me likey.
Tranquilo.
1,558 characters
Mayflower Spring Hop from Mayflower Brewing Company
4.06
out of
5
based on
278
ratings.