Black Bear Ale
| Smoky Mountain Brewery & Restaurant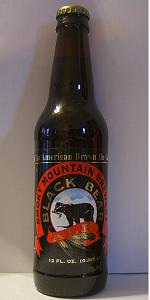 BEER INFO
Brewed by:
Smoky Mountain Brewery & Restaurant
Tennessee
,
United States
coppercellar.com
Style:
American Brown Ale
Alcohol by volume (ABV):
5.40%
Availability:
Year-round
Notes / Commercial Description:
No notes at this time.
Added by Beeryce on 02-20-2008
Reviews: 6 | Ratings: 19
2.84
/5
rDev
-2.4%
look: 2 | smell: 3 | taste: 3 | feel: 2.5 | overall: 2.75
on tap at Pigeon Forge location
way to light in color to be called a brown ale. clear amber color. malty , but not thick or bold enough. overall a miss on the traditional style.
181 characters
3.52
/5
rDev
+21%
look: 3.75 | smell: 3.5 | taste: 3.5 | feel: 3.5 | overall: 3.5
Poured on-tap at the Pigeon Forge brewpub and served in a shaker pint, the beer is a crystal clear, copper gold coloring, with a halo of white head. Aromas of toffee and caramel, richly sweet. Flavors are roasted nut and toffee sweet forward, with a cream and char backbone. Smooth, clean bodied, with a roasted nutty aftertaste. Smooth, crisp, clean finish.
358 characters
2.51
/5
rDev
-13.7%
look: 3.25 | smell: 2.25 | taste: 2.5 | feel: 2.75 | overall: 2.5
First had: on tap at the Pigeon Forge brewpub
Darker amber pour, slightly hazy, with a thin cap of off-white head that didn't linger too long; minimal lacing. Not much in the nose, caramel malts and some fruity esters. In the taste, caramel malts, toasted grains, and a seemingly misplaced apple skin sensation...seemed like an off-flavor to me, otherwise if they were actually going for this in the flavor profile, I have to ask: why? Light-medium body, bland, off-flavored (my verdict), not recommended.
506 characters

3.33
/5
rDev
+14.4%
look: 3 | smell: 2.5 | taste: 4 | feel: 3.5 | overall: 3
I bought a bottle from the brewery (Pigeon Forge location) while I was on vacation with my wife and consumed this in a hotel room in Nashville.
Served in a clear plastic cup.
A: Not as "brown" as I was hoping, and the head was about a 1/4 finger or so. Mild chill haze, mild visible carbonation.... Whatever.
S: Like most Smoky Mountain brews, I got nothing. Apparently dry-hopping isn't in their vocabulary.
T: more "nut brown" than anything, with a pleasant caramel-quality that had a tinge of brown sugar graininess.
M: Not too sweet, but sweet enough. The lacing was substantial and the alcohol non-existent. I just wish it were thicker and creamier.
O: This was one of the better brews I tasted by Smoky Mountain.
724 characters

3.03
/5
rDev
+4.1%
look: 3.5 | smell: 3 | taste: 3 | feel: 3 | overall: 3
A very average brown ale. Mostly clear, copper/red, slight head. Very limited nose... mild hops. Decent taste, it was to style, but still unimpressive eurohops and malts. Just fine. Average mouthfeel and drinkability. Nothing offensive, nothing impressive.
256 characters
1.84
/5
rDev
-36.8%
look: 1 | smell: 2 | taste: 2 | feel: 1 | overall: 2
A rough poor produced only about ¼ inch of head that very quickly dissipates to nothing but a film of tan colored bubbles. The color, copper-amber with a touch of chill haze, is very light and clear compared to my expectations.
Slight touch of esters in the nose, and a touch of sweetness in the mainly roasted character with no real hop aromas.
The initial taste is surprising bold, strong, when compared to the nose, and also very pleasant, however this very quickly disappears into a murky blandness. It tastes like some specialty roasted grains with a lot of adjuncts. There is just no body, nothing rounded or complimented. There are no real strong off flavors, but there is not a lot of strong pleasant flavors either. There is s slight hop bitterness towards the finish, which is bland and the worst aspect of the flavor.
The mouthfeel is way too watery for the style for me. It is so thin and it does not fit with the flavors present. Slightly high carbonation for its style and the taste, as well.
The drinkability would be high as the alcohol is not to strong and it is a mild flavor style, but the beer just does not appeal to me.
1,155 characters
Black Bear Ale from Smoky Mountain Brewery & Restaurant
2.91
out of
5
based on
19
ratings.