Smoky Mountain Brewery & Restaurant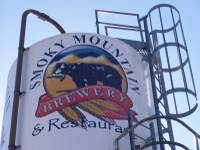 PLACE INFO
Type:
Brewery, Bar, Eatery
2530 Parkway
Pigeon Forge
,
Tennessee
, 37863-7007
United States
(865) 868-1400 |
map
coppercellar.com
Notes:
No notes at this time.
Added by jessecollins on 07-03-2007
Reviews: 15 | Ratings: 28
3.38
/5
rDev
-9.6%
vibe: 3.25 | quality: 3.25 | service: 3.75 | selection: 3.25 | food: 3.25
ate dinner here. it's got a generic sports bar vibe. they were setting up for some live music when we left.
I had a flight of 8 of their beers - most were just average, fairly boring. the food was just okay too, standard sports bar stuff.
★
245 characters
4.13
/5
rDev
+10.4%
vibe: 4.25 | quality: 4.25 | service: 4 | selection: 4 | food: 4.25
Great location on the main road through Pigeon Forge makes this an easy to get to, and rarely crowded stop. Been here a few times now, and the food and beer are always solid to good. All of the beers are pretty solid, with my only complaint being the IPA's not being super fresh (or at least tasting not super fresh). Although, on the other hand, the Black Bear brown was a very good representation of style.
Service is always good and the menu has something for everyone. The food has good variety and ranges from the usual fried bar food, to sandwiches, to pretty darn good pizzas. I highly recommend stopping in here on your way to Gatlinburg or if you are staying in Pigeon Forge.
★
685 characters
3
/5
rDev
-19.8%
vibe: 3 | quality: 3 | service: 3.5 | selection: 2.5 | food: 3
A brew pub. Unfortunately they only offer their own selections, or mass produced commercial beers. The home brews are OK at best. I can take it or leave it.
★
156 characters
2.71
/5
rDev
-27.5%
vibe: 3 | quality: 2.75 | service: 2.5 | selection: 2.75
I never thought I'd find myself in a town like Pigeon Forge, TN, but there I was. And good lord what a festering, trashy tourist trap it is! Never ever again. Fortunately there was one little brewery stop here, and unfortunately it wasn't that great. But considering most of TN (at least the eastern half) seems to be a veritable wasteland for craft beer, it was among my only options.
The brewpub is at the back end of a polished little shopping center / mini golf course. It reeks of a chain, and rightly so, as it is actually a mini chain. The pub was pretty generic, family-friendly, sportbarish. Lots of seating and a good-sized bar. Not ideal for me, but not terrible.
The beer selection was pretty poor, and the quality of the brews wasn't that great either. Standard stuff, flagships, you know, a pale ale, a porter, an IPA, etc., etc. Glorified homebrew. One cool thing was they let you choose the size of your sampler flight, from 3 to 8 beers or something.
Service was simply terrible. All I really wanted was a few samplers. The bartender took forever to even glance in my direction, and when she finally did, and after telling me she'd be right there, it was about another 7 minutes before I got my order in, and afterwards, I had to wait almost as long to get my check. And this was mid-day with only about 5 other people at the bar.
I didn't sample the food, but the menu looked pretty decent, with most comfort food groups covered.
Prices seemed decent, but if you're planning on getting merch, beware, because that's where they get you. I ordered a little taster glass and the jerks charged me $7! That was more than the price of my sampler flight! If I wasn't so obsessed I would've thrown it back at them, but I just wanted to get the heck out of there, and keep a momento to remind me of Pigeon Forge and how terrible it is.
Ultimately, if you have to go to this town, and if you have to have craft beer, then...er...I don't know what to tell you. Maybe find a moonshine shop instead.
★
2,010 characters

3.85
/5
rDev
+2.9%
vibe: 4.5 | quality: 3.5 | service: 4 | selection: 4 | food: 3.5
My wife and I visited this place on a recent vacation to the Smokies. The beautiful part: It was right down the street from our hotel. Win!
Atmosphere: This place is located smack dab in the middle of tourist central, with tons of attractions (Titanic, Ripley's, dinner theaters, etc.) within walking distance. Inside is quite spacious, impeccably clean, warm, and inviting. I really dig the layout, especially the sight of the huge tanks through the glass.
Quality and Service: The server seemed fairly familiar with the beers on tap, but not with the craft beer scene as a whole. No matter. The menu was quite extensive as well.
Selection: Beer-wise, pretty much most common styles were represented here, with a special shout out to the Red Ale. As whole though, the beer was just fair.
Food: Sigh... I've eaten at the Gatlinburg location before and remember enjoying the food. However, on this visit, my wife and I split one of the monster-sized calzones and the cheese wasn't fully melted all the way through. Still though, I dig those potato skins!
Value: This was EXTREMELY well priced with the pints of beer being under $4. The food was priced about where it should be.
Overall: While this place is definitely not amazing by any stretch, I recommend this place wholeheartedly if you're into craft beer and you're in the area.
★
1,338 characters

3.38
/5
rDev
-9.6%
vibe: 3 | quality: 3 | service: 4 | selection: 3.5 | food: 3
We visited Smoky Mountain Brewery during a weekend trip to Dollywood. It's on the main drag, in a tacky new-ish commercial area dominated by a minigolf course. Easy to miss from the road.
There was a live band doing mostly country and Eagles covers, with Tracy Chapman thrown in for fun. Mix of locals watching the band, and tourists. Service was friendly and prompt, and they were able to list the seasonal beers off the top of their head.
The beers were kind of ho-hum. Not too bad, not too good. Seven standard beers, plus two seasonal.
Food was all around average. I had a calzone. Nothing special, but it was fine.
Still probably the best option in the area as far as brewpubs go.
★
688 characters
4.68
/5
rDev
+25.1%
vibe: 4.5 | quality: 4.5 | service: 5 | selection: 4.5 | food: 5
Saw this place when using BA's places to go to. So on the last day of our trip we visited this place. I tried 5 different brews and decided on the Appalachian Pale Ale. It was the best of the 5 I tried. The rest just lacked character. The service was great the server had a good knowledge the beers. She even brought me a half glass of of another IPA that was not on the menu. Wife and I had the steak and it was great.
We both brought home a six of pack of what we liked. If I go back to this area I will visit again.
★
519 characters
2.85
/5
rDev
-23.8%
vibe: 4 | quality: 2 | service: 3 | selection: 3 | food: 3.5
The restaurant as a whole was more than acceptable. Being a BA, I was obviously more interested in their beers. I've tried most of their beers and have not been overly impressed with any of them. There are hints of greatness, but in my opinion, they "dumb down" their beers to appeal to the masses. This could be a gateway for non-BA's to try different styles, but this is not a great place for BA's looking for standout beers. They do fill growlers and their only seasonal beer I treied was a summer ale, which I found almost undrinkable. I am confident aht they can brew better beers, but they just need to ramp them up a bit.
★
628 characters
3.68
/5
rDev
-1.6%
vibe: 4 | quality: 3.5 | service: 3.5 | selection: 4 | food: 3.5
My wife and I stayed for a week in Pigeon Forge and I was excited to give this place a try. The atmosphere was good and the wait staff was prompt and courteous. TV's everywhere and windows showing the brewing equipment are nice. Sadly the beer was not good. Tried four of their beers and was disappointed with all of them. They were all served in frosted mugs which is always a no-no and every beer was so low filled that it looked like someone had taken a few drinks before they even got to the table. My wife had a bleu burger which she seemed to enjoy and I am always looking for the best Reuben sandwich but this one was descent. I would recommend the potato salad because it was very good. Anyway, overall the meal was good but if you are looking for a beer try elsewhere.
★
777 characters
4.13
/5
rDev
+10.4%
vibe: 4 | quality: 4 | service: 4.5 | selection: 4 | food: 4
A big U-shaped bar with 11 round, 4 person, high tables & 12 booths with 8 bigger tables.
Wait staff was very cheerful & attentive (for the most part). Kind of slow with a party of 9 (though we did arrive in stages) very good on multiple subsequent visits with 2-4 in party. Chantelle was especially good, very attentive without being annoying. My entire party was in agreement. One of the best servers I've ever had, anywhere.
The exposed air ducts are painted shiny black as was the bare ceiling and roof supports, looked very cool.
32" - 47" TV's all over giving a light sports bar feel to the place though, thankfully, much quieter than any sports bar I've ever been in. Brick and exposed wood all over with corrugated metal used in the bar area. A very family friendly place indeed.
They had stainless and copper brewing vessels viewable but never saw anyone working them or any other indications that theses specific tanks were being used in 4 separate visits. Visited the week of July Fourth, 2008.
★
1,005 characters
4
/5
rDev
+7%
vibe: 4 | quality: 4 | service: 4 | selection: 4
My wife and I stopped in here on a weekend trip to Pigeon Forge. I called ahead to get directions and the person who answered the phone was very helpful and corteous and gave very good directions to the location.
Arrived and I guess because it's the off season it was a little slower. Saturday night at approx 8:30 pm. We seated ourselves at one of the tables in the bar area and ordered two samplers at $3.50 per sampler. First ordered the Thunder Road Lager/Tuckalachee Porter/Cherokee Red Ale and then the next was the Helles/Winter Warmer/Pale Ale.
I thought all selections were nice. Service was good. Got a 6 of the porter and the lager to go and a growler of the Witner Warmer.
Atmosphere is pretty much like most other brewpubs as far as sacks of barley stacked all over the place and brewing equipment behind glass.
Overall it was a nice experience and I look forward to going back and having more of their beer
★
927 characters
4.5
/5
rDev
+20.3%
vibe: 4.5 | quality: 4.5 | service: 5 | selection: 4 | food: 4.5
Im totally stoked that I found this place. Seriously, I was in Pigeon Forge, Tennessee where they number their traffic lights and the claim to fame is Dollywood... not exactly a beer destination. Saw this on beerfly and thought Id try it out and very glad I did. Atmosphere is very cool, tons of tables an lots of TVs and flatscreens throughout with a couple big ones at the bar. Hip atmosphere but all types are here. Brewing tanks on display as well as growlers and glassware behind the bar. Bartenders are cute and very attentive. They cant talk beer with you but fun and very friendly and talkative. 6 of their beers on tap but I only tried the Porter and Pale ale which were both phenominal. Went 2 nights in a row, both to watch NFL, and loved it. They sell growlers but I was blown away by the specials. A liter of delicious craft beer for $2.75? I pay twice that for a pint in D.C. Half price wings to boot. Pure insanity. I thought this business trip was going to be a nightmare of a bore but I seriously would come back just to chill at this place. The locals have a gem here and dont even know it. If you are ever close to here, make sure you seek it out.
★
1,166 characters
4
/5
rDev
+7%
vibe: 4 | quality: 4 | service: 4 | selection: 4 | food: 4
Found this brewery while out with my buddy.... He is an entertainer and I was down in Pigeon Forge Oct. 25 thru Oct. 29 to visit him while he was playing there. The place was a nice place for 2 friends to escape to while shopping. Plenty of TV's and a great view of the "tanks" behind glass on the far walls of the establishment. The bartenders were very friendly and knowledgeable about the beers and we had a great time discussing them as we sampled. Even took a 64oz growler of the Tuckaleechee Porter which we refilled a couple times during our stay. My only complaint is that a few of the employees were rude and they seem to cater to locals a little too much! On one of the times we tried to get our growler refilled the server rudely told us they were closed even though there was nearly 20 minutes before closing time and said this as they were pouring some more pints for locals at the bar! Besides that I loved this place A++ This review is for the Pigeon Forge location.
--
★
984 characters

3.5
/5
rDev
-6.4%
vibe: 4 | quality: 4 | service: 3 | selection: 3 | food: 4
Originally posted 11/9/06 under Gatlinburg location:
This is for their Pigeon Forge location too... FTown.... were you there when I was there???? Went with a bunch of friends to see the game and have some good beer. I tried the Tuckaleechee Porter. Unfortunately, they served it in a FROSTED MUG. But even diluted, it was pretty good.... see my review of the beer.
Over-all the place was good atmosphere.... lot's of TV's for the games and almost big enough to support the Saturday afternoon football crowd. We had to wait about 45 minutes to get a table for the 9 of us.
The place was clean, the service was a bit slow.... but there was a big crowd. I found myself with an empty beer once... hehehehe.
Had an appetizer of the spring rolls.... which were very good. Then I had a medium pizza to carry me through for the rest of the game. The pizza was good too.... although.... how can you screw up a pizza??!!
Overall a fun time... and I would go back.... I believe this will be an annual tradition.... IF we can brave the crowds in Gatlinburg and Pigeon Forge. These places are clearly being exploited by tourists... Like the Eagles said.... ".... ya call someplace paradise... kiss it goodbye..."
★
1,204 characters
3.9
/5
rDev
+4.3%
vibe: 4 | quality: 4 | service: 4 | selection: 4 | food: 3
This review is for the Pigeon Forge location.
Stopped in there on a NFL Sunday to catch some games and try some beers. The atmosphere is nice. Typical brew pub with glass walls so you can see the tanks/fermenters. Plenty of TVs to watch the games. Nice openness to the place that was comfortable.
Service was friendly and attentive, even considering they were busy with football fans.
Beers were very good. I had the Porter which was good and very tasty. I also tried a seasonal pumpkin ale that they brew there. I can honestly say it is the best Pumpkin beer I've ever had, and I've tried a bunch.
I had a plate of wings that were average, not terrible/not incredible.
Overall, a good place to grab a beer and bite to eat while in Pigeon Forge. Definately was a good place to catch the game.
★
799 characters
Smoky Mountain Brewery & Restaurant in Pigeon Forge, TN
3.42
out of
5
based on
111
ratings.