Oggi's Pizza & Brewing Co.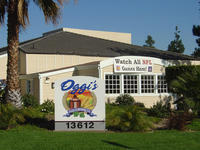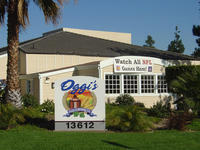 PLACE INFO
Type:
Bar, Eatery
13612 Newport Blvd
Tustin
,
California
, 92780
United States
(714) 731-6464 |
map
oggis.com
Notes:
No notes at this time.
Added by SwillinBrew on 07-05-2007
Ratings: 10 | Reviews: 5
Reviews by drewmprs:

3.03
/5
rDev
-13.9%
vibe: 2 | quality: 2.5 | service: 4 | selection: 3.5 | food: 2
Nothing too great to say about this place. The Hop Juice is a nice DIPA, but the rest of the beers are just average. They also serve all their brews in frozen mugs/glasses, so make sure you ask for a room temp glass. The pizza was uninspiring and the fried zucchini tasted like cardboard. The mug club seems like a good deal- you get a quart mug for the price of a pint. Membership costs 50 per year. Bartenders weren't too knowledgeable but quite friendly. One guy looked about 30 years old and said he had been divorced for 21 years! The restaurant wraps around the back of the bar. The bar has about 10 flat screen tv's so it would be great for watching sports.
664 characters
More User Reviews:
3.66
/5
rDev
+4%
vibe: 3.75 | quality: 3.25 | service: 4 | selection: 3.75 | food: 3.75

3.74
/5
rDev
+6.3%
vibe: 3.5 | quality: 3.5 | service: 4 | selection: 3.75 | food: 4


2.68
/5
rDev
-23.9%
vibe: 3 | quality: 2 | service: 3 | selection: 3
I kept meaning to stop in here since it's right down the street from Tustin Brewing, but just got around to making the stop this weekend.
This is sort of like a family pizza place that happens to make/serve beer. Lots of kids in baseball uniforms and what not.
Not wanting to eat, we grabbed a couple seats in the somewhat small bar area just past the entrance. The girl at the bar served us promptly to begin with and was kind enough to pour some water as well as the beers without us even having to ask.
In the bar area, there were some patrons that were, for lack of a better word, annoying. Including one guy that felt the need to make some whistling noise every few minutes.
The beers were, as a whole, pretty bad. The one saving grace was the special/seasonal beer on-tap described as a red IPA.
As we sat there, I got the impression that the staff was terribly disorganized. People were just sort of walking around all over the place and not really doing anything. The girl working the bar did seem to have it together, but she had to pour beers/drinks for all the tables, the bar patrons, and change the kegs out.
I must say the experience here was pretty poor and I don't think I'll be heading back.
1,214 characters
3.55
/5
rDev
+0.9%
vibe: 2.5 | quality: 4 | service: 3 | selection: 4 | food: 3.5
Inventory day sucks. To make it even more hectic, I had to drive to Tustin from work for a meeting. To rid the stress afterwards, I took the short jog to Oggi's in Tustin. I've been by it tens of times, but never stopped in to say hi.
Lots of TV's around, a bar area to the left that seems isolated from the rest of the restaurant, corporate feel without the joy. Maybe it was the lack of people that made me feel dead inside. Even the bartender was gone over the half the time. She was pleasant when present though.
At least 10 Oggi's offerings to choose from, including a few special offering such as a Belgian IPA and a true Baltic Porter with bottom fermentation. I've tried all the regulars at the Orange location and most are acceptable, the Belgian IPA I tried today was good and tasted authentic. Nothing special in bottles. As for food, I got loaded potato wedges in a gernerous portion. Generous enough that I took some home with me.
Oggi's is a good stop for food and beer. If you've never been to one, stop on by. If you have, Tustin Brewing just up the street might be more interesting to you. It's easy for me to choose the latter because I have an Oggi's near my house.
1,189 characters
4.83
/5
rDev
+37.2%
vibe: 5 | quality: 5 | service: 5 | selection: 4.5 | food: 4.5
This is my favorite place to go in the area. Everyone that works there is very friendly, along with all the customers. Oggi sticks and a mug are a must. Plenty of TV's to watch all the sport events will keep you entertained when the bartender is serving someone else. Great place to go and great beers. They usually have about 6 or 7 of their beers on tap, with some good fillers when they run out like Stone and Sierra Nevada seasonals. Too bad they no longer offer Hop Juice on tap, only in bottles now :(
507 characters

4.08
/5
rDev
+15.9%
vibe: 3.5 | quality: 4 | service: 4.5 | selection: 4 | food: 4
Well, i'm sure glad an Oggi's opened up that's a little closer to me. I've been here several times... once with lflesh, once with my wife, then a friend from work. This review is going to pertain to the bar area on a Friday night when i was there with my wife.
Firstly, let me say i think the restaurant area looks quite ugly. There's carpet on the floor and it is just soooo sterile. I felt i was eating lunch in the Sears home furnishings department. That being said, the bar is quite nice. It's rather small with slate stone floors, big screens and 3 tables opposite the bar. The bar could probably seat about 12. It was dark and woody, but a bit more modern yet cozy a little sportsy. It worked for me. I would give it a 4 but the restaurant again is soooo ugly it just rubbed off on the score.
The food was typical Oggi's and we had the pizza which was served hot and arrived rather quick. My beer was always cold and the glasses were sparkling clean. Let me add it was a busy friday night and the bar area was almost full. The service was pretty damn good. There were two bartenders who never let my drink get low and my glass of water was always full. They were both very friendly and sociable as were the people sitting around us.
I ended up joining the mug club and got my first mug filled for free... which i ended up filling with hop juice. Whew, 25oz of hop juice will get you happy and my wife ended up liking it, damit. She ended up ordering one, got looped so i ended up having to stop drinking in order to drive home... damn wifey :)
The selection was all Oggi's and their hop juice is now a regular. The guest beers were Stone AB, Red Nectar and i forgot the last one. (i kind of think it may have been a BMC tap???) I drank the HJ, the McGarvey's Scotch ale and some golden ale.
Everything just seemd to jive just right. Maybe because it was so new. I dont know. I do know that i'll be coming back and i hope everything stays as it is now. (well, i hope i come back, i have a mug now). As a whole, i like Oggi's. I wish they brewed here so i can fill a growler, damit. (you know if figures that when i move from Tustin, they put an Oggi's here... bastards :)
2,191 characters
Oggi's Pizza & Brewing Co. in Tustin, CA
Place rating:
20%
out of
100
with
10
ratings