Temple Midnight IPA
| Temple Brewing Company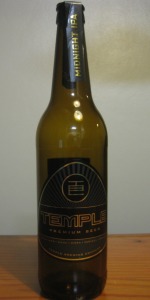 BEER INFO
Brewed by:
Temple Brewing Company
Australia
templebrewing.com.au
Style:
American Black Ale
Alcohol by volume (ABV):
7.00%
Availability:
Limited (brewed once)
Notes / Commercial Description:
No notes at this time.
Added by ADZA on 06-17-2012
This beer is retired; no longer brewed.
Ratings: 9 | Reviews: 5
Reviews by heygeebee:

3.78
/5
rDev
-0.3%
look: 4 | smell: 3.5 | taste: 4 | feel: 3 | overall: 4
From Platinum. No BB.
Pours a black body, tan head, stays well, coarse bubbels. Spotty lace.
Aromas of roast malts and pine/citrus in that order. Little chocolate.
Taste is medium bodied, really quite delicate. Sure there is up-front hops in the mix, but the roast and chocolate balance it all out. Moderate bitter finish. Hides 7.0% well.
Mouthfeel is medium bodied, moderate carbonation.
All in all, I find this almost to be a sessionable ABA. Not sure if that's the idea :-)
482 characters
More User Reviews:
3.8
/5
rDev
+0.3%
look: 4 | smell: 4 | taste: 4 | feel: 3 | overall: 3.5
Pours black with a lasting, light tan head.
Nose shows pine, citrus, nectarines and grapefruit, along with very soft roasted malt and some crystal malt.
The roasted malt is more prominent as a flavour, but there's also a fair hit of sweet malt underneath to stop things from getting to dry. In terms of hops it's an assault of pine and grapefruit followed by an aggressively bitter finish.
Excessive carbonation.
412 characters



3.87
/5
rDev
+2.1%
look: 3.5 | smell: 4 | taste: 4 | feel: 3 | overall: 4
Pours a dark murky colour with fair red edge. Dense, tan head, tightly packed with some specks of lace. A little pale for the style, but pretty nice otherwise.
Massive cascade hop aroma. Citric, hugely resiny with pine bark, cedar and lemon zest. Sharp spicy notes underlying, very pleasant, but maybe a little overboard on the hops, could have used more malt backbone.
Similar characters on the palate, but nuttier, where the darker roasty malts come into their own. Resiny hops dictate the score for the most part, but there's raisins, toffee and chocolate in here as well. Dry and citric on the back, with a touch of peanut brittle. Nice balance, but it actually could use a little more hop sharpness to cut through.
A bit empty in the middle of the mouth. Stab of hop oil late-mid but otherwise a little thin.
Nice drop; has all the right flavours but just a little off-balance at times.
895 characters
3.84
/5
rDev
+1.3%
look: 3.5 | smell: 4.5 | taste: 3.5 | feel: 3.5 | overall: 4
Bottle given to me by @LaitueGonflable, which I shared blind with him and @tobeerornottobe.
Pours a deep brown colour, with an initially firm head that settles to a lot of dishwasher suds bubbles of a really quite pale colour. Lacing is speckled. Body has a pleasant weight to it, however, and it leaves some static carbonation when tilted. Overall, it looks good, but it could look better.
Nose is a gorgeously ripe and sharp citric bite. Big sharp orange characters mingled with Meyer lemon to give it a bit more bite. There's a very subtle hint of roast behind it, but it's almost non-existent. This is about the hoppy aroma and nothing but. And boy is it good stuff—on par with the aroma of some of the best American IPAs.
Taste is a little bit odd. It feels really compressed and doesn't express itself fully. There's that sharp orange-citrus bite, and a hint of darkness that comes through a little like a coffee brownie—sweet but dark and compact. It gives it a carob character along with a bit of lavender. Very interesting.
Overall, nothing in this beer matches up to the nose, but the nose is so good that it almost drags everything up to its own standard.
1,174 characters

3.5
/5
rDev
-7.7%
look: 3.5 | smell: 3.5 | taste: 3.5 | feel: 3.5 | overall: 3.5
Pours a dark kola hue which leaves a two finger head and clingy lacing here and there,the smell is strong citrus,pine and freshly peeled mandarins,the mouthfeel is just under medium bodied and easy to knock back with tastes of mandarin,grapefruit,oranges,a touch of sherbet and finished with a pine needle hop bitterness and overall its easy enough to drink and alright without being great but at the moment there is alot of other great examples of this style out there being brewed in Australia cheers.
503 characters
Temple Midnight IPA from Temple Brewing Company
3.79
out of
5
based on
9
ratings.