Temple Scarlet Sour
| Temple Brewing Company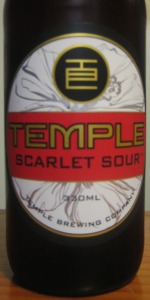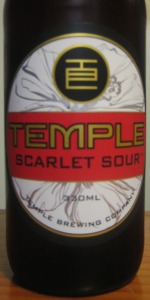 BEER INFO
Brewed by:
Temple Brewing Company
Australia
templebrewing.com.au
Style:
Fruit / Vegetable Beer
Alcohol by volume (ABV):
4.00%
Availability:
Limited (brewed once)
Notes / Commercial Description:
No notes at this time.
Added by dgilks on 01-15-2013
This beer is retired; no longer brewed.
HISTOGRAM
Ratings: 9 | Reviews: 6


3.25
/5
rDev
-7.4%
look: 3.75 | smell: 3 | taste: 3.25 | feel: 3.5 | overall: 3.25
From a bottle at Penny Blue during their Good Beer Week "Sour Fest" event.
Pours a very hazed sandy pink colour, with a stupidly frothy head of pink at the start. It still stays around for a while too, looking like fairy floss atop the glass. Some streaky lacing. The carbonation seems to put all its effort into producing that head, meaning there's not a lot left in the body, which is itself very light. Looks decent though.
Nose is flowery and a little organic, like rose petals rotting in the sun. Sweeter characters of banana bread and some buttery tones as well. There's also a strange spicy, slightly salty character. It's not really winning me over.
Taste is balanced between soda water and flowers. Hibiscus, glace cherry and a floury note on the finish. Almost no acidity noticeable apart from the seltzer type spritz. Very dry finish, very light and quite watery. The feel is prickly, which suggests some acidity, even though there's not much in the flavour.
This was disappointing from Temple, who generally do do really awesome beers. This is missing the acid, the tartness it really needs, and the added characters are either weak or unpleasant. I'd heard some good things about this beer when it was launched, but this one was definitely sub-par. It's a shame.
1,279 characters

3.15
/5
rDev
-10.3%
look: 3 | smell: 3 | taste: 3.5 | feel: 3 | overall: 2.75
3 3 3.5 3 2.75
From Cellarbrations Carlisle. No BB.
Pours a massive fizzy head. One inch of beer and six of head to start with. Settles to a deep ruby pink with amber undertones. It bubbles away more like a soft drink.
Aromas are modest. Hint of tart, merest hint of vinegar.
Taste is both sweet and sour. There are no real Berlinerweisse flavours present. It is tart and mildly sour, but to no great degree. There are also fruit elements but all in all it leaves me wanting.
Mouthfeel spritzy, light, to style. At first. However, by the end, it comes across as quite watery. Could be low ABV, but doesn't need to be for style.
An OK attempt, and good to see Aussie brewers doing this, it just isn't a great example of style.
731 characters

3.56
/5
rDev
+1.4%
look: 4.5 | smell: 3.5 | taste: 3.5 | feel: 3.5 | overall: 3.5
Just to clarify what other reviewers are commenting on: this is billed as a Berliner Weisse, but isn't really.
Pours a very attractive Kriek-esque amber/red and decent head/lacing. Doesn't last for too long but it's a cool colour for an Aussie beer so I'll give it some extra credit.
Smell is a bit hard to pin down. I get leafiness, almost eucalyptus (but thankfully not cloying like you might expect). Perhaps some lemongrass also. Looking on the bottle I see it has cranberries (and hibiscus) so that definitely makes sense. It almost has a subtle figgy taste but again this never quite follows through. And I can't help but think of menthol cigarettes.
Taste is similar to the nose, a bunch of flavours which peter out as mere allusions before they become cloying.
Has some sourness. Definitely enough to justify the "Sour" to a layman, but perhaps slightly short of our expectations for a sour beer. It's fairly dry though. Sourness is more sherbetty and dry than what you'd expect from a lambic/berlinerweisse.
I will rate this as a fruit beer. It's a pretty good one. Smart ABV (4%), nicely presented, nice colour. Will appeal to novice beer drinkers (read: girls) and has something to offer the more battle-weary. Has enough character to become a mainstay.
1,269 characters
3.81
/5
rDev
+8.5%
look: 3.75 | smell: 4 | taste: 3.75 | feel: 3.25 | overall: 4
330mL bottle from Slowbeer.
Attractive crimson hued body with excitable carbonation that is hard to handle. Head fills three quarters of the glass, forming in small airy white bubbles, before subsiding over a good 5 minutes with spidery lace.
Aromas have an appealing wet basement mustiness to them, together with a chalky element that is kind of reminiscent of those mildly fizzy candy tablets. The cranberry backbone is prominent, but the yeasty action allows a range of expressions from confectionery through to conventional cranberry juice.
Flavours generally follow, although at times a grainy element muddles it a little. Conjures images of cranberry musk sticks.
Light with pleasant, clean acidity. Carbonation seems a little intense, even allowing for the fact that high carbonation is appropriate for the style. Nonetheless, quite refreshing.
This is a quaffable and subtly complex sour - a style we should be seeing much more of in Oz. Well done.
961 characters
3.8
/5
rDev
+8.3%
look: 3.5 | smell: 4 | taste: 3.75 | feel: 3.25 | overall: 4
Been looking forwards to this one dont mind a berliner weiss especially with fruit added and pours the weirdest colour but with cranberries added maybe not so weird its a pink rose hue with a fluffy three finger head and some clingy lacing,the smell is red grapes,cranberries,some mustiness and stale pub,the mouthfeel is lightbodied,well carbonated and tart with tastes of vinegar,red grapes,funk,wheat and finished with tart cranberries,overall i dont mind it on a hot day like today and good to see a unique take on this style in Australia would drink again.
561 characters
3.74
/5
rDev
+6.6%
look: 4 | smell: 3.75 | taste: 3.75 | feel: 3.5 | overall: 3.75
Clearish red colour just like cranberry juice with a big, faintly pink head. Fair head retention.
Almost like a herbal fruit tea on the nose. A fair bit of hibuscus and what I guess is the cranberry. Lacking a little acid for my taste but not bad.
Interesting. Very lightly tart and somewhat sweet. Clear cranberry flavour and the hibiscus is here too. This comes across as an alcoholic, fizzy cranberry juice. I wish the earthy and sour notes of the berliner weisse were more present.
Medium-light body with moderate carbonation. Not bad.
A nice and interesting fruit beer. There is some acid here but not enough for style and the combination with the cranberry gives a childish flavour. Close but no cigar?
720 characters
Temple Scarlet Sour from Temple Brewing Company
Beer rating:
3.51
out of
5
with
9
ratings