Stone Cat Blueberry
| Ipswich Ale Brewery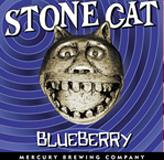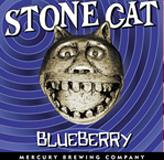 BEER INFO
Brewed by:
Ipswich Ale Brewery
Massachusetts
,
United States
ipswichalebrewery.com
Style:
Fruit / Vegetable Beer
Alcohol by volume (ABV):
not listed
Availability:
Year-round
Notes / Commercial Description:
No notes at this time.
Added by BeerAdvocate on 04-03-2002
HISTOGRAM
Ratings: 9 | Reviews: 9
2.97
/5
rDev
-6%
look: 3 | smell: 3.5 | taste: 2.5 | feel: 3.5 | overall: 3
Presentation: 12 oz brown long neck with no freshness date, same "Stone Cat" label with a blue back ground. Noticeable sediment on the bottle of the bottle.
Appearance: Pale golden colour with some yeast haze from the loose sediment, even when poured gently the sediment made its way into the glass. Spritzy soda like carbonation that fizzles away quickly, some larger bubble spring up to keep a ring of lace active.
Smell: Dehydrated or freeze dried blueberries in the aroma, faint whiff of coarse grain and yeast in the nose also.
Taste: Light bodied with an aggressive soda like carbonation, thin malt with a blueberry extract flavour. On the dry side for fruit beers. Hops are a quick in and out faded bitterness. Sharp grain and yeast become dominant with the blueberry extract getting duller with each taste. The finish dwells in the aftermath of the astringent grain and nutty yeast.
Notes: IMO this beer needs a slight makeover, perhaps add a touch of honey malt or light crystal malt, take the carbonation down a half notch and then get rid of some of the yeast … if the yeast must stay then substitute a portion of the barley with wheat and make it a fruit wheat beer. Not a totally bad beer, just not as refreshing as a fruit beer should be.
1,282 characters
More User Reviews:

3.35
/5
rDev
+6%
look: 3 | smell: 3 | taste: 3.5 | feel: 3.5 | overall: 3.5
Served from a 12 oz bottle. The beer poured a hazy golden color with a slight white head. The aroma was dominated by a fresh blueberry smell and complimented by a yeast character as well. The taste was mainly of blueberries but it was not overbearing and made for an easy to drink beer with a pretty crisp body.
311 characters
3.55
/5
rDev
+12.3%
look: 3.5 | smell: 3.5 | taste: 3.5 | feel: 4 | overall: 3.5
On-tap 11/15/2010 at Pitcher's Pub in Cumberland, RI, served in a US tumbler pint glass.
A: The beer is a deep gold color, with a thin white head that fades quickly and leaves a thin lace on the glass.
S: The aroma is full of blueberries as you would expect along with light caramelized malts and a faint touch of hops.
T: The taste likewise has a strong blueberry flavor up front with background flavors of caramel and citrus. There's a thin malt character and a very mild hops presence but a decent balance. The after-taste is slightly sweet.
M: Crisp and smooth, light-to-medium body, medium carbonation, finish is clean.
D: A little tasty, goes down ok, not too filling, mild kick, good representation of style, it's pretty good for a blueberry beer, but overall it's just mediocre.
791 characters

2.65
/5
rDev
-16.1%
look: 3 | smell: 3 | taste: 2.5 | feel: 2.5 | overall: 2.5
Pours a one-finger white head that fades quickly and leaves some lace. Cloudy amber color. Light-medium bodied and light carbonation. Strong blueberry nose. Starts and finishes with a blueberry/hoppy flavor Lingering hoppy aftertaste. $1.60 for a 12oz bottle from Colonial Spirits Acton, Ma.
291 characters
3.11
/5
rDev
-1.6%
look: 4 | smell: 3 | taste: 3 | feel: 2.5 | overall: 3.5
Good head, golden color, slightly cloudy.
This beer smells like a sweettart--overly sweet. Frankly, it doesn't smell much like a beer.
Here's the surprise--this is a surprisingly dry beer. There is a slight metalic flavor which distracts. Very dry finish that dies quickly. The body is too thin and the high carbonation is not helpful.
This isn't as bad as some might suggest but you do have to be in the right frame of mind to enjoy this one.
446 characters

3.22
/5
rDev
+1.9%
look: 3 | smell: 3.5 | taste: 3 | feel: 3 | overall: 3.5
Stone Cat Blueberry Ale pours a hazy straw yellow color with a thin white head on top. In the beer lots of streams of medium sized bubbles rise quickly to the top. The foam on top is about the width of one finger and dissolves quickly to a thin ring around the surface of the beer. Once gone, the head leaves behind a few spots and lines of lace on the glass.
The aroma is sweet blueberry with a hint of toasted malt mixed in. Each sip of this thin to medium bodied beer gives a moderate carbonated tingle on the tip of the tongue. The flavor begins with sweet blueberry. Towards the middle some crisp toasted malt moves in before it finishes dry with a mild hoppiness. Once gone the blueberry flavor lingers on the palate.
This beer is very drinkable and quenches a thirst on a hot day. The flavor remided me of Boo Berry cereal but not as sweet.
853 characters
4.01
/5
rDev
+26.9%
look: 3.5 | smell: 5 | taste: 4 | feel: 4 | overall: 3
I picked up a single bottle of this brew today to try it out. I noticed that it's brewed in Ipswich MA, which is the next town over from mine, about a 3 minute drive. On the drive home from getting this beer I saw a person riding a bike dressed in Mercury Brewing Company spandex, the company responsible for making this beer. So, on to the review...
Serving Type: Bottle Poured Into Budweiser Signature Glass
A: A decent yelowish straw color. More golden in color than Budweiser, less golden in color than Sam Adams Boston Lager. It has a thick haze that prevents light from passing through easily. Head was less than stellar. Probably just the pour, since the head that was there lasted a good long time. Lacing was decent as well.
S: As soon as I cracked open the bottle the aroma of blueberries filled the air. It was very distinctive, and very good. You don't have tog get close to this beer at all to smell the blueberries. The best part is that it's not overwhelming, but there are definitely blueberries in there. Slight smell of bitterness as well.
T: Blueberries, blueberries, blueberries, with some bitter notes. It's got some sweetness to it too... Aside from the blueberries. What I like about this beer is that it is full of blueberries, but the blueberry flavor doesn't overwhelm the palatte. It's still a beer, just with blueberries. It could benefit from a more bitter flavor, but it's a blueberry beer... What do you expect?
M: Very smooth, slight bite as you swallow reminds you that this is beer. I like the way this brew feels in the mouth. Very enjoyable.
D: A little too much to drink all the time. This is a good brew once in a while, but to drink it all the time is unrealistic.
Looking for something a little different? Try this brew. Can't fins one? Hit me up with an email... I think it's worth it.
1,834 characters
2.31
/5
rDev
-26.9%
look: 3.5 | smell: 2.5 | taste: 2 | feel: 2 | overall: 2.5
Pours a cloudy orange-amber topped with a two finger marshmallowy white head, left just sparse bits of lacing.
Sweet blueberry aroma, restrained for the style, some grain pokes through, a bit of spiced fruit as well.
The taste on the otherhand is just overwhelmed with blueberry, tastes pretty natural as opposed to chemical/flavoring.
Light bodied, too sweet.
363 characters
3.29
/5
rDev
+4.1%
look: 3 | smell: 4 | taste: 3 | feel: 3.5 | overall: 3
This beer pours a cloudy orange yellow color. Smell is that of blueberry with just a hint of cloves. The taste of this brew is not bad and reminds me of blueberry pancakes. It is light, but leaves a nice lasting coating about the mouth like pancake batter. Slightly bitter at the end. Aftertaste leaves my mouth feeling a bit doughy, but I like it. One thing I do wish though is that the blueberry was a bit stronger. I'll finish the six pack, but would only get this if no alternative.
486 characters
Stone Cat Blueberry from Ipswich Ale Brewery
Beer rating:
3.16
out of
5
with
9
ratings