Stone Cat Hefeweizen
| Ipswich Ale Brewery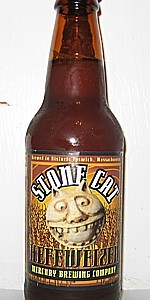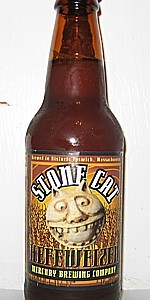 BEER INFO
Brewed by:
Ipswich Ale Brewery
Massachusetts
,
United States
ipswichalebrewery.com
Style:
Hefeweizen
Alcohol by volume (ABV):
5.40%
Availability:
Summer
Notes / Commercial Description:
No notes at this time.
Added by mduncan on 01-13-2009
HISTOGRAM
Ratings: 11 | Reviews: 8
None found.
More User Reviews:
3.63
/5
rDev
+7.4%
look: 4.5 | smell: 4 | taste: 3.5 | feel: 3 | overall: 3.5
A- Looks just like a hefeweizen, a little cloudiness but very light wheat color with a big head.
S- Pretty decent, a little banana and clove shining through.
T- Like the smell, not a huge flavor coming through but the nice wheaty malt and yeast characteristics are reasonable.
M- Feels like a wheat beer but a bit thin to me. Not bad just nothing over the top.
D- Alright, could drink a few more if I wanted but there's better beers and better hefeweizens. I like it but would choose my homebrew version of the style, and definitely some of the more american styled beer, before it.
586 characters

3.5
/5
rDev
+3.6%
look: 3.5 | smell: 3.5 | taste: 3.5 | feel: 3.5 | overall: 3.5

3.57
/5
rDev
+5.6%
look: 3.5 | smell: 4 | taste: 3.5 | feel: 3 | overall: 3.5
My quest to drink more Stone Cat after running the Stone Cat 50 hasn't been as successful as I had originally anticipated. Better late than never.
Clear gold with no yeasty haze or sediment. 2 finger white head settles to a respectable layer of lasting retention. Leaves a few lacey speckles.
Aroma is clove and 'nana's, lemon cleaning spray and chamomille. Taste is more clove than 'nana. Overcarbated and with more fizz than I'd like but still drinkable.
An American hef that's not another misleading American wheat - nice. I intend to try a fresher sixer this Summer.
574 characters

3.95
/5
rDev
+16.9%
look: 3.5 | smell: 3.5 | taste: 4 | feel: 4 | overall: 4.5
Stone Cat Hefeweizen pours a cloudy straw yellow into the glass with a small, frothy white head on top. The foam disappears quickly leaving a few spots of lace behind.
The aroma is typical for a hefe. Banana, clove and lemon zest are all present as well as a hint of bready yeast. Each sip of this light to medium bodied beer is soft and dry on the palate with a mild carbonated fizz on the tongue. The flavor is fruity with notes of banana and lemon citrus mixed with spicy flavors of clove and pepper. It finishes with some sweet malt that adds a nice balance to the flavor. Once gone hints of spice remain behind.
This is an easy drinking, well balanced hefe. I'm surprised that I'm the first to review this beer. It's been around for a few years and is definitely worth a try.
782 characters
3.15
/5
rDev
-6.8%
look: 3.5 | smell: 3.5 | taste: 3 | feel: 3 | overall: 3
A- Pours a cloudy light yellow with a nice 2 finger white head
S- Has a citrus aroma. kinda musty smelling, Also picking up some dried fruits
T- Has a musty sweet taste to it with some roasted malts and barley flavor coming through
M-Light body with good carbonation
D-Overall this wasn't my cup of tea. too musty and not very balanced in my opinion. Ill give this style another crack some time.
400 characters
3.26
/5
rDev
-3.6%
look: 4 | smell: 3 | taste: 3 | feel: 3 | overall: 4
Poured into a wide-mouth Guinness pint glass.
A- Appearance is pretty standard for a Hefeweizen; cloudy, light yellow. This one scores some extra points for a huge pure white head that stuck around for a while after the pour. It probably helped to swirl the last inch of the bottle to get some yeast in the brew.
S- Smell is musty with some citrus aroma. A faint touch of alcohol with little to no hops. Pretty good, but a little too much dried fruit smell. Looking for something a little fresher.
T- The taste is sweet with an almost roasted character making itself known after it goes down. No hop bitterness whatsoever. Aftertaste is cloyingly sticky with more of the roasted character noted before. Seems like the majority of the flavor is coming a second or two after it hits the tongue. Could use some more complexity to even it out.
M - Carbonation and body are both light, contributing to an easy drinking beer. Fitting for this style.
D- I have not had much experience with Hefeweizen, but this beer leaves me wanting to try more authentic examples of the style. This beer has some room for improvement and could do without the off flavors. Good effort from a local brewery. Something to revisit on a hot summer day.
1,230 characters

2.15
/5
rDev
-36.4%
look: 4 | smell: 1.5 | taste: 2 | feel: 2.5 | overall: 2.5
A - Diesel head ~5 fingers high with ridiculous lacing. Milky wheat color.
S - Slight off smell, touch of sulfur. Ominous :( Otherwise slightly citrusy. Stretching to find banana.
T - Couldn't find the off-aroma in the flavor profile. I might have caught this bottle just as it turned. Wheat throughout the profile. Dry banana chips. Tons of yeast. Hint of lemon. Some apricot. Overall the flavors were relatively subdued though.
M - Tart, dry finish. Relatively flat flavor profile.
D - Off-aroma aside, I felt the flavor profile and moutfeel just weren't up to par.
571 characters

3.65
/5
rDev
+8%
look: 4 | smell: 4 | taste: 3.5 | feel: 3.5 | overall: 3.5
Pours a cloudy light straw gold with a very small bright white head that fades very quickly, no lacing.
Aroma of banana, clove and yeast.
Taste of grainy malt, yeast, hints of clove and citrus.
Mouthfeel was light body, light carbonation, a little prickly with a yeast, grainy malt after taste.
Overall a light refreshing Hefeweizen to be enjoyed on a nice sunny day.
371 characters
3.55
/5
rDev
+5%
look: 4 | smell: 4 | taste: 3.5 | feel: 3.5 | overall: 3
a - cloudy, almost a hint of grayness to it, with a white 1/4" head.
s - lots of banana and clove, although not the sweetest hefe I've nosed.
t - overwhelming taste of cloves, with the banana somewhere in the middle.
m - fairly light, not too carbonated.
d - probably 2 or 3, but no more, a bit too sweet.
309 characters

Stone Cat Hefeweizen from Ipswich Ale Brewery
Beer rating:
3.38
out of
5
with
11
ratings