Stone Cat Octoberfest
| Ipswich Ale Brewery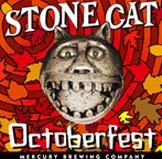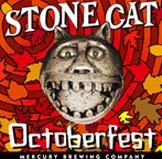 BEER INFO
Brewed by:
Ipswich Ale Brewery
Massachusetts
,
United States
ipswichalebrewery.com
Style:
Märzen / Oktoberfest
Alcohol by volume (ABV):
not listed
Availability:
Fall
Notes / Commercial Description:
No notes at this time.
Added by Todd on 09-24-2003
HISTOGRAM
Ratings: 6 | Reviews: 6
3.03
/5
rDev
-6.8%
look: 3.5 | smell: 3 | taste: 3 | feel: 3 | overall: 3
1/2 gallon growler from the brewery.
A- Lightly hazed glowing dark amber, two fingers of think head stick to the glass very well.
S- Lots of bready malt, dark bread crust and a yeasty aroma. Fruity twang in the back.
T- Heavy hand of biscuity toasted malt. Touch of oily hop holds a modest bitterness. Lots of husk middle to end with a big flare of yeast. Hint of fruitiness and more toasted malt in the finish.
M- Mild crispness, slick on the mouth ... medium body.
D- A bit too fruity for an O-fest beer, toasted malt is a bit out of whack as well. A decent brew, but that is about it.
602 characters
More User Reviews:
3.18
/5
rDev
-2.2%
look: 3.5 | smell: 3 | taste: 3 | feel: 3.5 | overall: 3.5
hazed orangey brown with a thin light tan head.
it's got a yeasty crusty bready sort of nose with notes of light caramel and a metallic twang. faintly fruity too.
same sort of thing going on in the flavor dept... bready, with a more metallic tang and hints of a light fruitiness at the back end. roasty at the finish too. the metal is a little too pronounced for higher marks here.
meium to thin body with active carbonation, i'd like to feel a little more to chew on though...
decent drinkability, if you get past the metallic aspects... they border on too much to excuse though.
585 characters

3.7
/5
rDev
+13.8%
look: 3 | smell: 3 | taste: 4 | feel: 4 | overall: 4
Apparently Stone Cat Octoberfest only gets reviewed once a year. So here's this years submission. Hopefully others will break this trend.
This bottle is one of the first of this years edition. The beer pours a slightly hazy amber color. On top a small, off white head forms which quickly disappears, only leaving a ring around the surface to remind you it was once there. No lace on the glass.
The aroma is faint, but has notes of caramel and biscuit malt, with a pinch of grape fruityness mixed in. It almost reminds me of a riesling wine. Each sip of this medium bodied beer has a firm carbonated snap on the tip of the tongue. The flavor begins somewhat sweet with rich malt notes of caramel and toast. Towards the middle a mild hop bitterness moves in. It finishes with a mild fruity grape flavor mixed with some herbal hops and a bit of a metallic flavor. Once gone the sweet malt and hop bitterness lingers on the palate.
This is a good, well balanced, easy drinking beer. For an Octoberfest I think it could use a bit more spiciness to it.
1,055 characters
3.13
/5
rDev
-3.7%
look: 3.5 | smell: 3 | taste: 3 | feel: 3 | overall: 3.5
Poured into a Sam Adams Perfect pint, this pours a yellow amber color that was slightly lighter than I expected for an octoberfest. At the top was a thick, creamy head with several different sized bubbles that lay about a finger thick above the liquid. It went away pretty quickly, leaving just a ring around the edge of the liquid. The lacing looked good at first, but it quickly worked it's way down to the liquid after a few seconds only leaving a few specks on the glassware. I didn't think much of the smell until I let it sit for about 10 minutes. When I gave it a second try I could tell it was heavy on the malt, and it also had a bready/yeasty aroma and what smelled to me like some wood of some sort. The taste had a little too much going on for it's own good. The first initial taste was incredibly sweet. I was impressed, wondering how they they caramelized/roasted the malts, blended with the yeast and hops. At the second sip and from then on I really couldn't taste the sweetness of the malts. It was strange, I couldn't single out the taste of the hops much but tasted the bitterness part very clearly, and every sip, the sweetness and bitterness came together as opposed to the initial sweetness and bitter finish. The mouthfeel was pretty average, a little dry from the bitterness. No carbonation bite and it was medium bodied. The drinkablility was still pretty decent. Certainly not my favorite octoberfest, but pretty decent, I'd be curious to try it again.
1,478 characters
2.86
/5
rDev
-12%
look: 4 | smell: 3 | taste: 2.5 | feel: 3 | overall: 3
It's a touch daunting to write a first review, but I am on a mission to find the Great American Oktoberfest Beer (or at least to sample every Octoberfest brewed in New York and New England).
This one is just OK. Not as good as I was hoping far since Ipswich is, I think, the closest berwery to my house..
Pours a maple brown with a thin, cream-colored head.
A touch of a nutty smell, but not a very strong nose at all.
Nice beginning, fills the mouth decently and sits for a long time. Unfortunately it hits a metallic pitch which sits for too long.
This is not a style I am that familiar with, though I have tried more than a half-dozen different ones so far.
I look forward to seeing more reviews of this beer.
730 characters

3.58
/5
rDev
+10.2%
look: 4 | smell: 3.5 | taste: 3.5 | feel: 4 | overall: 3.5
12 oz longneck, brown bottle, capped.
This octoberfest poured a clear, deep amber color with creamy, light tan foam that clung to the glass. The smell was a light malty and hoppy aroma. The taste was malty with quite an unexpectly large amount of hops. There was also a faint touch of mustiness. The mouthfeel was sharp, crisp, and hoppy, with medium body and medium carbonation. The malt and hops lingered in the aftertaste. This beer was OK, though a bit hoppier than your typical oktoberfest beer.
503 characters
Stone Cat Octoberfest from Ipswich Ale Brewery
Beer rating:
3.25
out of
5
with
6
ratings