Ipswich Rye Porter
| Ipswich Ale Brewery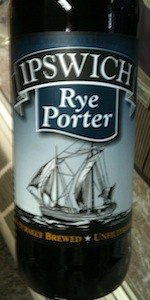 BEER INFO
Brewed by:
Ipswich Ale Brewery
Massachusetts
,
United States
ipswichalebrewery.com
Style:
American Porter
Alcohol by volume (ABV):
6.30%
Availability:
Winter
Notes / Commercial Description:
No notes at this time.
Added by WanderingFool on 11-13-2012
Reviews: 13 | Ratings: 42
3.89
/5
rDev
-2%
look: 4.5 | smell: 3.5 | taste: 4 | feel: 3.75 | overall: 4
A: Dark, rich color with a generous toffee-colored head
S: A bit on the sweet side, with hints of coffee.
T: Pleasant. Some tobacco/coffee flavors
M: Smooth. Well balanced carbonation.
O: This one caught me off guard. Thought it would just be a throw in to the mix pack, but I was very pleasantly surprised.
311 characters
3.72
/5
rDev
-6.3%
look: 4 | smell: 3.25 | taste: 4 | feel: 3.5 | overall: 3.75
A - Pours a surprisingly deep dark nearly-black. There are a couple mahogany highlights and a brown bubbly head, but one could be forgiven for calling this beer black. There is some visible carbonation when held at the right angle. Light lacing at the top of the glass.
S - Not really encouraging, although I give a few points for the strength, which is pretty much just the way I like it. It's a murky smell, with notes of chocolate and coffee as can be expected, but not quite right. Hard to explain.
T - Really good, and I'm generally not a big fan of porters. I love how the Rye adds a kick to the beer and it blends nicely with the dark roasted malts. I would call this the highlight of the beer.
M - Starts off great! Nice medium-full bodied beer. Creamy. A little fluffy from the carbonation. However, it leaves a coating on my mouth of which I am not a fan. The flavor lingers too long and leaves me with a burnt coffee type flavor that I do not attribute directly to taste.
O - I love the idea, and really enjoyed the first half of it. However, it really needs a chaser IMHO.
1,088 characters
3.79
/5
rDev
-4.5%
look: 4.75 | smell: 3.75 | taste: 3.75 | feel: 3.5 | overall: 3.75
From the 12 fl. oz. bottle. Sampled on August 18, 2013. This is probably from last year's mixed pack. No date on the bottle.
I(t has a decent looking dark brown pour to just about black with ruby red highlights, a moderate tan head, and deeply opaque.
The aroma is of dark malts, coffee grinds, some mild smoke, and mellow sweetness. No hops to speak of.
The body is about medium.
The taste tends to begin sweet and malty but it does not take long for the spent coffee grinds to kick in and take it over. Hops are downplayed on both the nose and taste. It seemed to be true to the Porter style but did not blow me away.
623 characters
3.69
/5
rDev
-7.1%
look: 4.5 | smell: 3.5 | taste: 3.75 | feel: 3.25 | overall: 3.75
22oz bottle poured into a stemmed tulip glass.
A- Poured a very dark chocolate brown color, nearly opaque except for some visible carbonation. The tulip made for a big 2-plus finger head, rich mocha color, that gently tapers to a film leaving sheets of lacing.
S- A big blast of chocolate, coffee infused chocolate, and dark roasted chocolatey malts.
T- The rye spice comes through after the upfront chocolate flavor, making it work so that it's not as chocolate dominant as the aroma would indicate.
M- This is overcarbonated, and that's the first thing I feel in each sip. Now I know why the carbonation was visible in such a dark beer. There really is not much body, the malts are hidden. There is some rye spice on the finish.
O- My rating numbers reflect exactly how, for me, that this beer goes: all over the place.
827 characters

4.19
/5
rDev
+5.5%
look: 4.25 | smell: 4 | taste: 4.25 | feel: 4.25 | overall: 4.25
Had on tap at Stick and Stones last night.Poured a deep dark chocolate brown with a nice looking creamy-like mocha colored head atop that lasted for quite awhile.Chocolate stood out most in the nose along with caramel and a mild earth/woodiness.A nice full feel to the beer,a creamy texture made it go down pretty easily.Chocolate and some vanilla flavors shine thru right away on the palate with light sharpness from the rye along with earthy roastiness to balance the beer out in the finish.This is a real nice porter it has alot of stuff going on,great stuff.
562 characters
5
/5
rDev
+25.9%
look: 5 | smell: 5 | taste: 5 | feel: 5 | overall: 5
I wish I could get this seasonal brew 12 months out of the year!! This is the best dark beer there is. I love the hint of chocolate, rich aroma and full body. In a word, this brew is BOLD.
It is meant to be savored not chugged. Perfect companion to any meal, but especially beef and pork dishes.
295 characters
4
/5
rDev
+0.8%
look: 4 | smell: 4 | taste: 4 | feel: 4 | overall: 4
12 oz bottle poured into a tulip glass.
A - very dark brown with root beer colored head. Really nice lacing and retention.
N - delightful spice and hop notes. Spice from the rye harvested nearby the brewery.
T - chocolate big time. The rye is clear. Hops too, but not too bitter or fruity.
M - rich and chocolatey.
O - very drinkable. Really enjoyed this one over the winter. Hope it comes back next year.
Cheers!
420 characters
4.12
/5
rDev
+3.8%
look: 4.25 | smell: 4 | taste: 4.25 | feel: 4 | overall: 4
A: poured from a 22 oz bottle into a goblet, pours an opaque dark red brown damn near black with a dark tan head that lingers leaving good lacing, clear
S: coffee, heavily toasted malt, dark chocolate, slight hops
T: heavily toasted smokey character up front with flavors of the rye coming through, lots of coffee, some dark chocolate, bitter hops on the end, spicey rye flavor throughout
M: nice and oily without being thick, coats the mouth, aftertaste is mostly roasted malt, higher carbonation than needed for the style
O: a fun twist on an American Porter, not overly malty, hoppy, or roasted, the rye provides a nice flavor twist without sacrificing the established qualities of the style
698 characters

3.88
/5
rDev
-2.3%
look: 4 | smell: 3.5 | taste: 4 | feel: 4 | overall: 4
Pours a deep brown into a pint glass, almost black and with some mahogany highlights. Offers a rather resilient mocha cap and shows good clarity for an 'unfiltered' ale.
Spicy cocoa on the nose initially along with some roast and chocolate as the cap settles a bit. Pleasant though perhaps a bit subdued, yet nicely balanced at the same time.
Tastes of bakers chocolate up front with some mellow black cherry on the close. Offers a lingering finish of dry chocolate and a light fruity sweetness reminiscent of an English yeast character. Touch of an ashen character after substantial warming.
Fullish feel and body, well balance with chocolate and rye spice and a light enveloping fruit backdrop. Overall this brew offers nice character and complexity yet doesn't cause one to pause for too long.
799 characters

4.28
/5
rDev
+7.8%
look: 4.5 | smell: 4 | taste: 4.5 | feel: 4.5 | overall: 4
A: Deep, dark black with a bubbly, fluffy, medium brown head leaving behind great lace and decent retention.
S: Some chocolate, malt, rye, booze, and roasty/charred aromas.
T: Super smooth, roasty, and a tad spicy from the rye. A pleasure to drink with a great malty finish.
M: Full bodied but easy-drinking, proper carbonation, great roasted malt finish.
O: A very flavorful Porter that brings a unique rye aspect. Doesn't have the cloying, watery flavor and body that most Porters have. A well-crafted beer.
513 characters
3.96
/5
rDev
-0.3%
look: 4.5 | smell: 3.5 | taste: 4 | feel: 4.5 | overall: 4
Awesome, they put the actual bottling date, 10/24/12.
Pours a dark creamy mocha colored 1/3 finger head fades at a med pace, decent lines of lacing, pitch black beer with hints if legs.
Nose starts with cocoa, dark chocolate, cookie wafer like, there is a light starchy corn like aroma though, dark malts, caramel, hints of roast and oatmeal, light toasty biscuit, the caramel light be giving it that starchy aroma.
Taste starts with chalky cocoa, light bakers chocolate, some caramel and almost molasses but without the sweetness of the molasses. Then light biscuit, toasty bready malts, abs light roast almost burnt but not quite. The spicy rye comes in later, which also brings a light bitter almost acrid. bitterness comes from some light earthy sight spicy hops as well, and the slightly burnt malts. Finish is sticky, more lingering chocolate, chalky cocoa, bitterness, and hint of spicy rye.
Mouth is med to fuller bodied, little creamy, nice fluffy carb.
Overall not bad, nose has a slight off, and rye is way too light, and light acrid burnt roast. Otherwise fairly drinkable and tasty.
1,100 characters

4.13
/5
rDev
+4%
look: 4.5 | smell: 4 | taste: 4 | feel: 4 | overall: 4.5
A-Black and concentrated. Head is well formed. The head is concentrated. It is thick and tan. It leaves lacing islands. Very dark and full.
S-Burnt and spicy. I think it smelled like a cigar or cigarette someone put out. Burnt and charred. Scorched rye. Lighter choclate and roast. But my first and most prominent impression is a stubbed-out cigar.
T-Rye spice sets in. Smoke and salt. Chalky and chocolatey. A light grassy hop flick too. I get more dark chocolate than milk chocolate. Definitely charred and smokey. That wet tobacco flavor comes out too. It takes a few adjustment sips, then it tastes pretty cool.
M-Round. Doesn't soak into my mouth; it almost bounces off it. Carbonation is spry but not powerful. Drinkable, if you can adjust to the flavor.
O/D-Pretty cool! Ipswich has the ability to blow my socks off. After this, my socks are still on. They did shake a bit. This is an awesome beer. I think I paid about $3.75 for a bomber too. If you like rye and you're a Porter fan, this beer is a must-try.
1,020 characters

4.39
/5
rDev
+10.6%
look: 3.5 | smell: 4.5 | taste: 4.5 | feel: 4 | overall: 4.5
Ipswich Rye Porter pours black into the glass with a very small tan head on top. Some lace spots cling to the glass as the beer empties.
The rich aroma is loaded with chocolate, roast malt and a little dark fruit.
Each sip of this medium to full bodied beer is smooth and oily with light carbonation. The flavor is sweet with chocolate, dark and roast malt plus some red wine notes blended in. It finishes mildly bitter with a touch of grassy hops. Once gone the chocolate and wine lingers on the palate.
This is a very tasty and easy drinking beer. It differs from the 5 Mile Pumpernickel Rye Porter by not including Valley Malt or fennel.
650 characters
Ipswich Rye Porter from Ipswich Ale Brewery
3.97
out of
5
based on
42
ratings.