Saison Athene C
| Saint Somewhere Brewing Company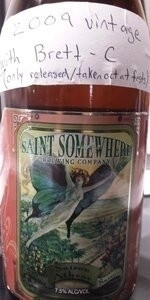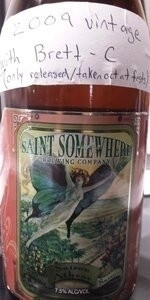 BEER INFO
Brewed by:
Saint Somewhere Brewing Company
Florida
,
United States
saintsomewherebrewing.com
Style:
Saison / Farmhouse Ale
Alcohol by volume (ABV):
7.50%
Availability:
Limited (brewed once)
Notes / Commercial Description:
All bottles are 2009 vintage. All appear the same as Saison Athene, however, regular Athene has a matte label whereas Athene C has a glossy label. This beer is only brought out during the occasional tour and select festivals.
Added by glid02 on 11-18-2010
This beer is retired; no longer brewed.
HISTOGRAM
Ratings: 11 | Reviews: 7
Reviews by hdelavega:
More User Reviews:
4.22
/5
rDev
-0.2%
look: 4 | smell: 4.5 | taste: 4 | feel: 4 | overall: 4.5
Bottle shared by kp - much obliged! This is the Saison Athene with influence from the introduction of the Brettanomyces C strain, which results in a more citrus-forward nose and flavor profile when compared to the large funk normally found in the B strain.
Pours a hazy lemon-yellow color with a one-finger bright white head. The head recedes into a wispy layer on top leaving solid lacing.
Smells of very crisp citrus fruits - equal parts grapefruit and mildly tart lemon. Also present are faint spices, pilsner malts, and funk.
Tastes similar to how it smells. Light malt flavors kick things off and are joined almost immediately by crisp citrus flavors - sharper than I would generally associate with hops but somewhat similar to Saaz hops. Midway through the sip mild amounts of spices even out the citrus flavors. Very light amounts of funk come into play near the end of the sip before fading out into a crisp and moderately bitter ending.
Mouthfeel is good. It's got a nice thickness with active carbonation.
Drinkability is very good. I finished my glass quickly and could easily have a few more.
Overall I'm glad I tried this beer - a very interesting experiment that resulted in a nice-tasting beverage. Worth a shot if you see it around.
1,266 characters
3.5
/5
rDev
-17.3%
look: 3.5 | smell: 3.5 | taste: 3.5 | feel: 3.5 | overall: 3.5
Had during Brewvival 2012! Served from bottle into a Brewvival sampler imperial pint. Poured a golden yellow with a minimal white head. Maintained decent lacing throughout the glass. The aroma was comprised of sweet malt, tart, earth, and fruit. The flavor was of sweet malt, tart, sour, fruit, and banana. It had a light feel on the palate with medium carbonation. Overall this was a decent brew. I would not have guessed this were a Saison based on the aroma and flavor at all. I would put it more in the American Wild Ale category based on what I encountered on this one. The saison spiciness was pretty much non-existant unfortunately as the sour and tart aspects completely dominated the brew. I still would like to try it again, but not for the enjoyment of a saison.
773 characters
3.42
/5
rDev
-19.1%
look: 3.5 | smell: 4 | taste: 3 | feel: 3.5 | overall: 3.5
From the bottle at Brewvival 2012.
Pours a clear gold wit a thin white ring of bubbles. Big and funky Brettanomyces aromas, very earthy, with a touch of honey and herbs. Taste is similarly earthy, dirty even, with a bit on banana, crisp malt, honey, and herbs. Not a huge fan of older Brett beers, the earthiness gets to be a bit much for my liking. Dirt of a barnyard is probably the best way to describe it, and in this case it's not my favorite character. Medium-bodied, with fairly low carbonation. A neat experiment overall, but I'll stick with the "regular" Saison Athene, one of my favorites!
600 characters

4.22
/5
rDev
-0.2%
look: 4 | smell: 4.5 | taste: 4 | feel: 4 | overall: 4.5
Forgot to mention this one at the first tour.
Poured into a st. somewhere wine glass. Slightly hazy golden in color with a nice white foamy white heading that settles to a fine lace.
The nose to this is amazing. Funky,Funky,Funky. The classic barnyard funk smell , lighter tropical fruits, and a slight spice in the finish.
Taste again the same as the nose maybe a little less of a barnyard funk with some heavy sour notes.A bit more of a hot boozey alcohol. Finishes with a slight pepperiness.
Medium bodied - great carbonation but a little thin and boozey.
I do not think this was supposed to be drank but Bob opened it up anyway. I am glad he did. A great alternate version of Saison Athene.
699 characters
3.9
/5
rDev
-7.8%
look: 4 | smell: 4 | taste: 3.75 | feel: 4 | overall: 4
No real head, mostly clear honey color.
Nose mild funk, tropical notes, light pineapple, some baking spices like sage and ginger thing, citrus funk, little sweet candy malt
Taste nice fruit and baking spice, more gingerbread and sage like spices, candy spices, mild pineapple and Brett hints, sweet candy, citrus, mild acidic tangy notes, candied pineapple citrus. Finish drier tangy pineapple, candied, citrus, etc.
Mouth med to lighter bod, nice carb.
456 characters

4.3
/5
rDev
+1.7%
look: 4.25 | smell: 4.25 | taste: 4.25 | feel: 4.25 | overall: 4.5
Thanks to Bob Sylvester for hooking me up with a bottle of this at the Portland festival. Shared with friends and Ben Roesch from Wormtown.
A - Poured into a Kate the Great tulip a hazy golden orange hue with a thin white head that fades to leave a thin halo.
S - Aromas of yeast, faint saison notes, with very nice funk notes. The brett c is super restrained but nicely tropical.
T - Taste is similar to the nose with nice funky tasty yeast, good light tropical notes. Light vanilla notes as well. Very nicely acidic.
M - Mouthfeel is lightly carbonated, soft. Subtle.
O - Overall this beer was rather tasty, Good funk notes, nice
Serving type: bottle
667 characters


4.42
/5
rDev
+4.5%
look: 4 | smell: 4.5 | taste: 4.5 | feel: 4 | overall: 4.5
A - Pours with two fingers of fluffy, white foam on top of a perfectly brilliant, golden body. The foam settles relatively quickly and leaves just a touch of lace.
S - Deep, funky aromas of wild yeast, with notes of pineapple, pear, lavender, and leather. Some biscuity malt in the background with a hint of herbal hops.
T - Rich, bready pilsner malt up front with light, spicy hops and a bit of musty pineapple flavor. Some acidity joins with the other flavors in the middle and accentuates the pineapple character. More tart fruit and a bit of a dry white wine character in the finish with moderate bitterness and a nice dose of continental hops. Lingering funky dry fruit, lots of pear and pineapple.
M - Medium body, moderately high carbonation, and a dry finish.
D - Very good, this alternative brett strain is nearly as good as the best bottles of the regular Saison Athene, though I think I still prefer the original. The tropical fruit is an interesting departure from the deep funk that can developed in well aged bottles of normal St. Somewhere and it works very nicely with the rich pilsner malt while it also has the somewhat surprising effect of bringing the herbal hops more to the front of the beer. Quite nice, I would definitely drink this again, though I understand that it owes its existence to a logistical accident, so I doubt that I will have the pleasure.
This beer really drives home to me just how extraordinary and under appreciated this brewery is. They may not have the huge variety and innovation of some other excellent, up and coming breweries, but at their best, St. Somewhere's beers are possibly the only American made beers in the Belgian tradition that truly stand on the same level as the best of those produced in the old world. I really think that a well conditioned bottle from St. Somewhere is up there with the likes of De Dolle and Fantome, which is quite an accomplishment.
1,923 characters
Saison Athene C from Saint Somewhere Brewing Company
Beer rating:
4.23
out of
5
with
11
ratings